Washington State defensive coordinator Alex Grinch is one of the 10 highest-paid assistant coaches among all Pac-12 public institutions. WSU strength coach Jason Loscalzo is also in the top half among Pac-12 strength coaches.
At 9-3, the Washington State football team finished the 2017 regular season tied with Stanford for the third-most wins in the Pac-12.
A comparative analysis based on numbers from USA Today's annual database of FBS football coach salaries shows that the Cougars' football success is a relative bargain in terms of how much the school is paying its assistant coaches in 2017, compared to the rest of the Pac-12.
WSU's assistant coaching salary pool of $2.74 million for the 2017 season, ranks eighth out of the 10 Pac-12 public institutions, according to information compiled by USA Today, which released its annual assistant coaching salary database Wednesday.
USA Today compiled the assistant coaches' salary information based on public information requests, and comparable salary information was not made available by the Pac-12's two private institutions — USC and Stanford.
WSU defensive coordinator Alex Grinch's $600,000 salary ranks him at No. 10 among the 90 on-field assistant coaches employed by the Pac-12's public institutions in 2017, but the Cougars' total assistant coaching salary pool falls toward the bottom of the conference.
Each Pac-12 public institution allocated an average of about $3.31 million for its assistant coaches' salary pool in 2017. But that number is significantly skewed by league-leading UW's pool of about $4.68 million, which exceeds the Pac-12's second largest salary pool – Oregon's, at roughly $3.95 million – by more than $700,000.
Three of the Huskies' nine on-field assistants' rank in the top 10 among their Pac-12 public school peers. UW defensive coordinator Pete Kwiatkowski is the second-highest earning assistant among the Pac-12 public schools, making $876,500 in 2017. UW offensive coordinator Jonathan Smith came in at No. 4 in the same ranking, with a salary of $700,008 before he left UW to become Oregon State's new head coach.
UW defensive backs coach Jimmy Lake is the eighth-highest paid Pac-12 public school assistant coach, with a salary of $651,504.
The Cougars' salary pool is about half a million dollars under the Pac-12 average. However, based on most recent figures from USA Today's athletic department revenue database, WSU also generated the lowest total revenue of all Pac-12 schools in the 2015-16 school year — $58.75 million.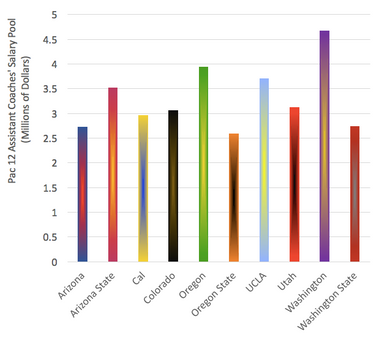 After Grinch, the next highest-paid WSU assistant is defensive line coach Jeff Phelps, who came to WSU from Minnesota in January and makes $316,500 annually.
At 43rd out of the Pac-12 public schools' 90 assistant coaches, Phelps is the only WSU assistant other than Grinch whose salary falls in the top half among the conference's assistants.
Behind Phelps is linebackers coach Roy Manning, whose $301,500 annual salary ranks 47th among assistants at Pac-12 public schools. Offensive line coach Clay McGuire is the highest-paid WSU offensive assistant. His $291,500 ranks 50th among the Pac-12 public schools' assistants. The other five WSU assistant coaches rank from No. 60-74 among the 90 Pac-12 assistant coaches.
The league's top earning assistant coach in 2017 was Oregon defensive coordinator Jim Leavitt, who commanded a $1.15 million salary – more than the annual salary of 48 FBS-level head football coaches this year, according to figures from USA Today's head coaching salary database.
UCLA linebackers coach Scott White – who played linebacker at UW from 2003-06 – was the lowest paid Pac-12 public school assistant coach in 2017. He made $107,500.
WSU head coach Mike Leach will make $3.08 million in 2017 – 38th nationally among all public universities that compete in college football's FBS Division. Leach's salary ranks sixth among head coaches at the Pac-12's 10 public institutions, with Oregon's Willie Taggart ($2.9 million), Colorado's Mike MacIntyre ($2.8 million), Oregon State's Gary Andersen ($2.65 million) and Cal's Justin Wilcox ($1.6 million) all ranking below him.
At a little over $6 million, Arizona's Rich Rodriguez is the highest paid head coach among the Pac-12's public institutions.
As a strong indication of how greatly Leach prizes his strength coach, WSU's Jason Loscalzo ranks 27th among FBS strength coaches nationally and fourth among his peers at the Pac-12's 10 public institutions. Loscalzo will make $266,500 this year – behind only UCLA's Sal Alosi ($410,000), UW's Tim Socha ($315,000) and Arizona State's Shawn Griswold ($276,000), per USA Today's strength coaches' salary database for 2017