What's it like to live with some of the most important members of the Cougars' football team? We got a glimpse of the house Luke Falk, Peyton Pelluer, Isaac Dotson, Jamal Morrow and Kyle Sweet share close to the WSU campus
PULLMAN – On a sweltering July evening, the excited hoots and anguished grunts of four fiercely competitive amateur go-kart drivers fills the stuffy air of a two-story modern-style townhome close to the Washington State campus.
Battling for Mario Kart supremacy and household bragging rights, Isaac Dotson, Jamal Morrow, Kyle Sweet and Peyton Pelluer aggressively attack their Nintendo 64 controllers, eyes glued to the TV as their four cartoony go-kart driver characters race frenetically around a track.
In the immaculately clean kitchen just off the living room, a tall, slim figure clad in a black WSU football T-shirt and a ratty pair of cutoff shorts made from old sweatpants, stands by the stove, poking intently at the contents in a pan.
Luke Falk chugs intermittently from a gallon jug of water as he makes another of his signature uber-healthy dinners – tonight it's chicken breast and veggies – while occasionally turning his head to check out the Mario Kart action.
It's a typical evening in the home of five key members of the Cougars' football team. They're not the only group of WSU football teammates who live together, but with four key senior starters among them, this household unmistakably wields the most clout of all Cougar football roommate configurations.
"It's cool having a bunch of seniors living together so we can think of what we can do to make the team better and decide how we want to do offseason workouts or team events," Dotson says.
Multiple post-game debriefs, meticulous offseason planning and some key team-building ideas have been hatched from conversations that unfolded on the big tan couches and gray recliner the guys are lounging on in their living room bedecked with WSU accoutrements.
A big crimson flag dominates the main wall in the living room, with a framed Cougars poster across from it. Crimson and gray tinsel decorates the mantel the TV sits on.
A round of groans spreads through the living room as Pelluer throws down his controller with a triumphant hoot and looks around at his vanquished foes.
"I just lapped you all," Pelluer gloats, grinning gleefully. "That's how I got a noise complaint. Loud video game noises."
As these senior members of the Cougars' leadership embark on their fifth fall camp together, they've become more family than just friends.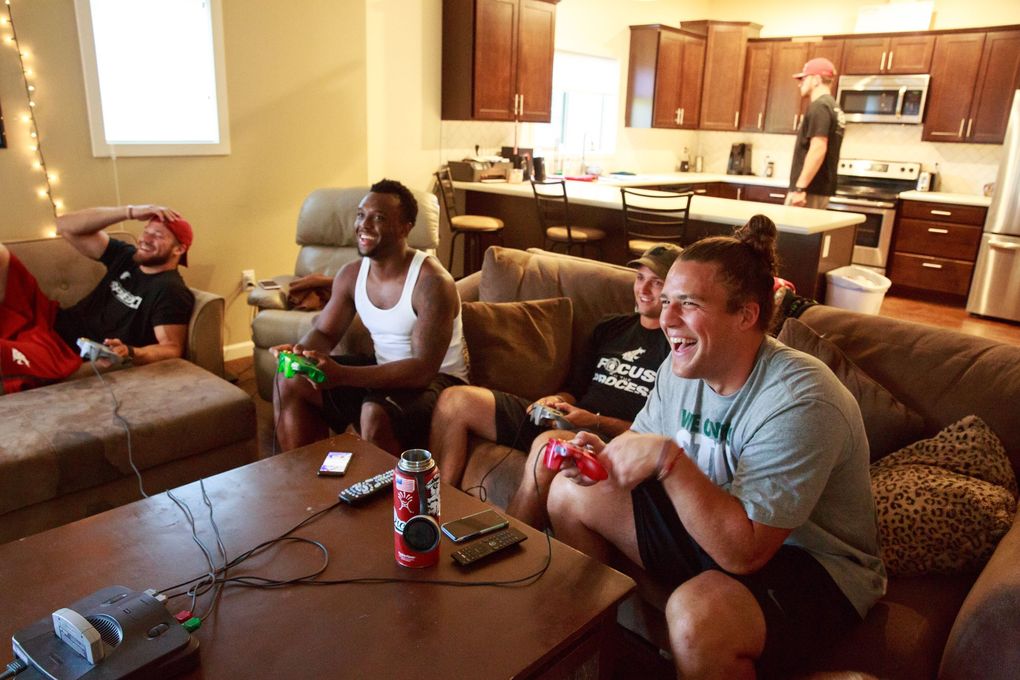 Dotson and Pelluer, both linebackers, have lived together since their freshman year in the dorms. The walk-on who would eventually become the Cougars' starting quarterback befriended them early in that first year, and due in part to a roommate with a penchant for binge-watching the dark drama "Dexter" into the wee hours of the morning, Falk spent many nights in the company of the two defensive guys who soon became his best friends at WSU.
"I just moved my mattress into their room," Falk says, grinning.
The trio have been inseparable ever since. Morrow, the happy-go-lucky running back from Menifee, Calif., joined the household last year, along with former WSU linebacker Paris Taylor.
When Taylor graduated this spring, he was replaced by Sweet, a junior receiver who, as the youngest and newest member of this ersatz family, naturally becomes the butt of many good-natured jokes.
The five guys bring a fascinating array of personalities to the house, but from the instant you walk through their front door, it's immediately evident that they're bound together by one common quality: competitiveness.
Across from the entrance to the townhome, sitting on a low table that doubles as a shoe rack, right next to an 8X10 glossy of the three original roommates – Pelluer, Falk and Dotson – is a framed Vince Lombardi essay that was a gift from Falk's dad.
It begins:
"Winning is not a sometime thing; it's an all the time thing. You don't win once in a while; you don't do things right once in a while; you do them right all the time. Winning is a habit."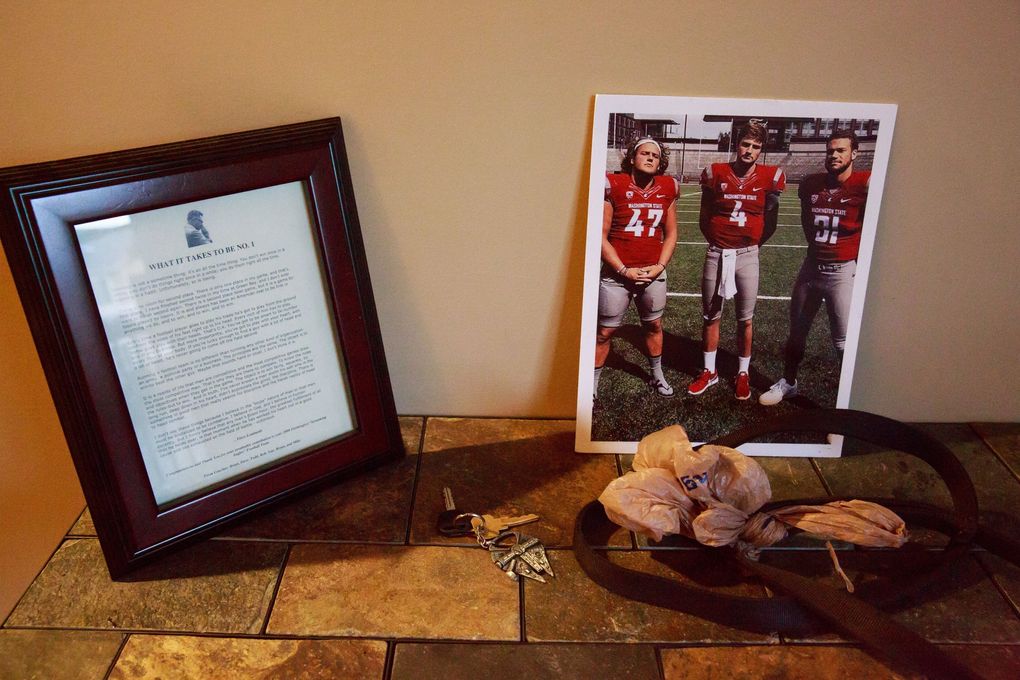 That competitive streak colors everything from video game battles to claiming superlatives –"Tidiest Housemate" or "Noisiest Housemate," and the eternally powerful force of mutual motivation.
"If I see Isaac going to work out on an off day, it motivates me to go work out on an off day," Pelluer says. "That goes for all these guys. Surround yourself with lions, and it's definitely beneficial."
So, the question is posed to Sweet: What has he learned from living with four extremely competitive seniors, including a quarterback known for his film junkie ways and fanatical healthy eating?
"It's a great way to see how experienced guys who've been through it all live, their work ethic and how they get after it every day," says Sweet, who, as of our visit in early July, had been living with the seniors for two weeks. "I've learned a lot about work ethic and how to handle your business and be mature."
As their individual rooms show, each guy brings his own unique qualities to the household.
Sweet, from Rancho Santa Margarita, Calif., is the quintessential cool, laid back Southern California boy. His room is quite literally the coolest of all too, with a small but mighty air conditioning unit purring merrily from the window.
Pelluer is "obnoxious," Dotson says, only half-joking. "He's loud, he's funny, the goofball. He's the entertainment in the house."
Or, as Falk drily adds, "the bull in a china shop."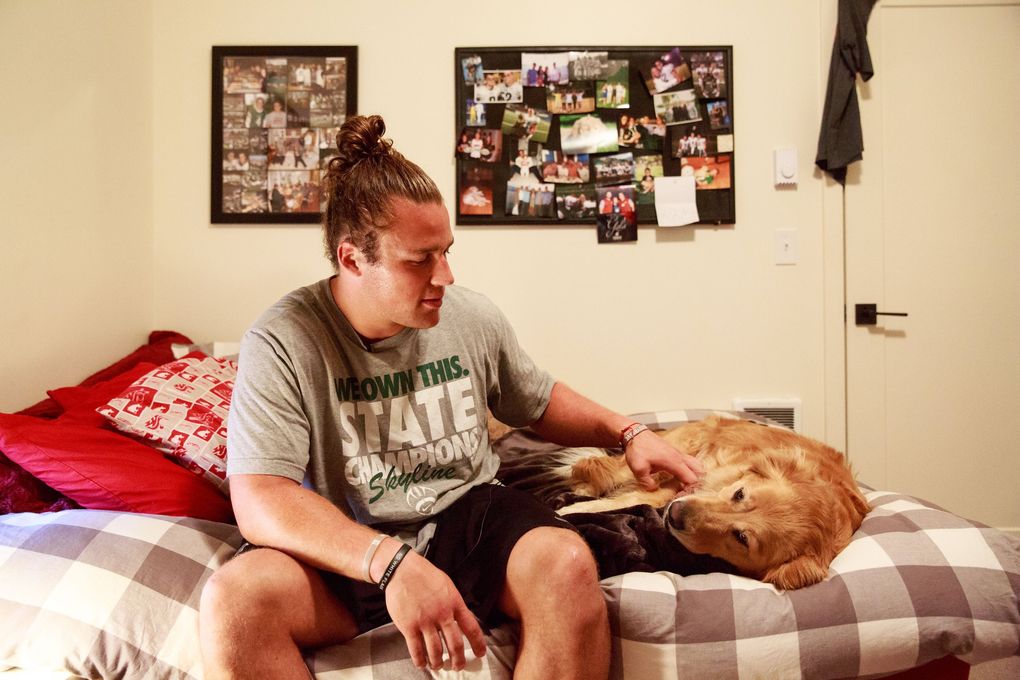 Perhaps that's why Pelluer occupies the master bedroom on the first floor, while the other four guys have rooms on the second floor.
Pelluer's room is themed – predictably – crimson and gray. Two collages of family photos decorate the wall above his bed, with a poster of a majestic lion on the opposite wall. Adjacent to that hangs a large framed black-and-white print of a Cougar linebacker in jersey No. 47, laying out as he gets ready to pounce on a hapless quarterback.
"That's my dad, playing against Oregon. I liked it (because he's) beating up on another Pac-12 team," Pelluer says proudly, as he pets his five-year-old golden retriever, Lily, who's visiting from Sammamish for the week.
He's the fourth in a long, storied lineage of Cougars in his family. His father, Scott, played linebacker at WSU from 1977-80, as did his grandfather, John, who played end in the mid-fifties, and his great-grandfather, Carl Gustafson, a fullback at WSU from 1925-27.
A framed photo of Gustafson's Bohler Medal announcement sits on the mini-fridge in Pelluer's room – a graduation gift to him from his grandmother. The Bohler Medal was once awarded to the most inspirational player on the WSU football team.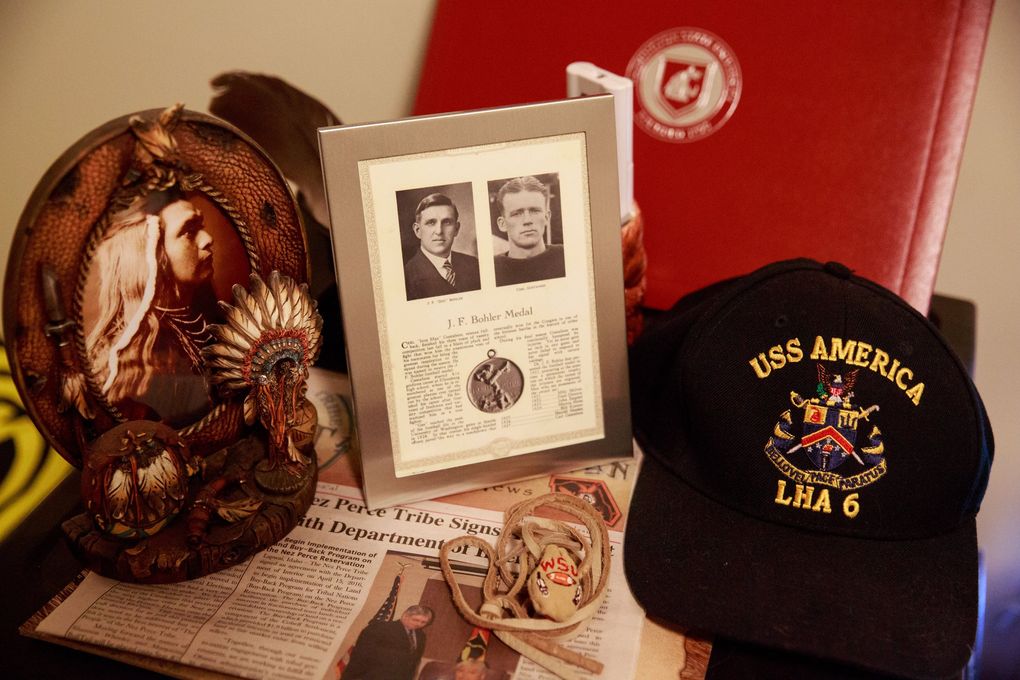 If Pelluer gets the award for loudest housemate, Morrow, or "'Mal," as the guys call him, is a close second, says Falk. The versatile running back has an effervescent personality that infects everyone he meets.
"Mal's never had a bad day in his life," says Falk.
"He's always laughing," Dotson adds.
But the decorations in Morrow's room also show his more serious, introspective side. Directly above his bed hangs a black-and-white poster of the 200-meter men's track medal ceremony at the 1968 Olympic Games.
African-American sprinters Tommie Smith and John Carlos finished first and third, respectively, that year, and each man stands on the podium with his head down and an arm raised, a black glove encasing his hand. In the midst of the civil rights movement, that image of Smith and Carlos with black gloves on their raised fists became an enduring symbol of African-American pride.
"It's kinda cool to see how far we've come in general, and to give you motivation when you wake up in the morning," Morrow says, looking up at his poster.
On the same wall, he's got a poster of Bo Jackson – "one of my favorite players," Morrow says – and another of rap legends Tupac and Biggie.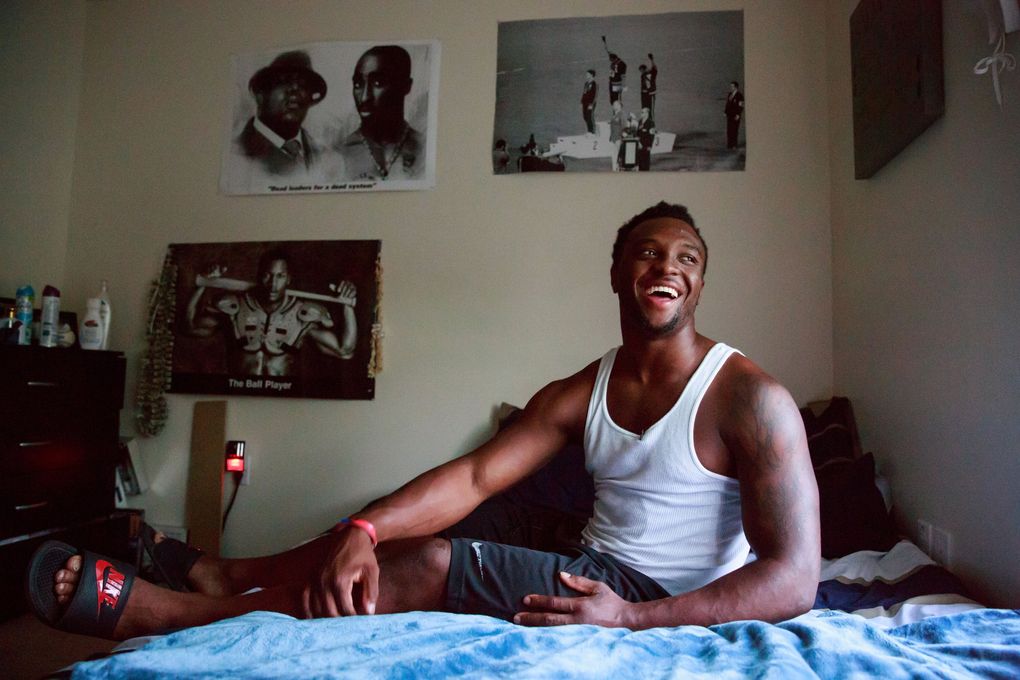 Other decorations on Morrow's walls include his high school jersey adorned with his WSU graduation sash and cap, a display of family photos, and a small picture of former WSU President Dr. Elson Floyd.
They're reminders of his roots, and of the people who inspire him every day.
Dotson's room is diagonally across the hall from Morrow's. A colorful row of baseball caps hangs high up on his wall, tacked in a neat line. Below them sits an electric keyboard. This is the DJ studio of the house and Dotson is the musician of the household.
On this evening, he sits with his guitar on his lap and one leg propped on an ottoman, strumming serenely and then joking about how he's just given us his very first concert.
Dotson also mixes his own tracks. Whenever inspiration hits, he's been known to stay up late into the night, working on new music that he often uploads to Soundcloud under the artist name "iD." The musician uses everyday life events as his inspiration.
"I'm the observer, quiet and laid back," Dotson says. "I'm more laid back at home and serious on the field."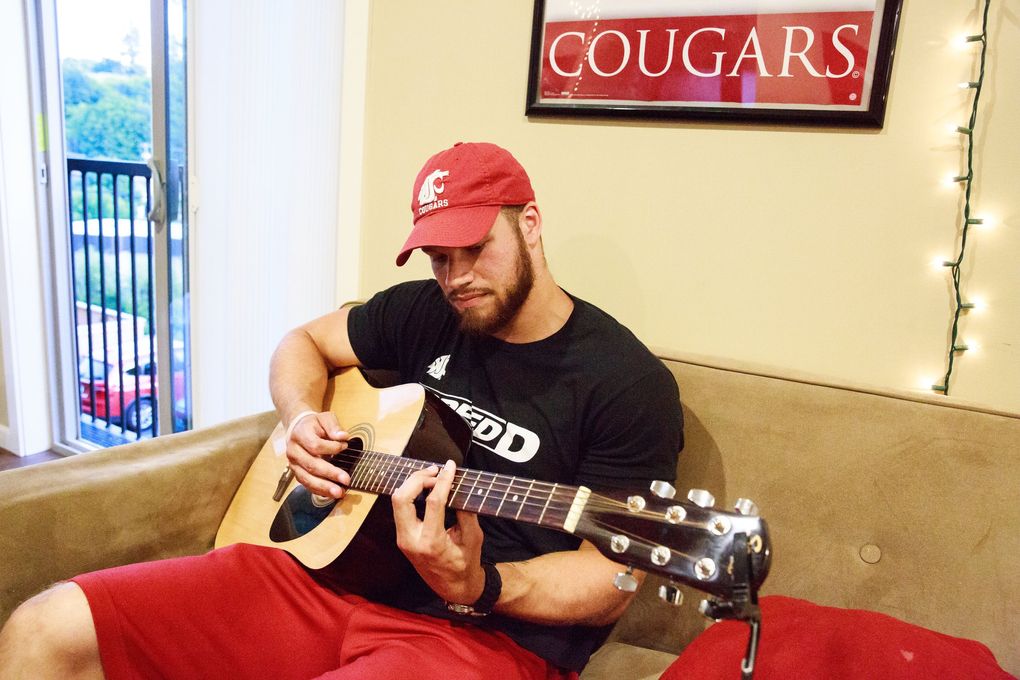 The door across from Dotson's room is shut, but there's a sign across the middle with a Cougar logo and Luke Falk's name on it. The always-private Falk has declined to show his room, and, as he informs us, the sixth member of the house, his labradoodle, Cayenne, has "declined media day."
Perhaps as a consequence of always being in the spotlight, Falk guards his privacy fiercely.
"Luke's pretty quiet. He's usually in his room," Dotson says.
"Doing Luke stuff," Pelluer quips. "Luke is very routine-based. He's probably the most routine-based of all of us. He'll go to bed super early like a grandpa."
Falk is also usually the first one awake in the morning, and the first one out the house. He'll let Cayenne out, then bustle around the kitchen making breakfast. He's so careful about what he puts into his body that, this offseason, WSU strength coach Jason Loscalzo specifically asked the quarterback to ease up on some of his nutrition rules to help him gain some weight.
Each guy has an assigned drawer in the communal fridge. Pelluer has eggs, shredded carrots and fresh strawberries in his. Dotson's contains more eggs and some sliced green and red peppers, while a box of spinach and some tortillas fill up most of the space in Morrow's.
Falk's drawer is crammed with a Ziploc bag of marinated chicken breasts, a bag of avocados, some steaks, an assortment of vegetables, organic bacon, and eggs.
"I'm a big eggs guy," Falk says. "Also, bacon, meat, chicken."
"What's that weird rice stuff you make?" Pelluer interrupts, as he shovels a bite of his second dinner — turkey salad — into his mouth.
"Oh. Cous cous," Falk supplies.
"From Luke in particular, I've learned that putting organic stuff in your body is probably better than the way I've been cooking," volunteers Sweet, whose fridge drawer contains shredded cheese – Colby and Monterrey Jack – some sour cream, turkey deli meat and a tub of "I Can't Believe It's Not Butter!" spread.
So, the question is once again posed to the youngest member of the household, what's it like to live here with these four seniors?
"Magical," Sweet retorts, to laughter from the other four guys.
"You get a little bit of everything with each roommate," Sweet says. "There's never a dull moment in this house."