Evaluating the Cougars' options after the defeat to Portland State, and recapping how the Pac-12 did in the first weekend of college football
There's not much to be optimistic about after Washington State lost to an FCS foe that it paid $525,000 to play against.
However. It is still only the first game of the season. WSU needs to quickly rebound from this game, have a good week of  practice and go to New Jersey to take on Rutgers. If the Cougs can beat Rutgers and Wyoming and go into Pac-12 play 2-1, they still have a tiny glimmer of a chance at finishing in sight of a bowl berth. (Don't hate, guys. I'm merely presenting the best-case scenario at this juncture of the year.)
Of course, the big question mark here is whether Luke Falk will be able to play this week. He looked to be in a lot of pain as he writhed on the field after he was upended at the end of the Portland State game, but he did manage to get up and walk off. And he was also seen throwing on the sidelines right afterward, while Peyton Bender was finishing out the game. Mike Leach doesn't address injury questions, but we're working on coming up with an update. Plus, the Cougs practice this evening, so we'll at least get an idea of whether Falk was out there with the team.
If he can't go, it's Bender's time to shine.
The redshirt freshman has quite the arm, and he pushed Falk enough this offseason that Leach did not officially name a starter until this week. He's got less game experience than Falk, and will have to work on reading defenses and such. But as in a radio interview earlier this summer, Leach sounded enthusiastic about Bender's abilities:
"I think they both do really good, it's been ridiculously competitive," Leach told Ian Furness and Jason Puckett. "Falk lately has been getting more reps. Bender does a tremendous job, you know Bender as far as a true freshman, redshirt freshman, has picked things up quicker than anybody I've dealt with. It comes off his hand very quickly. The other thing is, Bender's got a calmness to him. 
Bender was ranked the No. 25 pro-style quarterback in the country coming out of Cardinal Gibbons High in Fort Lauderdale, Fla. He chose WSU over offers from Penn State, WVU, Marshall, Kentucky and Rice.
Now, some links from the Cougars' 24-17 defeat to Portland State:
— Here's our game recap: WSU stumbles at home to Portland State in opener, 24-17
— Rainy weather becomes a factor in the Cougars' defeat to PSU
— Associated Press game recap focuses on the Portland State side of things and how "Barney Ball" worked pretty well for the Vikings
— From Jacob Thorpe of the Spokesman-Review: Cougar football opens with disappointment
— Thorpe also has this offering about Falk's injury
— Sportspress Northwest has this recap of the game
— For Portland State, the win over WSU is being treated as the biggest win in school history. Which it probably is since the Vikings had never beaten a Pac-12 opponent until Saturday. Check out this photo that the PSU athletic department has made as the front page of the Vikings' website: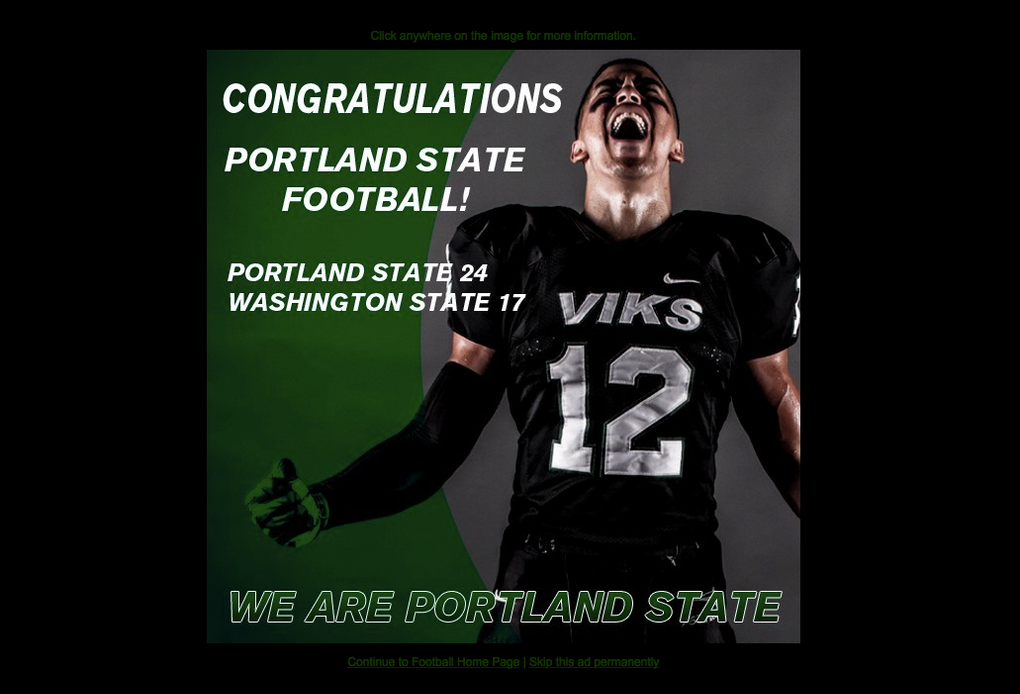 — Here's PSU's recap of its third win over an FBS team in program history.
FCS triumphs over FBS on opening weekend
For what it's worth, WSU wasn't the only FBS team that got embarrassed by an FCS foe on opening weekend.
Other teams that want to just hit "reset" and start the season over include:
South Dakota State 41, Kansas 38
North Dakota 24, Wyoming 13
Fordham 37, Army 35
Group of Five triumphs over Power Five teams
Not quite as mortifying as losing to an FCS team, but mostly still in the category of "oh darn, we paid you to beat us up." Power Five teams denoted by bold italics.
Temple 27, Penn State 10
Western Kentucky 14, Vandy 12
Hawaii 28, Colorado 20
Boise State 16, Washington 13
How the Pac-12 fared against everyone else?
Fairly well, actually. (Pac-12 teams in bold italics)
USC 55, Arkansas State 6
Utah 24, Michigan 17
Portland State 24, WSU 17
Arizona 42, Texas-San Antonio 32
Hawaii 28, Colorado 20
Oregon State 26, Weber State 7
Boise State 16, Washington 13
Northwestern 16, Stanford 6
UCLA 34, Virginia 16
Cal 73, Grambling State 14
Texas A&M 38, Arizona State 17
Oregon 61, EWU 42
Here's a look at the Pac-12's record against other levels of football and other conferences after opening weekend:
Week 1
Pac 12 overall : 7-5
Pac-12 vs. Big Ten: 1-1
Pac-12 vs. Big 12: 0-0
Pac-12 vs. SEC: 0-1
Pac-12 vs. ACC: 1-0
Pac-12 vs. Group of Five: 2-2
Pac-12 vs. FCS: 3-1