Mike Leach tweeted a Barack Obama video on Sunday saying he wanted to open a discussion about government control. But the video proved to be a fake, and the backlash has been severe.
Washington State coach Mike Leach spent most of Sunday night fending off angry Twitter users after he tweeted a fake YouTube video of Barack Obama with the comment, "Listen to this. Text your thoughts. There is a lot of disagreement on government, so I think that an open discussion is always in order. Tweet your thoughts, maybe we can all learn something."
Problem was, the video he referenced turned out to be a hoax. The video, showing former President Barack Obama delivering a speech in Brussels in March 2014, had audio clips stitched together to make it appear as if Obama were saying the average citizen was too "small-minded to govern their own affairs, but order and progress can only come when individuals surrender their rights to an all-powerful sovereign."
As of Monday morning, Leach's original tweet has been deleted.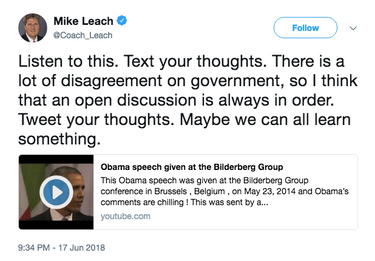 However, the story had already taken on a life of its own. As multiple Twitter users and media outlets pointed out — many tweeting directly at Leach to express their displeasure — the video was doctored and that Obama never actually said those things in that light.
Here's what he actually said, based on the transcript of that 2014 speech from the White House archive.
Referencing how humanity has taken centuries and multiple wars to embrace the ideals of freedom of choice, the equality of man and the importance of a democratic society, Obama then says:
"But those ideals have also been tested — here in Europe and around the world.  Those ideals have often been threatened by an older, more traditional view of power.  This alternative vision argues that ordinary men and women are too small-minded to govern their own affairs, that order and progress can only come when individuals surrender their rights to an all-powerful sovereign. Often, this alternative vision roots itself in the notion that by virtue of race or faith or ethnicity, some are inherently superior to others, and that individual identity must be defined by "us" versus "them," or that national greatness must flow not by what a people stand for, but by what they are against."
The video that Leach tweeted featured chunks of that statement taken out of context and stitched together in a different order than Obama meant them.
Leach was initially defensive when Twitter users pointed out the video was fake.
On Monday morning, after hours of back-and-forth with his Twitter followers on the subject, Leach tweeted the full speech, saying that the video he originally tweeted was "incomplete" but that he believed "discussion on how much or how little power that our (government) should have is important."
Many Twitter users accused Leach of using the video and the premise of a dialogue on government control as a front to express disapproval of Obama.
Leach is a Donald Trump supporter. He considers the president a friend, and he even stumped for Trump at a rally in Spokane in 2016.
In response to a request for comment on Leach's tweets, a WSU spokesperson said, "As a private citizen, Mike Leach is entitled to his personal opinions. Coach Leach's political views do not necessarily reflect the views of Washington State University students, faculty and staff."
In recent years, Leach has been vocal about the importance of free speech and dialogue, but during his first season at WSU in 2012, he banned his players from using Twitter.
Leach's Twitter storm hasn't been well received by the national media. USA Today's Dan Wolken used this as an example of why Leach hasn't been hired by the major programs, while Bleacher Report, Yahoo Sports and Deadspin also wrote about the incident.