Hundreds attended the two-hour long service at Damien High School in La Verne, Calif., to lay to rest Tyler Hilinski, 21, who took his life earlier this month.
LA VERNE, Calif. — Beneath the San Gabriel Mountains, in an unmistakable American gymnasium, with the bleachers brightly green and yellow, the basketball hoops folded up familiarly toward the ceiling, and the hanging banners telling of bygone happy championships, there gathered Saturday about 800 human hearts in many states of brokenness.
They heard a high school quarterback recite W.H. Auden's poem "Funeral Blues," beginning with, "Stop all the clocks/Cut off the telephone," concluding with, "For nothing now can ever come to any good," and in the middle, the voice breaking slightly while saying, "He is dead."
Warning signs of suicide
If you are experiencing suicidal thoughts or have concerns about someone else who may be, call the National Suicide Prevention Lifeline at 1-800-273-TALK (8255). You will be routed to a local crisis center where professionals can talk you through a risk assessment and provide resources in your community.
The more of the signs below that a person shows, the greater the risk of suicide.
Talking about wanting to die
Looking for a way to kill oneself
Talking about feeling hopeless or having no purpose
Talking about feeling trapped or in unbearable pain
Talking about being a burden to others
Increasing the use of alcohol or drugs
Acting anxious, agitated or recklessly
Sleeping too little or too much
Withdrawing or feeling isolated
Showing rage or talking about seeking revenge
Displaying extreme mood swings
Source: National Suicide Prevention Lifeline
With that and other words in the Damien High School gym, Ryan Hilinski eulogized his older brother during a two-hour service, as did aunts, uncles, grandparents and another brother who read the words of their mother. All in attendance — the Washington State football team, Washington State football fans in their crimson and gray, teammates from nearby Upland High School, abundant friends — tried the hard assimilation of the inconceivable: that Tyler Hilinski, 21, rising Washington State starting quarterback, had taken his own life using a rifle Jan. 16 in Pullman.
For this day, a gym normally reserved for cheers, reserved Saturday because of its size and because Hilinski's father and uncles attended Damien, had gone reserved for an impossible, mournful human bafflement. The oldest of the three Hilinski brothers, Kelly, 23, a former quarterback at Weber State, had "spent the past weeks trying to comprehend what was truly incomprehensible," he said. As he read words written by their mother, Kym, who sat nearby in front with their father, Mark, Kelly read, "In his short time on Earth, he was full of life," and, "I may never know why Tyler left us," and, at one point, "Our skies aren't as bright."
"The only thing that makes sense to us is that Tyler was not well," spoke an aunt and godmother, Christine Hilinski, who reasoned that choice must have eluded her nephew and said: "He wasn't able to make the choice. He never would have deliberately hurt us," with a worthy cry beginning at "deliberately."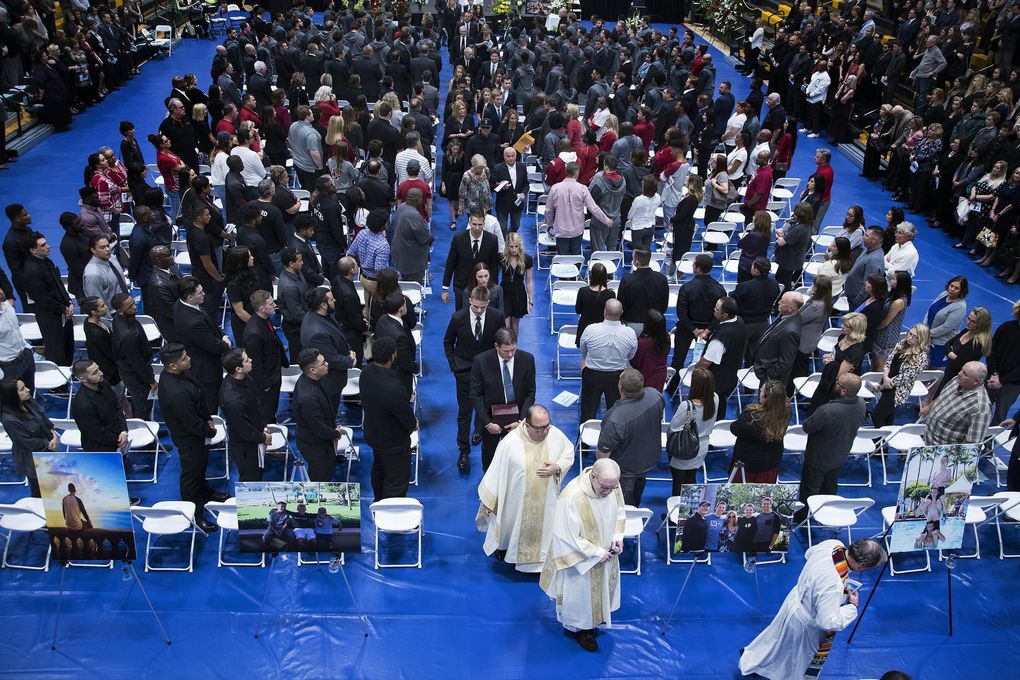 Reverend Charles Ramirez, in his homily, called it "one of the most difficult funeral masses" and spoke of "the pain, the sense of loss, the sense of disbelief this has happened." He pegged the crowd as "at a loss to figure out why Tyler decided to pass on." He told of Hilinski as a willing listener for others, as when driving a teammate to counseling, but noted how Hilinski didn't share likewise, so, "That's why we don't know." He told of Jay Guillermo, the former Clemson center who took a year off to deal with mental health issues, and Ramirez wondered aloud whether Hilinski's death might spur a change in approach to a national issue.
To careful observers of college football, Hilinski was the 6-foot-3, 213-pound backup to the prolific Luke Falk, who just finished his eligibility, just missed the Senior Bowl to attend this service, and who sat amid his former teammates, several rows behind Coach Mike Leach and assistants. Hilinski completed 130 of 170 passes in the 2017 season, including 25 of 33 for 240 yards and three touchdowns to pilot a soaring comeback win over Boise State, which wound up only after three overtimes and with Hilinski riding off on teammates' shoulders, which made for one exhilarating American photo.
Now that photo rested on an easel amid 10 flower arrangements at the front of the gym, while the people who loved Hilinski painted a picture that made him sound irresistible and deepened the confusion and anguish.
"The past two weeks," said Christine Hilinski, the aunt and godmother, "we've interacted with many of you and we've learned we all knew the same young man … There's one thing we know for certain, and it's certainly what we hear from all of you: Tyler brightened a room just by entering."
Ryan Hilinski called his brother "the most kind, loving, spirited person I ever met in my entire life." Quoting his mother, Kelly Hilinski said: " 'Tyler was my 'Superman.' I loved calling him that. And truly I think he loved hearing that." His aunt called him "a peacemaker." He and his father were "true buddies," in Kym Hilinski's words, as when watching films such as "Stepbrothers" and "Love Actually." In his own words, Kelly Hilinski said, "They say you die twice, one time when you stop breathing and a second time, a bit later on, when somebody says your name for the last time."
As he spoke, while six large photos lined the back of the room, including one of three tall brothers stacked atop each other in a swimming pool, absolutely beaming, Kelly Hilinski said, "I refuse to let Tyler die a second time." He said, "I can't wait to have my first son and name him after you." And he said, "And I hope that he grows up to be exactly like you."
An hour into the service, at Ramirez's suggestion, the audience applauded Hilinski. Two hours in, through religious songs and a communion, the lights switched off in favor of four different videos. One showed Washington State highlights, including the goose-bump call of the Boise State game: "a comeback for the ages, an all-time Cougar win, down 21 in the fourth quarter!" The others wound through Hilinski's life, from its beginning to 6-foot-3, with happiness clearly strewn all through. Songs accompanied, from Andy Grammer's "Back Home" to Kenny Loggins's "Return To Pooh Corner" to Ben Howard's "Old Pine," to, near the end, Louis Armstrong:
And I think to myself, What a wonderful world
Yes, I think to myself, What a wonderful world.
It faded to a final, still photo of an American quarterback in June 2014, shortly after he committed to go to college, sitting on a balcony fence in Capri, the Italian island, looking out over the Bay of Naples near the Mediterranean, facing away in a baseball shirt, white with blue sleeves. With the sky half-blue and half-clouded, the sun screaming behind the clouds, he sits alone even while in life, he clearly was not.
This story was originally published on washingtonpost.com. Read it here.