England's 2-0 win over Sweden may have ranked among the most forgettable matches of Russia's rambunctious World Cup, but that did not deter their fans. In Moscow, the hosts were sent — are staying? — home after Croatia ended their underdog run.
Croatia 2 (4), Russia 2 (3) (PK)
MOSCOW — For a month of spellbinding soccer, Russia has wrapped its arms around this big, beautiful World Cup and celebrated the sport from the Baltic to the Pacific and in 11 host cities.
What the host country did not expect — not in its kookiest dreams — was being in position to rally behind its low-ranked national team for more than a few matches.
On Saturday in Sochi, the hosts were eliminated in the quarterfinals by Croatia on penalty kicks, 4-3, after a 2-2 draw that included goals by both sides in the 30 minutes of extra time.
Along the way, however, a lightly talented squad that many feared would not even survive the group stage galvanized the country and destroyed expectations, falling one step short of the Soviet Union's 1966 ride to the semifinals.
This Russian team won its first two games easily to secure passage to the round of 16, then shocked Spain on penalty kicks.
"We said we could only prove our worth by working hard," Coach Stanislav Cherchesov said of his overachievers. "The people did not only start trusting us, but they are in love with us. The entire country is in love with us. They know what the national team is worth. We hope we have changed the situation for the better."
Russia had won all of two matches in its previous three World Cup appearances, falling short of advancing to the knockout stage, and it failed to qualify for the tournament altogether three other times in that stretch.
In phone calls before and after the match, Cherchesov said, President Vladimir Putin offered words of support.
This ride ended at sold-out Fisht Stadium, but not before the Russians went ahead in the first half on a magnificent goal by Denis Cheryshev, his fourth of the tournament. Croatia drew even before intermission and took the lead in extra time, but Russia forced the tiebreaker when Mario Fernandes, a Brazilian-born naturalized citizen, scored with about five minutes left.
In the shootout, however, Fernandes missed the target in the third round, clearing the way for Croatia to become the first team since Argentina in 1990 to win consecutive matches on penalty kicks. As he did against Denmark on Sunday in the round of 16, Ivan Rakitic sealed the victory by converting in the fifth round.
"We've achieved something big, but this team can achieve more," midfielder Luka Modric said. "We want to bring a medal home. What is on that medal, we'll see."
After logging 120 minutes in back-to-back games, the exhausted Croatians will be at a disadvantage in Wednesday's semifinal against England at Luzhniki Stadium in Moscow. The last time they made the final four was 1998 in France, their first appearance since gaining independence following the breakup of Yugoslavia.
"This was not a beautiful game; it was a battle," said Coach Zlatko Dalic, who was left in tears at the end of the moving night.
Russia played with greater ambition than it did against technically superior Spain, abandoning airtight defensive tactics for a style more conducive to attacking the Croatians.
"They surprised us," Modric said. "They pressed us high, and we could not build up our play. Our style was cramped."
Cheryshev made things more uncomfortable for Croatia in the 31st minute by striking a 25-yard shot into the top left corner. Croatia answered eight minutes later, traversing the field in short order and capitalizing on space left by Fernandes on the flank. Mario Mandzukic infiltrated the penalty area and crossed to Andrej Kramaric for a seven-yard header.
Croatia controlled most of the second half, pinning back the Russians for long stretches. Ivan Perisic almost cracked the deadlock with an eight-yard bid that struck the inside of the left post.
Croatia's breakthrough finally came 11 minutes into extra time when Domagoj Vida headed Modric's corner kick through a tangle of players and into the right side of the net.
Russia was done, or so it seemed. Inspired by the audience, it responded in the 115th minute when Fernandes was left unmarked at the six-yard box and nodded in Alan Dzagoev's free kick.
Russian goalkeeper Igor Akinfeev was the hero of the shootout against Spain, but in this one, his save in the second round wasn't enough. Croatia converted its last three chances to set up the showdown with England.
"Another drama for us," Modric said. "We showed the character again."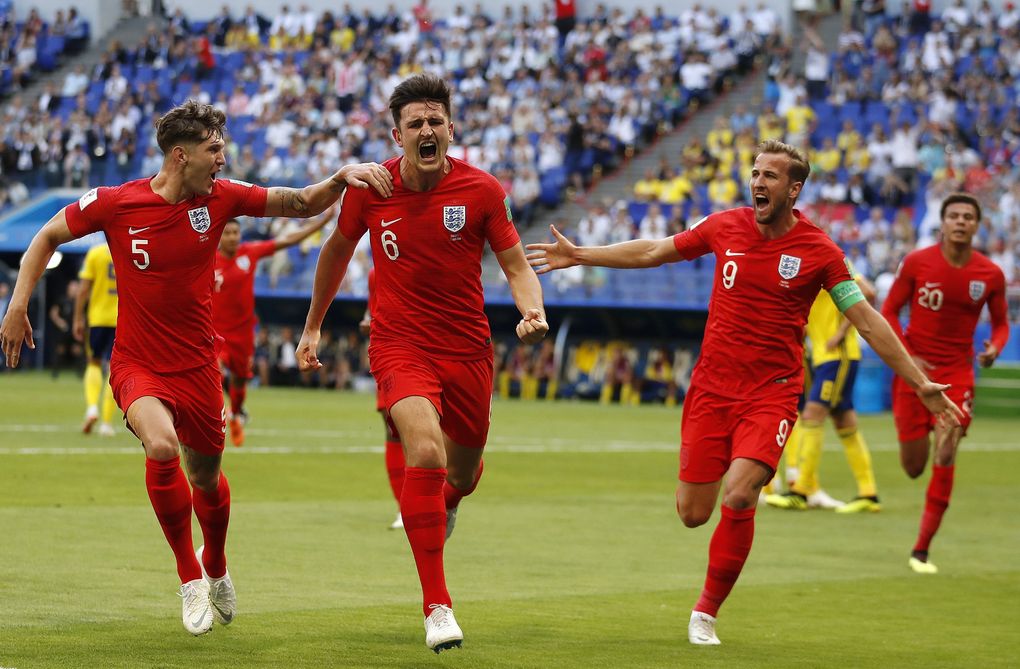 England 2, Sweden 0
SAMARA, Russia — Curiously, unfittingly, they numbered relatively few. Somehow, after 28 years and all the fecklessness and all the nuttiness and the can't-make-it-up human frailty around the England national soccer team, the England fans present for a milestone on Saturday formed but a wee bloc among 39,991 in a widely neutral Samara Arena.
Way out here where the Volga and the Samara rivers meet and the Kazakh border sits just over yonder, those fans seemed to summon the bottoms of their lungs when, in the second minute of stoppage time, they had something to sing, again.
"God save our gracious Queen
"Long live our noble Queen
"God save the Queen …"
As they contorted their voices for that funny thing they do, simulating the musical lilt that follows those lyrics, they would not and should not have worried that England's 2-0 win over Sweden may have ranked among the most forgettable matches of Russia's rambunctious World Cup. It would not and should not have caused them a jot of moderation that the path to England's first World Cup semifinal since 1990 hadn't been cluttered with any titans. As they boomed their a cappella as much as they could, maybe they sang for the droves at home who avoided traveling to Russia because of one misgiving or another.
Those aged enough had followed some outlandish shenanigans through the 28 years until Gareth Southgate, the 47-year-old former England player given to a competent look with a vest and tie, became only the third England manager to reach a World Cup final four, following upon Sir Alf Ramsey (who won in 1966) and Sir Bobby Robson (1990).
They had seen 14 England managers, three of those interim, since the 3-2 comeback win over Cameroon in the 1990 World Cup quarterfinals in Naples. They had seen the damnedest lunacy: a manager (justly) sacked for saying disabled people are repaying sins from past lives, a manager tricked by a "fake sheikh" who turned out to be a reporter, a manager ridiculed after his final night on the job because he unfathomably had stood on the sideline using an umbrella.
They had seen Southgate get the job in fall 2016 only because the previous manager, Sam Allardyce, was caught on camera after managing for 67 days and one match talking about doing some rascally deals with Far East business executives who turned out to be … reporters.
"It's an incredible privilege to be the England manager anyway" — let alone in the World Cup semifinals, Southgate would say.
On they sang in the stands, and thanks for the reminder.
As they got to the lyric that calls for the word "victorious," many singers surely could recite all this: England, the birthplace of the game, the home to its most revered league, didn't make the 1994 World Cup, lost to Argentina on penalties in the 1998 quarterfinals, lost to Brazil in the 2002 round of 16, lost to Portugal on penalties in the 2006 quarterfinals, lost to Germany in the 2010 round of 16, went meekly and dismally after group play in 2014 and saw the coming and fizzling of a generation allegedly great along the way.
It lost to Iceland at Euro 2016, enabling England's zesty array of chroniclers of the English game to note that Iceland's population did not quite match that of Sheffield or Leeds.
Now the English souls who made it all the way out here by conquering or ignoring fears of Russian fan violence similar to that at Euro 2016, or the distance, or the paucity of flights, or the cost, or the Russia-Britain strife after the poisoning of two Russian citizens within England, knew what they saw. They saw an England team that had weathered penalties against Colombia and turned up superior to Sweden. They saw a discernible difference in quality.
They saw defender Harry Maguire's first goal with the national team on his commanding header off a corner in the 31st minute, and 21-year-old Dele Alli's header off Jesse Lingard's swell cross in the 59th. They saw a goalkeeper, the Everton charge Jordan Pickford, make enough athletic saves to get called man of the match.
They saw togetherness where there used to be cliques, so that Pickford said, "We know our ability, and it's all about our togetherness, and I feel like if our togetherness is there as it always is, we control what's on the pitch." They had the manager of a rugged quarterfinalist, Sweden's Janne Andersson, said, "Sometimes your opponent is better," calling England "heavy, forceful, well-organized" and saying, "They don't give a lot of openings. I believe they will be perfectly able to go all the way."
Then they saw a young team in infectious group hugs, jumping up and down together, dancing in front of the fans. Said Southgate, "We've come to this point because the collective has been so strong," seeing "a young team, really maturing before our eyes," while knowing "that in years to come they're going to be stronger, but today was a huge opportunity for us."
The singers saw something that looked very much like a clear identity, a willing young captain in Harry Kane, who won't reach 25 until later this month, and a welcome dose of character which, of Southgate said, "And when you're away for however long we've been away, I've lost track, that can be really important."
Twenty-eight years, it was, so much absurdity and futility leading way out here, to a World Cup for which England bid years ago but did not get, all the way to smallish section of singers who accomplished some volume — "Long to reign over us …" — and then yielded eventually to stadium speakers, which played the Beatles' "All You Need Is Love." Really.