The buildup to "what's next" has escalated around Husky quarterbacks, but despite the chatter, Jake Browning still stands front and center, as the only four-year starting quarterback in Husky football history.
The excitement surrounding the quarterback position is as great as it's ever been for the Washington Huskies. It is, perhaps, greater than it's ever been.
There's Jacob Eason, the 6-foot-6 transfer from Georgia, a former five-star national prep player of the year from Lake Stevens who could probably throw a football into the moon's orbit. He will sit out this season and is expected to take over in 2019, and what's not to love about all that?
There's Jacob Sirmon, the 6-foot-5 freshman from Bothell, and Colson Yankoff, the 6-foot-4 dual-threat freshman from Couer d'Alene, two top-100 recruits who seem destined for an epic competition for the starting job come 2020. Joining them will be Dylan Morris, the big-armed kid from Graham-Kapowsin High who is regarded as one of the nation's top recruits in the 2019 class.
Not to be overlooked is Jake Haener, the 6-foot redshirt freshman who, while less heralded as a recruit, has drawn praise for his toughness and determination.
And then there's Jake Browning. Remember him?
Of course, by now you know Browning and what he's all about. When the Huskies open fall camp on Friday, Browning will begin his fourth season as the starting QB, the first four-year starter in program history. By the end of 2018, he should own just about every passing record at UW.
But as the buildup to what's next has escalated around Husky quarterbacks, the what's now has shifted to the periphery. And the suggestion that anyone could take for granted what Browning has done for the program — that a thing like Browning Fatigue might exist in some corners of Husky fandom — well, Chris Petersen can't comprehend that.
"That's crazy. That makes no sense," the coach says. "Everybody needs to be careful what you wish for. They don't know what they have."
Browning has a grounded, well-rounded perspective on what it means to be the Husky quarterback. He knows he has his vocal critics, and he knows they are out there because they like to shout at him on Twitter about his "noodle" arm or his inability to win the big game or something something something else.
He knows, too, that those critics don't represent everyone out there. They are, he estimates, just a boisterous 5 percent of the crowd that likes to pick apart the things he can't do or zero in on his mistakes. There is another 5 percent of fans, he believes, who probably love him no matter what he does.
"It's either, I'm the greatest thing ever or I'm the worst thing ever," Browning says. "The other 90 percent are pretty level-headed, but level-headed people, reasonable people aren't the ones tagging you on social media telling you all their opinions.
"I want to respond and be like, 'I don't care. Have a good life.' But you've got to take the high road."
Browning understands why so many are excited about the future of UW's quarterback position. Why some can't wait (!) for him to graduate.
"We've got some big-time recruits coming in, but my thing is — I'm not winning this job just because I played in the past. Coach Pete is not wired like that," Browning says. "I'm winning this job because I'm winning the job. It's not just because, Oh, such and such can't play this year or This guy's still young.
"You want to see the next top thing because you read all about it in recruiting and it's like all these top recruits and all that. OK, that's good, but let's not forget why they are coming there. I'm sure a lot of them would look at Washington if they were in the same situation I was (as a high school recruit), but when I committed there, it wasn't like they were the next hot thing or a big deal. They were going through a little bit of a rough patch, so now I think people look at it like I'm the guy that kind of brought it to where it is now, and now they need the next guy to bring it to that next level. And it's like, maybe. But I would disagree. And everyone has their opinion and people are crazy, and I don't really care."
• • •
Junior slump
Browning gave his critics ammunition with his uneven play in 2017. By normal standards, Browning's 19 touchdown passes (against five interceptions) and 152.1 QB rating would constitute a good, if not great, season.
But when those statistics are juxtaposed against his breakthrough sophomore season — when he was the conference player of the year after throwing a Pac-12-record 43 touchdown passes and posting a school-record QB rating of 167.5 in 2016 — it's easy to count his 2017 as a regression.
He doesn't disagree.
A hardened perfectionist, Browning acknowledges he was trying to be too perfect at times last year. As injuries mounted on the offense — particularly at wide receiver — the quarterback felt it his responsibility to do more, to be even better. It's part of what got him in trouble in the defeat at Stanford last November, when on several occasions, his curious attempts to scramble away from pressure resulted in big losses.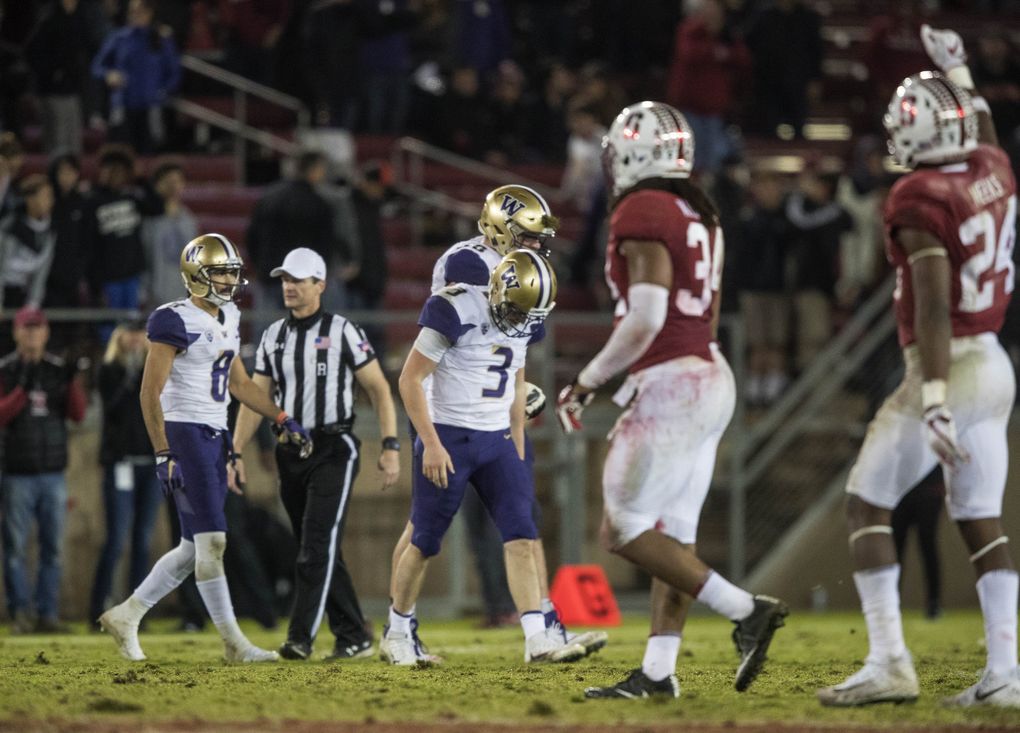 He had gotten away from some of his greatest strengths as a QB: Making quick decisions, knowing what a defense is giving him and making the routine play.
"Trying to do too much and see too much at once, instead of staying disciplined," Browning said. "I fell into that trap of, OK, you had a good sophomore year — how do I do better now?"
New offensive coordinator and QB coach Bush Hamdan, UW's wide receivers coach during Browning's sophomore season, has helped simplify Browning's mindset this offseason. Browning remains as obsessive as ever about his craft — he's analyzed every snap from last fall, and every snap he took this spring, and he's likely one of the few college QBs who sits in on coaches' meetings to decide, for example, which third-and-long play to run against a particular opponent.
But Browning is trying to find balance between pushing himself and being overly critical.
"I think the main thing is knowing my responsibilities and knowing that if I take care of my responsibilities and play a really good game as a quarterback, we're going to win a lot of games," Browning says. "That's how I look at it."
• • •
Better than ever
When he arrived as an early enrollee at UW in January 2015, Browning barely carried 200 pounds on his 6-foot-2 frame. He was told he had to gain weight to be a Pac-12 QB, and his solution was to eat … a lot. But it was a lot of "cheap" food — frozen pizza, fast-food burgers. He wasn't gaining good weight.
This offseason, he made a commitment to healthier eating habits, crediting Kyle Sammons, the program's Coordinator of Sports Science, for showing him convenient ways to achieve better health without just eating salad every meal.
"I bounce between 210 and 215, so I've gained almost 10 pounds this offseason. I feel like I'm in the best shape of my life," Browning says.
Jake Browning: 2016 vs. 2017

Year,Comp %,Yards,TD,INT,Rating
Sophomore,62.1,3430,43,9,167.5
Junior,68.5,2719,19,5,152.1


Hard as he tries, Browning won't ever have the classic physical traits of the archetype QB. Senior running back Myles Gaskin loves to tease Browning that he looks more like a punter than the star QB.
"If you look at me, I look like a lot of the people who are critiquing me. I don't look like Superman," Browning says. "You have some guys — look at Brock and Damon Huard. They still look like they could throw the ball 80 yards. But my skillset is a little different, and what I do is a little different. If I see 'Meathead' in the street, he's going to think, 'Oh, I'm better than you.' All right, that's great: Let's play football.
"I'm not ever going to be someone that goes and kills a 7-on-7 camp or anything, but when there's live bullets flying and people actually getting hit and it's time to really figure out who's going to fight, I think people would pick me pretty high."
Browning shrugs off the expectations that come with UW being picked to win the Pac-12 this season. He knows those things don't mean anything in July, just as he knows there are still those who doubt him and his team.
He's heard that his young crew of wide receivers has been labeled the "weak link" on the roster, and he hopes those guys have heard some of their critics too. (Asked about that position, Browning says: "I feel better about that receiver room right now than I did at this point last year. I think they've got some guys that are working harder than I've seen that receiver room work before, and it's pretty impressive.")
Browning knows how doubt can turn to fuel. He knows, all right, and the 2018 version of Jake Browning — like him or not — sure sounds locked in and ready to fire back.