Spring is for speculation.
The Washington Huskies have 15 practices, and their fans have a thousand questions. Will Washington product and Georgia quarterback transfer Jacob Eason finally fulfill his five-star billing? Will running back Salvon Ahmed successfully snatch the starting baton from departed standout Myles Gaskin? Will Jimmy Lake recreate the program's recent defensive dominance with a relatively inexperienced cast of characters? (Will the Times' new UW beat writer ever stop asking rhetorical questions?)
And when spring practice starts next Wednesday, which Huskies will emerge?
While we wait for concrete answers, here are (at least) eight breakout candidates for the Huskies this spring.
LB Brandon Wellington, senior, 6-0, 222. It might be more accurate to say that Wellington already has broken out. The 6-foot, 222-pound senior linebacker rebounded from a torn ACL late in 2017 to reach new heights at the end of his junior season. Wellington made eight tackles in the snowy Apple Cup victory over Washington State and piled up seven more tackles and a tackle for loss in the Rose Bowl defeat against Ohio State. He certainly looked like an established starter at the Husky combine this month, recording a 37-inch vertical jump.
Lake and Co. need Wellington to make another jump this fall. That's because standout linebackers Ben Burr-Kirven and Tevis Bartlett are both NFL-bound, and the status of senior D.J. Beavers is uncertain at best after he suffered what appeared to be a significant lower-leg injury in the Rose Bowl. UW coach Chris Petersen confirmed on national signing day that Beavers is still a part of Washington's program, but what will he realistically produce?
With a worrisome lack of depth on the second level, Washington needs Wellington to bring a measure of stability in the middle. That should start this spring.
WR Marquis Spiker, redshirt freshman, 6-3, 191. Remember Marquis Spiker? A year ago, the 6-3, 191-pound wide receiver was the Huskies' most coveted 2018 signee, providing a blend of size and speed that shot the California kid up recruiting charts and heightened expectations for his freshman season. He promptly vanished, failing to appear in a single game in 2018 (despite the fact players now are allowed to play in four games and still qualify for a redshirt season).
Perhaps new UW wide receivers coach Junior Adams will unlock Spiker's sizeable potential. Of course, the same can be said for fellow redshirt freshmen Trey Lowe and Austin Osborne. Redshirt sophomore Terrell Bynum — who failed to catch a pass in 10 games last season — also impressed at the Husky combine, finishing fourth on the team in both the 40-yard dash (4.48 seconds) and pro agility drill (3.92 seconds).
With Aaron Fuller, Ty Jones and Andre Baccellia all returning, the Huskies have no lack of experience in the wide receiver room. Still, they could use a boost in production. That's where Spiker (or someone else?) steps in.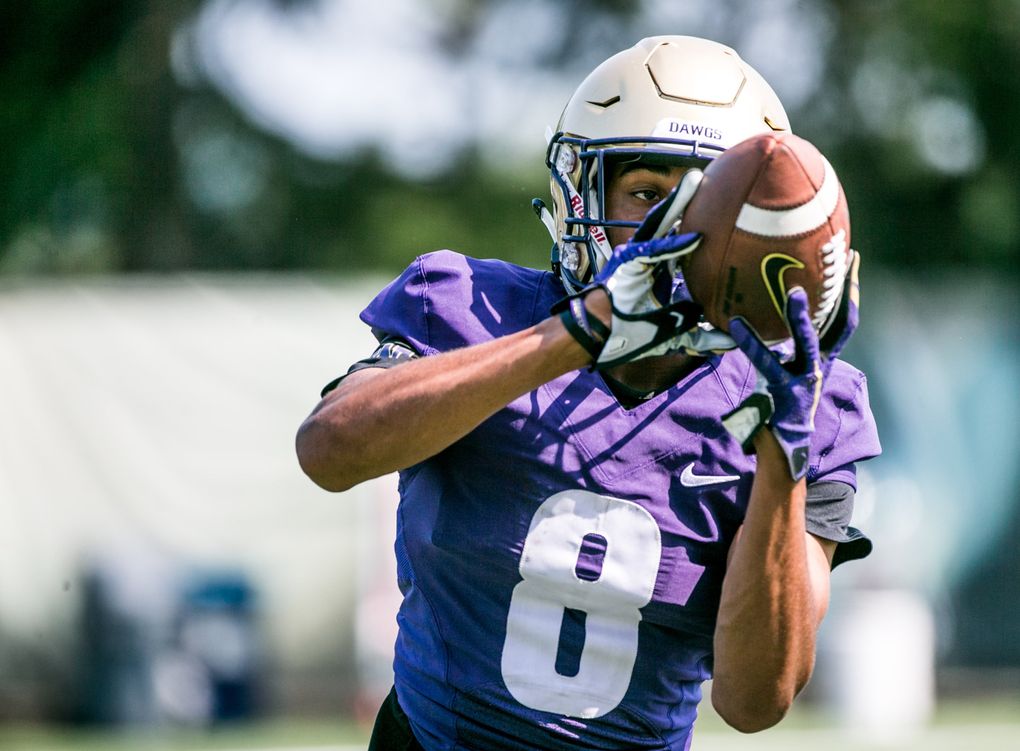 CB Kyler Gordon, redshirt freshman, 6-0, 189. If it's possible to win the Husky combine, Kyler Gordon won it.
The 6-0, 189-pound cornerback from Mukilteo nearly shot through the roof of the Dempsey Center, registering a 42.5-inch vertical jump that was a full four inches higher than the next-best Husky. Gordon also finished second in both the 3-cone drill (6.52 seconds) and pro agility drill (3.87 seconds) and third in the broad jump (10 feet, five inches).
Gordon played in four games in 2018, preserving a redshirt season. He should play a whole lot more this fall. Without the likes of Byron Murphy and Jordan Miller, expect junior Keith Taylor to snatch one of the available starting cornerback spots. Gordon and fellow redshirt freshmen Dom Hampton and Julius Irvin (who might also get a shot at safety) will compete for the other.
Regardless of how he fits into the cornerback rotation this fall, Gordon's ceiling — same as his vertical jump — remains sky-high.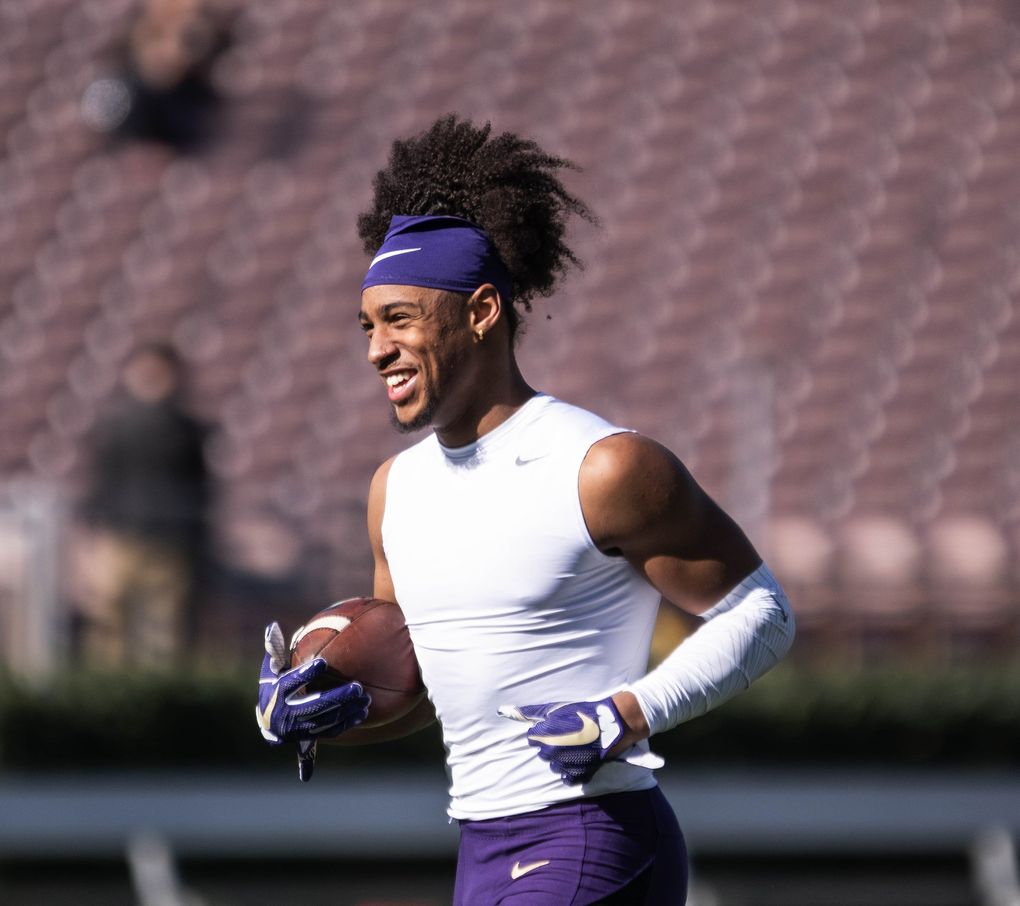 DT Tuli Letuligasenoa (RS fr., 6-1, 336) and Sam Taimani (RS fr., 6-1, 318). No Greg Gaines, Shane Bowman or Jaylen Johnson.
No hope?
Not so fast.
It's true, Washington has a lot of production and game experience to replace on the defensive line. But  Petersen has recruited well enough in the past two classes to potentially reload in a hurry. He signed four highly touted interior defensive linemen — Jacob Bandes, Faatui Tuitele, Noa Ngalu and Sama Paama — in the 2019 class, and it'd be easy to speculate about the immediate impact those massive men could make on Montlake this fall.
But don't forget about Tuli Letuligasenoa (6-1, 336) and Sam Taimani (6-1, 318). Both players appeared briefly in redshirt seasons in 2018. Both players learned from the likes of Gaines, Bowman and Johnson and spent a full season outside of the spotlight, quietly improving in the weight room.
Of course, any conversation about the 2019 UW defensive line should start with redshirt junior Levi Onwuzurike, who returns after compiling 34 tackles, 6.5 tackles for loss and three sacks in 2018. But he can't do it by himself. And sure, both Bandes and Tuitele are tantalizing freshman talents. But Letuligasenoa and Taimani will have an opportunity to establish themselves this spring.
DB Elijah Molden, junior, 5-11, 190. We listed Molden vaguely as a "defensive back" for a reason. The 5-11, 190-pound junior is a natural nickelback and has contributed 48 tackles and six passes defended in 27 games over his first two seasons at UW. But with Myles Bryant returning, might Molden be the right man for a position switch? The Huskies also are inexperienced in the back end, with just three returning safeties on the roster (if you count converted wide receiver Alex Cook) and one combined start between them. Molden and redshirt freshman Julius Irvin both have the versatility to potentially star at either spot.
Molden — who excelled at the Husky combine, finishing first on the team in the pro agility drill (3.84 seconds), third in the 40-yard dash (4.44 seconds) and fourth in the 3-cone drill (6.68 seconds) — is too good not to be a consistent contributor this fall. He'll likely prove that in April, regardless of where he plays.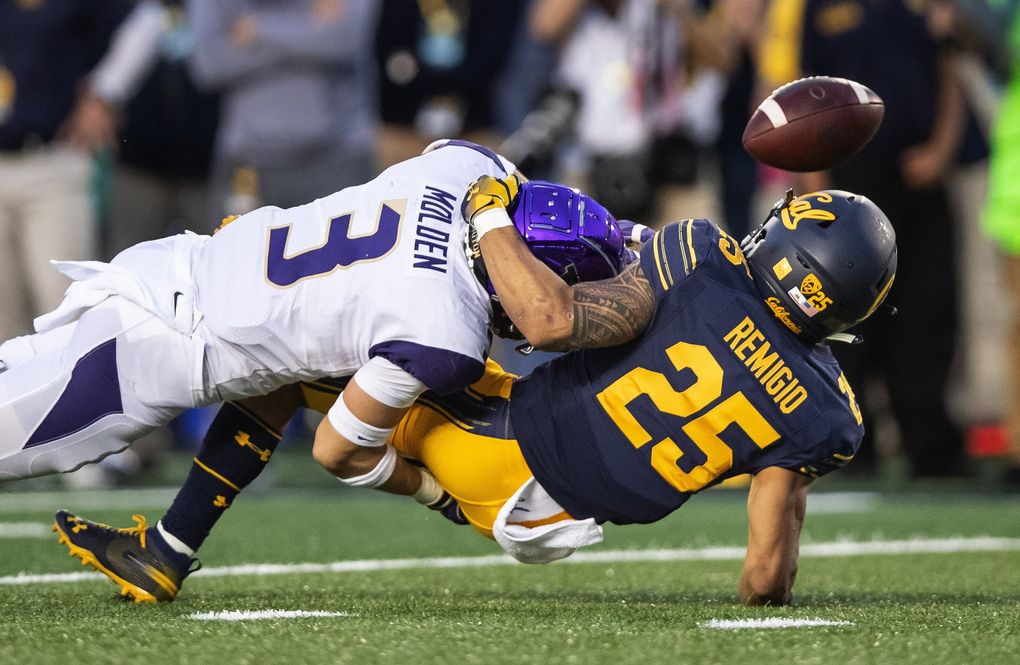 ILB M.J. Tafisi (RS fr., 6-0, 221) and Jackson Sirmon (RS fr., 6-2, 229). We already mentioned Brandon Wellington. But who will start beside him?
The early favorite might be fifth-year senior Kyler Manu, assuming that Beavers is not healthy enough to participate this spring. A 6-1, 238-pound linebacker, Manu played in all 14 games last season and contributed 10 tackles and a fumble recovery.
Still, if we're looking for breakout potential, it's better to focus on a pair of redshirt freshmen. Both Tafisi (6-0, 221) and Sirmon (6-2, 229) have had a year in the Huskies' system, which should give them a head start on highly touted freshmen such as early enrollee Josh Calvert and February signee Daniel Heimuli. There's also ample opportunity for starting reps, given that Burr-Kirven and Bartlett are gone and Manu seems more like a band-aid than a cure.
Sirmon played in four games last season, while Tafisi appeared in three. Inside linebackers coach Bob Gregory will need his redshirt freshmen to take some significant steps this spring. But will either do enough to secure a starting position? Only time will tell.
OLB Joe Tryon (RS soph., 6-5, 267) and Ariel Ngata (RS soph., 6-2, 217). Washington finished 100th nationally with 1.7 sacks per game last season. Their 24 total sacks were the program's fewest since 2008.
It doesn't take an expert to understand that isn't good enough.
Without a dynamic pass-rusher on the roster, UW needs to find consistent improvement across the board. Taylor Rapp, a safety, somehow led the Huskies with five sacks last season. Outside linebackers Benning Potoa'e and Ryan Bowman — who each return — underwhelmed with one apiece. The hope is that redshirt sophomores Ariel Ngata (11 tackles and one forced fumble in 12 games last season) and Joe Tryon (20 tackles, two TFL and one sack in 12 games) can elevate their play. There's no question they'll be granted every opportunity to do so.
And if they can't, even more stress will be placed on a suddenly inexperienced UW secondary.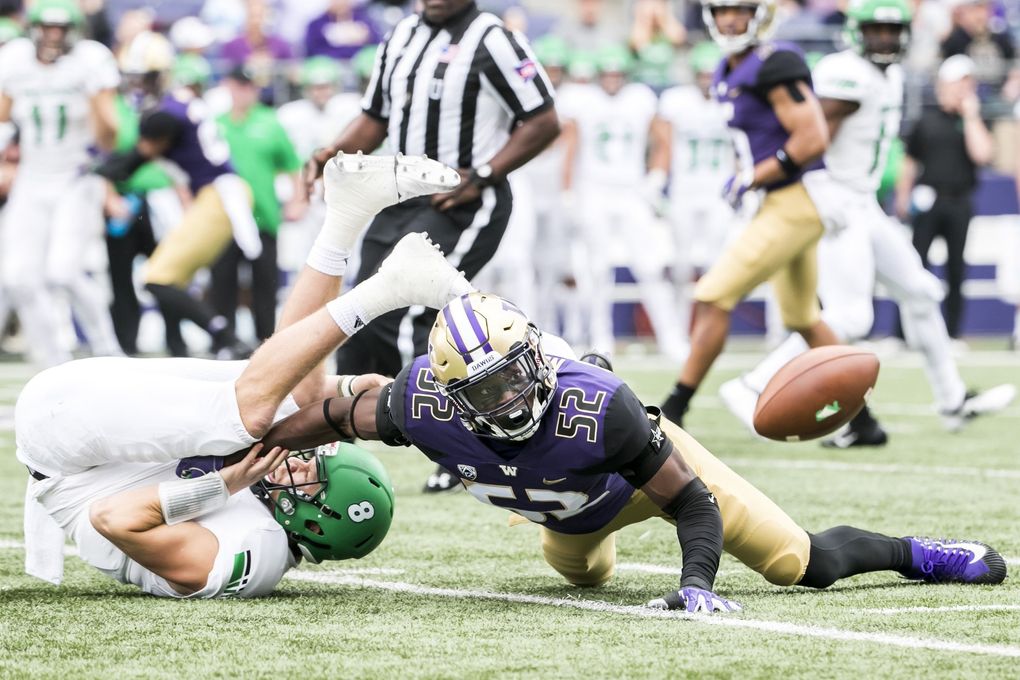 OL Corey Luciano, redshirt sophomore, 6-3, 270. The Huskies seem virtually set with an experienced offensive line. They return four Rose Bowl starters — left tackle Trey Adams, left guard Luke Wattenberg, center Nick Harris and right guard Jaxson Kirkland — and the primary contender to replace Kaleb McGary at right tackle, Jared Hilbers, started 11 games at left tackle while Adams was injured last fall.
Still, if there's a wild card, it's Luciano.
The 6-3, 270-pound redshirt sophomore enrolled in January as one of the program's few junior college transfers. Luciano, who comes to UW from Diablo Valley College, was a teammate of current Husky quarterback Jake Haener at Monte Vista High School in Danville, Calif. Petersen and the UW coaching staff clearly saw something in Luciano to bring him in, and he'll immediately have more high-level game experience than the program's six true and redshirt freshmen.
It looks like Luciano has the build of an interior offensive lineman, but don't be surprised if he inserts himself into the right tackle competition. Luciano was ranked as the No. 4 junior college offensive tackle in the 2019 class by 247Sports.