Freshman stars Dejounte Murray and Marquese Chriss are better off staying another year at Washington, and they can help save Lorenzo Romar's coaching job while polishing their games.
Lorenzo Romar has had a 14-year run unprecedented in recent Washington Huskies men's basketball history. He is an alum who returned to his school to put UW basketball back on the map when the city languished with mounting Mariners losses, the pre-Schneider/Carroll Seahawks, a Huskies football team still wrestling with ghosts, and most of all, the heartless fracking of the Sonics.
And now, Romar is down to his last shot. Unless he can not only get the Huskies back in March Madness but perhaps have a decent run, it's hard to imagine his own run extending beyond next season.
That might be wrong, and it would be too bad. And like the other good guys in Seattle's unique and proud sports history — Lenny Wilkens and Don James rewarded; George Karl, Lou Piniella and Chuck Knox so close — Romar deserves to have his moment.
Dejounte Murray, and Marquese Chriss — YOU can make this happen.
I never pretend to walk in another man's shoes. For a teenager, signing a seven-figure NBA contract that could potentially set you and your family for life is an opportunity few in sports, politics or business will ever have. Bully for you.
Yet let's strip this down. Marquese, you are close. You have filled out. Your moments on defense and dunking are already NBA-like. But then there are the fouls. The 68 percent shooting at the foul line. The 35 percent shooting on three-pointers. Develop a bit more rounded game on offense while not fouling out on D. And truly get a feel for the game. Sitting at the end of a pro bench is not going to help. Lorenzo can.
Dejounte, you truly have the world at your fingertips. Like Tony Wroten Jr., you thrilled us this season with slice-and-dice finger rolls, up-and-down the elevator shaft, swishing straight-through magic. But there is more to be done. You do need to fill out and keep working hard in the offseason. You do need to become better from behind the arc. You can go a level higher being the quarterback and receiver next season. Lorenzo can get you there.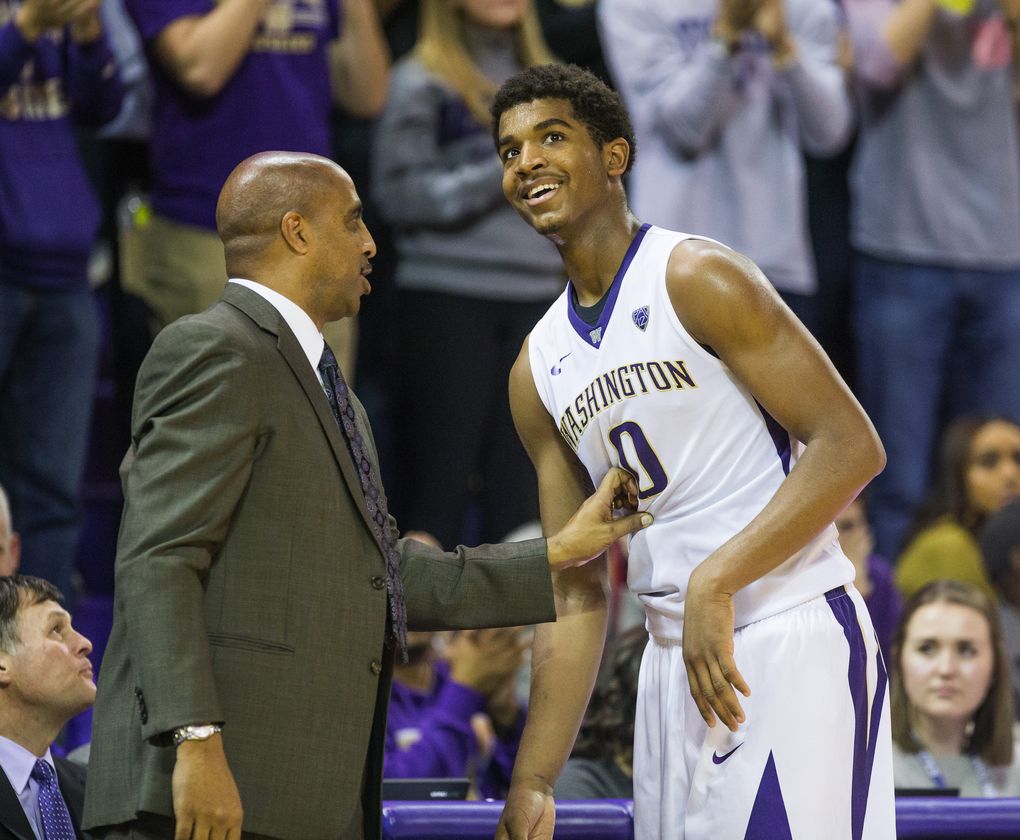 To both of you, you have some other interesting bullet points on your pro-and-con list. You can save your coach's job. A coach on the left coast in a Cascadia cocoon time zone under a steely gray sky. You can bust all that, and become not just a star, but be a legend, with the numbers in the rafters that go with that. Both of you will earn seven figures, most likely higher this time next year if you stay, but both of you can also have memories for life, at a place and a city that had it's hoop guts ripped out. You can join not just Bob Houbregs, Detlef Schempf, Brandon Roy, Isaiah Thomas, and Nate Robinson. Not just Sonny Sixkiller, Warren Moon, and Steve Emtman. You can join Downtown, Reign Man, The Glove and The Kid in giving the entire region memories for life — including yourself.
The Huskies can be that good next year. By adding 6-foot-9 Auburn transfer Matthew Atewe and 6-10 New Zealand recruit Sam Timmins, the front-line depth will be better than it has ever been with your pterodactyl length. Matisse Thybulle is a true Swiss Army Knife, who reminds us old-timers of the late great John Johnson and winning time. Replacing Andrew Andrews will not be easy, but a combo of Murray and David Crisp, who showed moxy for a freshman, and incoming five-star recruit Markelle Fultz makes this more than a pipe dream. Your team can score, you can bang, you can D up, you can run, and you can deal. And you can win. It all.
And you can save your coach's job and solidify him and yourselves into Seattle sports posterity. Lorenzo is not ESPN or Nike, he is not the Duke/KU machines, he is not the preposterous arrogance that is John Calipari or Sean Miller, or another sordid chapter in Louisville.
You can have it all. The NBA with its riches, along with the lifelong pride in taking Washington basketball to heights not even Marv Harshman could attain. And you can save the job of one of the last good guys while you are at it.
We are behind you, whatever you decide.
Greg Davison is a 54-year-old former sales director who now teaches high-school business and chairs the Chamber of Commerce in San Anselmo, Calif. He graduated from Interlake High School in Bellevue and Whitman College, while attending many Sonics, Husky, Sounders, Totems, Seahawks and M's games. The proud Evergreen State expat still attends all the games he can when Seattle teams visit the Bay Area.
Want to be a reader contributor to The Seattle Times' Take 2 blog? Email your original, previously unpublished work or proposal to Sports Editor Don Shelton at dshelton@seattletimes.com or sports@seattletimes.com. Not all submissions can be published. Opinions expressed are those of authors, and The Times reserves the right to edit and publish any submissions online and/or in print.