Washington is still alive.
It took a crazy offensive performance and some clutch free-throw shooting for the third-seeded Huskies to outlast No. 6 Long Beach State 107-102 in Tuesday's NIT opener at Alaska Airlines Arena.
Washington (19-14) plays at No. 2 seed San Diego State (26-9) at 8:30 p.m. Monday on ESPN2. The Aztecs defeated No. 7 Indiana University-Purdue University Fort Wayne 79-55 on Tuesday.
Here's three takeaways from the game.
SO MANY HIGHLIGHTS, SO LITTLE TIME — The Huskies could make a YouTube highlight video from Tuesday's action. It was that good. Marquese Chriss' dunking. Chriss blocking – no check that – catching a layup attempt at the rim with both hands. (It was an amazing defensive display in a game filled with many highlights.) Dejounte Murray dancing in the paint and lofting high-arcing floaters over defenders. And Andrew Andrews breaking ankles with a crossover dribble and ending the first half with a stylistic long jumper and an old-fashioned three-point play. Murray (30 points), Chriss (27 points and 11 rebounds) and  Andrews (25 points), combined to score 82 points and provide 76.7 percent of the offensive production. No other UW player had more than six points and the Huskies used a nine-man rotation.
HUSKIES ARE LIVING DANGEROUSLY — Maybe you get defensive performances like this when you have 48 hours to prepare for an opponent. But I don't think Washington wants to rely on a 61-point performance in the second half to pull out many more games. The 49ers scored 51 points in both halves. They routinely beat the Huskies on back-door layups and transition points. They also shot 51.4 percent in the first half and 47.4 percent in the second half. It would be one thing if LBSU went crazy from three-point land, but it didn't. The 49ers were 8 of 26 beyond the arc. And UW's shoddy defense would be explainable if someone had a monster night. Granted Nick Fraust scored 26 – 14 in the first half – but he needed 22 shots and was 4 of 13 on three-pointers. As the competition gets better, the Huskies will have to improve their defense or else their postseason will end.
LORENZO ROMAR IS MORE ANIMATED THAN EVER — It's best not to get on Romar's bad side. Especially if you're an official. Maybe in the past a more congenial Romar – the dean of Pac-12 coaches – would frown and protest a little bit after a call went against the Huskies. These days, he's getting downright testy. And it doesn't take much to set him off. Mount Romar blew late in the first half Tuesday. It started when Andrews went down after it appeared he was tripped and called for traveling. Romar went nuts on the sideline. But he went absolutely ballistic minutes later when Chriss was called for a foul on Roschon Prince after a little bit of contact and the LBSU player went down. Romar stomped, yelled and gestured so much that the official across the court gave him a technical. Later Romar admitted "I threw a tad bit of a small mini fit. … Fighting for our guys." Romar said similar words after he received a Pac-12 reprimand when he criticized officials following a controversial 82-81 loss at Oregon State.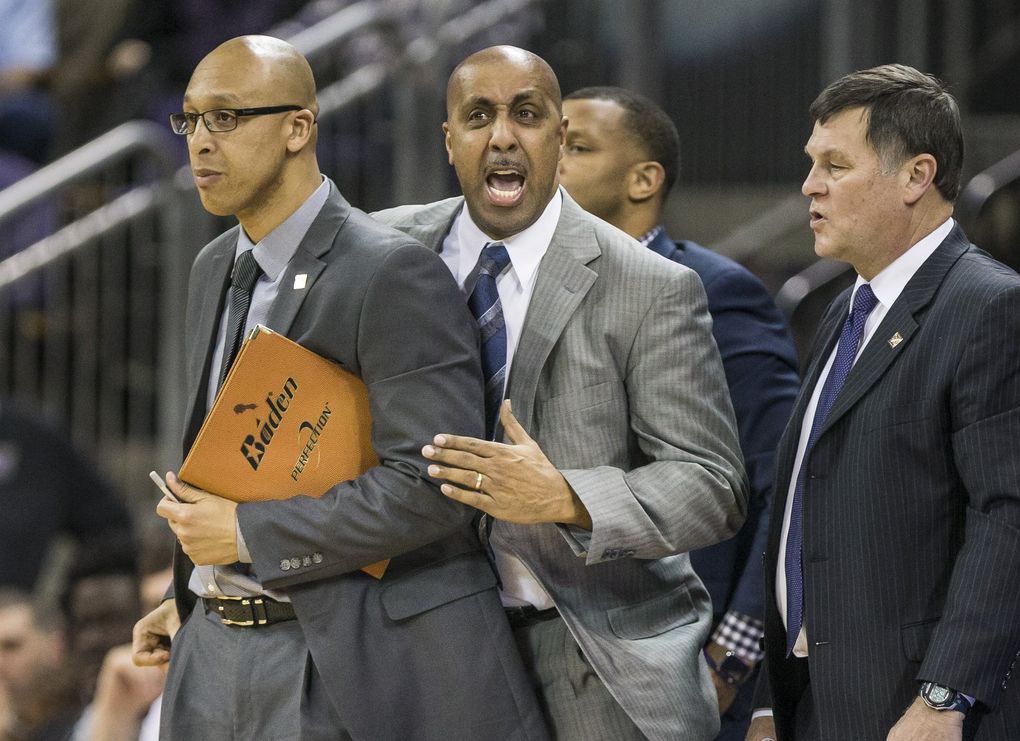 Here's another photo of Romar that summarized a wild and crazy night in which the Huskies were at times very good and other times extremely bad.