Halibut anglers will like what they see this coming spring in state-wide marine fisheries that reflects an increase in the sport catch quota.
The International Pacific Halibut Commission met on Jan. 23-26 in Victoria, British Columbia, and set the West Coast catch quotas.
"The total Washington sport catch quota last year was 214,110 pounds (as well as in 2015 and 2014), and this year it is 237,762 pounds," said Heather Reed, the state Fish and Wildlife policy coordinator. "More in the catch quota is better for everybody, and hopefully it will extend beyond our season last year. People can make plans on when to go fishing as we are now just in the formal part of putting the rules in place."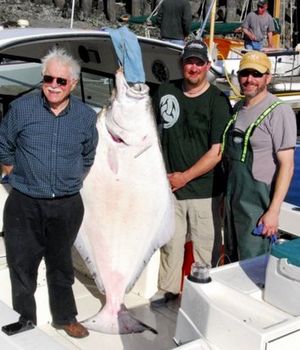 The entire West Coast catch quota for sport, tribal and non-tribal commercial fisheries is also up with a quota of 1.33-million pounds compared to last year's 1.14-million pounds.
"The (IPHC) used the word stable to summarizwe halibut popuations all of Area 2A (Washington, Oregon and California) as well as Canada and part of southeast Alaska (Area 2B)," Reed said.
Anglers will notice a change to the structure of the fishing seasons, which state Fish and Wildlife decided late last year to convert its management approach for inner-marine sport halibut fisheries in order to avoid exceeding catch quotas.
"The season structure really hasn't changed, and our approach is to try and offer a more meaningful fishing opportunity," Reed said. "We are pleased with this increase and it will provide a bit more opportunity for our very popular halibut fishing seasons."
For the last several years, Reed indicated, the sport fishermen have taken more of the share of the catch quota in the Strait of Juan de Fuca and inner-Puget Sound marine waterways.
The state's new approach is similar to how fishing seasons are managed on the coast from Westport to Neah Bay.
Last year, the sport halibut fishery in Puget Sound — including areas from Sekiu to Port Angeles in the Strait of Juan de Fuca — had a quota of 57,393 pounds and the total catch was 102,699 pounds.
The sport halibut season dates for Puget Sound are now matched up to mirror the northern and south-central coastal seasons, which includes Westport but not the Columbia River off Ilwaco.
Halibut fishing in Puget Sound, the Strait of Juan de Fuca and the coast off Neah Bay, La Push and Westport will be open May 4, May 6 and May 11.
Once fishing is completed during those fishing dates then state Fish and Wildlife will assess the catch to see if more is available in to reopen fishing on May 21 and possibly May 25. Beyond that, if enough remains in the quota then it could reopen on June 1 and/or June 4.
The halibut all-depth fishery off the Columbia River area at Ilwaco will open May 4, with fishing allowed Thursdays through Sundays of each week. The nearshore fishery off Ilwaco will open May 8 with fishing allowed Mondays through Wednesdays of each week.
This year, the sport halibut fishery in Puget Sound — including areas from Sekiu to Port Angeles in the Strait of Juan de Fuca — is a quota of 64,962 up from 57,393 pounds last year.
The northern coast off Neah Bay and La Push caught 107,417 pounds last year with a catch quota of 108,030. This year, the quota is 115,599 pounds.
"Fishing was pretty good off North Coast, but they got hit with some bad weather days," Reed said in an interview back in mid-December. "While normally the fishery lasts three or four days, it actually stayed open longer."
Last year, the south-central coast off Westport produced 43,785 pounds with a catch quota of 42,739. This year the catch quota is 50,307 pounds, and 2,000 pounds will be reserved for the near-shore fishery.
The southern coast off the Columbia River — co-managed with Oregon — caught 11,895 pounds last year with a catch quota of 11,009. This year, the catch quota is 12,799 pounds with 500 pounds reserved for the near-shore fishery.
Reed noted that Westport anglers went a smidge over the sport catch quota, and fishing success was, "pretty good last year."
The northern coastal sport quota was 108,030 pounds; south-central coast was 40,739 plus a reserve quota of 2,000 for the near shore fishery; and southern coast was 11,009 with 500 reserved for the near shore fishery.
The daily catch limit in all marine areas is one halibut with no minimum size limit.
The only hang-up to the shift in the sport-fishing season structure is the Port Angeles Salmon Club had to cancel its Memorial Day Halibut Derby since any dates beyond May 11 were guaranteed to be open. The derby had been an ongoing and popular annual fishing event since 2001.
The National Marine Fisheries Service will make its final approval on fishing dates sometime in March or sooner, and Reed says no changes will likely occur. To view the entire halibut coastal season quotas, go to the IPHC website at http://www.iphc.int/.