At 25, Mike Frier got a second chance to play for the Seahawks and had recently become a father. Then he went out with teammates on Dec. 1, 1994.
Part 1: Mike Frier
At the beginning of the end, Mike Frier wanted a guys night out — some pool, a few beers with teammates. Frier, a 6-foot-5, 300-pound defensive tackle, had been with the Seahawks for 30 days. He still drove a rental car to practice and future Hall of Fame defensive tackle Cortez Kennedy had recently taken him under his wing. Outside of practice, however, Frier spent his time caring for his girlfriend, Kelly Butler.
Frier and Butler had previously broken up because of his infidelity, and several months had passed without any communication. But that changed when Frier signed with the Seahawks on Nov. 2, 1994, perhaps his final chance in the NFL. Two weeks later, Butler's younger brother was murdered.
On Nov. 15, Darion Norman, Butler's 18-year-old brother, was shot and killed in a pickup truck. Butler's grief left her comatose, staring blankly at the walls in her Federal Way apartment. After practice, Frier cooked dinner, cleaned and took care of the couple's 18-month-old daughter, Mik'kell.
"I was out of it, and he was there for me," Butler says. "He was there doing everything."
It was rare for Frier to stay in for long. He loved dancing and the excesses of the NFL. With his size and a gap between his front teeth, he attracted stares wherever he went. Butler noticed him in a crowded sports bar in 1992 and told him, "Scoot over, you're blocking my view."
One night that summer, Butler laid on top of Frier on the couch. They cried as they talked about loss and heartbreak. She told him about her grandma's recent death; he told her about his adopted mom's death earlier that year from lung cancer. Eventually, in a muted voice, he asked if she would have his child.
"I just want something of my own," he told her. "I want something that's a part of me."
Their daughter was born on June 9, 1993. They named her Mik'kell — half Mike, half Kelly.
Two years later, in December 1994, Frier asked Butler for a night out, so after practice she and Mik'kell drove him to a billiards hall in Kirkland. He handed her several hundred dollars to shop at the Bellevue mall, told her to come back in a couple hours and walked inside.
Frier joined running backs Lamar Smith and Chris Warren, teammates he barely knew. Around 6:30 p.m., Butler and Mik'kell returned to the bar, but Frier was nowhere to be found. Butler paged him. He never answered.
Frier and his teammates had gone to TGI Friday's for more drinks. They stopped at a convenience store for a 12-pack of beer. Somewhere along the way, Warren realized he'd left his keys at the Seahawks' headquarters, and Smith drove them in his 1992 Oldsmobile Bravada.
Music thumped in the car. Rain fell. Frier rode in the backseat.
It's usually difficult, even impossible, to pinpoint the moment someone's life changed. But with Frier it's easy, right down to the minute: 8:41 p.m. on Dec. 1, 1994.
Except it wasn't just Frier's life that changed. His 18-month-old daughter's did, too.
❖     ❖     ❖
Four months earlier, in the summer of '94, Frier partied, slept in and partied some more. Unhappy about his contract with the Bengals, he skipped training camp and lived with friends in a three-bedroom apartment in Marietta, Georgia, a suburb of Atlanta. His 1-year-old daughter, Mik'kell, lived with Butler in Seattle.
Most weekends, Frier and his friends barbecued. "No sides, all grilled meat," says Garnett Strothers, a childhood friend. Often, Frier wound up at one of Atlanta's notorious strip clubs, including the time he spent 12 hours drinking and paying for lap dances.
"Listen, Mike loved the strip clubs," says Cliff Lighty, another childhood friend. "Mike loved to party. Mike loved women."
He also loved the NFL because for most of his life the league seemed distant. Frier was adopted by Ulysses and Ann Frier after he was born on March 20, 1969. He knew his biological mother, who also lived in his hometown of Jacksonville, North Carolina, but he never knew his father.
"My dad always struggled with that," Mik'kell says.
A decent player growing up, Frier loved deejaying as much as football. He shot up after his freshman year of high school and grew big enough to play at Appalachian State, where teammates nicknamed him Supasize. Although naturally smart — friends say he was special at math — he didn't focus and was ineligible for one season in college.
Still, the Seahawks liked Frier's size and agility and drafted him in the seventh round in 1992. They wanted to put him on the practice squad, but Cincinnati claimed him. In his second season with the Bengals, in 1993, he played in all 16 games and made six starts. He also recorded his only sack. Buoyed by that success, he demanded a new contract.
❖     ❖     ❖
During his holdout, Frier grew antsy with inactivity. One friend said he wasn't "one to sit around and do nothing."
"Always dancing, always laughing," Butler says.
Frier had a charming way with women, at least after he turned pro. He upgraded his clothes, wore expensive shoes and paid particular attention to his hair.
"Mike was not a ladies man in high school," Lighty says. "Matter of fact, I don't even remember Mike having a girlfriend in high school. But he made up for it. He more than made up for it."
His size gave him attention, but it also gave him an identity. He was the Big Man, and he could dominate a room just by walking in it. He had a loud, booming voice and Strothers said he "loved that big guy persona."
"He just busted out crazy-ass dance moves that would have you laughing because he was such a big guy," Butler says. "He embraced his stature."
Friends called him a big baby because he pouted if he didn't get his way; he knew everything and was never wrong. But they also understood how much he savored his new life. He told one friend that he wanted a pool with the NFL logo on the bottom.
❖     ❖     ❖
His holdout ended without the contract he wanted. Worse, he arrived at training camp overweight and out of shape, drawing sharp criticism from Cincinnati coach Dave Shula.
"I don't understand at all," Shula grumbled to reporters. "He did nothing to prepare himself."
Frier played one game for the Bengals in '94 before disappearing for three days without explanation. Bengals officials resorted to calling hospitals and police departments. Frier later told his father he was unhappy about playing time, and the Bengals cut him. For two weeks, he didn't have a job. Then the Seahawks reached out.
"He got the call he was waiting to hear," Strothers says. "Time for a fresh start."
❖     ❖     ❖
One of the first people at the crash was a 19-year-old from Kirkland. He heard "loud music, a big booming music" while walking across the street and ran to a nearby house to call 911 after watching the Oldsmobile Bravada crash into a utility pole.
Three times the utility pole exploded, showering the car in sparks. Most of the car's windows were shattered. From the back seat came the grisly screams Lamar Smith recalled years later in court: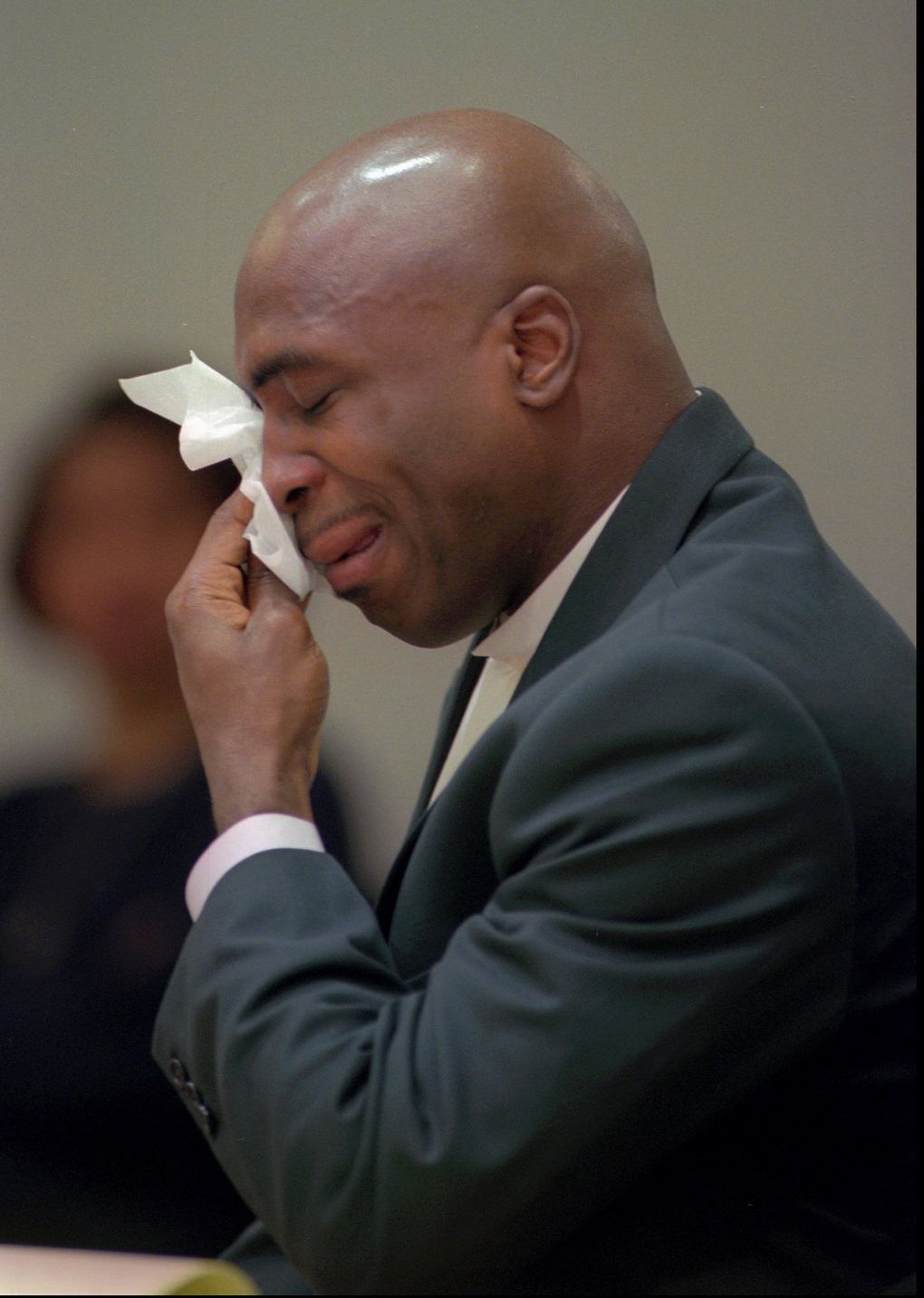 "God help me! Somebody help me! I can't move!"
It was Mike Frier. A 200-pound speaker had broken loose from the rear of the car and crushed him. The 19-year-old witness waited for paramedics. "The guy in the back was seriously injured, doubled over, yelling," he told reporters. "The man was in incredible pain."
Smith had tried to pass a car in the turn lane on 108th Avenue Northeast, crossed an island median and slammed into the utility pole, just five blocks from the Seahawks' headquarters.
The next day, at a somber news conference, a doctor said Mike Frier would likely never walk again.
❖     ❖     ❖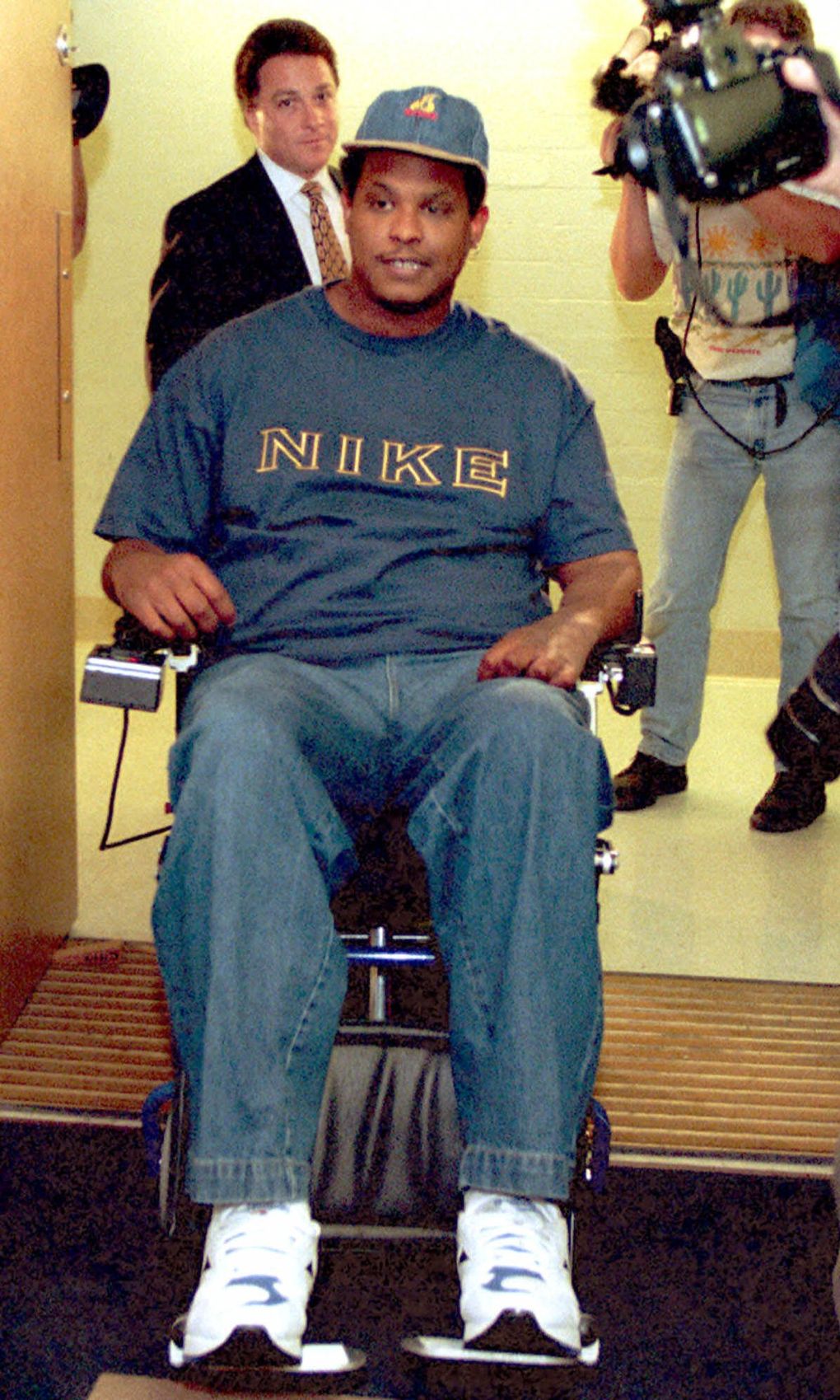 Frier cracked jokes with nurses and patients, but at the hospital he told Butler the dark truth. "He wished he would have died in that accident," she says.
The Seahawks gave him tickets for the 1995 season, but he never attended a game. Nor did he go to the team's practice facility. For a man who loved attention, who loved dancing and his size, he never accepted life in a wheelchair. He did not grow more appreciative after the crash, his tragedy inspiring a new perspective on life. Instead, he "turned into a recluse," Butler says. He rarely left his basement, with his recording studio and refrigerator. He connected with the world through Twitter and Facebook and "didn't really want to be around people," Butler says.
No amount of money could ever fix what he'd lost — a part of himself in the backseat of Lamar Smith's car.
"I feel like his life ended when he got into his accident," Mik'kell says.
"It's like one of those Shakespearean novels," says his childhood friend, Brian Maddox. "The tale becomes tragic after the wheelchair."
Some days he sat by Lake Union near the UW Medical Center, where three times a week he did physical therapy. He'd stare out over the gray-blue water, the loneliness of the lake in winter. Only later did he reveal that he was thinking about rolling into the chilly water, knowing he couldn't possibly swim.
The reason he didn't, he told his daughter, was because of her.
❖     ❖     ❖
Part 2: Mik'kell Frier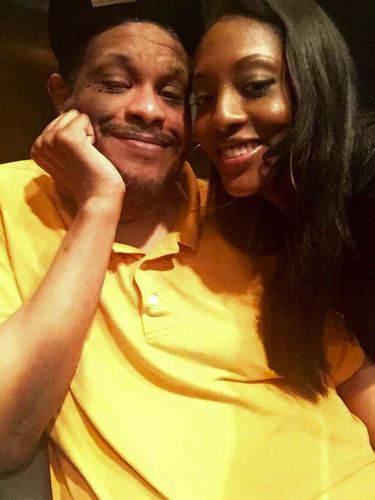 Mik'kell Frier waited for instructions from her dad. It was the final day of 2015, and she'd just taken him to get his wheelchair fixed. When they were about to drive home, however, he complained of chest pains.
"Just give me a minute," he said. "Go."
Like always, Mik'kell listened. She drove toward the apartment they once shared in downtown Atlanta but soon he asked her to stop. His chest still hurt. She offered him water. He told her to roll down the windows.
"Just take me home," he said.
She merged onto the highway and glanced at her father, all 300 pounds of him, in his usual attire of sweats and a t-shirt. He kept one hand over his chest. Outside it was clear and chilly.
Back in Seattle, Kelly Butler's phone rang. It was Mik'kell, hysterical, driving her father's 2013 Toyota Sienna down the highway.
I feel like his life ended when he got into his accident."
"Pull over," Butler yelled to her daughter. "Pull over right now."
Then Mik'kell's phone died.
❖     ❖     ❖
A week earlier, Mik'kell was about to make a bottle of milk for her three-month-old son, Kayden, when her dad rolled into the kitchen. He wanted to do it.
For years, Frier clung to hope that he would walk again — what he once referred to as a "miracle." But 21 years had come and gone, and no miracle ever arrived. He had minimal use of his hands. Fiercely independent, he showered and dressed himself the best he could. But for many daily rituals, he needed Mik'kell, his only child.
Mik'kell spent summers and holidays with her dad in Atlanta. She left Seattle after high school to live with him, and once he filed for bankruptcy and had to leave his house, they shared an apartment downtown. He bought her car, managed her bank accounts and spoiled her.
"She was his only reason to be alive," Butler says.
She watched the black-and-white movies he loved but she hated, fixed his precious internet and helped him cook.
"I was his hands," she says.
In the kitchen, she watched curiously as her father prepared the bottle of milk. He took the scooper out of the baby formula canister and dumped two scoops into the bottle. He needed Mik'kell to twist the lid, but he clutched the bottle between his hands and shook.
He told her, "I just wanted to be able to say I made my grandson a bottle."
❖     ❖     ❖
Mik'kell had spent the last several years worrying about her dad. She had to beg him to leave the house or visit the doctor. Anytime she talked about the future, he shut her down.
"Daddy, if something would happen to you, what am I supposed to do?" she'd ask. But he always had the same response: "We can talk about that later."
I just wanted to be able to say I made my grandson a bottle." - Mike Frier
The accident had left Frier a rich man. He won $500,000 from the city of Kirkland, and in 1997 he also settled a civil suit against Lamar Smith. Frier received 35 percent of Smith's net income and 50 percent of all his signing and performance bonuses over a seven-year period. In 1998, the same year Smith pled guilty to vehicular assault, he signed a contract with the Saints that paid him up to $11 million.
Frier bought a three-story house outside of Atlanta — a "mini mansion," Mik'kell says. Inside, he had an elevator. Out back he had a pool and a pond with a private pier. For several years, he spent money with youthful ignorance, a habit Mik'kell inherited.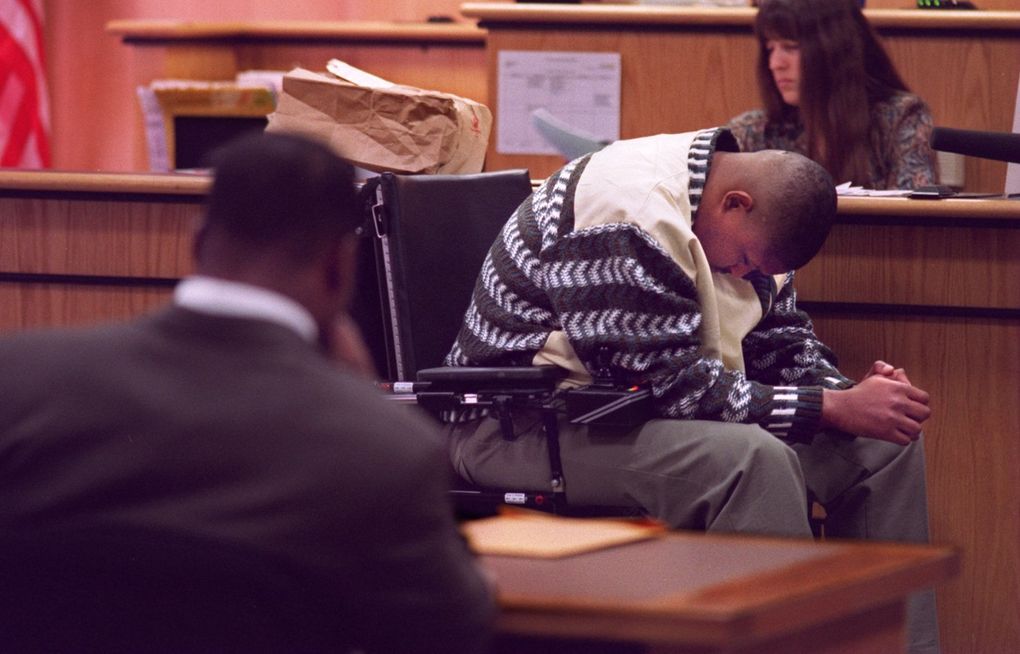 In January 2000, five years after the crash, Frier paid for a limo to chauffeur him and his friends around Atlanta, the host city of the Super Bowl.
"Three of us almost went down trying to put that big dude in the limo," Cliff Lighty recalls.
His friends still brag about that night like middle-aged men reminiscing about college. "Listen, we were smoking weed, drinking champagne, women," Lighty says. "We had everything in that limousine. I don't even remember what time we got home. I don't even remember who got him out of that limousine."
Frier and his buddies never left the limo, but it didn't matter.
"It was the last real normal night we had," Lighty says. "We had so much fun that we forgot that Mike was paralyzed. He had so much fun that he probably forgot as well."
A year later, Bill Plaschke, a columnist from the Los Angeles Times, called Frier. Plaschke was writing a story about Lamar Smith, who had a breakout season with the Dolphins. Plaschke told Frier it was as if Smith were still in prison.
"Oh yeah?" Frier replied. "Well, so am I."
Daddy, if something would happen to you, what am I supposed to do?" - Frier's daughter Mik'kell
❖     ❖     ❖
Brian Maddox, a childhood friend, lived 30 minutes away from Frier in Atlanta. For a while he drank beer and watched Monday Night Football at Frier's house, loaded with amenities he couldn't enjoy.
"Man, I think about that all the time," Maddox says. "You're gonna make me cry, man. It was…It was sad, man. Like a big dungeon. I mean, it was pretty. A beautiful home. But he stayed down in the basement most of the time. It was dark. No visitors. He would just sit there and watch TV all day. He was just obsessed with the fact that he was going to be in that chair, and we weren't going to see him the same way."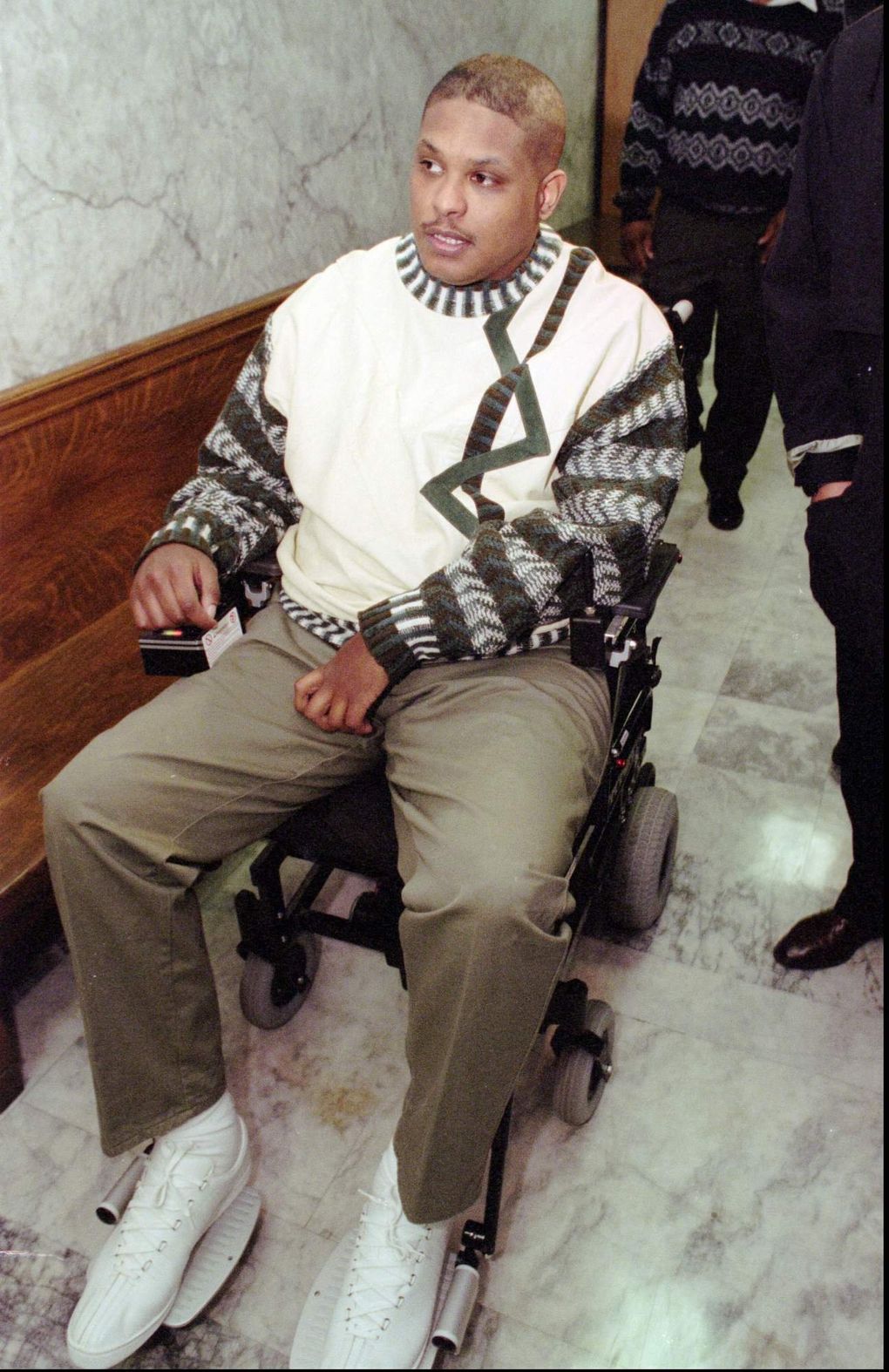 Eventually, however, Maddox stopped coming around. "I felt like he was just sitting there waiting to kill himself," he says. "He wasn't following up on medication. Not doing the things he was supposed to do. I felt like I was contributing to it, and I didn't want to be a part of it."
Frier looked pale, like he didn't see the sun, and had become frail. Mik'kell massaged his swollen legs and stretched his fingers, trying to make him comfortable.
"I thought about my dad more than I thought about myself," she says.
❖     ❖     ❖
With her phone dead on the side of the highway, Mik'kell flagged down a car and called 911. Minutes earlier, she had glanced at her father in the rearview mirror, except this time his tongue hung out his mouth and his eyes were rolled back. Frantic, she crossed traffic to pull over.
At the hospital, she pleaded with doctors to save her father. "My daddy has money," she said. "We can pay for it!"
Mike Frier was only 46.
For a long time, Mik'kell blamed herself. If only she had known he was having a heart attack, maybe she could have saved him. Instead, she remembers every detail of that New Year's Eve.
"I worry about her," Butler says. "I know she relives that over and over again. She's not really knowing how to live without him. My baby is kind of lost."
His death made her vulnerable in ways she never felt when he was alive. Now she is 23, a waitress with a child of her own.
"All my life I've been trying to take care of my dad and live for my dad," she says. "People ask me all the time what my passion is. Before, when I was younger, I could always tell them, 'Take care of my dad.' It was always something related to my dad. But if you ask me now what I'm passionate about, I have no idea. I don't really have one. I'm stuck trying to figure out who I am without my dad."
Mik'kell honored his request to be cremated. "He didn't want to be left in the ground and forgotten," she says. She spread some of his ashes at a beach near his hometown. The rest she keeps in her den, above the fireplace, to be spread over Lake Union.
In April, Mik'kell had her first dream with her dad and excitedly shared the details the next morning. She was walking down a hallway and looking in different rooms when she saw him. She touched his legs, and he felt cold. He opened his eyes and asked her to massage his feet. She called for a doctor, but her dad said, "Mik'kell, what did I ask you to do? Don't be selfish. You're going to be all right."
In the morning, she wiped away the tears.