The Seahawks' running game was on point against the red-hot Los Angeles Rams. But the receivers had a strange outing. As for the question of whether the defensive secondary missed Earl Thomas? That's easy to answer.
It's the first weekend in October, and a Seahawks team that has been a perennial Super Bowl front-runner since 2012 is now left hoping vainly for a wild-card spot.
A 33-31 defeat against the Rams on Sunday makes it difficult to see the Seahawks making a legit run at the NFC West — Los Angeles is 5-0 and rolling, while Seattle is 2-3 and still finding itself, plus Seattle still has to play the Rams on the road in November.
The good news is the NFC appears a pretty heavy crap shoot — consider that the Bears would be the No. 2 seed if the season ended today.
And Seattle can also find some encouragement in how it played Sunday, rushing for 190 yards and using its play-action game to set up the kind of big plays it was missing earlier in the season.
Plus, the defense can at least take solace in how the Rams did to Seattle on Sunday what they have done to everybody all season. If Seattle keeps letting teams score at will like the Rams did, however, then there are real problems.
Coach Pete Carroll seemed to talk both lines afterward, pointing to what he thought were some positives while also seeming as irritated in a loss as he has been in some time.
"That was really hard,'' he said of the way the game got away from Seattle at the end.
Leaving a really hard road ahead in the final 11 games.
On to some grades.
QUARTERBACK
Russell Wilson had his most efficient game of the year, 13 of 21 for 198 yards, three TDs and a season-high 132.5 QB rating. One of the touchdowns — a 3-yard pass to David Moore in the third quarter — came on a vintage play where he wheeled out of danger to buy time and find Moore open in the back of the end zone. But it's still worth wondering why he's not running more overall (maybe the hamstring?). He didn't have a rushing attempt for the first time in his career.
Grade: A-minus.
RUNNING BACK
Hard to imagine a better game by Chris Carson and Mike Davis as they ran tough and hard in combining for 184 yards on 31 attempts without a fumble. But it's worth wondering what happens now with first-round choice Rashaad Penny, who didn't have a carry.
Grade: A.
TIGHT END
Nick Vannett had a nifty play, taking a little flip from Wilson and turning it into a 32-yard gain to set up Seattle's first touchdown. And the blocking seemed good throughout, though Vannett had a holding penalty in the first quarter (on the same drive). Newly promoted from the practice squad, Darrell Daniels played extensively but did not catch a pass.
Grade: B.
WIDE RECEIVER
A somewhat strange day here as Doug Baldwin had just one target and one reception for 1 yard, Brandon Marshall had no catches on just one target and Jaron Brown had no targets (and has gone two weeks without a catch), leaving all the work to Tyler Lockett (three receptions, 98 yards) and David Moore (three receptions, 38 yards, two TDs). It almost worked Sunday but it's hard to imagine surviving for the season with so little production from Baldwin (undoubtedly still nagged by knee issues) and Brown, and who knows what happens now with Marshall, who has just one catch for 5 yards in the last two games.
Grade: B-minus.
OFFENSIVE LINE
Wilson was sacked just twice by a Rams defense that usually gives him fits (a combined 10 sacks in two games last season) and the 5.9 yards per carry average was a season-high and second time in two weeks Seattle has average 5 yards or more per rush. But oh, that late hold on D.J. Fluker.
Grade: B-plus.
DEFENSIVE LINE
The caveat with everything defensively is that the Rams are really good. Still, the Seahawks often had no discernible pass rush. The only sack came on the play when Jared Goff just lost the ball out of his hands, though Frank Clark — playing gamely despite a brutal bout of food poisoning this week — could have had a strip sack on an earlier play when Goff got it back and threw incomplete. Seattle already has had just one sack in three games this season. The run defense, though, was good. Take out the 56-yard reverse and the Rams had just 99 yards on 29 carries.
Grade: B-minus.
LINEBACKER
Seattle went largely with a nickel defense to combat the Rams' usual three-receiver, one-back set, meaning Bobby Wagner and Barkevious Mingo were typically the only linebackers on the field. Wagner was solid with eight tackles and Mingo had maybe his best game as a Seahawk, with seven tackles and one of what was only two quarterback hits for Seattle.
Grade: B.
SECONDARY
In what was the first game in which not one founding member of the Legion of Boom started since 2009, there were issues, mostly in tackling, as the Rams time and again got the ball in open-field situations to receivers who then made Seattle defenders miss. Tedric Thompson — in his first start in place of Earl Thomas — had some particular issues early, though he also had a few big plays, such as the tackle that stopped Todd Gurley at the 1 and ended up forcing a field goal, and an interception on a Hail Mary at the end of the first half. And Shaquill Griffin had the pass interference on a fourth-down play that led to the Rams' final touchdown. Tre Flowers helped force the early Clark interception, but was also called for a hold on a play in the second quarter that negated a possible Seattle recovery at the Rams' 30. And Bradley McDougald was again solid —- he's suddenly basically the grizzled vet of this group and is playing like it. Given the opponent and the youth in the back end it could certainly have been worse.
Grade: C.
SPECIAL TEAMS
A bizarre day here. A blocked punt early could have given the Rams a quick touchdown and Seattle had to resort to having Michael Dickson drop kick kickoffs to try to negate the Rams' returns. But Sebastian Janikowski also hit a 52-yard field goal late in the first half and a 42-yard Lockett kickoff return set up a Seattle TD.
Grade: B.
SEAHAWKS PLAYER OF THE GAME: Russell Wilson.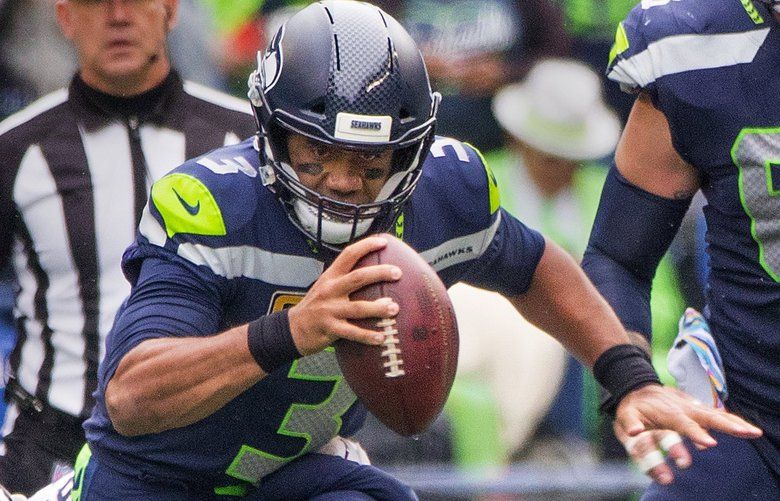 The stats won't show that Wilson necessarily outdueled Jared Goff, an early favorite for NFL MVP honors this season. But in the context of what his team needed him to do Sunday, he just about did. Wilson threw for only 198 yards but he also had three touchdowns, and when the opportunities were there for big plays he did not miss them. He also didn't throw an interception in a game when it felt any Seattle miscue might start a Rams' onslaught.