Seahawks running back Chris Carson and wide receiver David Moore were both selected in the seventh round of the 2017 NFL Draft. It's "very rare" to identify one future starter in the seventh round. How did the Seahawks land two?
David Moore was inhaling multiple helpings of ribs and beans.
Chris Carson was playing a game of pick-up basketball with his family.
Neither was watching television when they got a call from the Seattle Seahawks.
It was the seventh round of the 2017 NFL draft, and they didn't expect to be selected.
"I was actually eating, and my phone wasn't even by me," Moore, the Seahawks' second-year wide receiver, said with a smile Wednesday. "It was in my room on the charger. My cousin was in there, thank God.
"She picked up the phone and brought it to me. It was on mute. I didn't know who it was. Then I heard who was talking and I was like, 'Oh, SHOOT.'"
The voice on the other end belonged to Seahawks general manager John Schneider. He made Moore the 29th out of 32 wide receivers selected in the 2017 NFL draft. Twenty-three picks later, Carson became the 29th out of 30 running backs taken.
He was also the 249th out of 253 overall picks.
Almost exactly a year and a half later, as Seattle hosts the Los Angeles Chargers on Sunday at CenturyLink Field, both Carson and Moore are crucial cogs in a surprisingly efficient Seahawks offense.
Carson — a 5-foot-11, 222-pound Oklahoma State and Butler Community College product — has started nine of the 10 games in his brief career and rushed for 457 yards, 4.4 yards per carry and two touchdowns in six games this season. He has already stacked up three 100-yard rushing performances in 2018, the most recent being a 25-carry, 105-yard demolition of the Detroit Lions last weekend.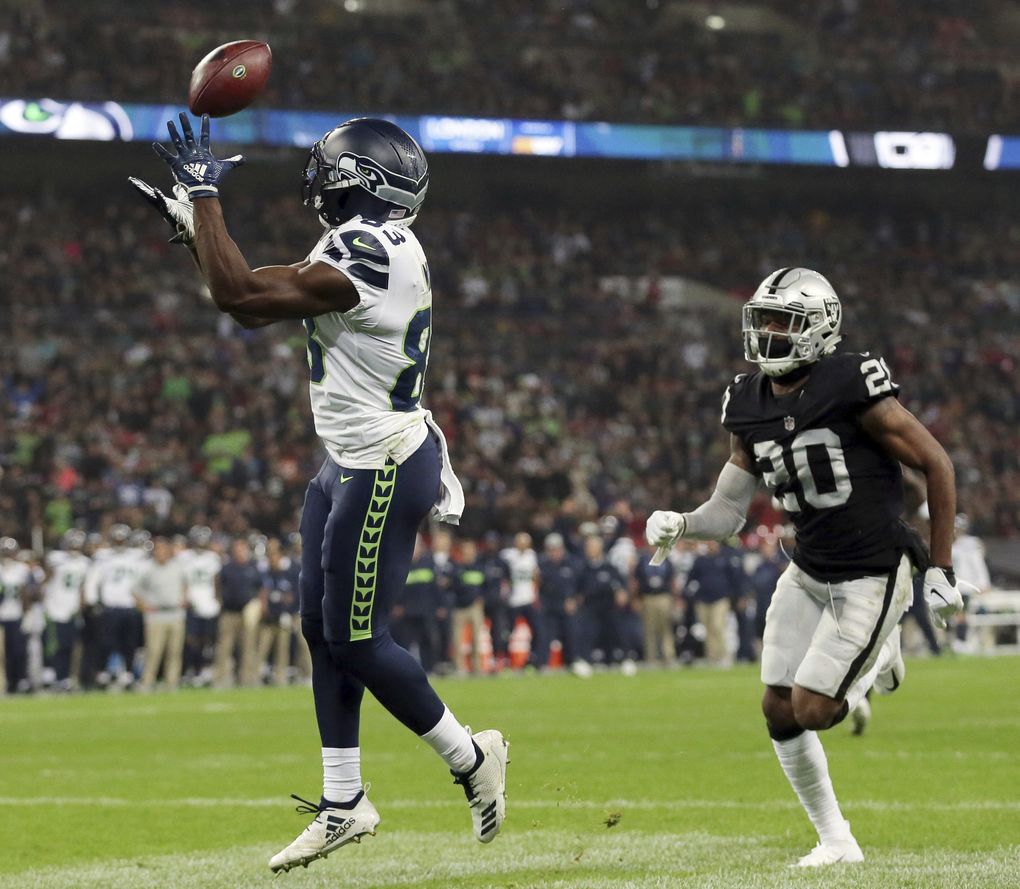 Not to be outdone, Moore — a 6-foot, 215-pound receiver from East Central (Okla.) University — has sprung to life in recent weeks, snaring four touchdowns in his last three games after spending the first 15 games of his rookie season on the Seahawks' practice squad.
Of the 28 running backs drafted ahead of Carson, only two — Kansas City's Kareem Hunt and Cincinnati's Joe Mixon — tout more than his 457 rushing yards this season.
Likewise, Moore's four touchdown grabs in 2018 are more than all but one of the 28 wide receivers selected in front of him (the Rams' Cooper Kupp is the outlier with five).
In retrospect, Carson and Moore's talent clearly dwarfed their draft position.
But on April 29, 2017, plenty said the seventh round might actually be a reach.
"I have to give full credit to the Seahawks, because they were both players that I personally had undrafted free-agent grades on," said Rob Rang, a talent evaluator for NFLDraftScout.com. "With David Moore, I had heard of him. I had never seen him actually on tape other than highlight reels and YouTube videos and things like that, and I don't grade those things.
"With Chris Carson, I saw a player that struggled with consistency so much that I had a hard time believing that the light would suddenly come on in the NFL. I know of NFL teams who viewed both players as undraftable prospects."
And yet, the Seahawks drafted them.
And less than two seasons later, they're reaping the rewards.
"There's plenty of examples of seventh-round picks being successful in the NFL, but to do it as early in their respective careers as Moore and Carson have (is particularly impressive)," Rang said. "(It's) not only ascending to starting roles, but beating out other prospects. This wasn't due to injuries or anything like that.
"David Moore beating out a (recently released) Brandon Marshall is noteworthy. Chris Carson beating out a first-round pick in Rashaad Penny obviously is noteworthy."
Really, the statistics say it's noteworthy that they made the team at all. Of the 35 players selected in the seventh round of the 2017 NFL draft, only eight — Carson and Moore included — currently reside on active NFL rosters. Only four of them — 11.4 percent — are playing for the team that originally drafted them.
Outside of Carson and Moore, the 33 other 2017 seventh-round picks have started four total NFL games.
"Statistically, it's in the single digits percentage-wise that you'd have a starter as a seventh-round selection," Rang said. "To have that starter be a potential difference-maker the way that Carson and Moore have been over the last couple games, it really is a remarkable accomplishment by the Seahawks' coaching and scouting staffs."
So, Pete Carroll, what sold the Seahawks on a former junior college running back and a Division II wide receiver?
On Carson: "I fell in love with his style. It didn't have anything to do with his stats, his numbers or background or any of that kind of stuff. It was just his style of play. It jumped off the film to me," Carroll said. "I think he had only carried the ball (82) times or something like that (in his senior season). He wasn't a highly regarded prospect for a lot of teams. But when it got to the seventh round, John (Schneider) and I were talking about, 'We may be able to get him as a free agent' and all that. I didn't want to go that way. I didn't want to lose a chance to get him.
"So that's what I remember. We went ahead and made that pick when I don't know that a lot of people would have picked him there. So we nailed it, secured it and I was as fired up about him as anybody on the list, because I thought we might have something that's really special."
On Moore: "David came from such a small school and the film was … not great. The competition was much different than the higher levels. It was a fantastic job by the scouts to see the special talent that he had and to point it out," Carroll said.
In both cases, the Seahawks opted for a relative risk over a reliable player with a lower ceiling.
"What I've experienced over the years is that in the late rounds, by and large, you're picking from one of two categories," explained Scott Wright, a draft analyst for DraftCountdown.com. "In Bucket A you have role players — guys that you think maybe can do one thing for you, maybe special teams, or maybe he's a backup. Or you're shooting for the stars and you're picking based on potential — guys who maybe underachieved or have the potential to be a starter with some development.
"I think both Carson and Moore fall into the latter category, where they had the potential to be real contributors at the next level."
In short order, that potential has translated into production. In both cases, the Seahawks unearthed a Day 3 diamond.
Still, even for a franchise rich with late-round success stories, that hasn't always been the case. Of the Seahawks' 17 seventh-round picks since Carroll took over in 2010, only nine — Carson and Moore included — ever appeared in a game for the team. From 2010 to 2012, all six seventh-round selections eventually suited up for the Seahawks. But from 2013 to 2016, only one of eight found the field.
Those numbers make Carson and Moore's simultaneous rise all the more remarkable. Rang called it "very rare" to identify and develop a seventh-round starter.
In an afternoon filled with barbecue and basketball, the Seahawks snagged two.
"For seventh-round picks, I think they're getting more out of Carson or Moore than even they could have expected," Wright said. "It's the old trope where, if they thought they were going to be that good they would have taken them earlier. They're kind of turning into the best-case scenarios for the Seahawks."
Added Moore, standing in front of his locker, across the room from Carson: "Me and Chris talk about it and we always say, 'Make 'em know why.' Make 'em know why we're here and how we (got) here.
"No matter what round we go in, just know that you can always produce and do something on the field."