Michael Bennett jumped offsides, a Seahawks offensive lineman gave up a critical sack and ultimately there wasn't a whole lot to really cheer about other than a few what-might-have-beens. What's new?
If you must know, the AFC beat the NFC 24-23 in the Pro Bowl Sunday in rain-soaked Orlando. The AFC trailed 20-3 before mounting a rally that will live on in the memory of all who saw it until at least Monday or so, earning the winning players $64,000 compared to the $32,000 for the losing NFC.
Denver's Von Miller was the defensive MVP and Tennessee tight end Delanie Walker the offensive MVP.
As for the five Seahawks who participated?
Well, it was a little like the season itself — Michael Bennett jumped offsides (in fact, he was called for a whopping three offsides/encroachment penalties), a Seahawks offensive lineman gave up a critical sack (Duane Brown, forced to play much of the game at right tackle instead of his usual left, was beaten by Miller for a strip sack/lost fumble that ended the NFC's last possession) and ultimately there wasn't a whole lot to really cheer about other than a few what-might-have-beens.
Maybe most important — no, actually most important — no one got hurt.
Here's all else you need to know about how the Seahawks did in Sunday's Pro Bowl:
RUSSELL WILSON
Wilson played three series in the second and third quarters, following starter Drew Brees in the NFC quarterback rotation.
Offensive MVP two years ago when he tossed three touchdowns, Wilson was 9-14 for 69 yards and an interception Sunday and while he wasn't officially sacked, he got hit a couple of times, forced on an early third down to get rid of the ball hurriedly to avoid a sack, leading to an NFC field goal.
His interception came on apparent miscommunication with New Orleans receiver Michael Thomas, with Thomas stopping his route and Wilson throwing deep and the ball easily picked off by San Diego's Casey Hayward.
In what almost could have really mattered, after a couple of laterals Wilson was in position to be the last NFC player standing to make a tackle on Jalen Ramsey before Ramsey ran out of bounds (though given the way tackling is in this game, Wilson might have been safer doing that than anything else).
DOUG BALDWIN
Baldwin caught three passes for 35 yards — none from Wilson, with one tossed by Brees and two others from Jared Goff.
For a moment, it looked like Baldwin might have an 81-yard touchdown when he caught a short pass from Goff and appeared to break through the tackle of Tennessee's Brynden Trawick, heading down the sideline with Seattle teammate Earl Thomas cheering him along.
But this being the Pro Bowl, the whistle was as quick as periods of sunlight have been in Seattle lately and Baldwin was called down after a 10-yard gain.
Later, Goff tried to hit Baldwin over the middle on a fourth-down pass with 3:46 left. But Terrell Suggs batted it down, allowing the AFC to take over at the NFC 47 and drive for the winning touchdown.
DUANE BROWN
Brown, who has been primarily a left tackle in his NFL career and played only on the left side with the Seahawks this season, played substantially throughout but got most of his time at right tackle with the Rams' Andrew Whitworth getting a lot of the work at left tackle.
Playing on the right side surely didn't help when Miller got a step on Brown to hit Goff and force a fumble on what was the NFC's final play with 43 seconds left.
MICHAEL BENNETT
Bennett, who led the NFL in offsides penalties this season with eight, wracked up three more Sunday — one each in the first, third and fourth quarters.
At least all that activity seemed to show that Bennett is healthy after a rugged 2017 season in which he battled knee and plantar fascia injuries.
Given the speculation about his future, though, there's at least some chance Sunday was the last time Bennett will wear a Seahawk helmet.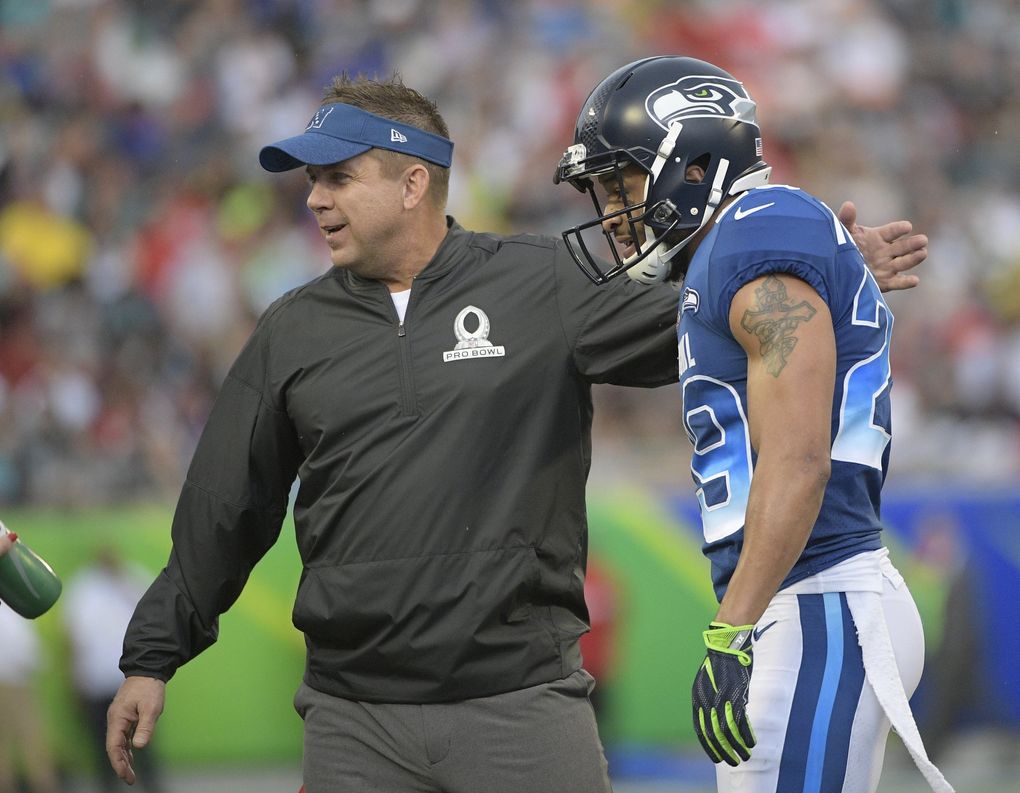 EARL THOMAS
Thomas started at safety and was credited with one tackle and a pass defense when he jarred the ball away from Indianapolis receiver T.Y. Hilton and then headed to the bench in the second half.
Thomas' loudest statements came earlier in the week when he used interviews with ESPN and the NFL Network to say that he'll likely hold out if he doesn't get a contract extension from the Seahawks prior to the 2018 season, which has led to some speculation he could be traded, which means Sunday might also have been the last time he wore a Seahawk helmet on a football field.
And on that note, on to the offseason.