Michigan's Julian Borst blew away the competition to win the 5,000m gold medal. But the second place finisher, Indiana's Andrew Peterson, won three gold medals in track at the 2014 USA Games, and will have two more opportunities to beat Borst this week.
Julian Borst flew down the home straight at the Husky Outdoor Track, auburn mane flopping in rhythm with his easy gait as the crowd cheered on this lanky athlete who was very clearly running away with the victory.
Monday morning, in his first appearance at the Special Olympics USA Games, Borst crushed his competition, lapping several runners not once, but twice, and recording a new personal best of 16:26.30 to win gold in the M02 division of the men's 5,000-meter race.
The 21-year-old runner from Kalamazoo, Mich., led the field from beginning to end, with silver medalist, Indiana's Andrew Peterson, finishing more than a minute and a half later, with a time of 18:07.10.
That's more impressive considering Peterson entered the race as the defending USA Games 5,000-meter champion. He won gold in the 5,000, the 3,000 meters and the 1,500 meters at the 2014 USA Games in New Jersey, and on Monday, he tried to hang with Borst but was knocked off his race plan by Borst's blistering pace.
"It's tough out there," Peterson said between gasps for air at the finish line after shaking Borst's hand. "I tried sticking with you, but I had to go at my own pace."
Borst grinned good-naturedly, and accepted his opponent's congratulations.
For a kid who grew up in a jogging stroller before he was even old enough to run, this USA Games gold is just the beginning of what he hopes will be an illustrious running career. It might also mark the start of a rivalry between these two Special Olympians who stumbled into track and field thanks to their runner parents.
Ruth Borst, Julian's mother, ran cross country at Calvin College in Grand Rapids, Mich., and running has always been part of her life. So when Julian was little, she'd plop him in the jogging stroller and embark on long runs. Julian quickly progressed from sitting in the stroller to riding his bike alongside his running mother.
"Then he got too fast on the bike, so I had him run with me," Ruth said.
By the time Julian entered his teens, his mother could no longer keep up with him.
"That's when he started getting in the groove of cross country," Ruth said.
Julian has tried numerous other sports throughout his life, but none resonated with him the way running has. The Kalamazoo native suffers from sensory processing disorder, which means he has delayed processing and coordination and it's difficult for him to process information that comes in through his senses.
"A lot of things are erratic and difficult to come together for him," Ruth said. "But with running, from the start, he has been able to pace himself and be real consistent, and as he grew, he got better and better."
By the end of his senior year at Loy Norrix High in 2015, Julian was the MVP of the cross country team. But early in his running career, Julian didn't always push himself to max effort, his mother says.
"It's hard for any young person to get that concept, but it's especially hard with these (Special Olympics) athletes," Ruth said. "That took a while for him to grasp that he could push himself more than he was, and that you're supposed to feel like you can fall over."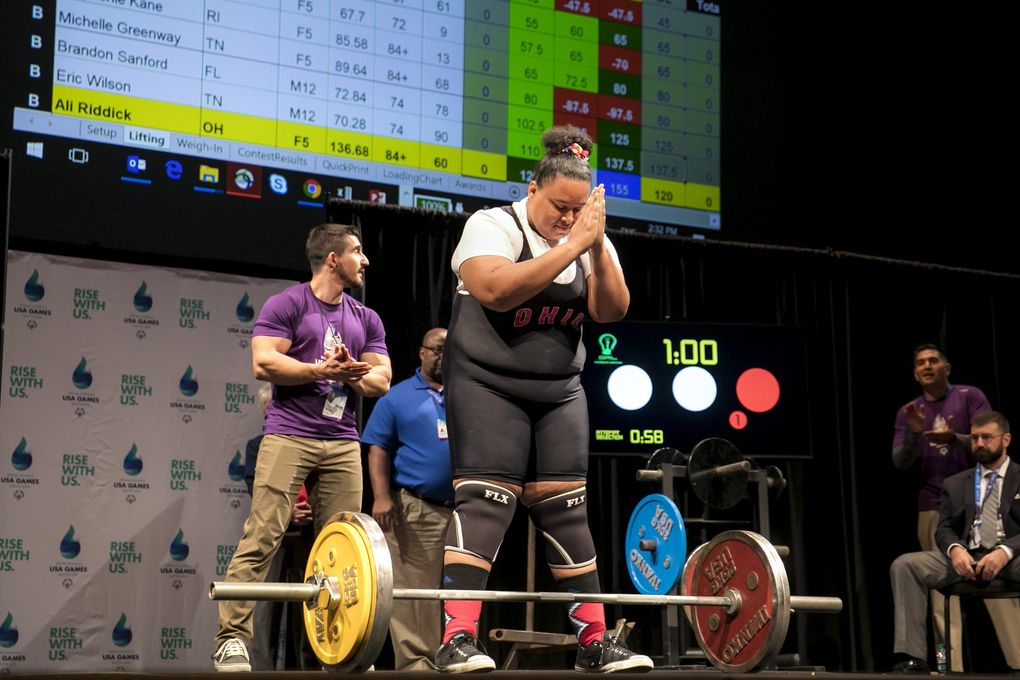 Monday at the Husky Track, Julian's competitors were the ones who looked a little shaky coming off the track.
"Our plan was to not take the lead, but stay behind the leader," said Craig Peterson, Andrew's father and coach. "But we weren't expecting the first 400 meters to be about 62 seconds. So he had to really fight back to get through the fatigue from the fast start. Andrew actually ran faster today than he ran in New Jersey when he won gold."
Andrew, 25, was born with Fetal Alcohol Syndrome, and he started running with his father at age 8. Craig gave his son one directive before their first 3,000 meter race together: "Don't stop. Keep up." The kid kept pace, and that's when Craig realized his son was a natural distance runner. Andrew has been running competitively ever since.
Julian and Andrew will meet on the track again twice more this week: In the 3,000 on Tuesday, and the 4X400 relay on Thursday. Peterson, who's from Indianapolis, will defend his title in the 1,500 meters on Friday, while Borst will run the 10,000 on Thursday.
Then, perhaps they'll see each other again in the 2019 Boston Marathon. Peterson has already qualified for Boston, but Borst is hoping to qualify for it by running the Grand Rapids Last Chance Marathon on Sept. 8.
If Monday's race was any indication, this might be the beginning of a hot rivalry between the two runners.
That's just fine with Andrew.
As his dad likes to tell him, to be the best he has to "run with elite runners, who are better and faster than me," Andrew says.