An introduction to the sport of fencing. This is the fourth in a series that will explore some of the less well-known sports that are going on in the 2016 Rio Olympics.
Editor's note: With the Olympics in full swing, we asked Seattle Times reporting intern Kristen Gowdy to get the full experience on some of the sports being played in the 2016 Summer Olympics in Rio. Previous installments in our include equestrian eventing, which you can read about here, rugby sevens, which you can check out here., and canoe and kayak slalom, which is right here. Next up in our series: fencing…
Rules: Fencing has evolved from ancient art form to military training technique to Olympic sport. Today, there are three variations of the sword: foil, épée and sabre, and though each style falls under the same sport, their subtleties are such that most fencers will specialize in just one, resulting in three fencing Olympic events.
The athletes who use an épée are essentially mimicking a traditional sword duel, says Cecil Longino, Prévôt d'Armes at Salle Saint-George in Seattle. The épée is exclusively a point weapon, meaning the sides of the sword are not used. In épée fencing, the athlete's target is their opponent's entire body.
Foil is similar to épée in that it is a point weapon, but the target is limited to the chest area. Foil swords were originally used as practice swords for the épée, but allows for greater artistry because it was never meant to be a weapon.
The final form, sabre, is the only cutting weapon of the three. Fencers use both the sides and point of the sabre in an attempt to touch their opponents. Like the épée, the sabre's target is not confined to solely the chest. Mask and arms are also fair game.
In Olympic competition, the first fencer to 15 points, or "touches," wins. A point is gained when an athlete touches his adversary with the point — or in the sabre's case, side as well — of his or her sword 15 milliseconds before getting hit.
"The art and science of defense … that's the way it's been viewed for over a thousand years," Longino said. "Right now, for the Olympics, that concept isn't stressed. It is now the art of offense, who can make that touch first."
Swords are electrified so that when a point is scored, it is electronically registered. There is still an official, a "director," that presides over competition to review points upon request, but the need for judges or referees was largely eliminated with electronic scoring.
In Rio, competition took place from Aug. 6-14.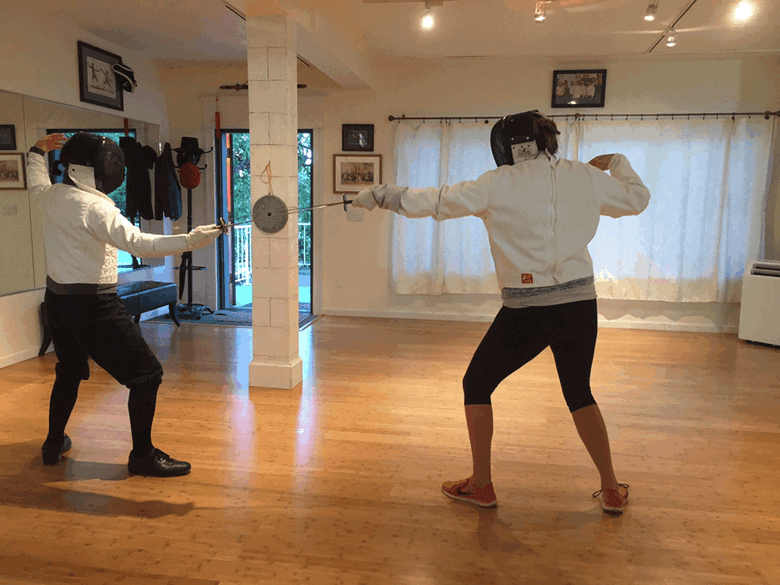 Team USA and Fencing in the Olympics: Men's fencing has been included in the Olympic program since the inception of the Games in 1896. Women's fencing was added in 1924.
Traditionally, France, Italy, Hungary and Russia have been the dominant forces in fencing. Heading into the Olympics, the United States had accumulated 21 total Olympic medals, where overall leader Italy had 128.
In Rio, Russia took home the most fencing medals with seven, including four golds and the women's team sabre title. The U.S. won four medals, including the bronze in the women's team sabre and the men's team foil. Daryl Homer won silver in the men's individual sabre and Alexander Massialas won silver in the men's individual foil.
Training/feasibility of the sport: Fencing is not a difficult sport to begin and depending on the competition level, can also be a relatively inexpensive sport for beginners.
Longino said he sees athletes at Salle Saint-George from wide-ranging athletic backgrounds who begin fencing for different reasons.
"There are people who get into fencing because they want to compete, there are people who get into fencing because they like the exercise, and then there are some folks who want to get into it because they want to understand the science and the art," he said. "That is a rare group of people. It is much harder and takes more time."
Explosive strength is key in fencing, so high-rep, low-weight training is employed by many serious fencers. Swimming and other cardio forms are also popular.
Athletes can fence at any age, but the elite typically peak in their 20s and early 30s — the youngest athlete on this year's 14-person United States Olympic team is 21 while the oldest is 31.
My experience: When I arrived at Salle Saint-George, one of the first things I was told was that I was going to learn six weeks worth of fencing in one hour.
Accurate.
In an hour, I learned the basics of the sport and was able to face off against my instructor, Corey Holmes — who was obviously taking it extremely easy on me — at the end. It was an incredible workout, and I was sore the next day.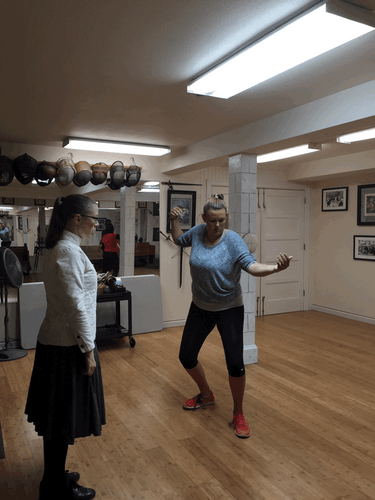 Much of the workout involved standing in an en-garde stance with my legs apart and bent at the knees, which was a workout in itself. My martial arts background aided me immensely in picking up some of the footwork, but it was still extremely technical.
I could see fencing as an outlet for those who are looking for a non-traditional sport. The exercise is there, but there is also a huge intellectual element that I, a former basketball player, found intriguing. It would also be a great crossover from other martial arts — I have my black belt in Taekwondo and drew many similarities in the training approach there as well.