A daughter learned how much the Mariners meant to her mother as she battled ovarian cancer this spring.
I am not a bona fide Seattle Mariners fan, but my mom, Daisy, was.
I am using the past tense because my mom passed away on May 8.
She was a Chinese Jamaican lady who grew up with brothers who played cricket in Kingston, Jamaica. She married my dad, who brought her to Seattle, and they both loved watching baseball.
My mom told me that she would watch the games muted on the television and listen to the radio broadcast by Dave Niehaus.
"Dave taught me everything about baseball," she told me.
I had no idea how treasured Niehaus was by Mariners fans, but she did. She was one of those fans. She missed him so much after his death in 2010, and she would get irritated with me when I confessed to her that I had not watched the Mariners game.
In April, Mom was diagnosed with ovarian cancer, which had spread throughout her internal organs. No symptoms, no warning, and very sadly, inoperable and untreatable.
When our family was with her in the hospital, Mariners baseball was on television daily. If Mom fell asleep and missed the end of a game, there was an immediate re-run, and we would all watch the baseball game again, as if it was being shown for the first time. For us, the repeat of the game didn't matter, because it meant Mom was able to watch her beloved Mariners.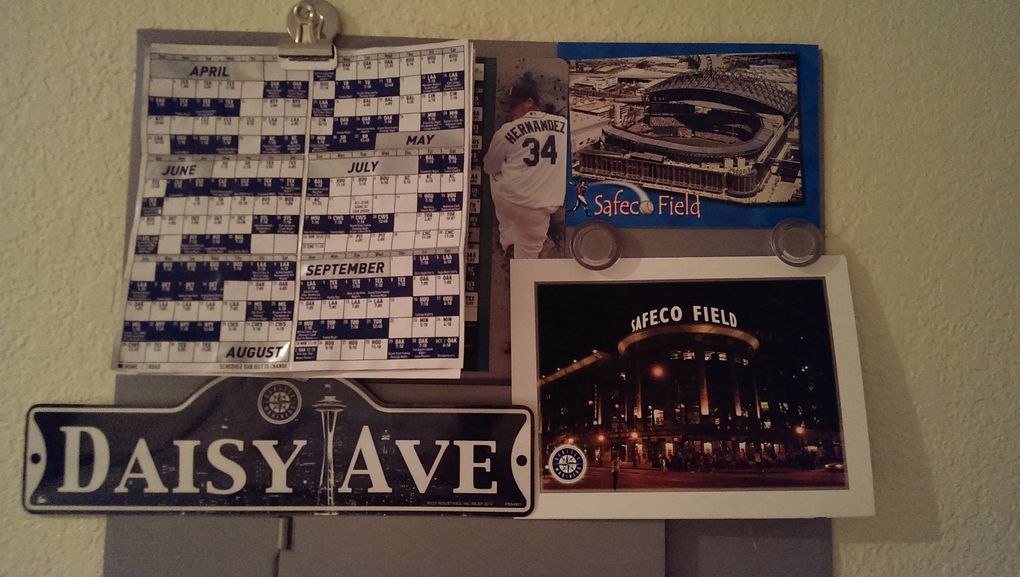 Over the next few weeks, Mom became weaker and listless, but she would wake up and try her best to watch Mariners games with us. She had a makeshift Mariners shrine on a bulletin board set up in her room, with many M's items sent to her from my cousin, another very loyal M's fan. I would look at it and try to understand why it was so important to her.
My mom passed away on Mother's Day, with her two granddaughters at her side. I think that's what she wanted — to be with her family when she left this life. And that's why I kept the makeshift Mariners shrine. I think the message on that bulletin is about love, hope and being optimistic about the future.
I have been watching more M's games on TV since my mom passed away. I think that would have made her very happy.
My mom's birthday is June 26. I looked on the M's schedule and saw that it is a home game against the St. Louis Cardinals. I will look into attending this game, in loving memory of my mom, Daisy.
Update: After reading Kim Tsujii Fukuda's Take 2 post Tuesday, the Mariners reached out to her and offered to host the family for the Mariners-Cardinals game on June 26, Daisy's birthday. "I will remember it as 'Daisy Day with the M's'," Kim said in an email.
Though not an avid Mariners fan — much to the disappointment of her mom — Kim Tsujii Fukuda was a Seattle SuperSonics cheerleader in 1974-1975 (coach Bill Russell and Spencer Haywood's time). She was also co-captain of Federal Way High School's first state championship team in girls track in 1976, coached by legendary Bill Harris. She and her family live in Bellevue.
Want to be a reader contributor to The Seattle Times' Take 2 blog? Email your original, previously unpublished work or proposal to Sports Editor Don Shelton at dshelton@seattletimes.com or sports@seattletimes.com. Not all submissions can be published. Opinions expressed are those of authors, and The Times reserves the right to edit and publish any submissions online and/or in print.
Note to readers: A photo of Daisy was removed from this story at the family's request.