As Felix Hernandez prepares to make what almost certainly will be his final Mariners start Thursday – No. 418 over a 15-year span – it's long past the time to ponder where he went off track, and how he could have fixed it.
Too late for that now. I prefer to look back in appreciation and wonder at what The King accomplished in a career that, for the bulk of it, was that rarest of things: One that somehow surpassed the breathless anticipation with which it began.
During a dark period in the franchise's history – one that continues to this day, in fact – he was often was the best thing about the Mariners. At various times he was just about the only good thing.
Felix – and the entire city quickly got on a first-name basis – was a charismatic force, a massive attraction, and at his peak one of the best damned pitchers any of us has seen. It would be a shame if his slow, steady slide in recent years obscured the memory of that essential fact.
I didn't truly understand what a phenom Hernandez was until the All-Star Futures Game in Houston in July 2004. In a gathering of the game's top prospects, Hernandez stood out, inspiring awe and wonder from all who saw him. He was 18 years old and had not pitched above Double-A ball.
A young David Wright, who would go on to become an all-time Mets player, struck out on two 97-mph fastballs and a knee-buckling curveball and said, "Filthy stuff. I had heard about his reputation. He came in and backed it up."
According to Nexis-Lexis, I have written 1,013 articles involving Hernandez through the course of his career. The first one that shows up is an account of this game, which includes the following passage: "This one is about a shining star on the horizon, just waiting to illuminate the dark world of Seattle baseball. This one is about Felix Hernandez. This one is about hope."
The hope is still elusive, but the illumination provided by The King came quickly, and it was blinding. Never mind that the Mariners never surrounded Hernandez with enough talent to get him to the playoffs, and were so maddeningly deficient on offense that the squandering of his brilliant outings became the backdrop of his career.
Hernandez rose above that, although it wasn't always a linear path. After debuting in the major leagues as a teenager on Aug. 4, 2005, in Detroit, Felix announced his arrival in his second start. He threw eight shutout innings at Safeco Field against the Twins, after which I asked Minnesota manager Ron Gardenhire about the poise he showed.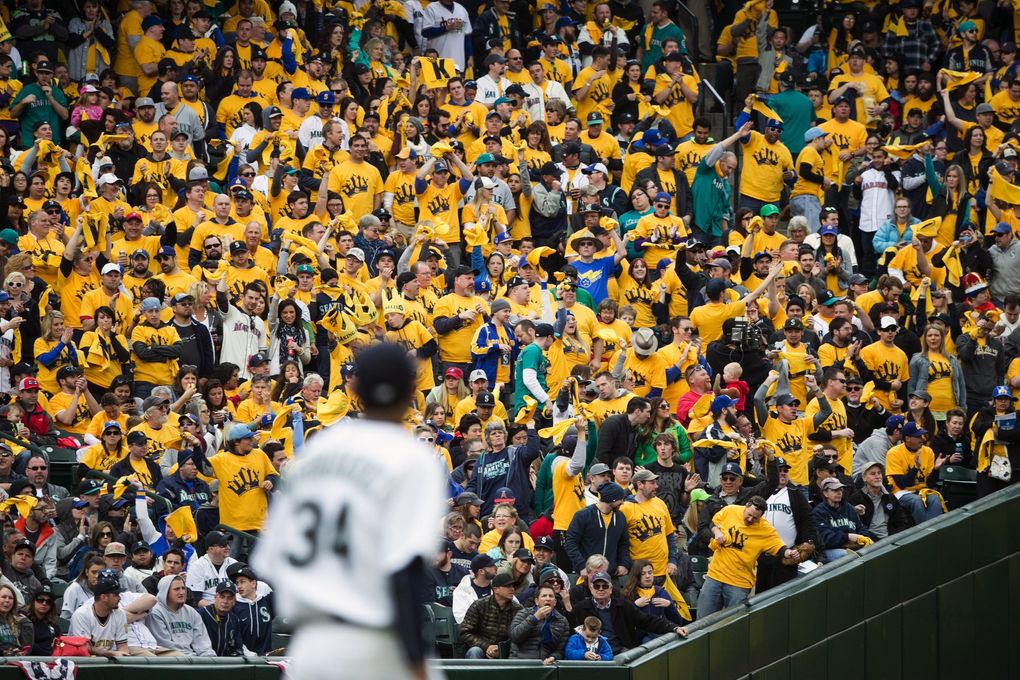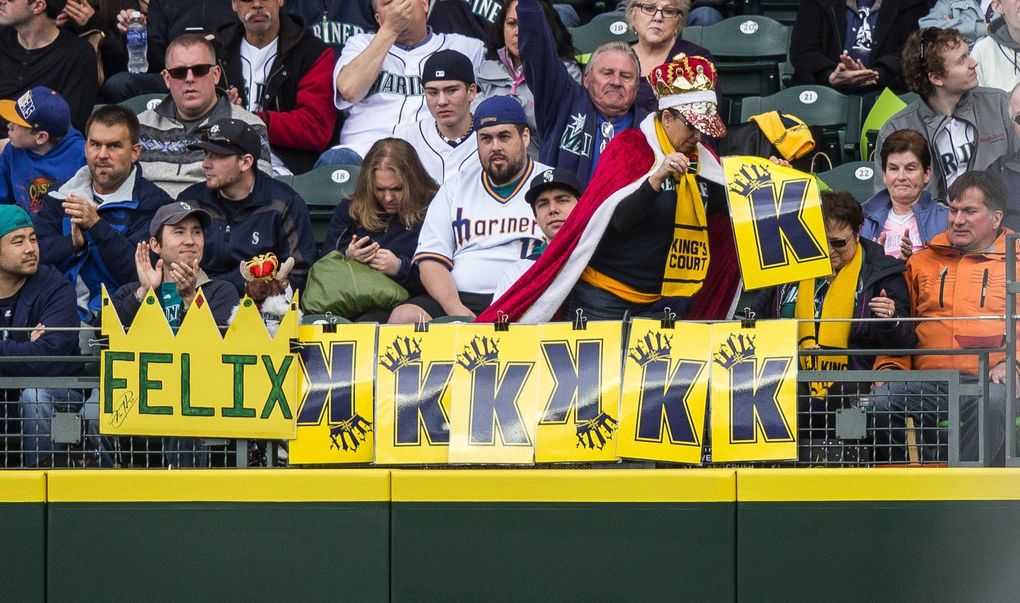 "Poise? I don't think we're talking about poise here," Gardenhire replied. "I think we're talking about a 97-mile-an-hour fastball with a curveball from hell. I think you can overlook the poise part. Let's just say great stuff."
In fact, let's say fantastic stuff. It took Hernandez a while to harness it. His first full year in the majors, 2006, was erratic, an enticing and maddening mixture of brilliance and inconsistency. His weight ballooned and his conditioning was suspect. But that was a wake-up call, and Hernandez returned in 2007 in such noticeably improved shape that Mariners' personnel were literally giddy when they laid eyes on him, 20 pounds lighter and ripped.
"When I saw him today, I was stunned," Mariners GM Bill Bavasi said at a January luncheon, when the new-look Hernandez was first unveiled.
That was the beginning of Felix's breakout, when legend and reality finally merged. And the game that synthesized it for me occurred on April 11, 2007, at Fenway Park in Boston. It was Hernandez's second start of the year, after blanking Oakland over eight innings, with 12 strikeouts, on opening day.
His dominance of the Red Sox was absolutely breathtaking. I still consider that game to be the most memorable one of Felix's that I witnessed, which is saying something when you consider he threw a perfect game in 2012, one of just 23 in major-league history.
The story line that had captivated baseball in general, and Boston in particular, was the Fenway debut that night of Daisuke Matsuzaka, a heralded free agent from Japan who allegedly threw a mystical pitch called a "gyroball." The first matchup of Dice-K, as he was known, and Mariners outfielder Ichiro was being feverishly anticipated.
"With all the hype going into this game over Matsuzaka and Ichiro, I kept in the back of my mind that people better not overlook this guy," Mariners manager Mike Hargrove would say later.
Felix not only stole the show, he left the field as the game's newest star. He flirted with a no-hitter, losing it on a single by J.D. Drew to lead off the eighth. It was the Red Sox's only hit in a 3-0 Seattle victory. It was pure mastery by Hernandez and prompted David Ortiz to gush afterward, "He can have a career like Roger Clemens, Nolan Ryan, Pedro Martinez, that kind of career."
Felix was less than a week past his 21st birthday. The fulfillment of his potential, in full, would follow: The brilliant 2009 season that left him as the Cy Young Award runner-up to Zack Greinke; the Cy that came his way the following year when voters wisely overlooked Hernandez's  pedestrian 13-12 record because of the statistical primacy that surrounded it; the perfecto against the Rays in '12, punctuated by the leg kick and raised arms – a move dubbed "Felixing" – that one day will be featured in a statue at T-Mobile Park; and too many masterpieces in between to cite.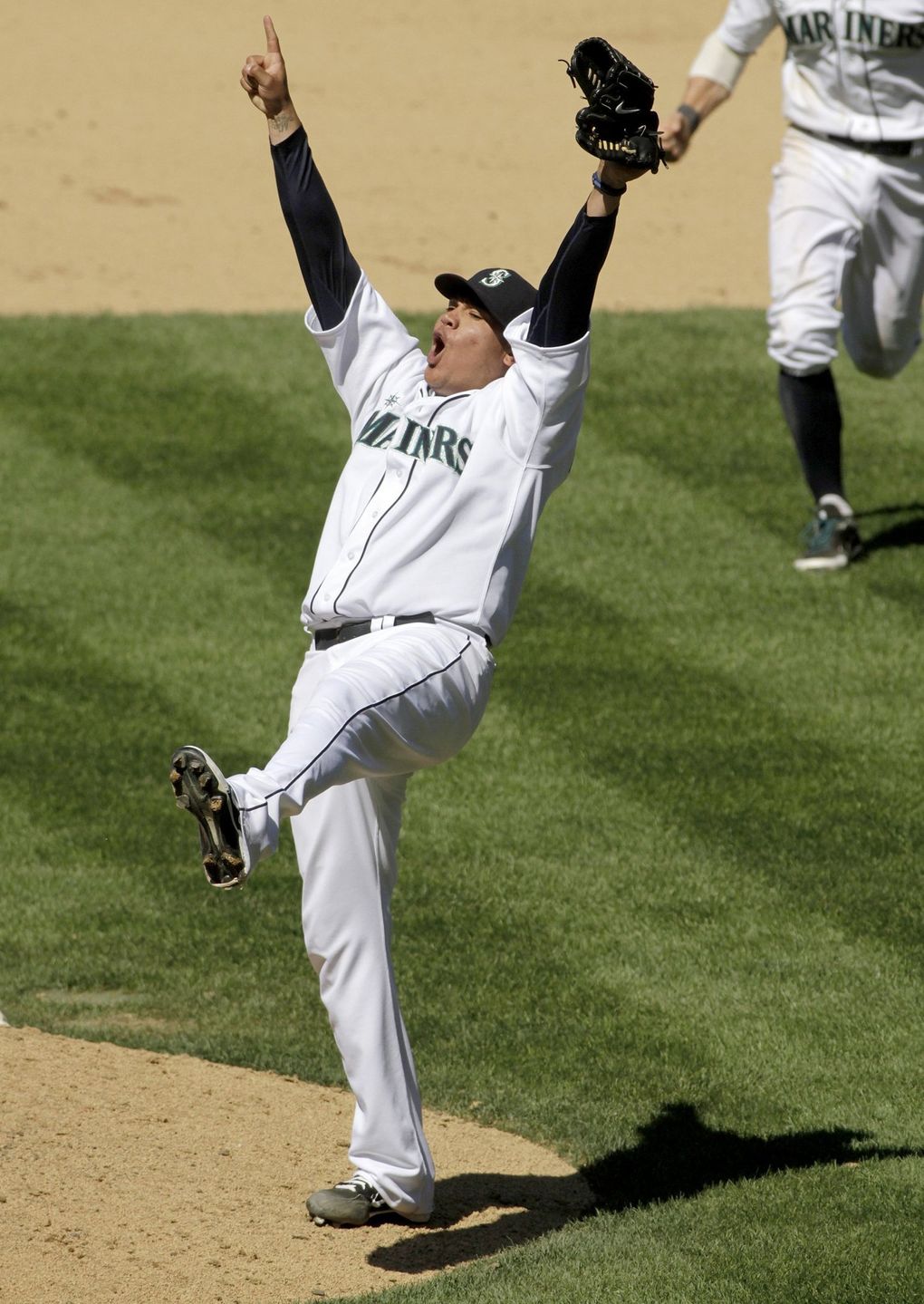 Some other Felix memories that stand out:
 How he would rise to the occasion time after time at Yankee Stadium, a locale that seemed to bring out the best in him; and how after each masterpiece the New York media would query Hernandez incessantly about his desire to eventually pitch for the Yankees. He never took the bait, always expressing his contentment in Seattle.
 A 2008 game in New York, but not at Yankee Stadium; rather, at Shea Stadium against the Mets. This one featured the euphoria of Hernandez incongruously hitting a grand slam off Mets ace Johan Santana (the first home run ever hit by a Mariners pitcher), followed almost immediately by the agony of a painful ankle injury while covering home plate on a wild pitch. The way Hernandez was pitching, it could have been the most exhilarating game of his career, but it fizzled in the end when he had to be removed because of the injury. There's a metaphor in there somewhere.
 The sincere mutual affection between Felix and Make-a-Wish kid Sophia Robinson, displayed during her "First Run Around the Bases" in 2017 but developed long before. Sophia has battled heart ailments, and first developed a friendship with Hernandez in 2013. "Felix has become our family. I truly mean that,'' Sophia's mother Talia said.
 The news conference at Safeco Field after the 2014 season that was set up as a coronation for the expected announcement of Hernandez's second Cy Young. Only Hernandez narrowly lost to Corey Kluber of the Indians – an injustice, in my opinion – and looked shell-shocked when he took the podium.
"I don't know what to say,'' he mumbled. "That was tough." He vowed to work "harder, harder and harder" to win the next year.
 The 180-degree opposite news conference at Safeco in 2013  when Hernandez signed the seven-year, $175 million contract extension that pays him $27 million this season and finally expires when the Mariners finish the season Sunday.
A visibly moved Hernandez was greeted by a ring of cheering Mariners employees when he came out of the elevator. On the podium, he tearfully vowed, "To the people in Seattle that trust me and believe in me, I'll say this: I'm not going to disappoint anybody."
Did he keep that promise? Not in full, sadly. Did his work habits wane? Was he too stubborn, or proud, to adjust quickly enough to the decline of his physical gifts? Were the various injuries he suffered, beginning in 2016, simply too much to overcome?
Yeah, probably some or all of that. And it's an open question whether Hernandez will pitch in 2020, or if any team will even want him to. Certainly, it's over in Seattle, by mutual consent at this point.
But when it was good, and when King's Court was roaring and Felix was pumping his fist and screaming after strikeouts, when his stuff was so wickedly dominant that opposing hitters absolutely dreaded his starts – well, that was something to remember. And savor.