After dealing with a few flight delays caused largely by the thunderstorms that were hitting the southeast for much of last evening, Austin Jackson arrived in Tampa-St. Pete early this morning. As expected, he was inserted into the starting lineup in centerfield and in the lead-off spot in the batting order. Jackson missed 19 games with an ankle sprain.
"The ankle is good," he said. "It's been feeling a lot better. I was able to play some games in center and was able to cut on it and stop on it. It's always a good sign."
Jackson wasn't worried about playing on the turf of Tropicana Field & Implement.
"I don't think so," he said. "There would have been a little concern playing on the turf in Toronto, but I've played on this turf quite a bit. So hopefully I don't have any problems with it."
Jackson played in nine games on his rehab assignment with Class AAA Tacoma. He hit .263 (1o-for-38) with a double, a RBI and four walks. He also struck out 12 times.
"You want to come back and you want to help, but you have to make sure you are ready," he said. "You don't want to come back at half speed. Getting to play those games and getting right physically, but mentally I think it helped as well. My timing felt good. I had some good games and I had some bad games. It's nothing different."
McClendon believes Jackson's defense and presence at the top of the order can help the Mariners.
"I just want him to be the player that he," McClendon said. "We are playing pretty good baseball right now. He can stabilize the top of our order, get on base and score runs."
Hultzen placed on the DL with Class AA Jackson
Left-hander Danny Hultzen was placed on the 7-day disabled list for Class AA Jackson with shoulder fatigue, according to a club source. Hultzen has been checked out by team doctors and the shoulder was deemed fine. While this may seem like a setback, breaks between starts for Hultzen were expected. GM Jack Zduriencik said they planned to take as much as 10 days in between outings to start his first full season back.
Miller making plays
It didn't show up in the boxscore or on highlight reels, but Brad Miller made a big play in the Mariners' 4-1 win on Monday night.
In the fourth inning with Tim Beckham on first base, Jake Elmore pulled a double into the left field corner right on the foul line. Miller, who was in left field, raced to the corner, played the ball off the carom perfectly and then fired the ball into the infield to the cutoff man – Robinson Cano – on a perfect line. The hustle and the strong throw forced the third base coach to hold the speedy Beckham. And Roenis Elias was able to strand him there
It was a run saved in a 2-1 game.
"That exceptional speed," McClendon said. "He cut down the angle and got to the ball very quick and did a nice job of hitting the cutoff man."
As he's done during this conversion, Miller just reacted and let his ability take over.
"My original thought was just to bust it over there," he said. "I was just trying to play it off the wall. I saw there was a little angle to it and just throw it to my infielders. I'm just trying to use my instincts, run after it and throw it in."
The throw showed off his overall arm strength and displayed a longer arm path of an outfielder.
"The biggest thing when you are farther away is you really have to use your legs even more to generate,"  he said. "I really tried to use my whole my body. You are throwing it as hard as you can throw it, obviously. But you have to be efficient and keep it low so they can make a play."
Miller's action in the outfield has been somewhat vanilla. He admitted it was mostly base hits at him or fly balls, this was different.
"That was crazy," he said. "That was one where I actually had to have a little bit of a reaction."
It was a good one.
All-star voting update
MLB released the updated all-star voting for the this season. The Mariners have only one player in the Top 5 at any position – Nelson Cruz leads the designated hitter group over Kendrys Morales. The Royals have five leaders. Here's a link to all the leaders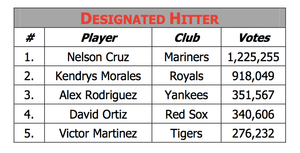 Radio
Here's my weekly Tuesday appearance with Mitch in the Morning. We talk Walker, Elias and roster moves.
[kjr2014 url="http://www.iheart.com/widget/?showId=20471416&episodeId=27245988″ frameborder="0″" height="250″ /]
Matchups
Here's the M's limited numbers against Rays' starter Alex Colome

Here's the Rays' numbers vs. J.A. Happ

Probables
Here's the latest pitching probables, including the weekend series at Safeco vs. the Indians.

Game notes