Answering fan questions via Twitter, Ryan Divish lays out the argument for whether the Mariners should try to sign Mets pitcher Matt Harvey, and what they could do with a non-productive Ben Gamel.
TORONTO — In the era of social media, specifically Twitter, sports writers are more accessible to readers and fans than ever before. In the past, reader-writer contact was limited to letters sent and read weeks later, followed voicemails that were left and never heard — since, well, writers were rarely in the office to ever check their mail or phones. It was followed by emails, which are still common today, but those can easily get "lost" in junk mail folders and never read.
But with Twitter, if a writer is enough of a masochist to read his mentions and respond, it provides a direct line for questions, comments, complaints, more complaints, some venting, some arm-chair managing and decries for everyone to be fired.
But even with the expanded character limits to 280, it's still difficult to give quality answers to people with legitimate questions about the Mariners and baseball. So in an effort provide that info, the plan is to ask for questions from readers and fans that will be answered in the form of a Twitter mailbag and also on the semi-weekly Extras Innings podcast with Larry Stone (not so shameless plug) going forward with regularity.
So let's get to the questions …
Ryan Divish: Sure, they have a shot at getting him. The question would be: "Why would they want to get Matt Harvey?"
So here's what happened with the once-hyped right-hander with the stolen nickname, "Dark Knight of Gotham."  He began the season in the Mets' starting rotation despite an awful 2017 season where he was coming back from surgery to repair thoracic outlet syndrome and posting a 5-7 record with a 6.70 ERA in 18 starts and one relief appearance. Over his last 14 starts in 2017, he pitches six complete innings just once
The poor results from last season carried over to this season. After two five-inning starts where he picked up wins, Harvey allowed 10 runs on 16 hits over his next two outings. Manager Mickey Callaway hinted that they would move him to the bullpen something Harvey openly disputed to the New York media.
Despite his protests, Harvey was moved to the bullpen. He pouted about the change in roles, refusing to embrace a change that might help him or his team.  He made four relief appearances, pitched a total of six innings and allowed seven runs on seven hits with five walks and three strikeouts.
Out of options to make it work, the Mets wanted to send Harvey to Class AAA to work on his issues and hopefully re-discover the command that has been lost. Because of his accrued service time, Harvey refused the minor league assignment. The Mets had no choice but to designate him for assignment, which would open him up to other teams, including the Mariners.
About 10 minutes after the news of Harvey's DFA broke, multiple people on Twitter asked, "Should the Mariners should take a flyer on him?"
Given Harvey's name recognition and Seattle's obvious and predicted issues with starting pitching, it wasn't unexpected.
The answer is yes and no.
No, the Mariners shouldn't take that flyer if it includes a waiver claim where they would have to pay the remainder of the approximately $4.45 million on his 2018 contract. While it's not a massive sum compared to what Felix Hernandez is pulling down and the Mariners aren't paupers, the issue is payroll budget and wasting that amount of money if Harvey washes out. That's dollars that could be spent on a more viable pitcher in a trade later in the season.
Yes, the Mariners need pitching. But they need good pitching that can contribute.
The Mets are supposedly trying to trade Harvey and willing to pick up some of his contract remaining. That's still too much.
Seattle general manager Jerry Dipoto was on Sirius XM MLB radio and told Jim Bowden that they'd be interested if the finances were right.
The "right finances" means Harvey clears waivers and is available for the league minimum while the Mets pay the entirety of his deal.
If you move past Harvey's name, does a pitcher coming off a three-year stretch of 44 appearances, a 9-19 record, a 5.93 ERA, 10.9 hits per nine innings allowed, and a 2.01 strikeout to walk ratio sound enticing? That time period also includes two major surgeries and questions about excessive nightlife and commitment to baseball.
Also, Harvey's fastball velocity has dropped from 95.4 mph in 2016, to 94.3 in 2017 and to 93.1 mph this season. Per Brooks Baseball, hitters are batting over .300 against his fastball each of the last three seasons, while hitters' slugging percentage against the fastball has risen from .453 to .587 to .643 in each of the last three seasons.
Besides the lack of velocity, it's a lack of command with all of his pitches. Per Fangraphs' pitch value metric, Harvey's fastball, slider, curveball and changeup are negative value pitches over the past three seasons.
Can he be fixed? Every pitching coach believes it. But if the Mariners to try and fix Matt Harvey into a useful pitcher, it should come with the lowest possible cost.
---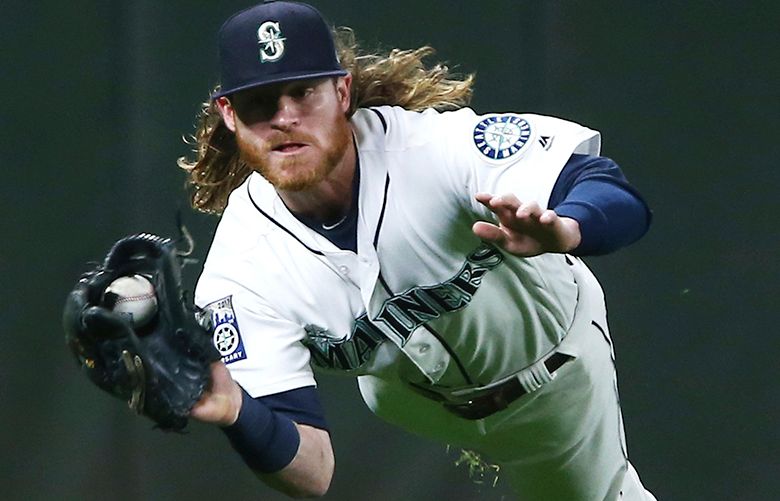 Divish: Well, I know of a one-handed hitting leftfielder that won't be replacing him in the lineup. He's busy in his new role of special advisor to the chairman.
Usually a benching or demotion happens much later than fans expect it. Why? Well, in an unsurprising trend, teams and managers are usually a little more patient than fans when it comes to those situations. The leash is always longer than you think.
But let's be clear, Ben Gamel isn't playing well. He comes into the road trip hitting .167 (7 for 42), with a .460 on-base plus slugging percentage, a double, a triple, a RBI and 11 strikeouts in 16 games. He looks like a player who didn't have a spring training, which he didn't. The Mariners took their sweet time bringing him back from Class AAA Tacoma on his rehab stint. Maybe they should've waited longer or brought him back sooner.
Gamel has admittedly expanded the strike zone and is chasing pitches. He's had some bad luck, hitting balls hard at defenders. But one thing to notice is that Gamel is also getting pitched and played differently. With a whole season of data on him, teams know how to position defenders and how pitch to him. A .340 batting average on balls in play last year wasn't sustainable. One of his main places to rack up hits last year was on the hard groundballs up the middle, often just to the right of second base. By the end of last season, teams had adjusted their positioning and started taking away the "Gamel hole."
The Mariners believe the mental and physical fatigue of playing almost every day in his first full big league season was another reason why Gamel hit .198 with a .571 OPS over the final two months.
So if Servais decides to make the move to bench Gamel, or Dipoto decides to send him to Tacoma, the options are overflowing. The Mariners don't believe Guillermo Heredia is an everyday outfielder. They felt he was exposed when he had to play basically every day last season after Mitch Haniger was injured. They want to optimize the matchups for him.
The Mariners would have two options in Tacoma to replace Gamel — a pair of veterans. There is left-handed hitting Kirk Nieuwenhuis, who is essentially an older version of Gamel, with less hair, who is hitting .217 for the Rainiers. And there is 38-year-old Jayson Werth, who just joined the Rainiers over a week ago. Werth hit .226 with a .715 OPS in 70 games with the Nationals in 2017. He's hitting .175 in 11 games with the Rainiers.
Yeah, that leash with Gamel might be getting a little longer.