Certainly, the Mariners have improved their farm system maybe from among the worst in the majors to the top 20. To get to where they want to be those who evaluate prospects say they still need a few more pieces, and that might not happen unless they trade Mitch Haniger.
The rankings he shrugged off and downplayed just over a year ago haven't become more important to general manager Jerry Dipoto. But now you might hear him reference them a little more often, because the Mariners won't be dead last.
Whether you believe in ranking the overall prospect talent of a team's farm system or ranking it against the other teams' systems, this much is clear after Dipoto's "step back" trade-o-rama the past few weeks — the Mariners' farm system is no longer the worst in baseball.
By trading  nine players from his 2018 25-man roster — Mike Zunino, Guillermo Heredia, James Paxton, Alex Colome, Robinson Cano, Edwin Diaz, Jean Segura, James Pazos and Juan Nicasio — Dipoto has brought back a cache of prospects he hopes will be part of a 25-man roster by mid-2020. It would give the Mariners a baseline roster talent all in their mid- to late-20s instead of late 20s and early 30s the past few seasons.
"The only player we've acquired in the past month who might be pressed to get on the front side of that window is Jarred Kelenic," Dipoto said. "Everybody else should be making their way toward Seattle, if not immediately, then certainly by midseason of 2020. That was the timeline we were trying to set up. And then they join a group of players we already have in house, guys like Evan White and Kyle Lewis and Logan Gilbert and the like. We feel we have a good group here that now is expanded, and by midseason 2020 we feel this group will be fun, energetic and a lot of fun to watch."
Asked how much he felt the Mariners' farm system has been elevated, Dipoto was optimistic as always.
"Whether we were No. 30 or somewhere in the final couple (of organizations) is up to interpretation," he said. "We feel we just went from somewhere in the bottom five to somewhere in the top 10, and that's a pretty swift move in about a month. We are very much looking forward to next year's draft and the international market and even the ability to continue to look at the idea of turning veteran players into young players. This is the road we've opted for, and we're excited to watch these guys play."
Well, top 10 might be pushing it. Two of the major outlets that evaluate prospects and come up with rankings are a little more reserved about the Mariners. They believe the Mariners significantly improved their system, but perhaps not to a top-10 level.
"This will change as more trades come down and more systems get shaken up a little bit as prospects get moved for veterans, but I think it's safe to say they are in that middle tier," said Kyle Glaser of Baseball America. "They are no longer in that 20 to 30 range, I think they are in the 11 to 20 range. It might be a little closer to 20 than 11. They have potentially three top 100 guys. Three top 100 guys with a two or three guys that have a chance to get there, that's a solid system. There's still a shortage of depth. They pale in comparison to other organizations in that way."
FanGraphs uses a system called Future Value based on the 20-80 scouting scale and placing a Wins Above Replacement value for a prospect and overall dollar value to a team.
Even with the different ranking process, the Mariners' improvement is noticeable but not to the top-10 level.
"The Mariners were at the very bottom," said Eric Longenhagen of FanGraphs. "Most of that has come from the constant purge of talent as the team has added to the big-league club."
And their potential ranking?
"All these guys they have acquired move the farm system up pretty substantially, I know there was some talk from the Mariners 'that once this was all said and done, we are going to have a top farm system,' but the math to get there is pretty extreme. The gap from where I think they are now, which is just shy of the median as a farm system and where they have to go to be a top five system is still … like adding a top 30 prospect in baseball and a few other pieces. And unless they move (outfielder Mitch) Haniger I don't see that happening."
Here's a closer look at the players they've acquired:
Justus Sheffield, LHP
The hard-throwing lefty was the Yankees' top prospect. But there always has been a prevailing thought that being the Yankees' top prospect comes with a fair amount of undeserved hype. Remember Jesus Montero was the Yankees' top prospect when the Mariners acquired him for Michael Pineda in 2012. But both Glaser and Longenhagen and scouts around baseball believe Sheffield is the best prospect the Mariners have acquired in the offseason.
He was rated the No. 22 in MLB by Baseball America, No. 39 by FanGraphs and No. 31 by MLB Pipeline.
Sheffield, 22, spent most of 2018 with Class AAA Scranton Wilkes-Barre, where he posted a 6-4 record with a 2.56 ERA (25 ER, 88.0 IP) with 84 strikeouts and 36 walks in 15 starts and five relief appearances.
"A lefty who just had a really good year in Triple A and is up to 97 (mph) from the left side, and he'll show two quality secondary pitches," Glaser said. "This is a special arm. He's someone who has performed everywhere he's been."
Sheffield isn't a perfect prospect. Questions about his fastball command and pitch efficiency have followed him since being a first-round pick by the Indians in 2016. It's something that some scouts believe could force him into the bullpen.
"The player people saw in the Arizona Fall League two years ago is not who really is," Longenhagen said. "For six weeks, he was incredible. The command has always been an issue for him, but for those six weeks it was not. He was doing everything. But he's always had command issues. The movement profile of his fastball is more of a sinker and not a bat missing fastball. He's probably not going to be a strikeout machine."
Jarred Kelenic, OF
Just a year into professional baseball, the 19-year-old outfielder was the key part of the trade that sent Cano and Diaz to the Mets. Despite his minimal professional experience, he was a top 100 prospect for Baseball America (72), FanGraphs (86) and MLB Pipeline (62).
He hit a combined .286 with an .839 OPS, 10 doubles, six triples, six homers and 42 RBI in 56 games at the lowest levels of the minor leagues.
Kelenic was the Mets' first-round pick in the 2018 draft — taken sixth overall — from Waukesha West High School (Wisconsin). The Mariners had Kelenic in for a private workout at Safeco Field just before the draft. But didn't think he'd be available at the No. 14 pick.
"We felt he was the best player in that draft," Dipoto said. "Obviously picking where we were, we knew it would be a long shot. We had it narrowed down on our draft board to he and Logan Gilbert. We really didn't believe either was going to get to us. We were fortunate that one did, and now we're fortunate to get the other as well."
Kelenic profiles as a center fielder but doesn't necessarily possess blazing speed.
"He's pretty thick for a 19-year-old," Longenhagen said. "But even if he has to move to a corner outfield spot, he might hit enough that it won't matter. He hit his whole high-school career. He can really hit and play center field. He's pretty advanced for a kid out of high school and could move (up) quickly."
How good can he be?
"This is someone that if everything clicks, you are looking at .280-. 300, 20-25 homers as your everyday center fielder," Glaser said. "That's someone you can build your lineup around. There are no surefire prospects and there are some concerns that make him not a cinch. But the talent is prodigious, and the Mariners were right to have this deal hinge on Kelenic and not pull the trigger if he wasn't in it."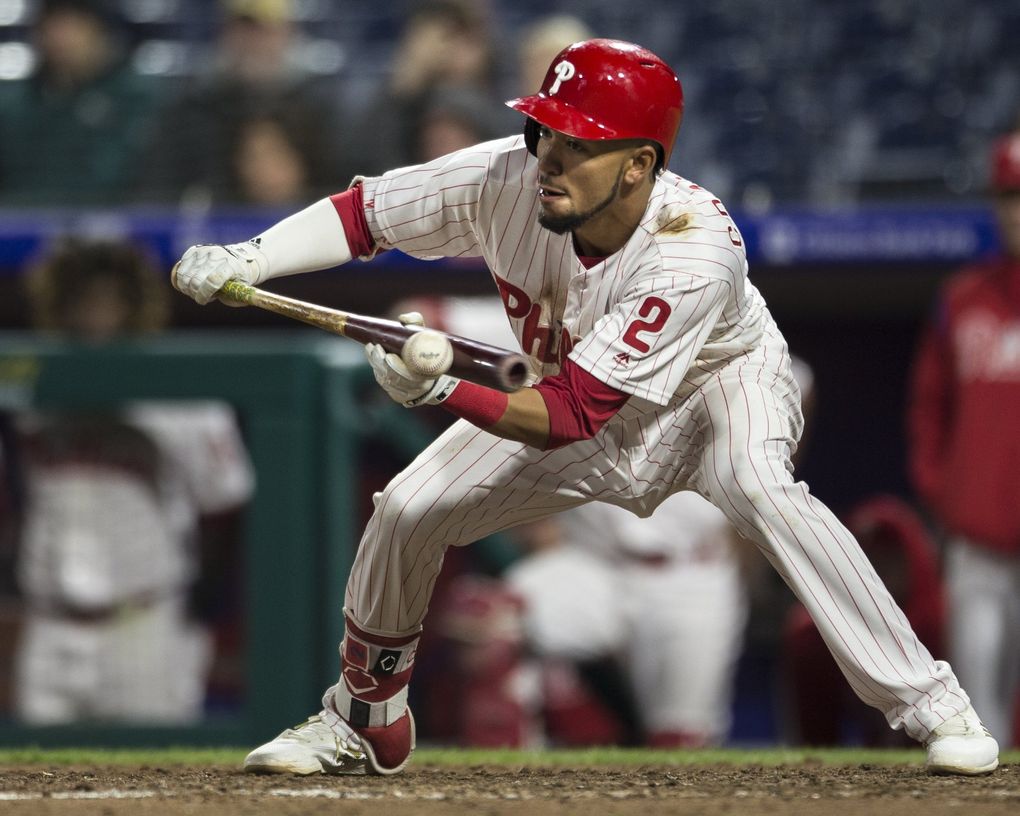 J.P. Crawford, SS
The Mariners will hand him the shortstop job for him to grow into or lose. He might not be the opening-day starter, but it would take a colossally bad spring training for that to happen. Rated as the No. 6 prospect in MLB by Baseball America in 2015, Crawford has seen that star fall a little in recent years. He had some struggles at the MLB level at the plate and some unexpected miscues in the field. A forearm issue and a broken hand also limited his game action. Some scouts have lowered his projection to a utility infielder instead of an everyday player.
But Dipoto doesn't see that fade.
"He's still just 23, and despite the fact he struggled, he did OPS .712 last year," Dipoto said. "While he didn't hit for a high average, he controls the strike zone. We feel like with a fresh start in Seattle and working with (new infield coach) Perry Hill and given the opportunity to do the things he does, this is an exciting young player that we're thrilled to have."
There is a belief that a new team and situation with a team that isn't vying for the postseason in 2019 might allow him to blossom.
"That's a benefit," Glaser said. "But at the same time, it's a light bat, and he didn't hit in Triple A and doesn't cover the outside part of the plate. Good glove, high on-base (percentage), hit him No. 8. As an everyday shortstop, I don't know if it's a franchise cornerstone. It's a quality major-league player, but I don't know if Mariners fans should expect him to blossom into Jean Segura hitting .300 with double-digit (home runs) and an All-Star."
The defense must find some consistency.
"I've watched Crawford a lot since he was drafted, and it's been an interesting ride," Longenhagen said. "He's graceful and athletic in a very specific way, but he's not explosive. He's a below-average runner, but he'll make these beautiful, acrobatic defense plays and then struggle to get to balls that a plus-shortstop should get to, and then he'll boot some easy plays. You see this flair and this ability to make uncommon plays, and then he makes easy mistakes."
Justin Dunn, RHP
While Mets fans lamented the loss of Kelenic, they shouldn't overlook the loss of Dunn. The hard-throwing right-hander out of Boston College was taken with 19th pick of the 2016 draft. The Mariners scouted Dunn so heavily that season he expected Seattle to draft him with the No. 11 pick. Seattle instead took outfielder Kyle Lewis, who wasn't expected to fall to them.
Dunn split the 2018 season between High-A St. Lucie and AA Binghamton, combining for an 8-8 record with a 3.59 ERA (54 ER, 135.1 IP) with 156 strikeouts and 52 walks in 24 starts. He was a closer in college and is being re-acclimated to starting because of his ability to throw four pitches.
"His changeup came on late in the year, and because he closed in college, he might just be scratching the surface of some stuff even though he's in his early 20s," Longenhagen said. "His breaking-ball command is very good, and he's going to get the most out of locating those curveballs and sliders just off the plate against righties. He could be a good mid-rotation starter in a couple of years."
Erik Swanson, RHP
The right-hander wasn't just a throw-in for the deal that netted Sheffield. Swanson has a chance to make the rotation out of spring training and is expected to make his MLB debut in 2019.
"He has real stuff himself," Dipoto said. "He pitches in the mid-90s. He has two average secondary pitches that he throws for a ton of strikes. He has exceptional command. We feel he's major-league ready.
Swanson, 25, posted a combined 8-2 record with a 2.58 ERA (33 ER, 115.0 IP) in 22 games, 20 starts between the Class AA and Class AAA level. He averaged 10.41 strikeouts per nine innings (133 SO, 115.0 IP), while limiting opponents to a .204 (85×416)  batting average.
"He might have some qualities that are more measurable via Trackman (a pitch-tracking software) than his stuff appears to your naked eye," Longenhagen said. "Our theory is that it has to do with fastball plane and spin efficiency, and this guy might be pretty good at those two things. We think he's a back-end-starter type, but maybe there's something weird to be something more there."
Gerson Bautista, RHP
Remember Arquimedes Caminero, who was briefly with the Mariners a few seasons ago. He threw 100 mph and still seemed not to strike out many hitters while giving up hard contact. Bautista fits a similar profile. Caminero averaged 8.3 strikeouts per nine innings in his big-league career. Bautista has averaged 8.8 strikeouts per nine innings in his minor-league career to go with 3.9 walks per nine innings.
The fastball is a bit straight and hittable, and the breaking ball has lacked depth or consistent command. But he's a middle reliever, and the Mariners have a lack of power arms in their system that can pitch in middle relief. He will be on the 2019 team at some point.
Dom Thompson-Williams, OF
Dipoto raved about the 23-year-old outfielder, who was the third player in the Paxton trade. He spent most of 2018 with High-A Tampa, hitting .290 with 16 doubles, 4 triples, 17 home runs, 65 RBI and 17 stolen bases in 90 games. Those are quality numbers to be certain in a league filled with parks that aren't hitter friendly. But Thompson-Williams was about two years older than most of the players in that league.
"We are getting a five-tool athlete who has just really broken out and started to scratch the surface of what his potential might be," Dipoto said. "He hits the ball really hard."
Dipoto mentioned Haniger's uneven path in the minors as a hope for Thompson-Willliams.
"He's experienced some swing change, and it's resulted in a significant impact," Dipoto said. "Whether that is an overhaul swing, it's not really important as identifying a change in the results. Clearly the results were different for Dom this year. He was hitting the ball a lot harder and a lot more consistently than he has in years past."
Said Longenhagen: "When we started calling around, the tools grades were all over the place. There are people that think he's a plus runner with plus-plus power and he's ready to explode. But generally think he's a bench outfielder."
Jake Fraley, OF
Fraley is similar to Thompson-Williams in that he spent most of the 2019 season in the High-A Florida State League as a 23-year-old. Thanks to a swing adjustment, he hit .347 (78 for 225) with 19 doubles, 7 triples, 4 home runs and 41 RBI in 66 games. He boasted a .415 on-base percentage and a .547 slugging percentage (. 962 OPS). A second-round pick in 2016 out of LSU, Fraley had not posted numbers such as those in his previous two professional seasons because he's been unable to stay healthy. He has dealt with knee and foot issues.
"Given their age, guys like Fraley and Thompson-Williams will have to show that it's real at Double A this season," one MLB scout said. "They are already behind in their development."