The U.S. Open chatter has been dominated by Chambers Bay's obvious challenges. But with four golfers tied for the lead before the final round, golf will finally take center stage. | Larry Stone
UNIVERSITY PLACE — All those peripheral story lines that spiced up the U.S. Open this past week? Time to toss them out. There's a tournament for someone to win.
So no more chatter, please, about Tiger Woods' struggles, or Jordan Spieth's local caddie, or Phil Mickelson's quest for a career grand slam, or the logistical challenges of staging a major tournament at an 8-year-old golf course that used to be a gravel pit.

And, especially, no more whining about the greens at Chambers Bay, which were likened to broccoli by Henrik Stenson and cauliflower by Rory McIlroy. Those two golfers happen to be on the fringes of contention, unlike the cool-as-a-cucumber Spieth.
Photos from the U.S. Open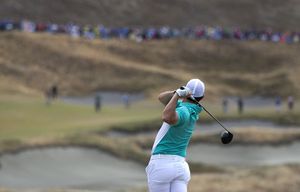 Here's what mattered most as Round 3 ended Saturday: The tournament is set up for a spectacular, riveting finish, with four tied for the lead. We can assess the pros and cons of this unique site in due time. For now, settle back into your easy chair (or one of the massive bleacher seats, if you were lucky enough to score tickets), and watch the fireworks.
Take a tour of the links-style course using our 3-D flyover, including videos featuring U.S. Open Championship Director Danny Sink.
Sure, Chambers Bay has its quirks (and its charms, too, let's not forget). The greens aren't the immaculate cathedrals of agronomical perfection we're used to seeing on traditional courses.
But it's the same surface for everyone, bumpy as it may be, as McIlroy acknowledged: "They are what they are. Everyone has to putt on them. It's all mental."
Today's finish will be a tribute to those who had the mental strength and the versatile game to conquer the longest USGA course in captivity, and one of the most perverse.
That doesn't include Woods, Martin Kaymer, Bubba Watson, Graeme McDowell, and Retief Goosen, former majors champions who didn't make the cut.
Among those who will need a miracle to be a factor over the final 18 holes (or beyond, if two or more golfers finish in a tie, requiring an 18-hole playoff Monday at noon) will be Mickelson, who blew up with a 77 Saturday. So will Ben Martin, who started play Saturday at a contending 3 under and ended at 13 over after a staggering 86.
But there will be a field of strong challengers Sunday that offers something for just about everyone.
At first look, the golf course, it definitely blows your mind." - Jim Furyk
In Spieth, you have a budding superstar trying for his second major of the year and a halfway claim to the coveted Grand Slam of winning all four of golf's majors (The Masters, U.S. Open, British Open and PGA Championship) in the same year.
In Dustin Johnson, you have one of the longest hitters on the course, desperately trying for his first major after self-destructing while in contention at two previously.
In Branden Grace, you have a relative unknown, a 27-year-old South African who has made his mark mostly on the European tour but could stake his claim as the latest Chosen One.
And save some special reverence for Jason Day, whose round of 68 was a monument of perseverance and strength of character. Improbably, Day moved into a share of the lead with birdies on four of the last seven holes, including 17 and 18.
I was on a bluff not 50 yards from Day on Friday when he collapsed while heading for the No. 9 green. Like most, I assumed Day had slipped on the fescue, but it turns out he was suffering from vertigo and nearly fainted.
Day was prone on the ground for several scary minutes, before shakily finishing the round. He didn't appear to be fully recovered Saturday, moving slowly and deliberately through his round. But despite feeling "nauseous all day" and having another episode of vertigo on No. 13, Day played brilliantly to put himself in position for his first major victory.
Those are the Big Four. But there's plenty of room for someone to emerge from the tightly packed group of golfers right behind the leaders (a list that includes second-round co-leader Patrick Reed, who shot an erratic 76 to plummet down the leader board.
The openings for upward (and certainly, downward) movement will likely be there because of the vagaries of Chambers Bay. Those can be maddening for golfers but figure to be the Great Equalizer for those trying to worm their way back into contention.
"At first look, the golf course, it definitely blows your mind,'' said Jim Furyk, who sits 7-over par. "Once you play it two or three times, you can kind of bring everything back in and realize the small areas that you are trying to hit the ball to."
The United States Golf Association (USGA) makes it difficult by design. As executive director Mike Davis put it during the FOX Sports broadcast, "It wouldn't be the U.S. Open if there wasn't a little muttering."
The muttering became a crescendo during the tournament (or even before, when Ian Poulter called the course "a farce." Or he might have been talking about his pants. Can't quite remember).
You had Sergio Garcia, the loudest anti-greens voice, saying Saturday on Fox, "To me, it's like playing the NBA finals on a court with holes, slopes and no backboard."
After he had finished a volatile 70 Saturday, McIlroy turned to his caddie, John-Paul Fitzgerald, and said, "Thank God I've got one of these (titles)."
Even Spieth chimed in Friday that the 18th hole was "dumb" when it played as a par 4, which it's likely to be as the finishing hole Sunday.
But showing wisdom well beyond his 21 years, Spieth added, "I think we're going to play from there again, so I've got to get over that."
That might stand as the mantra of the 2015 U.S. Open: Get over it. Get over the complaining, and get on with the playing. Ignore the fescue. It's golf to the rescue.