Fans at the U.S. Open are grumbling that they are kept too far from the action and it's too difficult to follow their favorite players.
UNIVERSITY PLACE — USGA officials acknowledge they've been fielding complaints about unusually restrictive fan access to parts of the Chambers Bay golf course, and they may open additional areas over the weekend.

"We'll do it if we can, but we just want people to be safe," U.S. Open championship coordinator Danny Sink said at a media briefing Friday.
Photos from the U.S. Open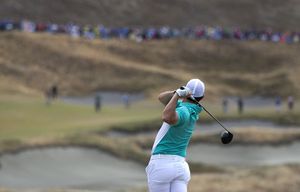 Sink defended the restrictions in place, saying they've been necessary to keep the public off steep and slippery slopes. "This is not about limiting views. It's about protecting the spectators."
On Wednesday, two caddies suffered minor injuries when they slipped on the terrain. And when the U.S. Amateur was held here in 2010, with little restriction on where spectators went, a number of fans were treated for ankle injuries.
Even so, the amount of roped-off area this week on the 250-acre course, and the distance between golfers and fans, has disappointed many who've waited years for the Northwest's first U.S. Open.
"I've been to 10 majors, including four U.S. Opens, and this was the worst fan experience," said John Woodin, 63, of Bellevue. "This was an embarrassment."
Unlike at most other golf tournaments, spectators cannot walk along each fairway of this course, making it impossible to closely follow a favorite player or group. And even where spectators are allowed, some have complained that they are kept an unusual distance from the golfers.
Bob Morris, 74, of Port Orchard, said, "It's just not fan friendly. I think they could open up a lot more area to the spectators. They've got us back pretty far."
Murray and Rita Johnson of Blanchard, Idaho, said they would have preferred a closer look at their favorite golfers, but were still delighted to sit in a grandstand at the 10th green and see the world's top golfers finish a challenging hole. "Everyone's been very courteous and helpful, and the weather has cooperated," Rita Johnson said.
For months, the USGA has been advising people coming to this event to take seats in the grandstands and let the groups of golfers come to them. But that won't work for everyone: The grandstands have 18,000 seats, and daily attendance of about 31,000 is expected.
We've been making sure people are not going into places where they're going to fall down and get hurt." - Danny Sink, U.S. Open championship coordinator
Sink said the USGA months ago mapped out the Chambers Bay layout to designate the trails and paths that lead the public across the course. He said those efforts were complicated by the ridges, dunes and elevation changes on the Pierce County-owned course, built on a hillside on the site of a former sand and gravel quarry,
"We've been conservative," he said. "We've been making sure people are not going into places where they're going to fall down and get hurt."
It is possible to get to many locations on the course, but not from hole-to-hole in order.
Some holes, such as the par-5 eighth, on the hillside on the east side of the course, have little easily accessible area open for public viewing. One fan, however, tweeted his appreciation for a marshal who let a few spectators sit on the bank above the hole long enough to see Tiger Woods and Rickie Fowler.
At least a few other spectators have circumvented the ropes and have been called back to permitted areas.
As of Friday afternoon, the 100-person volunteer medical team had reported no major fan injuries or ailments, and the most common problem they'd seen were foot blisters. Spectators have been advised to have sturdy footwear and be prepared to walk significant distances.
Ray Bickerton of Tacoma, arriving for his first view of the tournament Friday, said he was disappointed he wouldn't be able to walk up ridgetops where he had great views of the 2010 U.S. Amateur. But he was still excited to see the U.S. Open come to Puget Sound and thrilled to be able to attend.
The U.S. Open continues through Sunday and would go to a Monday playoff if Sunday's round ends in a tie.