Fox Sports mostly delivered on its promise not to overdo gadgets and graphics during its U.S. Open coverage on Thursday, but the network took some shots on social media for doing so.
Fox Sports coordinating producer Mark Loomis vowed ahead of the U.S. Open to not overdo the technical graphics and gadgetry at his disposal.
And Loomis delivered on that Thursday, sometimes to a fault, as the network launched coverage of its first major golf tournament in a 12-year, $1.2 billion partnership with the United States Golf Association. Within hours of Fox Sports 1 opening to broadcasters Joe Buck and Greg Norman, viewers complained on social media about a lack of informational graphics accompanying the action.

Fox failed to identify who was shooting and how they were doing for entire holes at Chambers Bay Golf Course. One of the critics was Dan Jenkins, famed golf writer and author, who tweeted: "A tip to Fox Sports: Please put on the screen who I'm looking at and how they stand. Or is it going to be guesswork all week long?''
The answer to that question is "probably" since Fox appeared to spend Day 1 guessing which camera shots and tools to try. Its most compelling early camera work wasn't of golf at all, but a facial close-up of 15-year-old Cole Hammer clearly battling to steady his nerves as he waited to tee off.
Photos from the U.S. Open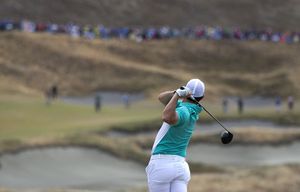 Hammer's face trembled and he appeared on the verge of tears. Loomis wants to emphasize storytelling this weekend, and capturing Hammer's teenage angst did more than any graphic or commentary ever could.
But other camera shots were a work in progress. Fox showed a golfer teeing off from a "tee cam" a few feet from the box, only to cut to another shot zooming in on the golfer instead of showing where the ball was.
That worked when a golfer had a noticeable reaction; not so much when he remained stone-faced.
Microphone usage was also hit and miss when it came to picking up interesting golfer-caddie chatter.
On the gadget side, the behind-the-golfer, wide-angle tee shots with a tracer following the ball worked well. Given the course's undulations and color differences between green and brown grass, the tracer is a must for viewer ball-tracking and easily the network's most useful technology.
Less clear was the value of the hyped "RC camera car." It provided unintended comedic fodder as shots were shown throughout the day of it following the Phil Mickelson foursome around.
We didn't see many memorable shots taken from the car itself, but that could change as the tournament progresses and the field is narrowed. The action Thursday was simply too fast and furious to spend much time focused on any group or camera.
Buck, 48, always a favorite target for Internet-based critics, stuck to his pledge not to "overtalk" during play. He let the picture do the talking on the Hammer close-up.
Buck also displayed his deadpan humor 25 minutes into the broadcast, correcting in advance any reference to Hammer as "Cole Hamels" and predicting he'd mistakenly use the Phillies pitcher's name at least five times before the day ended. Later, when the on-screen leaderboard suddenly vanished, Buck quipped: "Of the 74 million people that are here on behalf of Fox Sports, somehow we don't have our leaderboard. Somebody unplugged it. Once we can find the outlet, we'll plug it back in.''
It turns out that glitch wasn't the network's fault. Fox spokesman Dan Bell said the scoring system provided by USGA and their technology partner had a breakdown that affected the entire compound, including Golf Channel, TV Asahi and Sky Sports.
Buck and Norman only recently began working together and usually avoided talking over one another. The on-air crew kept it low key. Even the straight-talking Norman, who'd vowed to be as "honest" as possible, resisted throwing early zingers.
The most insightful commentary may have come from Fox analyst Brad Faxon after Rory McIlroy played a shot with a train roaring by in the background.
"I don't think many Americans would have hit that shot he hit at 16 with the train going," Faxon said. "I think it's so much more common in Europe and Scotland, where many of the seaside courses have railways by them."
It was one of the highs to offset any lows in the network's debut no one expected every golf fan to like.