Oregon Fish and Wildlife announced the entire Oregon coast from Columbia River south to the California border is closed for razor clams and mussels after the Department of Agriculture found unsafe levels of domoic acid.
Test results showed levels of domoic acid – a natural toxin produced by certain types of marine algae, can be harmful or even fatal if consumed in sufficient quantities – had exceeded the 20 parts per million (PPM) cut off.
Clatsop Beaches showed levels at 34.0 PPM in razor clams and at Coos Bay North Jetty it was 110.0 PPM; and for mussels at Cape Meares Mussels it was 23.0 PPM, and Bob Creek was 20.0 PPM.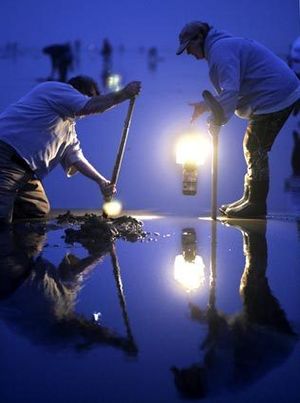 This comes on the heels of state Fish and Wildlife announcing a delay to razor clam digging at Long Beach along Washington's southern coast, which was supposed to open on Oct. 14.
"It's definitely not good news that's for sure (along the Oregon coast), and we're in the middle of collecting our test samples," said Dan Ayres, the head state Fish and Wildlife coastal shellfish biologist.
Ayres said razor clam samples were collected at Long Beach on Monday morning (Sept. 26), and the rest of the beaches – Copalis, Twin Harbors and Mocrock – will be collected on Tuesday (Sept. 27).
"We should have test results by Thursday, and all we can do is cross our fingers (the test samples don't shoot up like Oregon)," Ayres said.
State Fish and Wildlife is also keeping close tabs on whether or not they can open digging starting Oct. 14 at Twin Harbors, Copalis and Mocrocks beaches. All three beaches had shown an increase in marine toxin levels in the past week, but were still below the cut off of 20 ppm.
Tests recently taken on Washington beaches showed 29.0 PPM at Long Beach on Sept. 19; 11.0 PPM at Twin Harbors on Sept. 19; 3.0 PPM at Copalis on Sept. 18; 6.0 PPM at Mocrocks on Sept. 18; and 6.0 PPM at Kalaloch on Sept. 17.
Domoic acid spiked well above the threshold in the spring of 2015, and created widespread closures of all coastal beaches until this past December.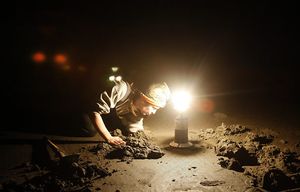 For updates on Washington beaches, go to http://wdfw.wa.gov/fishing/shellfish/razorclams/current.html.
For updates on Oregon beaches, go to http://www.oregon.gov/ODA/programs/FoodSafety/Shellfish/Pages/ShellfishClosures.aspxor call the hotline at 800-448-2474, and the Food Safety Program at 503-986-4720.