Kitchen and bath remodels are some of the quickest ways to add value — and enjoyment — to your home. You can update floorplans, colors and materials and incorporate new technologies for showering, cooking, cleaning and heating into your home.
"Remodeling is popular because in this real estate market, it's very difficult to find a home that's better than what you have," says JoAnne Shumate, president of Accent Construction and Remodel in Federal Way. "If you like your neighborhood and really don't want to move, consider remodeling to get what you want in your current home."
Shumate urges you to dream big, even if you don't have the budget to do everything right away. "Start by developing an overall plan," she says. "Once you have that design, you can see how to divide the work into pieces and do one piece at a time."
A kitchen at the heart of the home
Kitchen remodels are costly, but the results can be dramatic in terms of appearance and convenience. Many kitchen remodels expand the room, opening walls or even adding space onto the house. According to Shumate, traditional triangle layouts for a sink, refrigerator, and stove, are less common. Her clients are asking for open layouts that integrate the kitchen with the rest of a home. In open kitchens, a large island for cooking and eating overlooks a living or dining area.
"People want secondary sinks on the island, and secondary cooktops are popular, too," she says. "Kitchens are workspaces, but now they're social spaces as well."
While all-white kitchens are currently the rage, Shumate expects that to change soon. "We're seeing more color," she says, noting that combining white with gray materials is popular. She favors wood cabinetry — not painted, but simply stained to allow the beauty of the natural wood to show through.
If you're seeking the modern, uncluttered feel of a European kitchen, Richard Lawrence, marketing manager at Chermack Construction in Edmonds, points to the new Thermafoil cabinets. With a layer of vinyl laminated to engineered wood, Thermafoil provide smooth surfaces that resist chipping. "They're easier to maintain than painted wood, and you have a wide range of colors and patterned finishes," Lawrence says.
Whatever style you choose, Shumate suggests that you do new cabinets at the same time you install new counters. "It's very difficult to go back five years later and try to lift a countertop to replace beat-up cabinets underneath," she says.
Update your bath for comfort
Today's bathroom remodels are all about the shower.
"The big trend is that people are taking away tubs because they want the space for two-person showers, complete with two showerheads and maybe a bench," Shumate says.
The new showers present a number of design choices. Do you want a walk-in shower, curbless and tucked around a corner so you don't even need a shower door? Or do you want a steam shower, tiled to the ceiling with a door to keep that luxurious steam inside with you? "The steam showers require a little extra plumbing and electrical, but the effect is magnificent," Shumate says.
Want to make your new bathroom really special? Shumate loves the new "laminar flow" faucets, which reduces splash and spatter in the shallower vessel sinks.
Lawrence suggests heating the bathroom floor with an electrical mat that is installed beneath the tile flooring. "You use a thermostat and timer to regulate the temperature," he says. "The people who have heated floors sure do love them."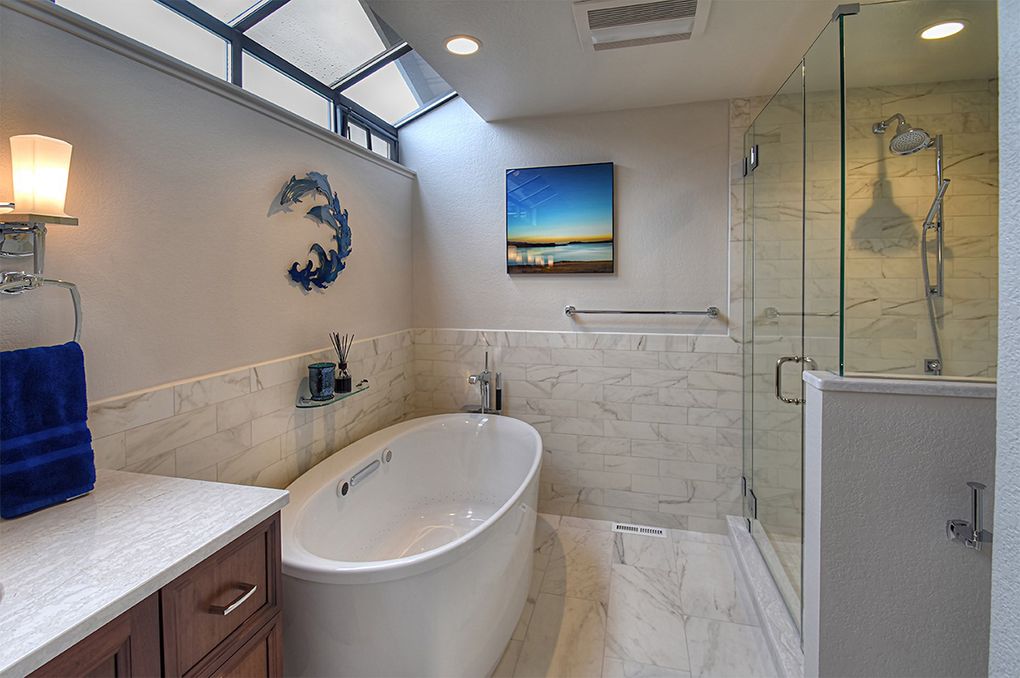 Planning your project with the pros
Shumate advises working closely with a designer for kitchen and bath remodels to get the inside story about products and brands, including products that might be available only from specialty stores and manufacturers. "The designer's job is to know what's out there, and where to find it," Shumate says.
Visiting the Seattle Home Show is a great way to get ideas, see new products in person and talk with experts about design and installation.
Considering getting financing for some or all of your remodel? Aaron Bresko, senior vice president of consumer lending at BECU recommends looking into a home equity line of credit.
"If you are planning a major home improvement project, a home equity line of credit is something you may want to consider. As the loan is secured by your residence, you may get a lower rate when compared to other types of loans and you should not have to pay a fee to get it established."
The Seattle Home Show Feb. 23 – March 3 at Century Field features many ideas and solutions for your kitchen or bath remodel.