The law-enforcement push in King, Pierce and Snohomish counties will last through mid-August. Motorcycle crashes account for nearly 15% of all traffic deaths statewide, though motorcycles represent only 4% of registered vehicles.
Around this time last year, a motorcyclist in Everett crashed and died.
About four weeks later, another was hospitalized in Seattle after his motorcycle crashed on the West Seattle Bridge, and he fell to the road below. He died later.
Fatal motorcycle crashes in Washington occur too often, transportation officials say, especially during warm summer weeks when more riders are on roads.
Under state law, motorcyclists must:
• Wear a helmet that meets federal safety standards and does not have extra fixtures such as spikes, Mohawks or GoPro cameras.
• Display a license plate horizontally and visibly on the motorcycle's back.
• Use lights while driving.
• Avoid traveling on shoulders of roads or splitting lanes.
Washington State Patrol
So, law-enforcement agencies across Western Washington are cracking down over the next three weeks, beginning Friday, boosting patrols to keep an extra eye out for motorcyclists speeding, driving reckless or under the influence of drugs or alcohol.
"Our idea is to get extra patrols out there where motorcycle crashes are happening and stop anybody who is driving recklessly or illegally, following too closely," said Mark Medalen of the Washington Traffic Safety Commission (WTSC). "The reason we choose that (time frame) is the majority of the bikes are out. "
Motorcycle crashes account for nearly 15 percent all traffic deaths statewide, though motorcycles represent only 4 percent of registered vehicles, the WTSC says.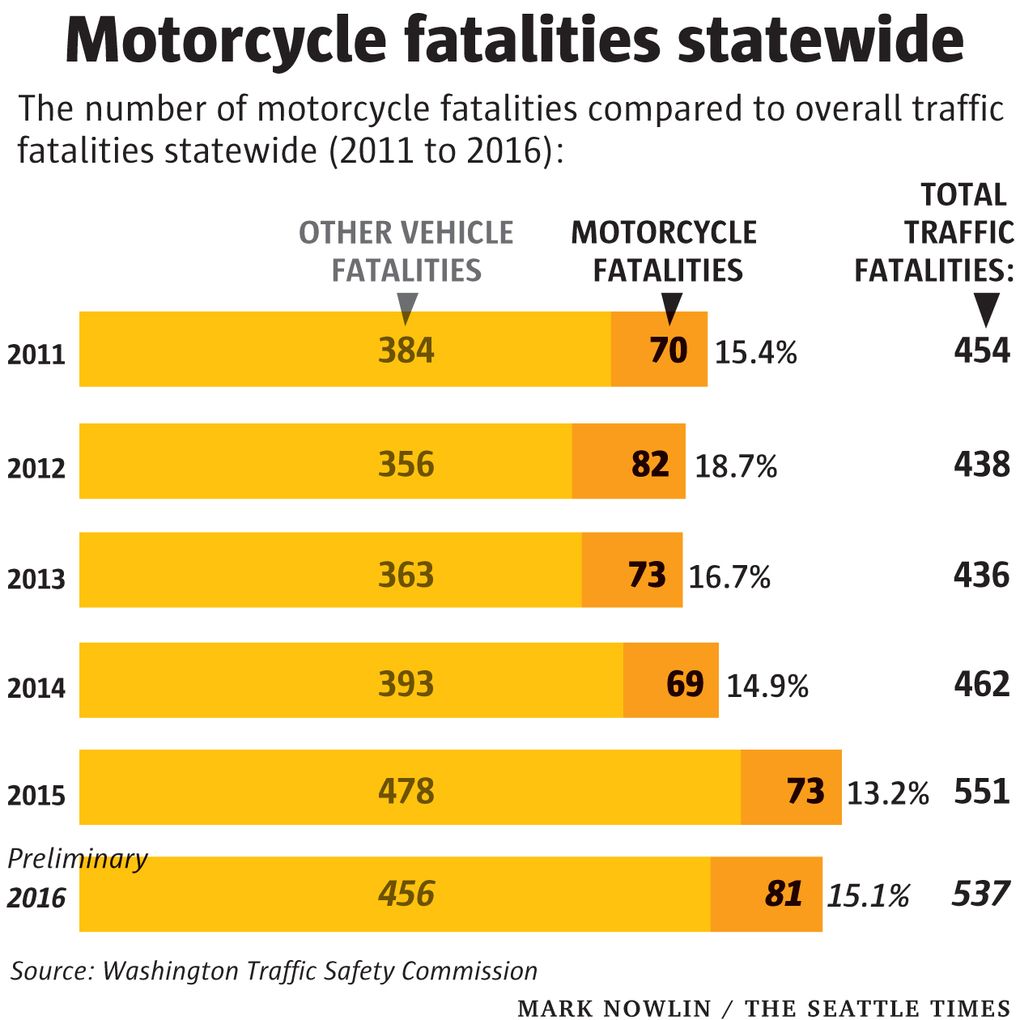 City and county law-enforcement agencies in King, Pierce and Snohomish counties will pay staff overtime for the extra patrols through mid-August, using $100,000 in state money from the Olympia-based WTSC, he said.
"It's been super nice, a lot of people are out," Snohomish County Sheriff's Office spokeswoman Shari Ireton said. "Slow down."
The commission chose the Central Puget Sound region for the law-enforcement push since nearly half of all motorcycle fatalities statewide occur there, Medalen said. Last year, 18 motorcyclists died in King County, according to data compiled by the WTSC.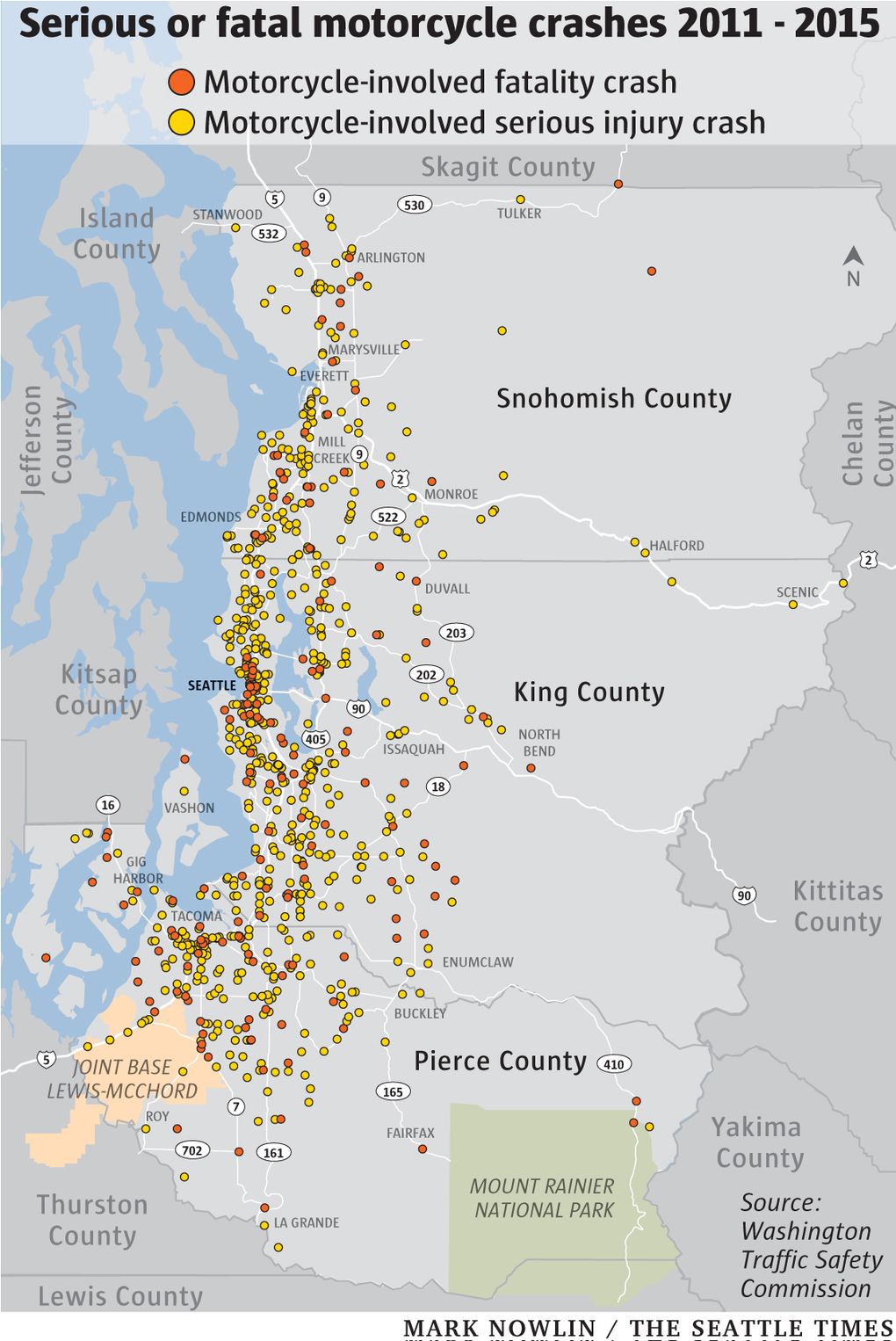 Also, the State Patrol will launch its aviation unit and put more troopers on highways in Snohomish, Skagit, Whatcom and Island counties to monitor for motorcycle violations this weekend.
The WTSC gave the State Patrol $100,000 for its motorcycle-safety efforts, Medalen said.
Traffic Lab
is a Seattle Times project that digs into the region's thorny transportation issues, spotlights promising approaches to easing gridlock, and helps readers find the best ways to get around. It is funded with the help of community sponsors Alaska Airlines, CenturyLink, Kemper Development Co., NHL Seattle, PEMCO Mutual Insurance Company and Seattle Children's hospital. Seattle Times editors and reporters operate independently of our funders and maintain editorial control over Traffic Lab content.
"At the end of July, at the beginning of August, it's historically nice," said Trooper Heather Axtman, who patrols Snohomish County and areas north. "Motorcyclists are out, so watch for them."
Troopers along the coast will be on the lookout, too, in light of the "Bikers at the Beach" rally in Ocean Shores, Grays Harbor County, Patrol spokesman Kyle Moore said.
"When there's major motorcycle events, that's just an opportunity for the Washington State Patrol to bring awareness," he said.
Last year, troopers arrested 70 motorcyclists statewide on suspicion of DUI, Axtman said. So far this year, they have arrested 41.
The WTSC-funded safety push is the third annual of its kind, aiming to curb serious and fatal motorcycle crashes when they often occur most — July through September, Medalen said. It's part of the commission's long-range campaign, called Target Zero, to reduce traffic deaths and serious injuries.
Last year, 458 people across the state suffered serious injuries or died in motorcycle crashes, the data show.
That total is part of a larger trend of fatal crash numbers remaining high, transportation officials say, considering how few motorcyclists are on roads compared to cars.
"Unfortunately, statewide, the crashes have seen increases over the past few years," Medalen said.
In the past four years, 2013 saw the lowest number of serious or fatal motorcycle crashes at 420. The highest number, 476, was tallied in 2015, the data show.
Medalen emphasized the latest law-enforcement push is not about profiling or stopping motorcyclists. Instead, it's about boosting manpower to catch unlawful driving.
"It's our dream to say we couldn't find anyone" breaking the law, he said.