Bertha has been performing well in tests this week and is ready to break out of its repair vault in early January, the Highway 99 tunnel's construction chief says.
Bertha will break out of its repair vault and start burrowing through native soil again by Jan. 5, project manager Chris Dixon says.
The rotary cutter advanced eight feet through wet sand Tuesday, allowing Seattle Tunnel Partners (STP) to fasten two more concrete rings of the Highway 99 tunnel. Bertha performed perfectly in load tests, Dixon said, as the job site closed Wednesday for the holidays.
The team earlier planned to go 14½ feet, to the north wall of the vault, but stopped short. Bertha needs to spin at least once a day next week, and STP wanted extra room to advance if needed.
After weeks of overtime shifts to prepare for restart, Dixon said he wanted workers to start the year rested, for the 8,000 feet of mining ahead. Another reason to vacation now is safety, so workers aren't distracted by errands or visiting relatives, he said.
Bertha overheated and stopped grasping soil Dec. 6, 2013. It entered a deep repair vault this year, and the front end was hoisted for renovations by manufacturer Hitachi Zosen of Japan.
Excavation will begin slowly, toward a planned maintenance stop 450 feet ahead. Then the drill is supposed to dive beneath the Alaskan Way Viaduct in March.
Traffic will be closed for two weeks as a "very precautionary" measure, said Todd Trepanier, Highway 99 administrator for the Washington State Department of Transportation.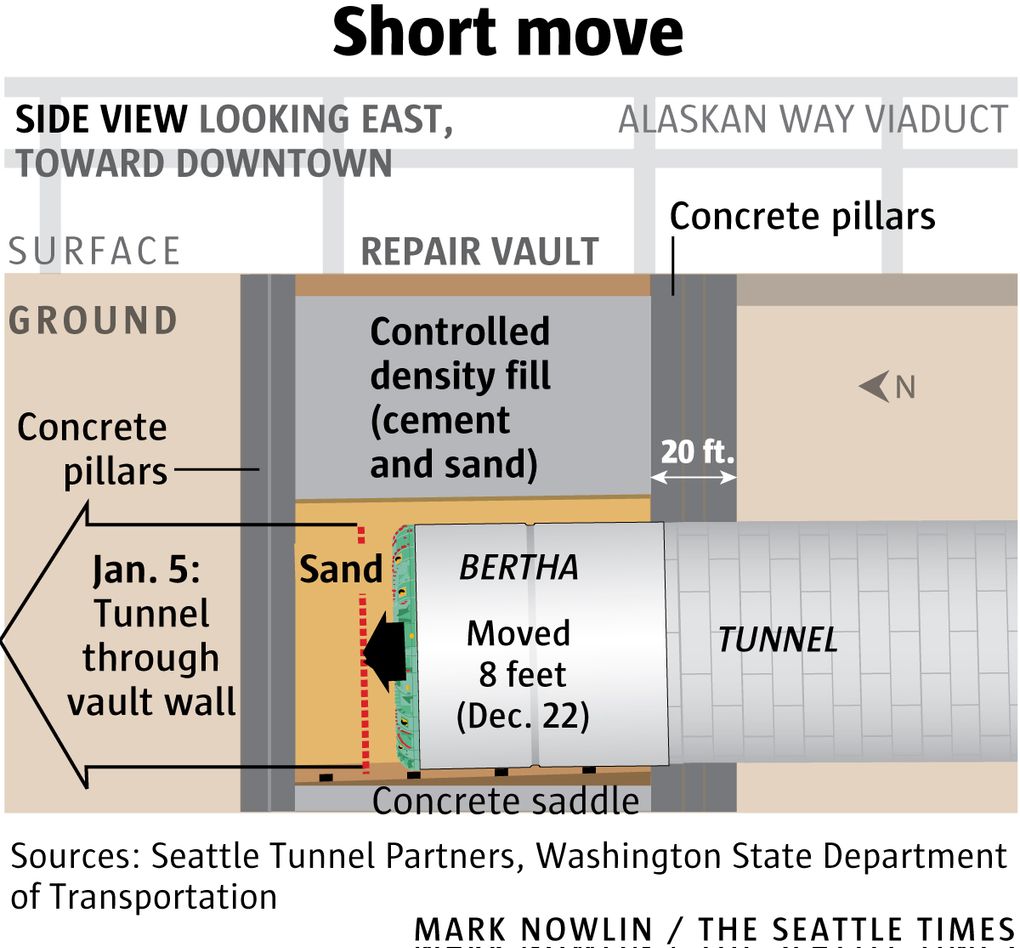 A major blunder, such as removing too much dirt, could damage the viaduct or sink brick buildings — in recent years, digging for the Brightwater sewage and Beacon Hill transit tunnels created voids that worked their way to the surface. STP will constantly check soil volumes, underground pressure and motion-sensing devices along the streets.
"That monitoring is easier to read, and quicker to interpret, without the vibration and noise that comes from traffic," Trepanier said. "And if there is something that needs to be done as far as grouting to fill in a void, it could be easier to do that quickly, without traffic on the viaduct."
Beyond the viaduct, Dixon said the machine should reach an average cruising speed of 40 feet per day downtown.
Washington State Department of Transportation video