Records show that just one company, Seattle's Finest Security & Traffic Control, has been the sole provider of off-duty officers to Seattle City Light for at least five years.
A retired Seattle police officer's private company has exclusively billed Seattle City Light more than $7.8 million over the past five years to provide off-duty police officers for traffic control or security work, according to billing data obtained by The Seattle Times.
The company, Seattle's Finest Security & Traffic Control, has been chosen by utility crew chiefs for every job, even though another company, Seattle Security, also provides off-duty officers, the records show.
Details of the lucrative relationship between Seattle's Finest and City Light come at a time the FBI is investigating allegations of price-fixing and intimidation in the hiring of off-duty officers directing traffic at parking garages and construction sites.
Related stories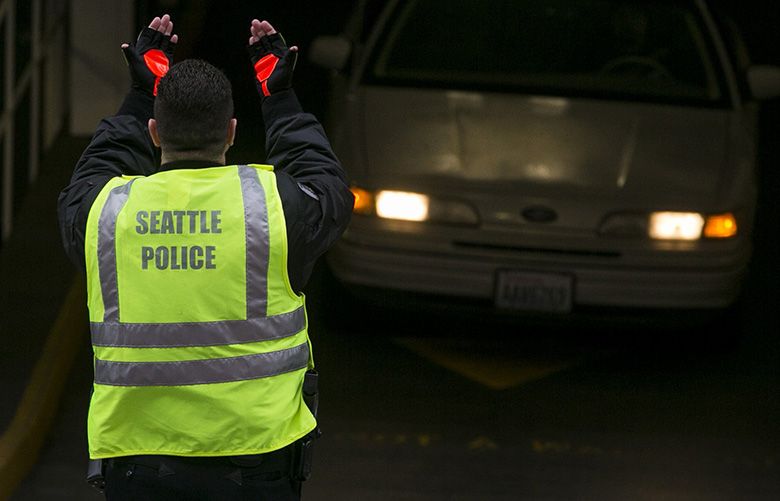 The allegations, made by a new startup company, Blucadia, and echoed by some downtown business owners, have renewed longstanding concerns about a murky off-duty employment arrangement controlled by few companies with little oversight.
Alarmed by the developments, temporary Seattle Mayor Tim Burgess moved on Sept. 27 to wrest control of off-duty police work from the private sector and place it under the control of the Police Department. He appointed a task force to provide him specific recommendations by Nov. 14.
For years, much of the off-duty work has gone to Seattle's Finest, owned and operated by Raleigh Evans, a former 20-year Seattle police officer who formed the company in 2002 while still working for the department.
Seattle's Finest has provided officers for some of the city's biggest construction projects, including the Seattle seawall and First Hill streetcar, as well as for Seahawks and Sounders games, according to the company's website.
The other longtime company, Seattle Security, which is affiliated with the Seattle Police Officers' Guild (SPOG), has garnered additional jobs. Guild members also work for Seattle's Finest.
Evans did not respond to numerous requests for an interview. Earlier, he described Seattle's Finest and Seattle Security as "friendly competitors."
Records show Seattle's Finest has been the sole provider of off-duty officers to Seattle City Light and the city's Transportation Department since at least October 2012. No jobs were assigned to Seattle Security, the SPOG spinoff.
City Light spokesman Scott Thomsen said crew chiefs are given a choice to use either company when they need an off-duty officer for traffic control. City policy requires sworn officers to direct traffic around utility work sites, which are often located in the roadway.
Because of the often urgent nature of the need — downed power lines, for example — Seattle City Light is exempt from having to bid for the jobs, according to the city finance department.
Thomsen said the utility does not have a contract with either Seattle's Finest or Seattle Security, and that neither is a "preferred vendor," which requires a screening process.
"There are these two companies, and it's up to each crew chief to decide which company to pick," he said.
He could not explain why crew chiefs called Seattle's Finest for every job requiring an off-duty officer during that time period. City Light finance records show that between October 2012 and Sept. 28 of this year, Seattle's Finest submitted 2,674 invoices to City Light for payments totaling more than $7.8 million.
"There's been a long relationship," Thomsen said. "It looks like they (Seattle's Finest) tend to be the folks called first."
He said Seattle Security has never complained.
Seattle's Finest also provided off-duty officers to Seattle Department of Transportation crews, submitting invoices totaling an additional $445,753 since September 2015, and the city Parks Department, which paid $2,234.
By comparison, the finance department was able to identify a single payment of $236 to Seattle Security in the past two years by an unidentified city department, the records show.
Seattle's Finest and Seattle Security have a long and friendly relationship that has allowed both to operate in the local off-duty market, Guild President Kevin Stuckey, who represents more than 1,300 officers and sergeants, told The Times in an interview last month. Seattle's Finest is listed as a sponsor on the guild's website.
Stuckey couldn't be reached to discuss the City Light work.
In an earlier interview, Evans — the owner/operator of Seattle's Finest — said the companies were "friendly competitors."
When Blucadia emerged as a competitor to Seattle's Finest and Seattle Security last year — ultimately earning the endorsement of the Seattle Police Department — Evans asked a state licensing agency to investigate its credentials.
Earlier this year, Rob McDermott, Blucadia's chief executive officer, complained to Seattle police officials that his startup company was being blackballed by SPOG. He reported receiving a profane and intimidating call from Stuckey when he sought to discuss Blucadia's efforts to use Seattle officers.
Stuckey has acknowledged he lost his temper, saying McDermott relentlessly pursued him for a meeting and had been "condescending and rude." But SPOG has done nothing improper, he said.
In April, Seattle Police Chief Kathleen O'Toole referred Blucadia's allegations to the FBI. Word of the investigation didn't publicly surface until last month.
At that point, McDermott publicly disclosed detailed notes of a street-corner conversation with uniformed off-duty Officer MacGregor "Mac" Gordon, a detective and 32-year department veteran, who described the lucrative off-duty system in organized-crime terms — using the word "mafia" — and said nobody would be allowed to interfere with it. The conversation was witnessed by Drew Finley, a Blucadia co-founder and former Pierce County sheriff's deputy.
Gordon has acknowledged the conversation but said he was joking and that his comments were taken out of context.
McDermott's notes state that Gordon told him that officers would defend "the 'really cake jobs' such as Seattle City Light off-duty work."
"Yeah, we would really break some bones if those were messed with,'" Gordon reportedly said.
"Those jobs are a minimum of four hours, and most are done within an hour and a half," he said.
Evans has previously acknowledged in an interview that Seattle's Finest bills a minimum of four hours regardless of the duration of the work, because it's too difficult to get officers who live outside the city to come into Seattle for less. He declined to provide a minimum amount Seattle's Finest would charge for an officer, saying he didn't want to "tip off the competition."
According to Stuckey, the guild president, the union's contract requires officers be compensated $45 an hour for off-duty traffic-control work.
The Times reviewed a list of the nearly 3,000 City Light invoices, finding just five were for less than $200, and nearly a quarter under $1,000. The average invoice submitted to City Light by Seattle's Finest between 2012 and last month was $2,934.
"We need cops for traffic control," said Thomsen, the City Light spokesman, when asked about the four-hour minimum. "If they've outlined that as a minimum charge, then that's what we have to accept" without a contract in place.
"It is an unusual relationship, and you can certainly ask questions," he said.
Thomsen said he wasn't aware of Blucadia, which originally called itself CopsForHire.
The Olympia company, which describes itself as new model rooted in the gig economy, matches police officers with customers through a software program, much like Uber connects drivers to riders.
Last year, as Blucadia began discussions with the Seattle Police Department about a business relationship, Evans of Seattle's Finest filed his complaint in October 2016 with the state Department of Licensing.
"There is a company in Washington State using the name of 'Cops for Hire,' and selling themselves as a company employing off-duty officers for work within the State," the complaint said.
It alleged that CopsForHire is "not licensed as a private security company, as we are required to be."
The complaint also said CopsForHire shouldn't be allowed to use the word "Cops" in their name, noting Seattle's Finest had previously been barred from using the word "Police" because it might be viewed as a law-enforcement agency.
In a written response to the complaint, CopsForHire said it is not a law-enforcement organization.
"CopsForHire does not, nor will we ever hire or employ law enforcement officers," the company wrote to the Licensing Department, explaining it only serves as a connection for officers and customers.
The "Cops" issue was ultimately resolved when the company changed its name to Blucadia. The company says it did so for business reasons not related to the complaint.
The license issue remains under review, according to a Licensing Department spokeswoman, including a subpoena issued to Blucadia in March.
McDermott, the Blucadia CEO, declined to characterize Evans' actions. "I viewed his complaint as something he felt he needed to do, but I have really no way of interpreting or knowing what Raleigh's intentions were in doing so," McDermott said in an email.
Seattle police chose Blucadia as its preferred provider for off-duty work, giving the company a portal on the department's web page earlier this year.
Brian Maxey, the department's chief operating officer, endorsed Blucadia's system as simpler and more transparent.
The portal has been removed while the task force created by Burgess considers recommendations, although Blucadia may still sign up officers on its own.