The Republican presidential nominee rallied a crowd of thousands at the Xfinity Arena. Democrats had a counter-protest outside at the arena. Before the public event, donors reportedly raised at least $1 million for Trump's campaign at a private fundraiser at a arena conference center.
This is a live account from Trump's Everett rally. READ THE FULL STORY: In Everett, Trump makes pitch for black voters
What you need to know:
A rally at Everett's Xfinity Arena began at 7 p.m. Doors opened at 4. Trump was also in town to gather cash at a fundraiser before the rally. About 150 attended that private event, raising at least $1 million for the Trump campaign, Washington state GOP chairman said.
Free tickets for the rally were available on a first-come, first-served basis through the Washington State Republican Party's website. People started lining up early Tuesday morning to get in. The lines grew all day, eventually including thousands.
An anti-Trump protest started at Clark Park in Everett in the early evening. After a roughly 20-minute march, they met Trump supporters at the Xfinity Arena.
---
Update, 9:45 p.m.
Two protesters were arrested during Trump's Washington visit on Tuesday, Everett police spokesman Aaron Snell said.
For one incident, police arrested a young man outside the Xfinity Arena's entrance for alleged disorderly conduct, he said. For the other, officers arrested a 50-year-old woman on suspicion of assault, Snell said.
Authorities, however, responded to a total of six medical incidents both inside and outside the arena, as well, he said.
---
Update, 8:25 p.m.
Trump has ended his 48-minute speech in Everett.
Peter Langbeck, a 20-year-old University of Washington student voting in his first presidential election in November, was buzzing with excitement after the rally.
"If felt great," to see Donald Trump up close, said Langbeck, who's counting on Trump to get touch on immigration.
Langbeck hails from a politically liberal family and "hated the old Republican Party", which enriched the elite, he said. But he became a Trump supporter this spring while studying abroad in Berlin.
"I saw what unchecked immigration was doing there," Langbeck said. "What's happened in Germany in the past year" has been happening in the U.S. for much longer.
Langbeck said he hopes "left and right populism can come together" sometime soon. He described Trump as a political underdog and said he identifies with that.
"I thought it would take all my life to see the end of the neo-conservative Republican Party. But all it took was one really loud, really orange guy," he said.
---
Update, 8:14 p.m.
Trump read these Al Wilson lyrics to the crowd, comparing refugees to snakes.
Meanwhile, police detained a man after a physical altercation outside the arena.
---
Update, 8:03 p.m.
After repeating his recent appeals to African Americans, Trump is now talking about China "sucking blood out of our country" and the local, "horrific" heroin epidemic.
---
Update, 7:59 p.m.
Security escorted out groups of protesters from inside the arena. Trump at one point mocked them, saying they're not as loud as Bernie Sanders supporters.
Outside the arena, the crowd of anti-Trump protesters cheered as those people inside made their out.
The tension between protesters and fans of the Republican presidential nominee rose.
---
Update, 7:55 p.m.
Trump has been speaking to the crowd in Everett for roughly 15 minutes.
---
Update, 7:40 p.m.
To huge cheers, Donald Trump has taken the stage, saying he is "thrilled to be back in Washington."
Though the rally is under way, many Trump supporters remain stuck in lines outside the arena.
---
Update, 7:32 p.m.
Sen. Jeff Sessions of Alabama is speaking to the crowd now.
Meanwhile, the Republican presidential nominee confirmed on Twitter that he will visit Mexico on Wednesday, hours before delivering a highly anticipated speech on immigration.
—The Associated Press contributed to this report
---
Update, 7:22 p.m.
Former New York Mayor Rudy Giuliani has taken the Xfinity Arena. The crowd has gone wild.
Minutes before, U.S. Republican Party Chairman Reince Priebus addressed the Trump supporters.
---
Update, 7 p.m.
Donors raised at least $1 million for the Trump campaign at the Everett fundraiser, Washington state GOP chairman Susan Hutchison told The Seattle Times.
About 150 attended the private fundraising event at a conference center attached to Xfinity Arena, she said.
Among those attendees were Giuliani, Priebus and Sessions, Hutchison said.
---
Update, 6:30 p.m.
State Sen. Doug Ericksen of Ferndale, deputy director of the Trump campaign, welcomed the crowd to the rally.
Meanwhile, anti-Trump protesters have scoped out a corner near the arena where some have gotten into verbal skirmishes with fans. Lines of supporters are still waiting to enter the event.
---
Update, 6:07 p.m.
The Xfinity Arena is filling up.
Remember that Sanders rally? Here for the Aug. 2015 story.
---
Update, 5:50 p.m.
Anti-Trump protesters have marched to the Xfinity Arena, where the Republican presidential nominee is set to rally a crowd of thousands at 7 p.m.
Earlier, U.S. Rep. Rick Larsen and state Rep. Noel Frame, D-Seattle, among others, addressed the group of protesters.
"Love trumps hate," Larsen said, echoing a common slogan among Trump opponents.
But some people near the Xfinity Arena are not protesting nor supporting the Republican presidential nominee on Tuesday. Some people are just looking on.
Brian Sweed, 31, was eating with his 3-year-old daughter outside a nearby restaurant, when he said he brought her up from Seattle, where he works at Pike Place Market, to "see the show."
"It's like a circus," he said, shaking his head.
Sweed, who's black, said he wished there were Black Lives Matter activists on the scene.
"Trump supporters are out here worried about Hillary Clinton's emails when we have people dying in the streets, starving, homeless people, and they don't have anything to say about that," he said.
Gilma Vasquez, 48, eyed the crowd dubiously from the doorway of her Mexican and Salvadoran restaurant, which specializes in pupusas.
Vasquez, originally from El Salvador, is a U.S. citizen, so she isn't afraid of being deported. But she said some of her friends are worried about what might happen to them if Trump becomes president.
"They say he's evil and if he wins everybody is going to be kicked out of the country," she said. She's not wild about Clinton either, however, and said she hasn't decided who to support in the election.
---
Update, 4:30 p.m.
The doors to the arena, which holds 10,000 people, have opened. Trump fans are streaming in.
Meanwhile, seats inside have yet to fill up. Here's the view:
---
Update, 4:25 p.m.
Trump protesters gather at Clark Park in Everett. They will later march to Xfinity Arena.
---
Update 4:20 p.m.
Trump's airplane just landed at Paine Field. He'll attend a fundraiser first, then a 7 p.m rally in Xfinity Arena Everett.
---
Update, 4:10 p.m.
---
Update, 3:50 p.m.
Steven and Eugenia Canner met in the Philippines, used "proper channels for her to immigrate.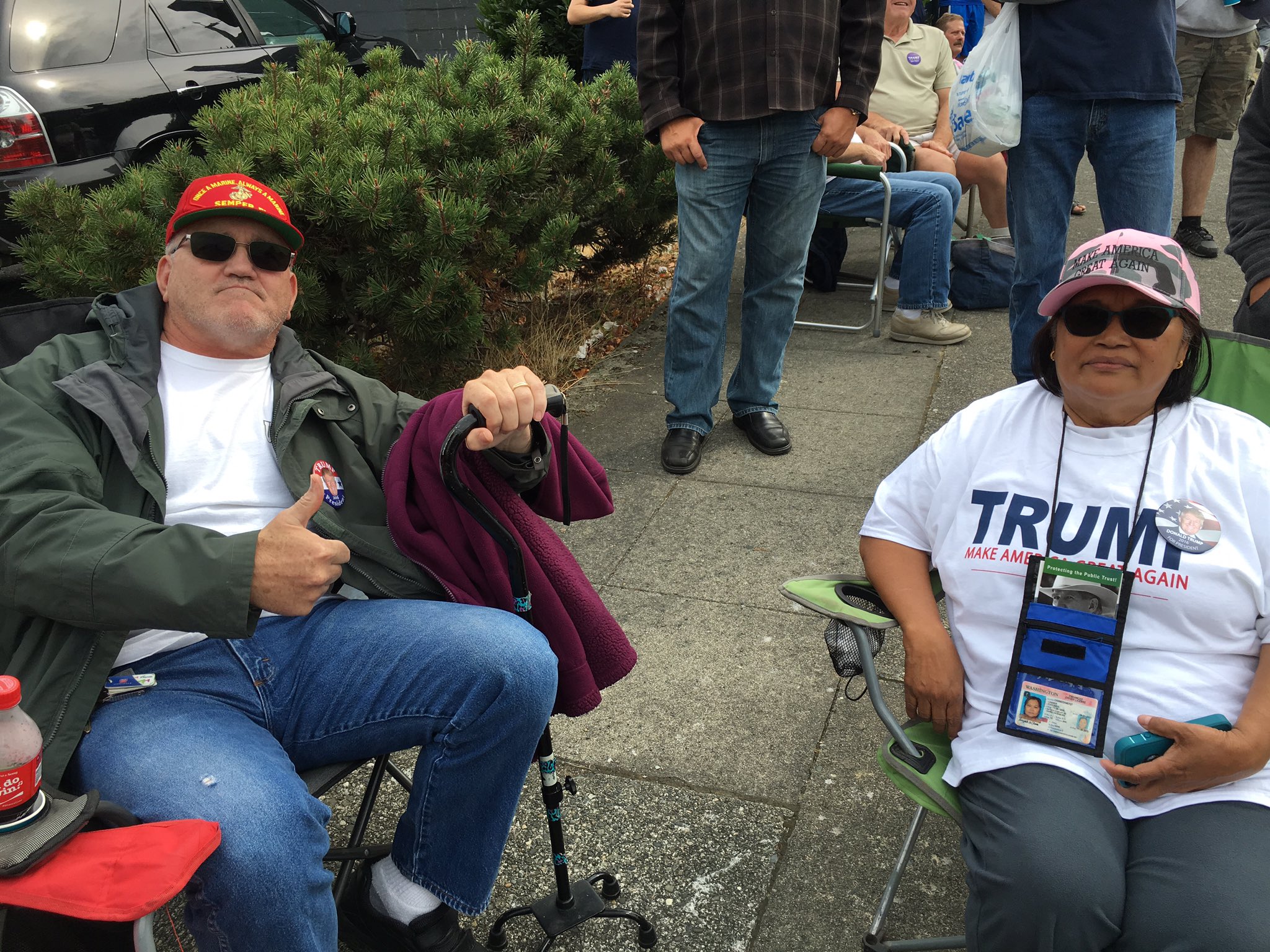 The mood among people waiting in line for Donald Trump's rally in Everett on Tuesday afternoon was mixed.
Some Trump supporters chuckled over buttons for sale with slogans such as "Chicks Dig The Donald" and "Life's A B***h, Don't Vote For One."
Others angrily booed two women who walked past holding signs that said: "No White Supremacy In The White House."
Steven and Eugenia Canner of Everett, who met in her native Philippines decades ago when he was deployed there with the Marines, said they're frustrated with the direction the country is going.
They said they went through the "proper channels" when Eugenia immigrated to the U.S. and then worked hard to support themselves, contrasting that with immigrants without documents and refugees who "get all that special stuff from the government."
Now retired, rent just went up and they're struggling to get by.
---
Update, 3:25 p.m.
Immigration is a top issue for these Trump supporters.
Kim Walker, a 30-year-old from Redmond who makes figure-skating dresses for a living, said she supports Donald Trump because Trump has promised to "get a handle on immigration" by building a wall along the border with Mexico.
Walker said she doesn't believe that Trump is racist or sexist, despite his many inflammatory statements. The real-estate tycoon has hired people of all races and religions, she said.
"I like what he's saying and how he says it, how he rubs people the wrong way," Walker said. "People need to get a thicker skin."
Alex Bolt, a 25-year-old from Everett who runs a cleaning company, sees things differently. He walked past the line for the rally blasting the rap song "F*** Donald Trump" from his cell phone and a portable speaker.
Bolt said Trump's supporters aren't friendly towards people of color, like himself. He said seeing so many Trump supporters in his city makes him feel "upset, hurt and emotional."
"Someone looked at me and said, "This guy doesn't like white people.' My mom is white," he said. "Every person I've spoken to who supports Trump has a problem with people of color."
Near the front of the line, Helen Miller of Bremerton, said she's an immigrant herself. Miller declined to share her age but said she made her way to the U.S. long ago "through the front door," drawing a distinction between herself and undocumented immigrants.
Miller said the country has changed too much in recent years. Rather than declare that "Black Lives Matter," she said "Black Robes Matter," explaining that she worries about Hillary Clinton appointing left-wing justices to the U.S. Supreme Court.
---
Update, 2:15 p.m.
Trump inspires this 62-year-old Granite falls man to finally register to vote.
Dave Jenkins, a maintenance supervisor from Granite Falls, says he registered to vote for the first time this year at the age of 62 because of Trump.
Jenkins said Trump would build up the military so the world fears America again. "Now they laugh at us," he said.
Diane Jenkins, his wife, said she trusts Trump to get control of illegal immigration. "He is the man who has the cajones to do the job," she said.
But Diane Jenkins said she didn't agree with all of Trump's immigration rhetoric or proposals, such as his "deportation force."
"They're families," she said of the millions of undocumented workers in the U.S. "You can't just take people and throw them out."
She said immigrants and their families should have a path to legal status — even though Trump attacked his GOP rivals for such so-called amnesty plans during the primaries.
---
Update, 1:35 p.m.
Folks explain why Trump is their candidate.
___________________________________________________________________________
Update, 1:30 p.m.
The line to get into the Trump rally continues to grow.
Update, 10:33 a.m.
What's it like to support Donald Trump in Washington state?
Ask Ryan Leenders, 30, a member of the International Association of Machinists, who grew up a Democrat in a single-parent household. By age 12 he had set up a nice neighborhood business mowing and edging lawns for $20 a pop. He voted for Obama eight years ago. Now he's an ardent Trump supporter.
"Regardless of the picture they're painting of him," says Leenders about Trump, in an interview earlier this year, "he'd be a labor-first president."
Trump Country: Read the April profile of two Everett men who say Trump's their guy.
---
Update, 9:30 a.m.
Donald Trump supporters are already lining up for the rally in Everett. The arena seats 10,000 people.
---
Update, 7:10 a.m.
Donald Trump is coming to Washington today for the second time during his campaign. The Republican presidential nominee is holding a rally in Everett before flying to Phoenix to give a speech Wednesday about immigration. Trump was last here in May, holding rallies in Spokane and Lynden, Whatcom County.
Where there is a Trump rally, there usually is a counter rally. Everett's mayor Ray Stephanson and other elected officials and labor and community leaders are leading the "No Hate in Our State" rally. The rally is at 4 p.m. in Clark Park, and will move to Xfinity Arena at 7 p.m., where demonstrators will protest outside where Trump is to speak.
Traffic in the region could be snarled by Trump's motorcade. It'll be escorted by the Secret Service, which doesn't reveal travel plans.