Leslie Harris and Chandra Hampson appeared to have won their respective races for the Seattle School Board in Tuesday's election returns, and Liza Rankin was ahead of her opponent. The results marked the culmination of another election cycle where most incumbents on the seven-member board opted out of running again.
The results are fairly consistent with primary returns, despite the fact that Harris and Rankin were outspent.
In District 6, the only race with an incumbent, School Board President Harris garnered 65.7% of early returns, leading challenger Molly Mitchell by nearly 32 percentage points. In District 3, the most expensive race this year, former Seattle Council PTSA president Hampson was leading Rebeca Muñiz with 65% of the vote. With 51% of the vote, Rankin had a slight edge over Eric Blumhagen in District 1, the tightest race by primary results. Former reporter and PTA parent Lisa Rivera Smith ran unopposed for the District 2 position.
"I knew it was going to be close," Rankin said. "But it feels good to have the edge." Blumhagen said he was still holding out hope that later returns may flip the results.
Tuesday's vote count represented about a quarter of registered voters.
The winners will be sworn in Dec. 11 and serve for four years, earning annual stipends of up to $4,800.
Turnover is common for School Board members here and across the country. The newcomers and Harris will oversee the district as it tries to address systemic inequities in its gifted-education program, curricula, discipline practices and workforce. The first few years of service on the School Board have been compared to drinking from a fire hose.
All candidates running this year expressed verbal support for racial justice, but they have their work cut out for them. Just a few years ago, Seattle had one of the widest gaps between black and white student performance in the country. The district has been trying to undo that legacy for around 70 years; the latest strategic plan, which focuses on improving the outcomes of African American boys, is just one example.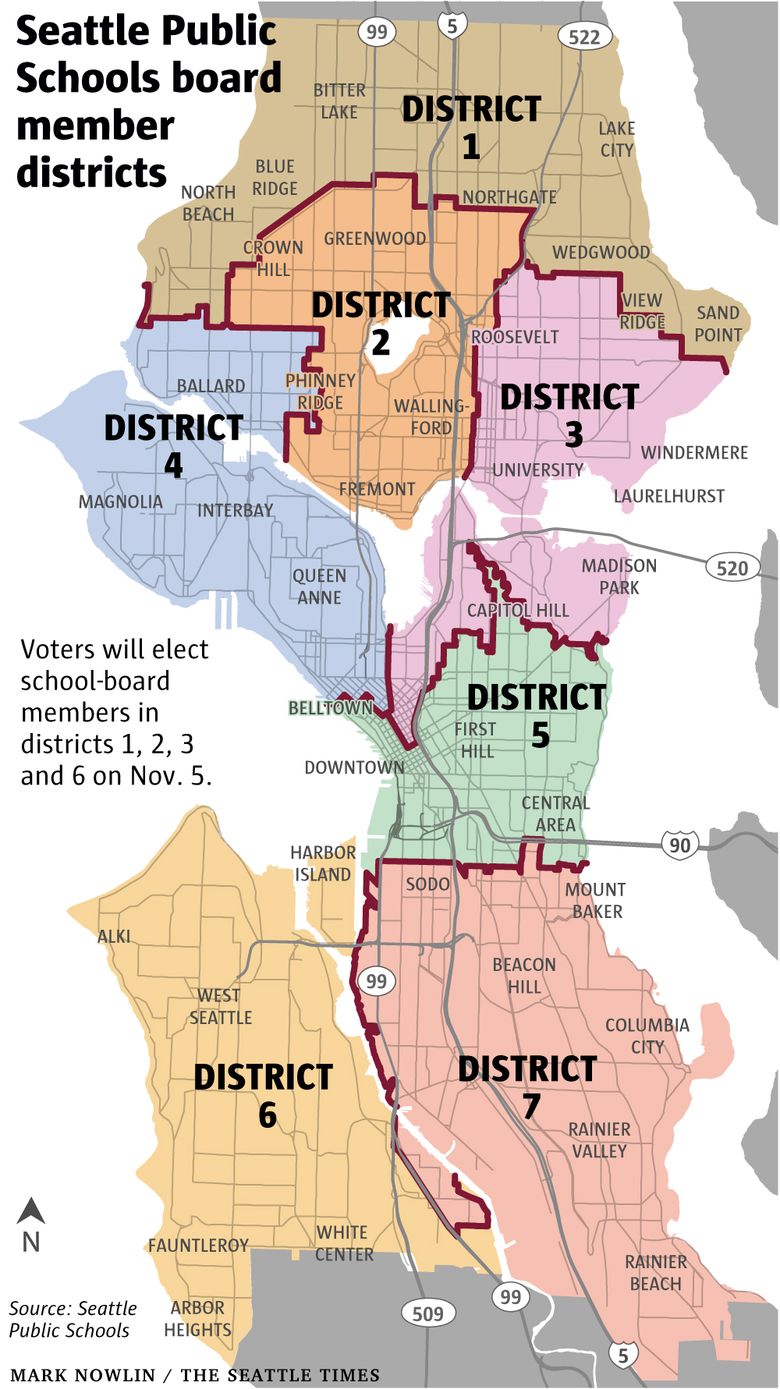 The election marks the end of an exhausting campaign trail for candidates, who have studied or interacted with public schools for years but nearly all of whom had never run for elected office. Unlike those seeking City Council positions, School Board candidates have to impress two different constituencies: first the region they live in for the primary, and then the entire city for the general election.
That makes for a confusing system for voters to navigate and for candidates to make themselves stand out.
"I've been asked several times, 'Is my ballot right? Can I really vote for all these school board directors?'" said Samantha Fogg, a parent and co-legislative chair for the PTSA at Bryant Elementary School.
Cash doesn't tend to flow into these races at the same volume as it does for other elected offices in Seattle. Over the course of the primary and general election, candidates collectively raised and spent only around $157,000. Hampson raised the most of any candidate, about $35,000 as of Tuesday night. Blumhagen spent the most of anyone, about $27,000.
Harris kept her healthy lead over Mitchell despite losing the endorsement of the teachers union. It was a surprise twist: Harris, while on the board, oversaw two rounds of double-digit raises for educators. Mitchell earned more in donations, but Harris kept her endorsements from Democratic politicians, organizations and support from most Seattle School Board members.
"I'm gonna continue to work very hard," Harris said. She said she believes her experience in the district, especially amid flux on the board, gave her the edge. She said she wants to continue improving the district's engagement with families.
"I'm going to walk into the next board meeting the way I always do: hopeful and trepidatious," said Harris, a supporter of alternative schools.
The outcome didn't shock Mitchell. A month ago, she told The Seattle Times that she considered herself the underdog. But the enthusiasm she said she got from first-time voters and admirers led her to believe the margin would be smaller.
While Harris said she had enormous respect for her opponent, Mitchell said she was disappointed with Harris for not appearing at a few debates — especially those hosted by youth of color. Harris said her work and board commitments kept her from campaigning as much as she would have liked to.
But Mitchell said she was still excited to continue her education work. "Tomorrow, I'm getting up at 4 a.m. and driving 2.5 hours to go to a prison to work on behalf of kids farthest away from educational justice," she said.
Hampson also repeated the wide margin victory she had in the primary, something she attributed to her longstanding connections in the district.
When she starts, she'd like to begin work on protecting school recess and lunch time, and expanding access to dual-language immersion programs.