In a district that will help decide control of Congress, voters weighing the choice of Republican Dino Rossi or Democrat Kim Schrier have many issues on their minds, from tariffs and immigration, to the Trump presidency, health care and gun rights.
CHELAN COUNTY — Pam McElravy hasn't had health insurance for years.
Fortunately, said the 58-year-old, who lives on the shores of Lake Wenatchee, she gets free mammograms during Breast Cancer Awareness month at a nearby hospital. But when she came down with pneumonia three years ago, she paid $400 out of pocket in medical costs.
That's not a small sum for McElravy and her husband, who have two teenagers and a combined take-home pay of under $50,000 a year. She works part-time for a lodge in the tiny town of Plain, he for a nonprofit serving youth.
Want more election coverage?
Affordable health care for all is "my biggest thing," she said, talking in a Plain grocery that serves as the local meeting spot. "How does that get done?"
It's an issue that looms large across the country as Election Day approaches, but perhaps even more so in the vast 8th Congressional District, which stretches from eastern King and Pierce counties, taking in exurbs like Sammamish and Auburn, beyond the Cascades to rural and semirural communities such as Wenatchee.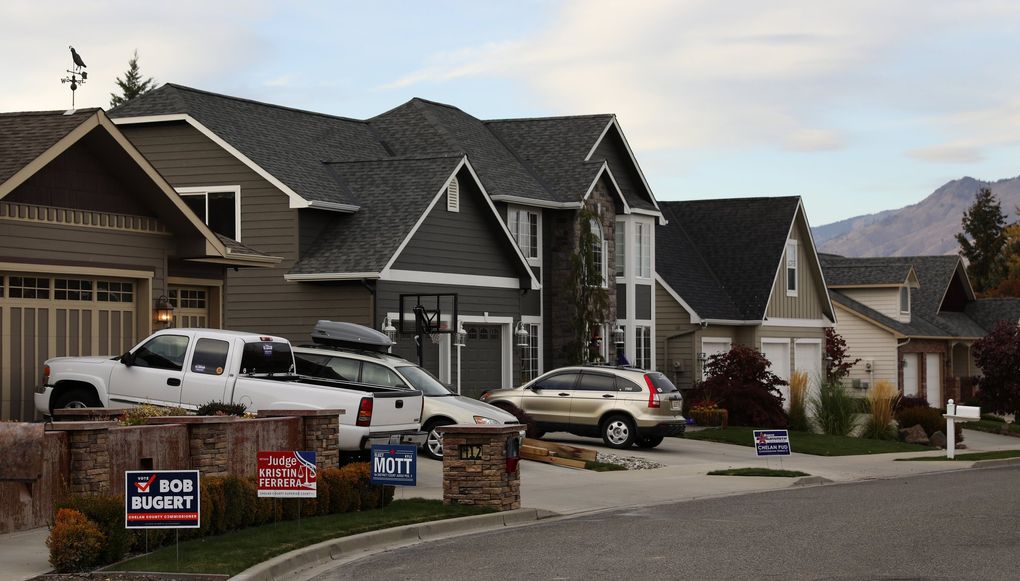 Pediatrician and Democrat Kim Schrier, vying for the open seat created by Republican Rep. Dave Reichert's retirement, has made stabilizing Obamacare and creating a Medicare-for-all system a centerpiece of her campaign. Real estate businessman and Republican Dino Rossi supports reducing Obamacare's coverage mandates, which he says will drive costs down.
The race is one of the costliest and most closely watched in the country, with ads, many of them going on the attack, bombarding TV viewers.
The 8th District has long voted for Democrats for president and Republicans for Congress, with its easternmost reaches especially conservative. Democrats see the open seat and Schrier's appeal as giving them a chance at flipping the district and the House overall. Republicans are determined to hold on with a politician who once came close to winning the governorship.
Talking to voters in Wenatchee and surrounding areas reveals many of the crosscurrents in the 8th: both ardent and disaffected Republicans; an insurgent liberal movement; growers concerned about tariffs and immigration policy; a Latino population hungry for recognition; and very strong feelings about guns.
There is also near universal disdain for the divisiveness of current politics — blamed not so much on President Donald Trump's inflammatory rhetoric, as liberals see it, but on extremes that have taken over both parties.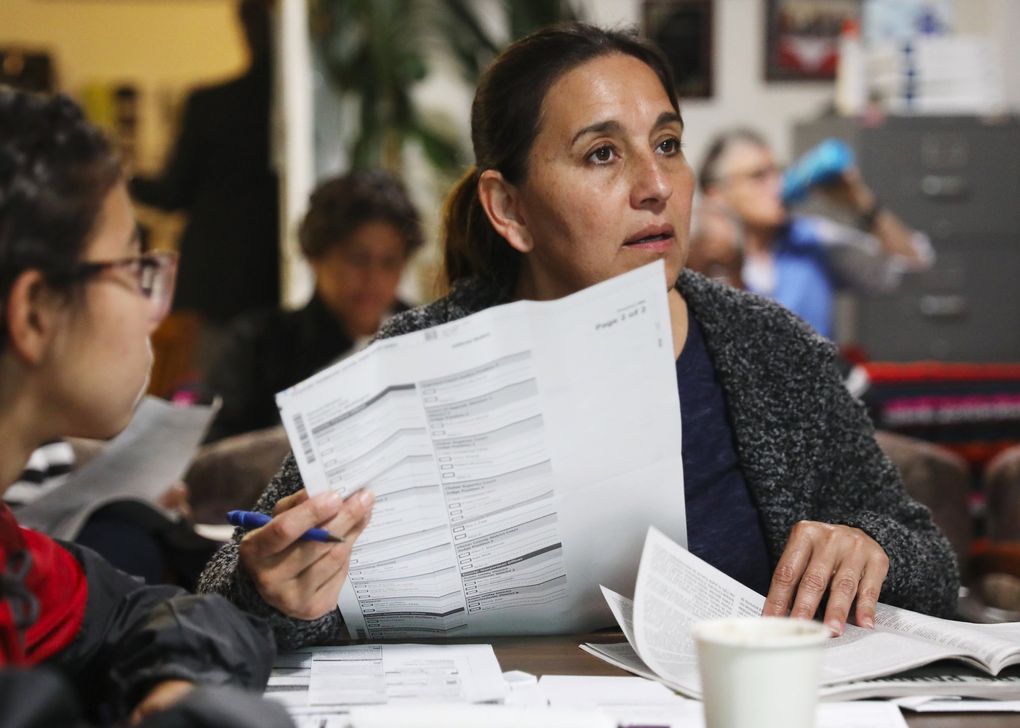 That is influencing some people's votes.
Jim Corcoran, a Republican and former owner of the Wenatchee Business Journal, said he voted his conscience in the congressional race: for Schrier. "I just think she's going to help us get to the place we want to be," he explained, citing a "calmer approach."
Others don't seem to know what to do but wait it out and concentrate on the issues that matter most to them.
McElravy believes in stripping down government and is wary of politicians who seem to be espousing "socialism."
Hoping Barack Obama would do something about health care, she voted for him the first time he ran for president. Deeply disillusioned by the cost of Obamacare plans in her area, she voted against him the second time and for Trump in 2016.
Now, she said, if Schrier were elected and "could do what she wants to do, I would love that." But she's skeptical the political novice can accomplish her goals and, as of late October, leans toward Rossi.
McElravy also remarked upon what she sees as Schrier's dislike for guns.
"The Second Amendment is a big deal for me," said McElravy, who grew up around guns in a military family and owns several.
She takes a dim view of Initiative 1639, which calls for enhanced background checks, a higher age requirement for buying semiautomatic assault rifles and holding gun owners responsible if their weapon gets into the wrong hands and causes harm.
Though the initiative doesn't specify how a gun should be safely stored, McElravy interprets it as meaning she couldn't keep one by her bed. "They're coming into my home and telling me what I can and cannot do," she said of the initiative's backers.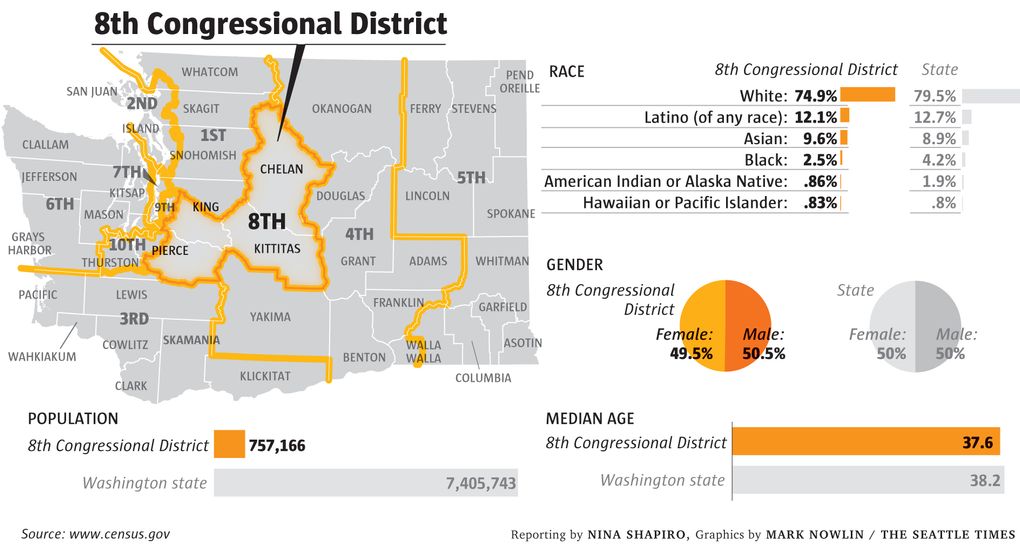 • • •
Finding kindred souls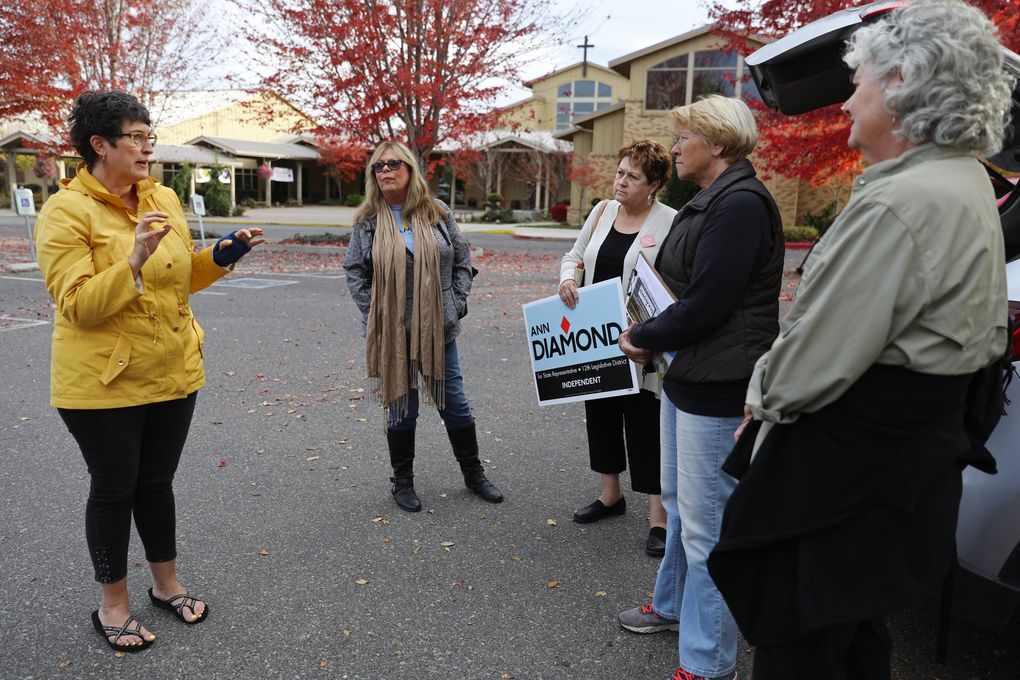 An hour's drive southeast to Wenatchee, a handful of women meet in the parking lot of a Catholic church and fan out to canvas.
National politics brought them together. Shortly after Trump's election, Kelly Anderson, a community college instructor who moved here a couple years ago from Auburn, wrote a pro-immigrant post on the Hillary Clinton-supporting Facebook group Pantsuit Nation. Among the hundreds of replies were 30 from locals.
"They were so excited," she recalled. In an area where election contests usually see one Republican running against another, many up until that point felt they didn't have anyone to talk to who shared their views, even as an influx from the state's west side is bringing more political diversity.
They morphed into a local chapter of the anti-Trump network known as Indivisible — joining cause at times with a like-minded Leavenworth-based group, North Central Washington United — and took on local as well as national issues. An early rally supported a Planned Parenthood clinic in town, where protesters daily wave signs reading "pray to end abortion," though the clinic does not, in fact, perform abortions.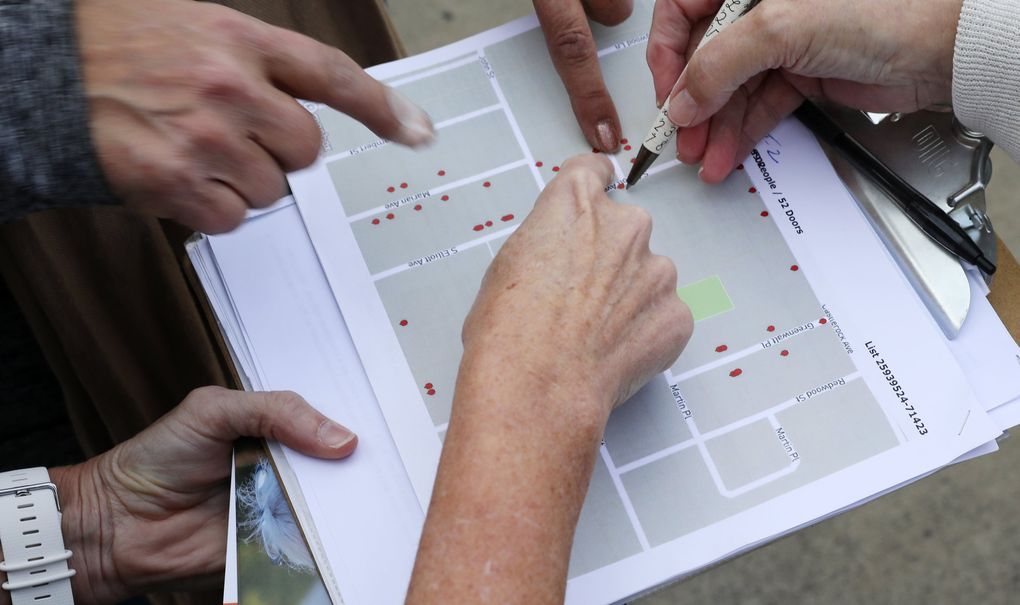 Anderson said she's thrilled to have unusual choices on her midterm ballot — not only a Democrat, Schrier, but an independent, Ann Diamond, also a doctor and running in the 12th District state legislative race against Republican Keith Goehner, a county commissioner.
On this evening, she and fellow Indivisibles hand out literature for Diamond, nonpartisan Chelan County Commissioner candidate Bob Bugert and a judicial hopeful.
Anderson's find of the evening was Alan Kelso. A 69-year-old retired forester, he has considered himself a Republican since he was 10, but planned on voting against his party in just about every race.
"It's a checks and balances thing," he explained the next morning, sitting on his back porch overlooking sagebrush-dotted trails along the foothills ringing town.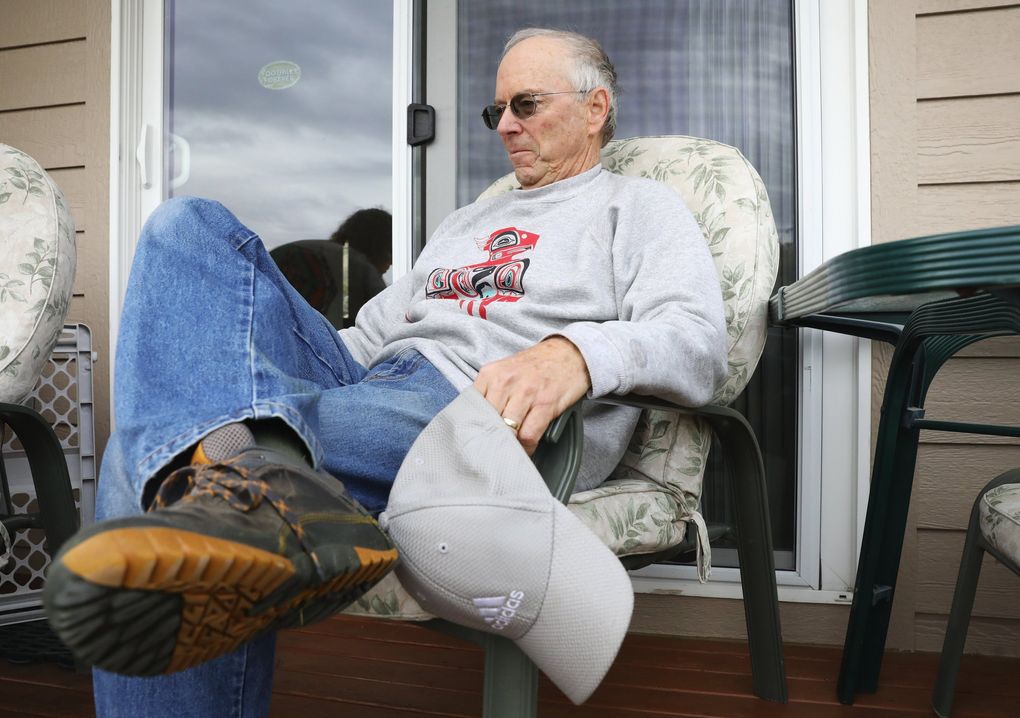 He said Trump is the least presidential, and most untrustworthy, commander-in-chief he could remember — a bad example for kids, including those in a Boy Scout troop Kelso leads.
He also objects to Trump's environmental policies, particularly his decision to scale back two national monuments in Utah, including one he has visited himself.
One of the few messages his vote could send, Kelso said, is that "things are not good at the top."
It was rare, during the Indivisibles' canvassing or elsewhere in town, to hear such an unprompted assessment of Trump, even though the election is nationally seen as a referendum on the president.
It's as if, in this close-knit town of 34,000, where people worry about alienating friends and co-workers, bringing him up is considered incendiary — though certainly the president and his policies have support here.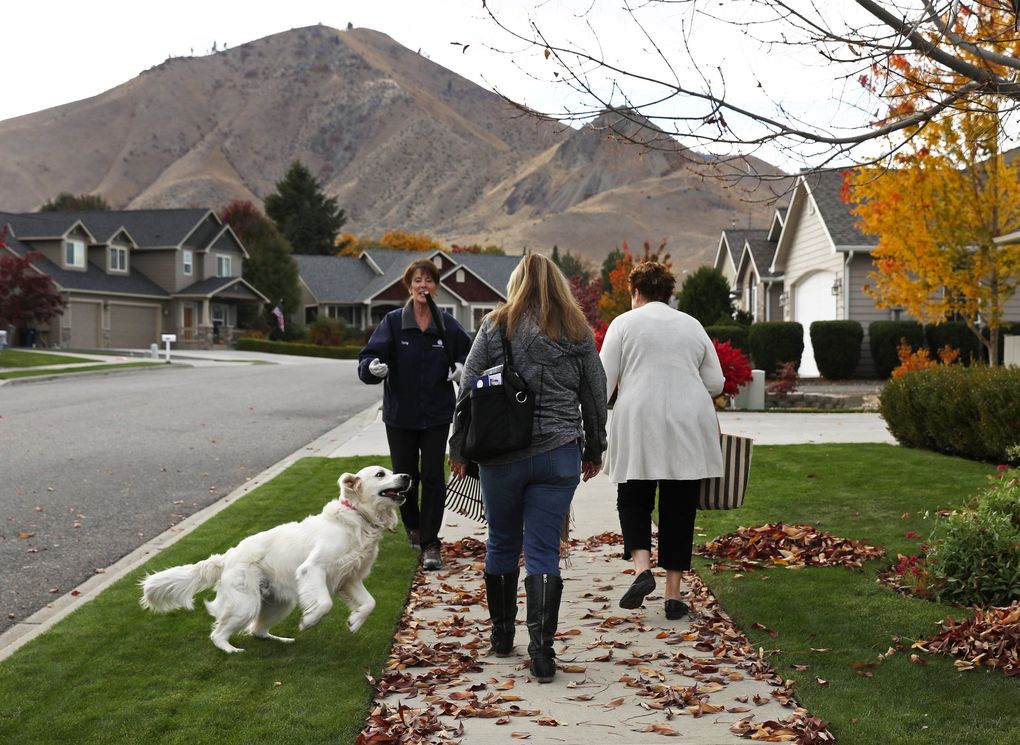 "I believe the wall should be built," said Vicky Lamb, a retired employee of the county's public utility district, referring to the border with Mexico and one of Trump's signature issues.
She also said she didn't believe thousands of migrants headed toward the U.S. in a caravan from Central America — which the president has vowed to stop — all genuinely need asylum.
Yet, she nodded approvingly as a canvasser told her Diamond really listened to all sides. Though she would never vote for a Democrat, Lamb said, she was open to independents.
"I kind of feel like you're not allowed to be in the middle," said another homeowner the canvassers met, 44-year-old property manager Alison McClendon. She lamented the way Democrats piled up against confirming Brett Kavanagh to the Supreme Court, presuming him guilty of a high-school sexual assault. And she recalled a recent dinner during which, surrounded by liberal members of her family, she was roundly criticized for having different political views.
Definitions of the middle vary, of course, and it's probably not the same here as in Seattle.
"I believe in children having separate bathrooms for girls and boys, and guns being in the Constitution and part of America," said Justin O'Hara, 28, washing his truck in his parents' driveway. "At the same time, I'm not the redneck crazy guy. I'm kind of the middle."
• • •
Getting workers for agriculture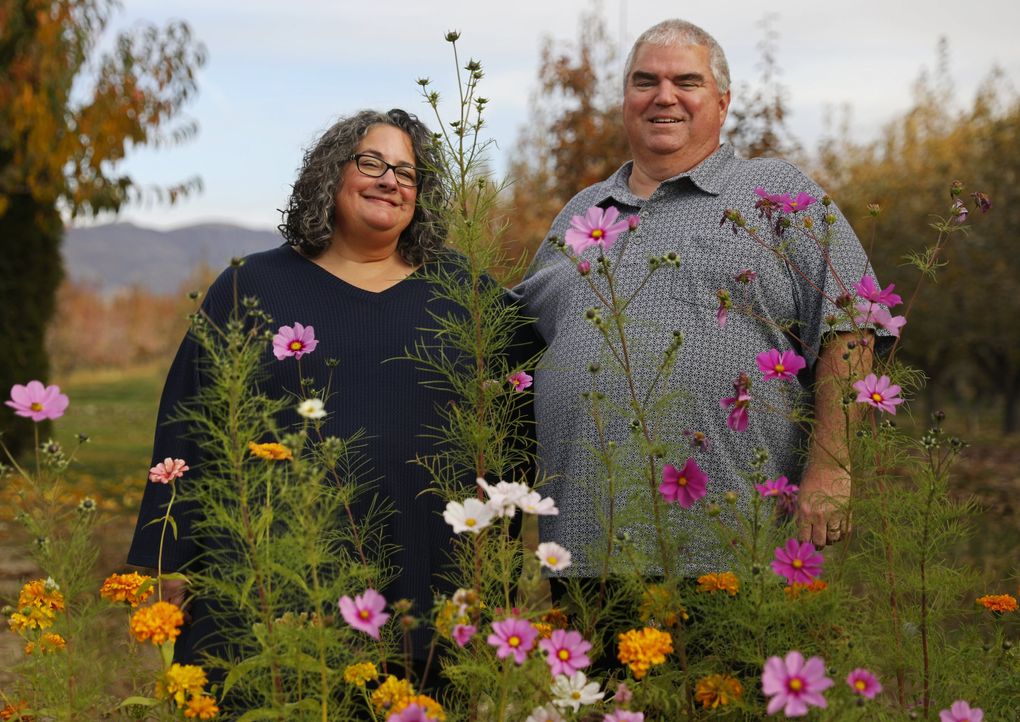 Across the Columbia River in smaller and more rural East Wenatchee, Peter Van Well, co-owner of a 600-acre nursery that grows fruit trees, said agriculturalists like him are probably most concerned with getting a manageable guest-worker program.
The current H-2A program, allowing employers to bring in foreign workers under various conditions, is too burdensome, he said, citing a common complaint.
Van Well said he believes any representative from the region will advance growers' interests on this issue, even if Republicans broadly support Trump's harsh immigration policies.
He voted for Rossi, liking the way the onetime legislator helped balance the budget without raising taxes. He also is turned off by the constant attack ads against Rossi, though there are vehement ones against Schrier as well.
Also, Van Well half-joked, he wanted to balance out his wife.
"I'm over older, white men in government," said Carmen Van Well, a progressive-leaning stay-at-home mom who filled out her ballot for Schrier. For her, the Kavanaugh hearings, underscoring the difficulty she believes men have in understanding sexual harassment and assault, reinforced that feeling.
Though both Van Wells express frustration with the political climate, they say their daily life has not been affected.
That seems true of other local growers too. Several said they were wary of the long-term effects of tariffs stemming from Trump's trade wars, the other big agricultural issue. But it they haven't been hugely impacted yet, with returns on the current apple crop still pending.
Things might seem more pressing to the area's Latino population — about 30 percent of Wenatchee and East Wenatchee, some citizens and voters, some not.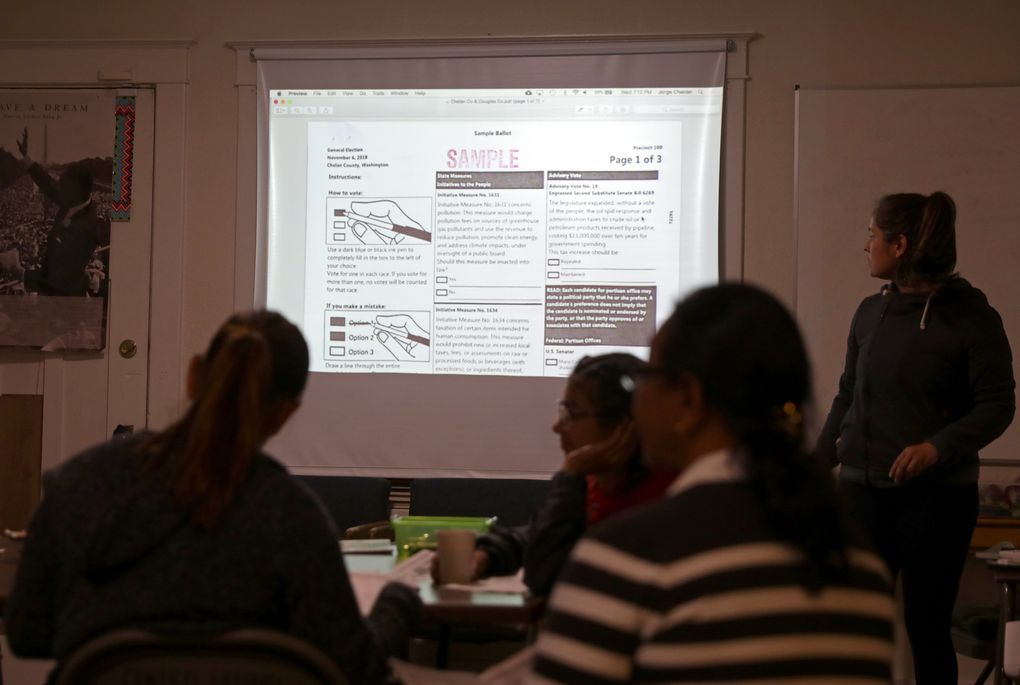 At a nighttime event put on by a nonprofit to teach Latinos how to vote and what candidates and initiatives are on the ballot, Ivette Lopez, a 21-year-old sales associate, recalled a neighbor's arrest by immigration officials last year. The farmworker was deported to Mexico, leaving two young daughters behind.
Though she did not yet know who she would vote for, Lopez said she was looking for candidates with empathy for such immigrants.
The event was in a building next to the county's Democratic headquarters, and there seemed to be a lot of enthusiasm for Schrier, who had two Spanish-speaking volunteers at the event.
"First of all because she's a lady," said housekeeper Teresa Zepeda. She said Schrier's profession also inspired confidence.
Yet, Hispanics are not a monolithic block, noted Wilma Cartagena, president of the North Central Washington Hispanic Chamber of Commerce. Many of her members, concerned about taxes and regulation, probably lean Republican, she said.
Several people here said they wanted something basic — attention — and were watching which candidates came to Hispanic community events, and which didn't.
Also, like elsewhere in town, a desire for unity was top of mind. "It is one country," said Jorge Chacón, co-director of the Community for the Advancement of Family Education, which put on the event. "The country should be placed above everything else."