Sketched July 30, 2009
Seattle artist Kristen Ramirez has been working from an unusual studio since last May. As artist-in-residence for the Seattle Department of Transportation, she has set up shop in the northeast tower of the historic Fremont bridge, which opened in 1917. Her project: to create an audio show that people can listen to while they wait in their cars when the bridge is open. This happens an average of 35 times a day, making it one of the busiest drawbridges in the world.
From birds singing and sailboats honking to the bells of the rails coming down and the sound of the bridge going up, Ramirez has recorded all sorts of noises from the tower, which was used as storage until the renovation of the bridge two years ago. In addition to that, people have been calling a special phone line to leave their memories about the bridge. "They are lovely stories," Ramirez said. In one voice message, a man tells the story of a woman who hid behind one of the steel girders and went up with the bridge on the day of her 75th birthday. "There's also a story about a man who proposed to his wife on the bridge," said Ramirez.
The resulting sound collage will be ready by mid September, when Ramirez will wrap up her residency with a big celebration of the bridge. Flags will be waving and music will be playing. Ramirez will post signs with a phone number to call to listen to the completed audio piece.
This is not the first public art project associated with the bridge's towers, explains Lori Patrick, spokesperson for the city's Arts and Cultural Affairs office, which commissioned Ramirez. In the 1990s, Rodman Gilder Miller's neon "Rapunzel" and "Elephant and Child" were installed in the bridge's northern towers, where they remain. Ramirez's 5-month long project has a $20,000 budget that comes from the Seattle Department of Transportation's one-percent art fund.
You can track Ramirez's progress at her blog The Bridge Report, where she also posted a picture of me while I did the sketch.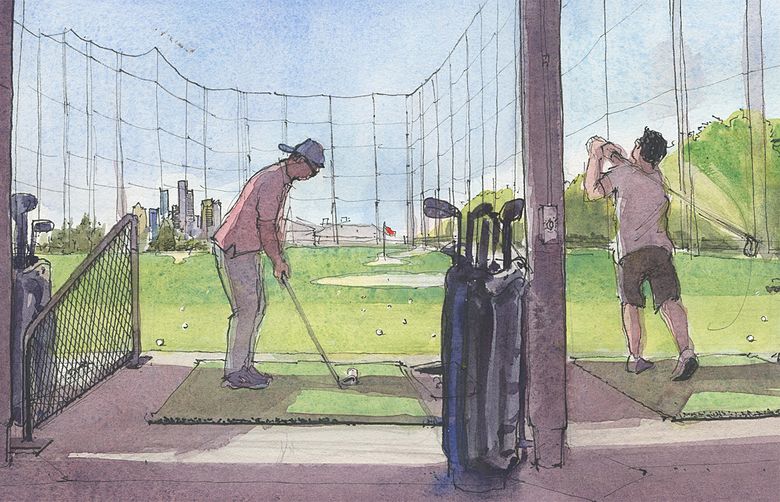 While watching golfers practice their swings, it's interesting to sketch the body contortions as people propel the ball into the range, a 260-yard-long field of artificial turf edged by the silhouette of downtown skyscrapers.