Police say the three burglars are thought responsible for 123 burglaries, with losses totaling nearly $3 million. One suspect was reportedly wearing a watch owned by the Mariners' star pitcher when he was arrested.
Local detectives nicknamed a trio of residential burglars the "Rock Smash Burglary Crew" and believe they netted at least $3 million from more than 100 break-ins since April, including one at the Eastside home of Mariners' pitcher Felix Hernandez.
Flanked by several other police chiefs, Bellevue Police Chief Steve Mylett said at a Wednesday news conference that Bellevue and Seattle police detectives busted three men suspected of targeting luxury homes in Seattle, Bellevue, Medina, Mercer Island, Clyde Hill and Kirkland.
They earned their nickname because they disabled alarms by smashing outdoor security-system panels, and then used a rock to shatter glass windows and sliding doors to enter the homes, most of which are worth $3 million or more, Mylett said.
"They were very selective in their targets," he said. "That was their signature."
Mylett said the three men are responsible for at least 123 burglaries and police have sent 36 cases to King County prosecutors for charging decisions.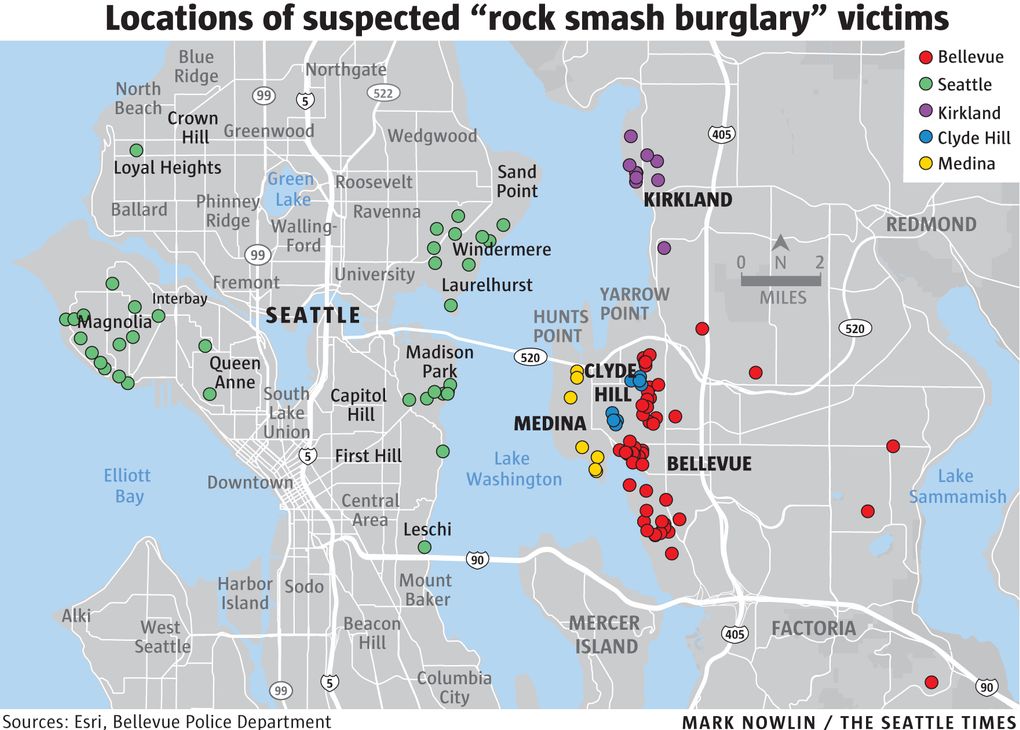 "We'd been following them for quite a while," the chief said. "It seemed we were always 2 or 3 minutes behind them … They were very talented in their criminal enterprise."
Mylett said the burglars stole cash, jewelry and high-end handbags, including one worth upward of $300,000. Other loot included Hernandez's 2015 Major League Baseball All-Star ring and an engraved watch, stolen from the pitcher's home in November, said Mylett.
The burglars drove luxury cars to better blend in with the neighborhoods they targeted, he said.
Residents were home during some of the burglaries, said Mylett.
The men used the spoils from their crimes to buy or lease five luxury cars, patronize strip clubs, take a trip to Las Vegas and dine at some of the area's best restaurants, according to Mylett.
Mercer Island Police Chief Ed Holmes said the case really "grew legs" after a resident in his city found a cellphone outside his home and learned from a neighbor that a group of young men had been seen running through his backyard.
The resident turned it over to a Mercer Island officer in November. When the phone rang, the officer took note of the incoming call, later entering the phone number into a shared police database, Holmes said.
The phone belonged to suspect Alonzo Severson, 25, according to burglary charges filed Wednesday in the case.
A couple of weeks later, Bellevue police were investigating a burglary and found several gold coins and an electronic benefits transfer card used as part of the state's food-stamp program, say the charges.
Police believe the coins and EBT card — which belonged to Severson's girlfriend — had been dropped by one of the burglars, according to charging papers.
A Bellevue officer learned Severson, who had spent time in prison, had been fitted with a GPS monitoring device because he kept violating his state Department of Corrections community supervision by repeatedly leaving Snohomish County without permission, the charges say.
A license-plate reader in Medina put Severson's BMW near two burglaries committed on New Year's Eve, information that led the Bellevue officer to obtain Severson's GPS history, say charging papers.
When police viewed Severson's GPS history, it showed him inside the homes that were burglarized on New Year's Eve, say the charges.
Severson was jailed Jan. 12 for violating conditions of his community supervision. He was rebooked on the burglary charges and remains jailed in lieu of $500,000 bail, according to jail records.
The two other men, ages 26 and 29, have been booked on investigation of residential burglary and other alleged crimes, say the jail records. Prosecutors expect to file charges against them in the next day or two.
All three men have lengthy criminal histories, court records show.
Severson's alleged accomplices were arrested Monday at a home in the 3200 block of 62nd Avenue Southwest in West Seattle, according to Bellevue police. One of the men was wearing a customized wristwatch, engraved with Hernandez's nickname, "King Felix," at the time of his arrest, Mylett said.
Mylett said Wednesday that police have recovered at least $400,000 worth of stolen goods, including more than 700 pieces of jewelry. He expects the dollar value to increase as officers serve warrants on safety-deposit boxes and storage facilities connected to the three men.
Bellevue police have photographed and cataloged about one-third of the recovered property in their possession, Mylett said. Other departments are also working to catalog items.
Seattle residents who think they may have been victims of the burglars should email detectives at spd5029@seattle.gov.
People in Bellevue and other Eastside cities should email pdtipline@bellevue.wa.gov. Emails should include police case numbers.