On the Ave, a University of Washington and Seattle Police Department partnership aims at combating crime and making the neighborhood safe for students, residents and businesses.
When Mike Howard opened Which Wich? in the University District four years ago, he was aware of the risks of slinging sandwiches in the heart of a notorious open-air drug market.
What he didn't consider was the aggressiveness of the dealers who flocked to the area to peddle cocaine, heroin and methamphetamine. Howard watched as they scared off customers and potential employees, and earned his sandwich shop scathing reviews on social-media sites.
But on a recent morning, Howard stood on the sidewalk in front of Which Wich? and gazed up and down the stretch of University Way Northeast known as the Ave. Conspicuously absent was the drug dealing that had once threatened his business.
"What I'm seeing is that I'm not seeing things," said Howard.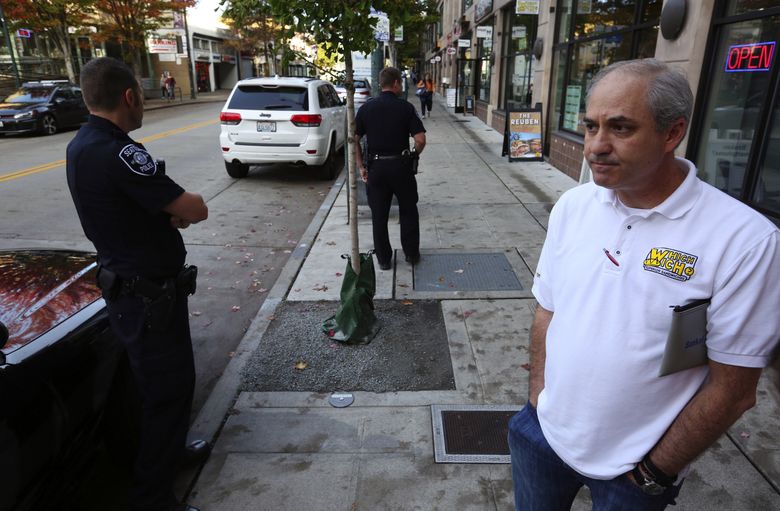 Howard and others credit the absence of visible drug dealing in an area that over the years had gained an unsavory reputation to a unique partnership between the University of Washington and the Seattle Police Department. Both have embarked on a months-long effort aimed at combating crime and making the area safe for students, residents and businesses.
"Sometimes you get numb to things," says Major Steve Rittereiser of the UW Police Department. "But when you get new people through here they aren't numb at all, they're frightened. There was clearly a concern among university administration about what they had heard from students and parents."
Seattle police brass, as well as North precinct officers, narcotics detectives and UW police, whose jurisdiction extends off campus, decided to use an approach similar to that used to dislodge overt drug dealing from the downtown core, said SPD Officer Michael Lanz. Enlisting what they dubbed the "9½ Block Strategy," Seattle police swept up 186 suspected drug dealers and other criminals from the downtown area in April.
In June, the city and UW police launched the similar "U Way Project," a three-phase effort to clean up the Ave.
Phase one, says Lanz, who is leading the effort, was going after drug dealers.
From June through September, undercover officers quietly conducted "buy and slides," in which undercover officers, or confidential informants, made drug buys while police surreptitiously watched from nearby, said Seattle narcotics Lt. Jim Arata.
Police bought unlicensed marijuana, as well as meth, cocaine, heroin, pills and even fake drugs during the operation.
"That historically has been a high marijuana area; it was shocking to see hard drugs on the Ave," said Arata. "They (drug dealers) were pretty nasty characters. They scared everybody, college students, everybody."
The effort culminated over a two-day period in mid-September, when officers arrested 20 of the 24 dealers they identified during the undercover buys. Not surprising, many of the suspects were repeat offenders — eight had each been arrested more than 25 times before, according to police.
I don't want to look at this as we're out there arresting everybody. We're trying to make a more livable place."
This second phase, which is currently ongoing, involves connecting the Ave's homeless youth with shelter beds and other services, Lanz said. It also includes enforcing laws that target loitering.
Lanz and SPD Officer Joe Bender said that sitting or lying on a sidewalk is an enforceable offense that can result in a civil infraction. At this point officers are giving the youth they identify as regular loiterers informational fliers about treatment programs and shelters.
"We're trying to build a relationship with these guys to get them where they need to go," Lanz said. "I don't want to look at this as we're out there arresting everybody. We're trying to make a more livable place."
Lanz said officers will eventually issue "sit and lie" tickets to people who continue to loiter on the Ave.
Police are also working with business owners and city agencies on an environmental redesign process that would make it more difficult for people to comfortably loiter and find places to sell drugs.
Police have already shut down an alley on the north end of the Ave, behind Safeway and Jack in the Box, that has been a hot spot for crime, Lanz said.
"I am not a fan"
The effort is not without its critics.
Josh Madrid, a homeless 23-year-old who regularly stakes out a spot on the sidewalk outside the post office in the 4200 block of University Way Northeast with his dog Cheese, said homeless youth are "feeling more harassed by SPD." Madrid, like others, says he's not interested in going to a shelter or leaving the Ave.
Kristine Cunningham, executive director of Roots Young Adult Shelter in the University District, is critical of the 9½ Block Strategy downtown and expects the U Way Project will have the same outcome — chasing homeless people into other neighborhoods.
"I am not a fan of displacing people. I believe you can have a good retail environment without criminalized homelessness," Cunningham said. "When you want eyes on the street it's not from people who are tucked into their houses at 10 at night, but it's from people who are living on the streets."
Cunningham explained that in college towns across the nation, street youth are a common sight.
"Young people who are homeless are attracted to towns that host major colleges because they fit in those areas," Cunningham said. "You can't have 45,000 new college students moving into this neighborhood every year and people not showing up to sell them drugs."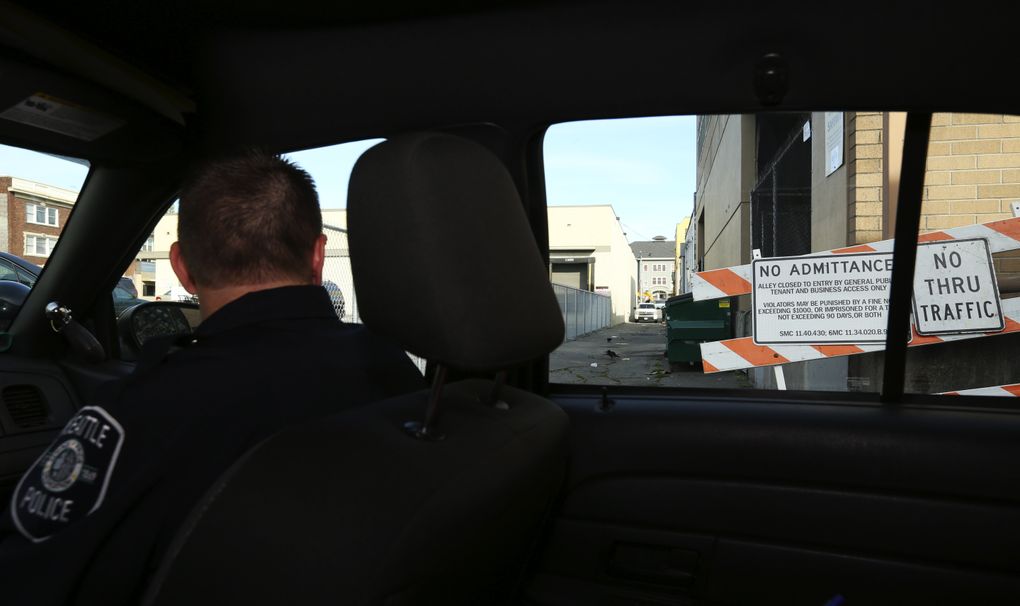 Officers walk the beat
While the first phase of the U Way Project went mostly unnoticed, the second phase is difficult to miss.
There are two foot-beat officers patrolling the neighborhood weekdays and a team of bike officers, joined by several UW police officers, on the streets several days a week.
Business owners say that when the foot-beat officers are on the streets the drug dealing vanishes. When the officers aren't there it returns, albeit at a vastly decreased level compared to earlier this year.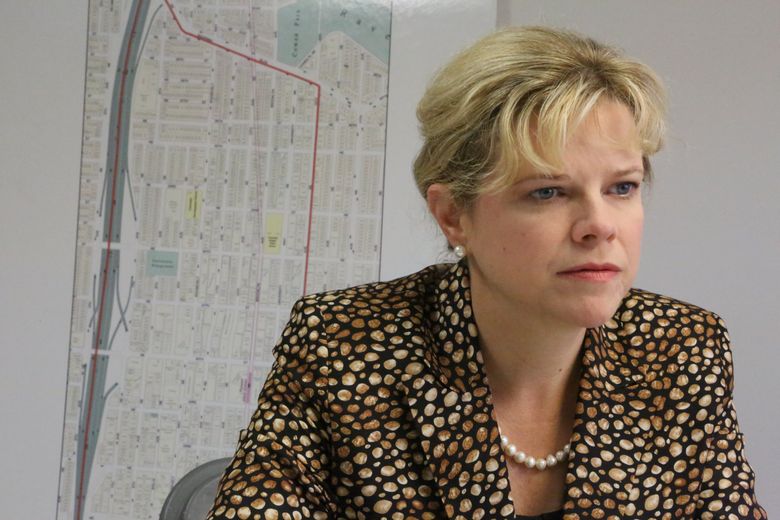 "I walk the Ave every single day, numerous times a day, and there is definitely a big change," says Elizabeth McCoury, CEO of the nonprofit U District Partnership, an organization of business owners, property owners and residents.
The third phase of the project is ensuring the changes are sustainable, Officer Lanz said.
Capt. Sean O'Donnell, who heads the SPD's North Precinct, said there is no surefire way to make sure the changes stay in place, but he believes it will take collaboration between businesses, the UW and residents.
"It's going to take a continued pressure," O'Donnell said.
McCoury believes any permanent difference will require a change in "the culture of the neighborhood."
"It's not OK to sell drugs on the Ave. It's not OK it was an open-air drug market. The whole neighborhood has to work together to make sure it doesn't come back," she said.
Doug Campbell said that when he opened Bulldog News in 1983, the Ave was bustling with a mix of students, street youth and successful businesses. Since then, Campbell has seen many businesses shutter while the stream of street youth, as well as drugs, has remained.
"Over the last five years it has been increasingly difficult to attract buying customers to the neighborhood," Campbell said. "I want to see the U District become a family place."
Former Seattle City Councilmember Sally Clark, who worked at Bulldog News as an undergraduate student in the 1980s, recalls when the Ave "was just a hippie spot where you'd smell marijuana in the air."
Now, a regular of the Ave again as UW's new director of regional and community relations, Clark said she has been regularly solicited by drug dealers.
"The intensity has changed over the past several years," she said.
McCoury said the effort will only succeed if people alert Seattle and UW police when they see drug dealing and other crimes.
"We're at the tipping point in the neighborhood, it's only going to get better," McCoury said. "We just had CaliBurger open — they have lines out the door — and we have lots of other businesses opening in the future. You see hiring signs in the neighborhood. It's very hopeful."