Zakat Zahir sees the ravages of the opioid epidemic daily while passing out clean needles in homeless encampments.
The 67-year-old is quick to smile, and his blue-gray eyes light up when he talks about what he does to keep drug users safe from diseases spread by shared needles.
"This is important," he said, thrusting an index finger into the top of his knee to emphasize the word.
Zahir is one of a growing number of people in Washington state who have been diagnosed with hepatitis C. The epidemic is most prevalent among two groups: baby boomers, who account for the majority of all cases, and intravenous drug users, the group with the fastest rate of new infections.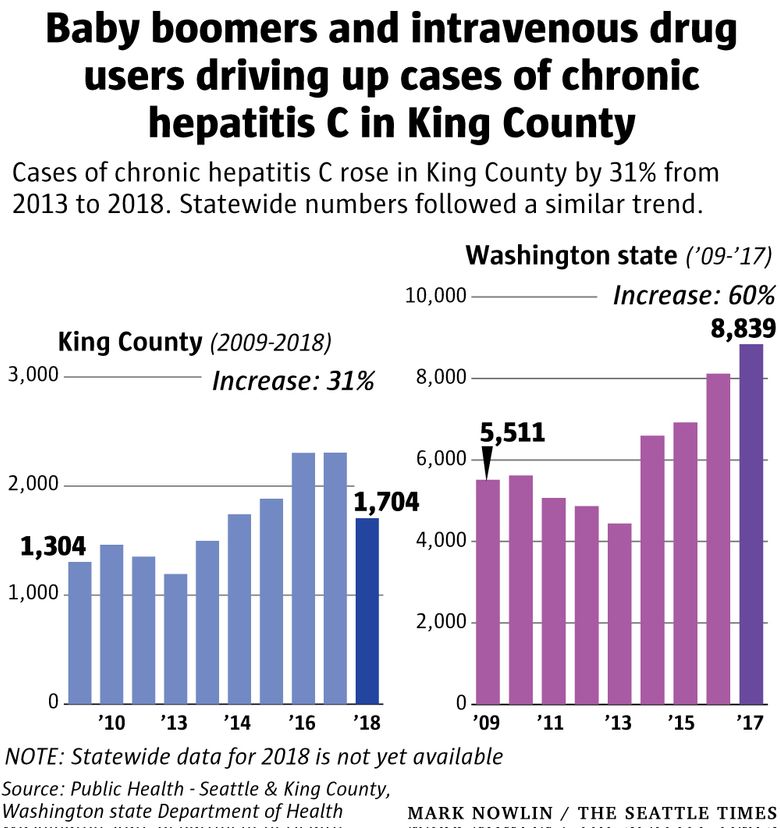 Between 2009 and 2017, the number of chronic cases of hepatitis C increased by 60% statewide, and an increase of 77% was reported in King County. The county reported a drop in chronic cases from 2017 to 2018; the state does not yet have 2018 numbers.
Acute cases of hepatitis C are up as well: Between 2009 and 2017, the number of acute cases more than doubled in King County and more than tripled statewide.
King County reported a 26% drop in chronic cases between 2017 and 2018. But in that same year, the number of acute cases went up 179%. Because about eight in 10 acute cases of hepatitis C turn into chronic cases, looking at acute cases can offer a sense of where things are heading.
"The thing we are worried about, of course, is the increase of acute cases," said Dr. Jeffrey Duchin, health officer for Public Health – Seattle & King County. "We know the ones we hear about are the tip of the iceberg."
Chronic hepatitis C often goes undetected for years, even decades, before the virus' effects show up in the form of cirrhosis of the liver.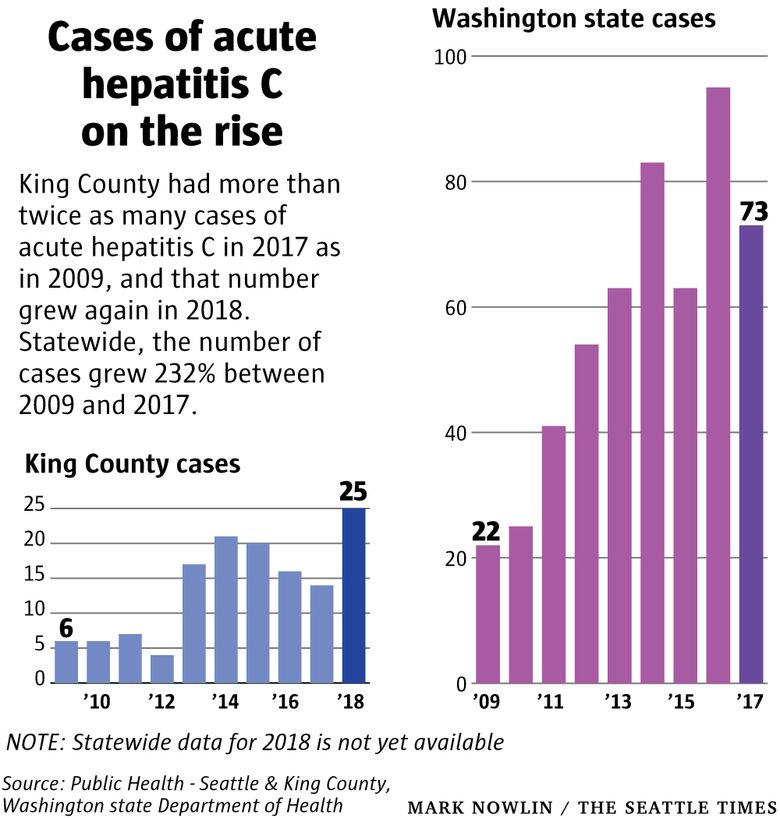 It isn't clear why the number of chronic cases dropped in King County last year, but the overall upward trend over the past decade is likely because of better reporting and screening, as opposed to just an uptick in infections, Duchin said.
The Centers for Disease Control and Prevention (CDC) recommends everyone born between 1945 and 1965 — that is, baby boomers — be tested for hepatitis C.
Screening is crucial because many people who have it don't know it.
That makes it a sleeping giant among the 60 viral diseases tracked by the CDC. Hepatitis C kills 20,000 people each year, more than those 60 other diseases combined.
Hepatitis C is spread through blood, which means the virus is often contracted when people share needles. That has contributed to the recent rise among intravenous drug users, but it also can help explain the disease's prevalence among boomers, who came of age at a time when needles were re-used for drugs and other things, such as tattoos.
"It was sex, drugs and rock 'n' roll. It was the '60s and '70s," said Dr. John Scott, director of the Hepatitis and Liver Clinic at Harborview Medical Center.
Also leaving boomers vulnerable was the fact that the country's blood supply wasn't screened for hepatitis C until 1992.
The good news: For a disease that was once thought incurable, treatment has come a long way. Now, a patient takes antiviral pills for eight to 12 weeks and the success rate is 99%.
These developments have been so significant that people can now receive organ transplants from donors who have hepatitis C. Last year, an Anacortes man desperate for a new heart willingly accepted one from a donor carrying the virus. After the transplant, the man tested positive for hepatitis C, took a round of antivirals and was cured.
Despite the hope this has brought to doctors and nonprofits working with hepatitis C patients, there are still barriers to reaching people who need help. One of the most difficult is the stigma surrounding the disease.
"Hep C is viewed as a disease of the marginalized," said Michael Ninburg, executive director of the Hepatitis Education Project (HEP), a nonprofit whose caseworkers help clients connect with social and medical services such as housing and primary care. He describes HEP as "a one-stop shop for people who are historically disconnected from the health care system."
Ninburg was cured of hepatitis C in 2009 and has been working to combat its spread since the 1990s. He worries that, because of who's affected by the growing number of cases, and because a cure now exists, policymakers may think the problem is solved.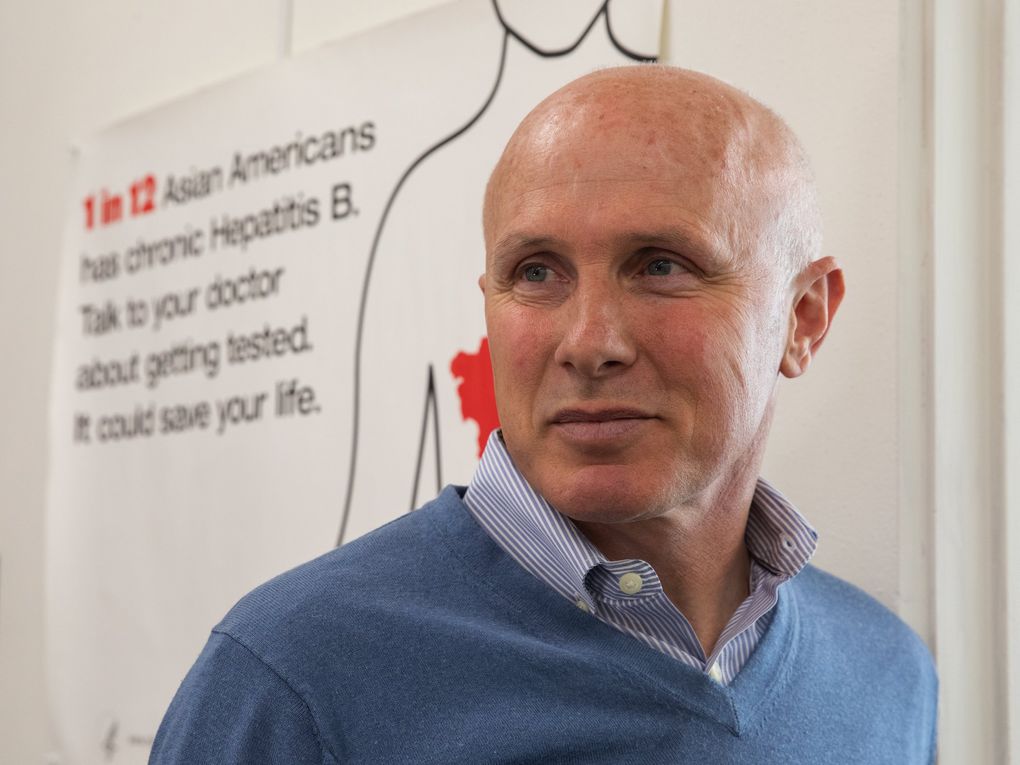 The CDC's 2019 budget dedicates $39 million to viral hepatitis and $788 million for HIV/AIDS.
"Hep C never got the resources or attention it needed," Ninburg said, contrasting it with the political momentum that helped usher in the Ryan White Comprehensive AIDS Resources Emergency (CARE) Act in 1990 in response to the HIV/AIDS epidemic. That law funds a multitude of services for people who have HIV.
A similar, multifaceted approach could work to combat hepatitis C among intravenous drug users, public health officials say, because those patients often lack health insurance, have unstable living conditions and are grappling with other health issues.
"We are having to rethink our care models for this next generation of people who have hepatitis C," said  Scott, of Harborview.
Zahir exemplifies how a holistic approach to treatment can work, in particular for homeless patients. After he tested positive, HEP put him on antiviral treatment. When the backpack where he kept his pills was stolen, HEP gave him more so he could complete his treatment. Now, he sees a case manager every Monday when he comes in to restock his supply of the clean needles he distributes in homeless encampments.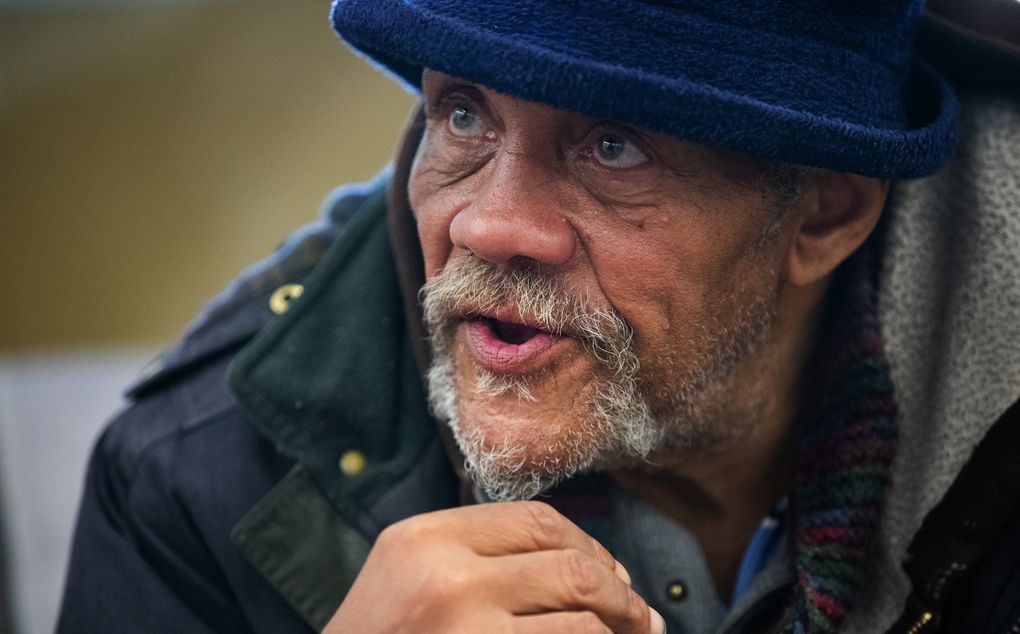 The cost of care can be prohibitive for hepatitis C patients, although it has been dropping. A round of antivirals cost nearly $84,000 in 2013 when that new treatment was approved; it's now about $25,000 without rebates and discounts, Ninburg said. Medicaid recipients pay much less.
It also costs less to treat an acute case right away than to address the liver problems that result from letting untreated hepatitis C become chronic.
"If you look at the savings from treating somebody early in their infection, we are in cost-saving mode," Ninburg said.
But it hasn't always been easy to do that. Washington's Medicaid program used to tightly restrict coverage of hepatitis C treatment, allowing only those with the most severe liver scarring to access the expensive drugs. A federal judge in 2016 ordered the state's Health Care Authority, which administers Medicaid, to provide oral antiviral treatment to any patient with hepatitis C.
The World Health Organization wants to eliminate hepatitis C by 2030, and last year, Gov. Jay Inslee directed state and local government agencies to work toward that same goal. The state's latest budget didn't include any money for the effort. A proviso was included to help the state's Health Care Authority to work with the department of health and other agencies on the effort.
Duchin welcomes the effort but stresses the need for more than coordination between governments and agencies.
"Plans are not reality," Duchin said. "We need to back those plans up with the resources required to actually make it happen."