Editor's note: This is a live account of COVID-19 updates from Monday, July 5, as the day unfolded. It is no longer being updated. Click here to see all the most recent news about the pandemic, and click here to find additional resources.
Calling a vaccination "the most patriotic thing you can do," President Joe Biden on Sunday mixed the nation's birthday party with a celebration of freedom from the worst of the pandemic, though he warned the fight against the virus wasn't over. More than 200 Americans still die each day from COVID-19, and tens of millions have chosen not to get the lifesaving vaccines.
The Oakland Zoo in the San Francisco Bay area is inoculating its big cats, bears and ferrets against the coronavirus as part of a national effort to protect animal species using an experimental vaccine. Tigers, black and grizzly bears, mountain lions and ferrets were the first to receive the first of two doses. Next are primates and pigs.
We're updating this page with the latest news about the COVID-19 pandemic and its effects on the Seattle area, the U.S. and the world.
Click here to see previous days' live updates and all our other coronavirus coverage, and here to see how we track the daily spread across Washington and the world.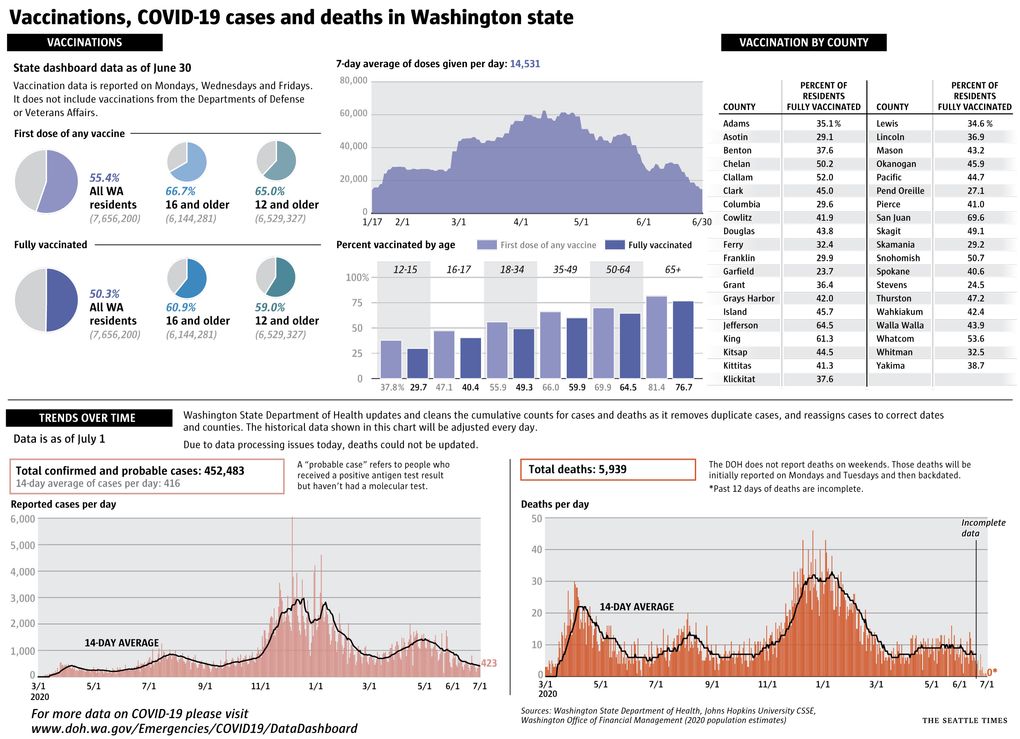 NYC temporary morgue lingers, a reminder of pandemic's pain
NEW YORK (AP) — On a sun-soaked morning last month, a dozen mourners gathered by a freshly dug grave to bury four people who were cast into limbo as New York City contended with COVID-19.
Each was among hundreds of people whose bodies have lingered in a temporary morgue that was set up at the height of the city's coronavirus crisis last year and where about 200 bodies remain, not all of them virus victims.
The fenced-off temporary morgue on a pier in an industrial part of Brooklyn is out of sight and mind for many as the city celebrates its pandemic progress by dropping restrictions and even setting off fireworks. But the facility — which the city plans to close by the end of the summer — stands as a reminder of the loss, upheaval and wrenching choices the virus inflicted in one of its deadliest U.S. hotspots.
Some New Yorkers are troubled that hundreds of others at the morgue still wait to be laid to rest.
Virus deaths alone peaked above 800 a day citywide at one point in April 2020 — deaths from all causes usually average about 150 — and overwhelmed funeral homes, cemeteries and hospital morgues. The temporary morgue was established that month to give families more time to arrange funerals after the city shortened its timeframe for holding remains before burying them in a public cemetery on remote Hart Island. There is no rule for how long bodies can stay at the temporary facility.
Read the rest of the story here.
—Associated Press
Spain restricts nightlife as virus surges among the young
MADRID (AP) — Faced with soaring numbers of new coronavirus infections among unvaccinated young people, some Spanish regions are reinstating curbs on nightlife only weeks after dropping them.
Fearing that the surging contagion could strain health care services as stressed employees try to go on summer holidays, health officials in several parts of the country are also rushing to get COVID-19 vaccine shots to people under 30.
Spain's strict vaccination rollout has so far focused on older, more vulnerable groups, leaving the vaccination of teenagers and people in their 20s for the summer.
So far, 40% of Spain's 47 million people have been fully vaccinated, one of the highest levels in Europe, but that falls to one in ten vaccinated in the 20-29 age group and a meager 0.7% for those under 20.
Read the rest of the story here.
—Associated Press
Retooling 'La Bohème' for pandemic performances
LONDON — It's an evening of drinking and revelry at Café Momus. A group of young men chatter away as a femme fatale tries to get their attention, jumping on tables and tossing undergarments. But the night spot is not as crowded as usual. There are few waiters in attendance, and by the windows in the back three patrons dine alone.
It is Act II of a pared-down production of Puccini's "La Bohème" at the Royal Opera House. In light of pandemic restrictions, the orchestra has 47 players, down from the usual 74. The act opens with only 18 of 60 chorus members onstage, the rest singing from the wings, and 10 (not 20) children onstage. There are four, not 10, waiters in the cafe.
"The cafe scene feels less 'bustling belle epoque cafe' and more 'lonely-hearts establishment' at the moment, simply because there's a limited number of people that we can have in the Cafe Momus," Oliver Mears, the house's director of opera, said a few days before the June 19 premiere. "It's just adapting to the circumstances that we were faced with."
Mears said opera is an art form that breaks every social-distancing rule, relying on "crammed pits," large and dense onstage crowds, moments of intimacy between performers, singing (which can spread viral particles) and a sellout audience. "All of these things really work against us," he said.
"If you were someone who hated opera and you wanted to devise a disease that hit opera particularly hard, then you'd probably come up with something rather like COVID," he added.
Read the rest of the story here.
—New York Times
Should People With immune problems get third vaccine doses?
Since April, health care providers in France have routinely given a third dose of a two-dose vaccine to people with certain immune conditions. The number of organ transplant recipients who had antibodies increased to 68% four weeks after the third dose from 40% after the second dose, one team of French researchers recently reported.
Being vulnerable to infection even after inoculation is "very scary and frustrating" for immunocompromised people, said Dr. Dorry Segev, a transplant surgeon at Johns Hopkins University who led the study. "They have to continue to act unvaccinated until we figure out a way to give them better immunity."
But in the United States, there is no concerted effort by federal agencies or vaccine manufacturers to test this approach, leaving people with low immunity with more questions than answers. The Centers for Disease Control and Prevention, the Food and Drug Administration and the National Institutes of Health in fact recommend even against testing to find out who is protected. And academic scientists are stymied by the rules that limit access to the vaccines.
An estimated 5% of the population is considered to be immunocompromised. The list of causes is long: some cancers, organ transplants, chronic liver disease, kidney failure and dialysis, and drugs like Rituxan, steroids and methotrexate, which are taken by roughly 5 million people for disorders from rheumatoid arthritis and psoriasis to some forms of cancer.
Read the rest of the story here.
—New York Times
Why you still might want to have a home COVID test on hand
Got the sniffles? Worried about that night out in a crowded dance club? Or maybe you just want to visit grandma but are concerned about her risk, even though you're vaccinated.
At-home rapid COVID-19 tests — which allow you to swab your own nose and get the results in minutes — can be a useful and reassuring way for both the vaccinated and unvaccinated to navigate the ongoing pandemic.
With the availability of vaccines for all people 12 years and older in the United States, it may be hard to imagine why anyone would still need a home test for COVID-19. But the coronavirus isn't going away anytime soon, and a rise in infections this fall among the unvaccinated appears inevitable as a new, highly infectious variant called Delta spreads around the world.
In most cases, regular home testing isn't necessary for someone who is fully vaccinated. The current crop of vaccines available in the United States have been shown to be effective against the variants, including Delta. But no vaccine is 100% protective, and breakthrough infections, though rare, continue to occur.
A home test can offer reassurance to a vaccinated person who has traveled recently or spent time in a crowded bar. It can be used more frequently for families with young children who aren't yet eligible for vaccination. Home tests are also useful for anyone with an at-risk family member or for people who, for whatever reason, remain unvaccinated.
Read the rest of the story here.
—New York Times
Overnight vaccination drive in Rome reaches out to the 'most fragile'
ROME —  Overnight nearly 900 people tried to take advantage of an overnight vaccination drive, called Open Night, organized by health authorities in the Lazio region, which includes Rome.
The initiative, organized in a cloister of the Santo Spirito hospital, near the Vatican, was targeted at "people on the margins of society, the most fragile," said Angelo Tanese, the director general of ASL Roma 1, the region's largest local health unit.
To help draw in the crowds, a jazz pianist serenaded those present Saturday night, while free espresso and cornetti — the Italian croissant — were offered Sunday morning.
Doctors and nurses administered the Johnson & Johnson vaccine to homeless people, migrants in the country without legal permission, foreign students and foreigners who legally work in Rome but are not registered with the national health service.
Read the rest of the story here.
—New York Times
Malaysians suffering amid lockdown fly white flag for help
KUALA LUMPUR, Malaysia (AP) — When Mohamad Nor Abdullah put a white flag outside his window late at night, he didn't expect the swift outpouring of support. By morning, dozens of strangers knocked on his door, offering food, cash and encouragement.
Malaysia's nationwide lockdown to curb a coronavirus surge was tightened further on Saturday, banning people in certain areas from leaving their homes except to buy food and necessities.
The #benderaputih campaign began as Malaysian society's response to rising suicides believed linked to economic hardships caused by the pandemic. Police reported 468 suicides in the first five months this year, an average of four a day and up sharply from 631 for the whole of 2020.
Social media posts urged people to hoist a white flag or cloth to signal they needed immediate help "without having to beg or feel embarrassed." Scores of food retailers and celebrities have responded with offers of help and many Malaysians have driven around their neighborhood to find white flags.
Read the rest of the story here.
—Associated Press
Johnson says restrictions to ease, UK must live with virus
LONDON (AP) — British Prime Minister Boris Johnson confirmed Monday that his government plans to scrap laws requiring face masks and social distancing later this month, though he acknowledged that lifting the restrictions will drive surging coronavirus cases even higher.
Johnson said legal controls will be replaced by "personal responsibility" when the country moves to the final stage of its lockdown-lifting roadmap. That is scheduled to happen on July 19, though Johnson said a final decision would come on July 12.
The change will mean people can throw away masks after months of enforced face-covering, though businesses and transit operators may still require them, and they will still be recommended in some enclosed spaces.
The removal of social distancing rules will allow nightclubs to reopen after 16 months of enforced shutdown, and patrons to once again order drinks at the bar in a pub. No longer will customers have to scan a phone app to provide their contact details when entering a restaurant or bar.
The government will also stop instructing people to work from home if they can, leaving employers free to bring staff back to offices.
The changes apply in England. Other parts of the U.K. — Scotland, Wales and Northern Ireland — are following their own, broadly similar, road maps out of lockdown.
Read the rest of the story here.
—Associated Press
GOP governors implore residents to overcome vaccine hesitancy as delta variant rises
GOP governors implored their residents on Sunday to get vaccinated against the coronavirus, as polling shows that vaccine hesitancy has been driven by Republicans and as the virus's new, more contagious delta variant has caused recent upticks in covid-19 cases in areas with low vaccination rates.
Arkansas Gov. Asa Hutchinson, R, on Sunday expressed concern about possible "trouble" ahead for Arkansans if the state did not accelerate its vaccination rate. In Arkansas, about 53 percent of adults have at least one dose of the vaccine, compared with about two-thirds of adults nationally. The state has seen a recent spike in covid cases and hospitalizations, driven mostly by the delta variant.
A new Washington Post-ABC News poll showed 74 percent of people who haven't been vaccinated say they probably or definitely won't get vaccinated – and that the divide fell sharply along party lines. According to the survey, 86 percent of Democrats have received at least one vaccine shot compared with 45 percent of Republicans. Only 6 percent of Democrats said they are not likely to get vaccinated, compared with 47 percent of Republicans, including 38 percent of Republicans overall who said they definitely will not get the vaccine.
Hutchinson alluded to some of that partisan divide Sunday when asked about why it had been so difficult to increase Arkansas' vaccination rate.
"Well, in a rural state, in a conservative state, there is hesitancy. And you're trying to overcome that," Hutchinson said. "We got the early vaccinations out because people were anxious. They were in a very vulnerable population. Our cases went down dramatically. And that slowed the vaccination rate. The urgency diminished. And now it's picking up again."
Read the rest of the story here.
—Washington Post
Tokyo Olympic committee is considering a limit on fans
TOKYO (AP) — The Tokyo Olympic organizing committee signaled on Monday that it will change its ticket policy this week for any local fans hoping to attend. This comes with the pandemic-delayed Olympics opening in just under three weeks.
Organizers, the International Olympic Committee and others are expected to meet this week to announce new restrictions because of the fast-changing coronavirus situation. Organizers said a ticket lottery set for Tuesday was pushed back to Saturday to accommodate any changes.
Fans from abroad were banned months ago from attending.
Two weeks ago organizers, the IOC, and others agreed to allow indoor and outdoor stadiums to be filled to 50% capacity with a ceiling of 10,000. Japanese news reports suggest the maximum may be dropped to 5,000 at all venues.
Some unconfirmed reports have suggested that no fans is still an option and that fan limits for night sessions could be stricter than day sessions.
There are fears that the Olympics could become a super-spreader event with 11,000 Olympic athletes and 4,400 Paralympians entering from more than 200 countries. Tens of thousands of judges, sponsors, broadcasters, and media must also enter.
Read the rest of the story here.
—Associated Press
As some states reach 70% of residents vaccinated and start lifting coronavirus-related safety restrictions, Dr. Anthony Fauci, the director of the National Institute of Allergy and Infectious Diseases, said he would still wear a mask in some settings if he is in a state with low vaccination rates.
Mississippi and Missouri, for instance, are at 39% and 45%, respectively. Nationally, 99.2% of COVID-19-related deaths in June were among unvaccinated people.
The delta variant of the virus adds another layer of caution to consider, Fauci said.
The White House celebrated the Fourth of July with a gathering of 1,000 people -- both to commemorate the nation's independence but also to mark his own goal of high national vaccination rates and lifting of coronavirus safety mandates.
Early in Joe Biden's presidency, he held out the holiday as his promise for when U.S. residents would see progress in resuming more regular routines. While the U.S. has not reached 70% vaccination rates by this weekend, roughly 67% of adults had received at least one shot by Sunday, according to data compiled by The New York Times.
Biden thanked hospital workers and other front-line workers in his speech and noted that the number of cases and deaths from COVID-19 are down 90% from their peak in January.
Seattle Times staff & news services