Families come to America hoping to make a better life for their kids. Then they hit a new challenge: navigating a regional housing crisis that's difficult even for more well-off residents.
BABA, A FORMER businessman and human-rights activist from the Democratic Republic of Congo, cuts to the chase when describing how he and his family recently fled political persecution only to become refugees in Seattle, sleeping in shelters at night and hanging out at parks during the day.
"I was a businessman yesterday; today I'm homeless," the 45-year-old French speaker says with stunned understatement in his very limited English.
Baba, who asked not to use his last name for fear of reprisals from Congolese authorities, arrived in Seattle with three of his children on Feb. 9, with no money and an uncertain future.
His wife, Ekila, who was nine months pregnant at the time, arrived on her own on Jan. 31. She gave birth to the couple's youngest kids, twins Elizabeth and Ezechiel, on Feb. 6, only a week after reaching Seattle.
Two other children are staying with friends in the Congo until they can be brought to America.
It is early summer and the family is holed up in a curtained-off cubicle space at one of six overnight shelters operated by Mary's Place, a nonprofit organization that offers accommodation, meals, a day center and a host of other social and educational services to the city's homeless population. That includes a large number of foreign nationals fleeing war, political strife and persecution who failed to get on their feet after arriving here.
It is not a promising new start.
Some immigrants, like Baba and his family, come to the Seattle area as asylum-seekers and refugees.
Others, seeking social stability and economic mobility in America, come after winning one of 55,000 hard-to-acquire diversity immigrant visas issued each year in what's known as the "Green Card Lottery" to people from countries that have historically low rates of immigration to the United States, such as the Congo, Ethiopia, Iraq, Ukraine and Nepal.
Now comes the really hard part for struggling immigrants who often arrive with little more than luggage and dreams of a better life in America — navigating a regional housing crisis that's difficult even for more well-off residents.
If recent reports about rising apartment rents and people paying a record share of their income on housing are any indication, families like Baba's face a steeper uphill climb to full self-sufficiency than in previous periods.
In many cases, these newcomers are forced to move in with relatives, friends or other contacts until their welcome runs out, stay in cheap hotels or sleep on the streets.
The Seattle/King County Coalition on Homelessness found 10,047 men, women and children living on the street, in shelters or in transitional housing during its most recent head count of that population, up 21 percent from the previous year's count.
Experts say new immigrants, who often initially lack the documents, training, language skills and transportation needed to access good jobs, and who don't have enough credit history to rent a home, are a growing portion of this population. Mary's Place saw a big increase in immigrants at its shelters last year.
IT'S NOT ALL doom and gloom, especially for refugees.
With three months of federally mandated resettlement funds, in addition to monthly allotments from the state of food stamps and cash stipends based on family size and need in the first months after relocating, along with housing referrals, rental assistance and other help from a host of nonprofit resettlement and relief organizations, most of those families will make it — eventually.
Baba's family was finally placed in a home this summer.
Public housing and Section 8 housing vouchers for private apartments offer another launchpad for struggling foreign newcomers of all kinds, though waiting lists are long. About a third of the 14,340 public-housing and Section 8 rentals funded through the King County Housing Authority, for example, are rented by families from other countries.
But increasingly, the good intentions and material aid offered by governments and nonprofits are not enough.
"We have more people in need than we have current capacity in terms of low-income housing," says Dan Samuelson, director of the Seattle office of World Relief, the state's largest immigrant and refugee resettlement agency. "And in reality, I think we're falling behind."
Rizwan Rizwi, executive director of the nonprofit Muslim Housing Services, which provides apartment-search and financial aid to hundreds of immigrant and refugee families each year, says this population has been hit especially hard by the current housing crisis.
Rizwi says he's seeing annual recent rent hikes of 15 and 20 percent for the kind of low-income apartments his clients need.
Alarmingly, rents have become too costly in historically affordable areas Muslim Housing Services has relied on in the past, such as South Seattle.
"Now we're almost exclusively in South King County," Rizwi says, which makes accessing services harder for immigrants reliant on public transportation.
Even farther out, Rizwi says competition for units is so stiff that his organization's clients are often outbid for units by apartment-hunters willing to pay more in rent.
A few years ago, Rizwi made the difficult decision to reduce the monthly rental assistance his group distributes per household in order to increase the number of active clients at any given time from 80 to 100.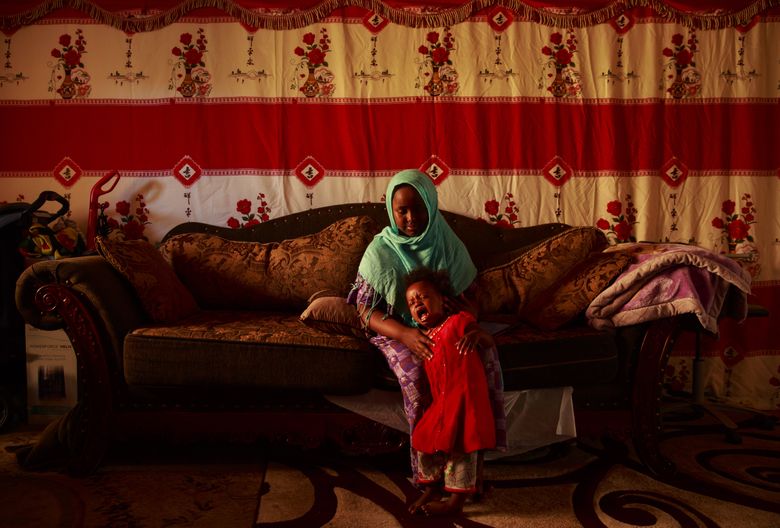 "That put the families under a lot more financial pressure," Rizwi admits. "But there were just too many families in dire need."
"Many have an image in their minds that if they come here, it's very easy, " Rizwi says of immigrants. "Getting here is the easiest part of the journey."
Getting here is the easiest part of the journey." - Rizwan Rizwi, nonprofit Muslim Housing Services
Rizwi says his organization recently came across an East African-immigrant family sleeping on mattresses in the back of a grocery store in South Seattle — not an uncommon scenario.
Muslim Housing Services, which relies on donations, typically has a waiting list of about 300 immigrant and refugee families, from as far away as Pierce and Snohomish counties.
But Rizwi says that with demand so high, a family might have to become homeless in order to receive immediate aid.
Building Changes, a Seattle-based, anti-homelessness organization, has issued grants to nonprofit groups serving East African and Middle Eastern refugees and immigrants in the South End, including the International Rescue Committee, which settles immigrants invited here by the U.S. government, Muslim Housing Services and SeaTac-based Somali Youth & Family Club. The hope is that by sharing case information, offering direct financial assistance to hold off evictions and recommending reforms to give immigrants more time to establish themselves, they can do better at preventing struggling families from becoming homeless.
Things are bad enough right now, though, that some immigrants break under the stress, Rizwi says. "We've had people ask us to take them back to refugee camps."
Helping hands
A number of local organizations assist recent immigrants and refugees. Here's contact information for some of the most prominent ones.
World Relief Seattle, 253-277-1121.
Muslim Housing Services, 206-723-1712.
Somali Youth & Family Club, 206-779-0138.
International Rescue Committee, Seattle office,
206-623-2105.
rescue.org/us-program/us-seattle-wa
Mary's Place, 206-621-8474.
Jewish Family Service of Seattle, 206-461-3240.
Catholic Community Services and Catholic Housing Services of Western Washington,
206-328-5696.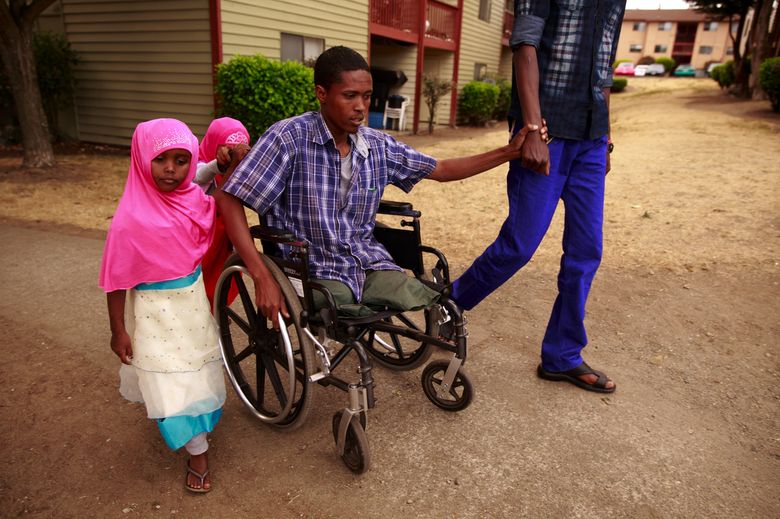 IT IS THE first of July and the community hall at Somali Youth & Family Club teems with mostly recent East African refugees holding eviction notices and tenants who say they're having trouble keeping up with rent and fear being kicked out of their homes.
At the center of the whirlwind on this day is housing specialist Aden Hussein, who is known as a master problem-solver able to keep people in their homes and find temporary shelter for those who don't have one.
Some of the families are known as "second migration" arrivals, meaning they originally settled in another American city but decided to move to Seattle thinking their odds of making it would be better in a region with a well-established reputation for openness toward foreigners, relative safety, good health care and generous social-service programs.
Samuelson, whose group World Relief settled 757 newly arrived immigrants mainly in South King County last year, says the area's becoming a magnet for this type of immigrant, even though many aid agencies are stretched too thin to help them.
Somali Youth & Family Club, a donation-dependent organization providing a range of culturally-sensitive social services, is no exception, but desperate newcomers turn to them anyway.
The club's clients, regardless of when they came, operate on the slimmest of margins.
Hussein says rent at many apartments in the South End, where his group often places tenants, has jumped in the past year from $700 or $800 a month, which is just barely affordable for a new immigrant family, to $900 or more, which is not.
Eritrean-immigrant Natsinet Tesfaslasse, 41, escorts me outside to see the four-door sedan where she and her 7-year-old son Samuel have been sleeping at night, she in the driver's seat, he in the back next to a pile of their belongings.
Tesfaslasse, who was a construction-site manager, broke into tears as she described fleeing Eritrea last year to escape an abusive husband, struggling with her son's behavioral problems and coping with her own treatments for cancer, all the while bumping along from Kenya to Las Vegas to a Mary's Place shelter in Seattle before getting an apartment that ultimately proved too costly to stay in.
Distraught, Tesfaslasse was about to give up and go back to Eritrea, until the club came through for her this summer. In her hand she holds a new lease for an apartment at the Pine Ridge complex next door to the community center.
It is also a new lease on life. She and her son moved in the next day, with nonprofits paying a share of the rent.
"The first day, I didn't even sleep in a bed; I slept on the floor because I was so happy," Tesfaslasse says.
Still, without steady, full-time work, she says, "It's going to be a challenge."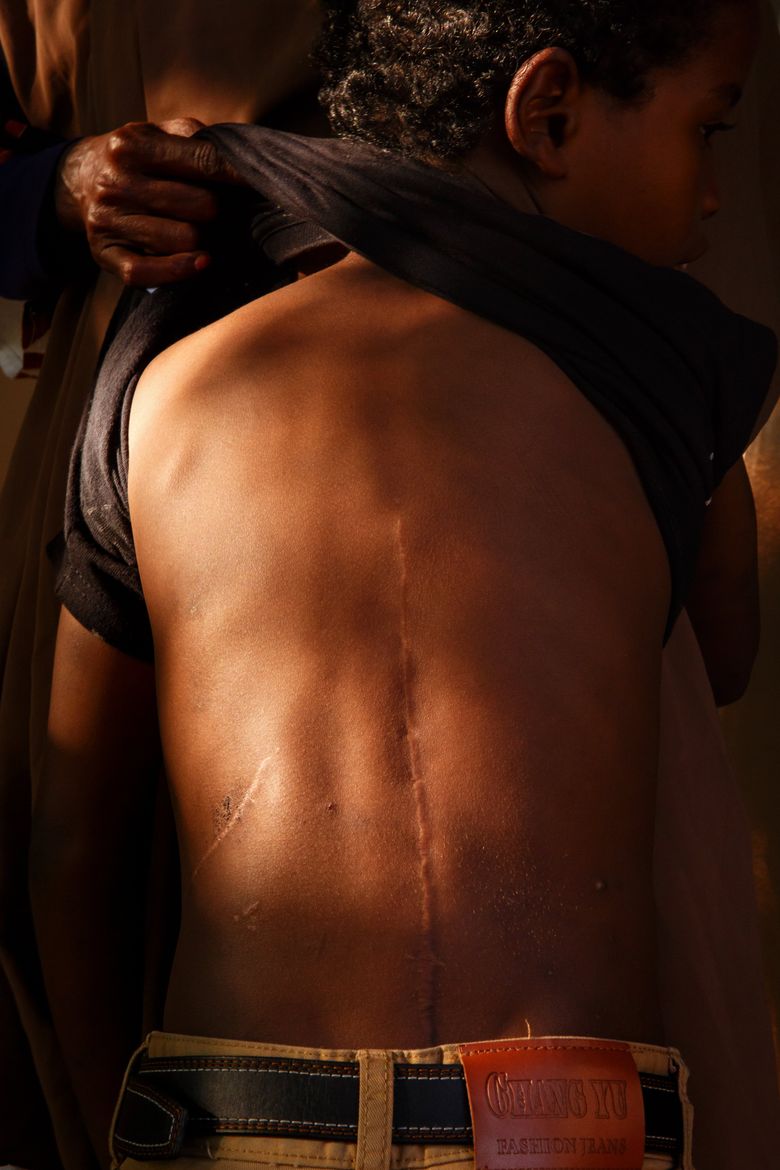 KIN ADAN HASSAN, a widowed Somali refugee taking care of four kids at a cramped apartment in Kent, sits at a table fretting that she will be forced to move out soon because her rent exceeds her monthly financial aid.
Since arriving in the United States earlier this year, she's had to forego the job search and English classes so that she can care for her 7-year-old son, Ibrahim Shire, who suffers from spinal problems.
"All night I cannot sleep and I cry and worry about rent," Hassan says through an interpreter.
Hassan and her family seem far from resettled.
At Buena Casa apartment complex in Kent, children from around the world ride bikes and play ball, while parents chat outside their apartments in the dappled late-day light.
Neighbors help out by hosting communal meals together and baby-sitting each other's children, many of whom have health issues.
The village-like normalcy inspires hope — at least at first.
Behind each apartment door, there are devastating stories of hardship, escape, survival, disappointment and yearning.
Hassan and her kids were living in a too-small unit lined with carpets and sleeping cushions early this summer. Many of her neighbors also lease units here with the help of nonprofits.
For her and other world-weary tenants, it turns out that making it in America is as fraught with difficulty as making it to America.
Soon after, Hassan does have to move.
But by mid-August, Somali Youth & Family Club finds her a bigger, two-bedroom unit at Pine Ridge in SeaTac, with Muslim Housing Services covering $400 of the $734 rent.
It doesn't solve all of Hassan's problems but it is another shot at putting down roots.
"Many people are getting kicked out," Hussein says a day after finding Hassan the apartment. "I rehoused three families yesterday who were living in cars."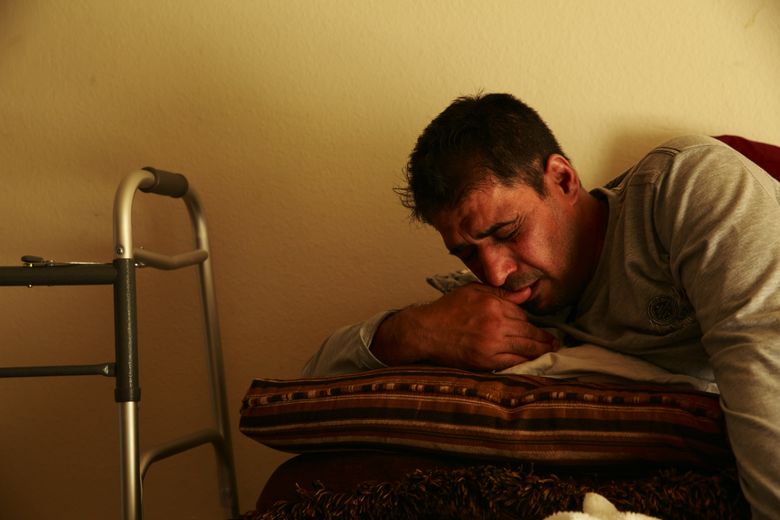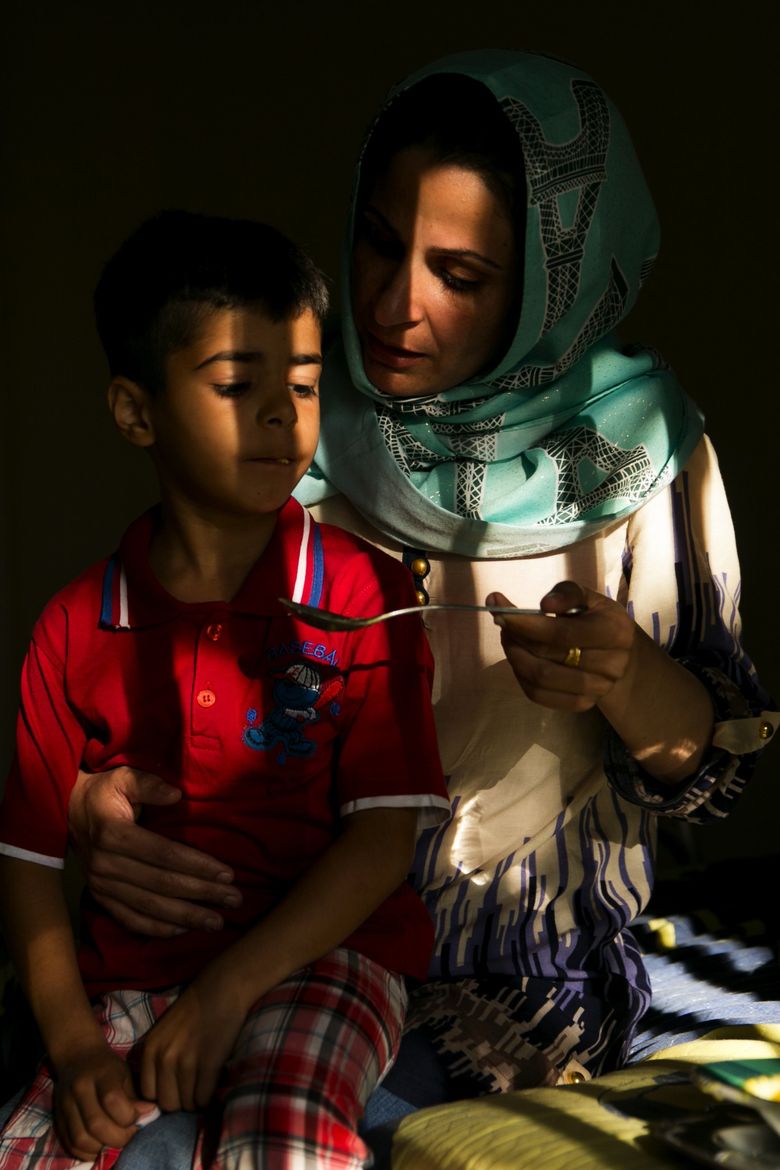 Ali Majeed Shnawa Sudan, a recent refugee from Iraq, lies uncomfortably on a bed in his living room at Buena Casa as his three boys, ages 11, 9 and 6, play games on donated media equipment and his wife, Suhad Ziyara Kadhim, sits nearby.
Sudan, who was a fuel salesman in Baghdad and worked with Americans in the aftermath of the 2003 invasion, exposes his backside to show six bullet wounds, the result of a roadside ambush. Severe spinal injuries make it tough to get around or do physical labor.
While living in a refugee camp on the Iraqi/Turkish border, one of Sudan's sons, who was just 1½ years old, died from an illness. Sudan pulls out a picture of the boy and weeps as he details his ordeal.
He also tells of being jailed and tortured under the old Saddam Hussein regime years before being shot.
He has the far-off gaze of a broken man, and one senses that his obstacle isn't just financial but emotional. With continued financial aid and income from the job Sudan's wife started recently, the family wasn't at imminent risk of losing its apartment.
But advocates for refugees say that resettling in a new country after years of traumatic upheaval is a psychological journey, not just a physical one, and that alone can hinder the process of starting a new life.
Through an interpreter, a clearly frustrated Sudan says he wishes he were physically able to do more for his family.
"I don't have any dream but to give these kids a chance," he says.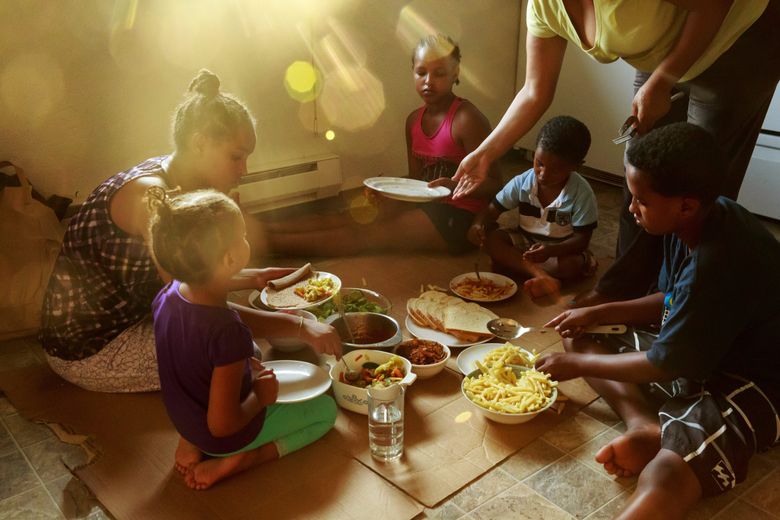 FOR WONDIMU Habtemariam and Emebet Amdetsion and their five children, Green Card Lottery recipients from Ethiopia, it was back to square one in June when they moved into a modest town house in Seattle's Leschi neighborhood with just one chair and some mattresses. But the home, leased with help from a nonprofit, was a huge step up from the crowded space they shared at a Mary's Place homeless shelter for the previous month after arriving in the United States.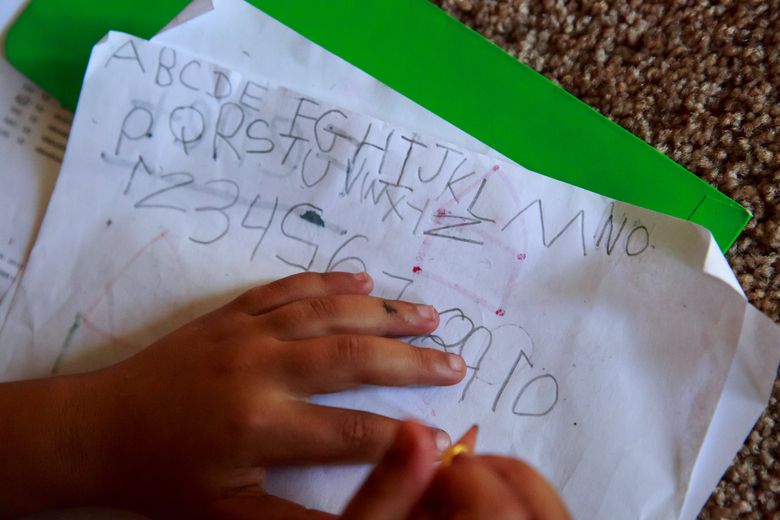 Wondimu and Emebet had a house on a lake, a car and a successful pharmacy business back home, but America beckoned.
Even so, "we are very lucky to get a house so quickly," Wondimu says.
Wondimu was attending English classes at night to improve his job prospects. He and his wife hope to earn enough money to purchase their own house here someday. The future looks bright.
An office wall at the Mary's Place Day Center in downtown Seattle is plastered with snapshots of homeless-shelter users on the day they secured permanent housing, a "forever home" as it's known around here. Many of the portraits are of struggling immigrants.
There is plenty of sadness and anxiety among the women and families who use the center but, on the wall at least, optimism reigns. Instead of holding eviction notices, the people in the photos proudly hold up keys.