Couple found a house they could afford in 2009, thanks to the shattered housing bubble, and turned it into their dream family home.
THE GREAT RECESSION left a lot of losers in its wake. But there were some winners, too. Like Dave Grimes and Sunny Knott.
When Grimes and Knott were a twosome, their Central District town house was just fine.
After daughter Nikka was born, it was not.
"Dave couldn't stand it anymore," says Knott. "Where you live really affects how you feel: We realized it wasn't a place for kids."
They talked about what they might do, could do, should do. "I told Dave, 'Let's not screw around. Let's just sell this and go.' "
And off they went. The couple found a rental on Beacon Hill. They enjoyed that neighborhood (light rail, lots of parks) while saving for the next step.
"Initially, we started looking for a house we could buy," says Knott. "We weren't looking to build. It was out of our league.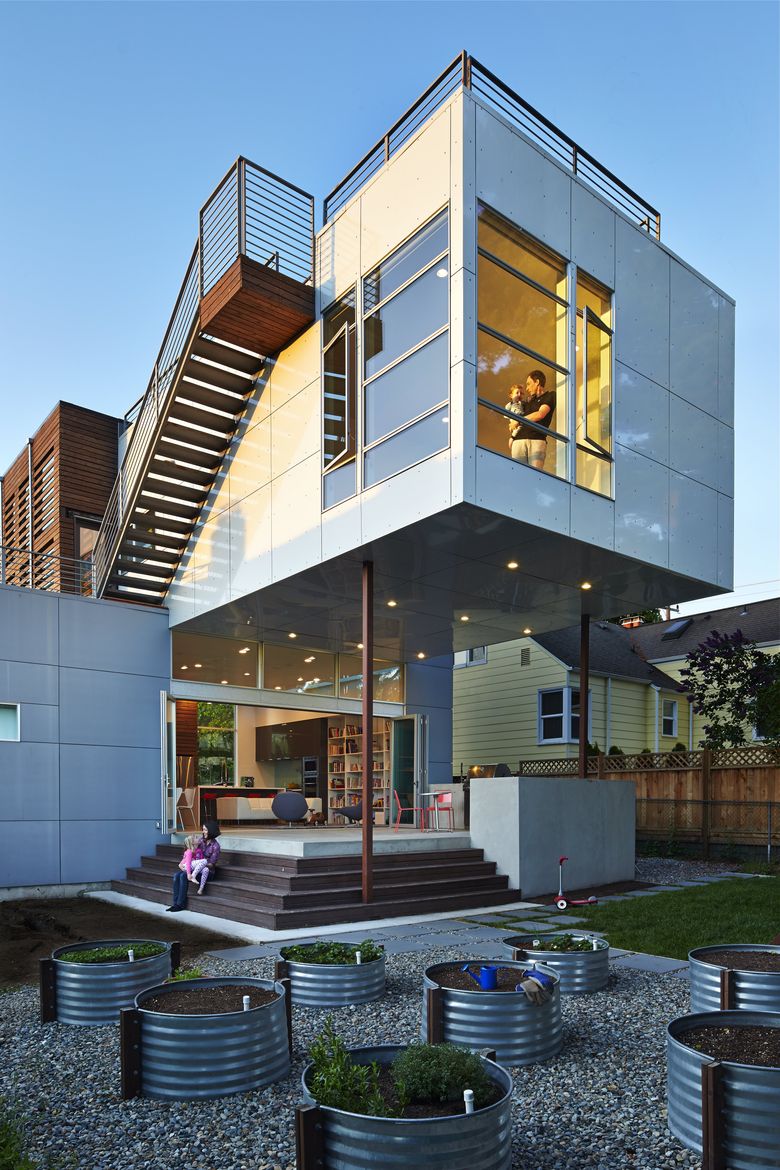 "We looked at loads of houses. ("We had a very patient real estate agent," says Grimes.) But we weren't seeing anything we liked, and we had already lived in a place we weren't happy with."
That was 2009. The down-for-the-count economy and shattered-to-smithereens housing bubble, however, worked in the couple's favor. They found a newly affordable bungalow in Ballard, a designer (Ryan Stephenson of Stephenson Design Collective) eager for a project and lots of builders ready and willing to work with them; theirs was Modern Shelter LLC.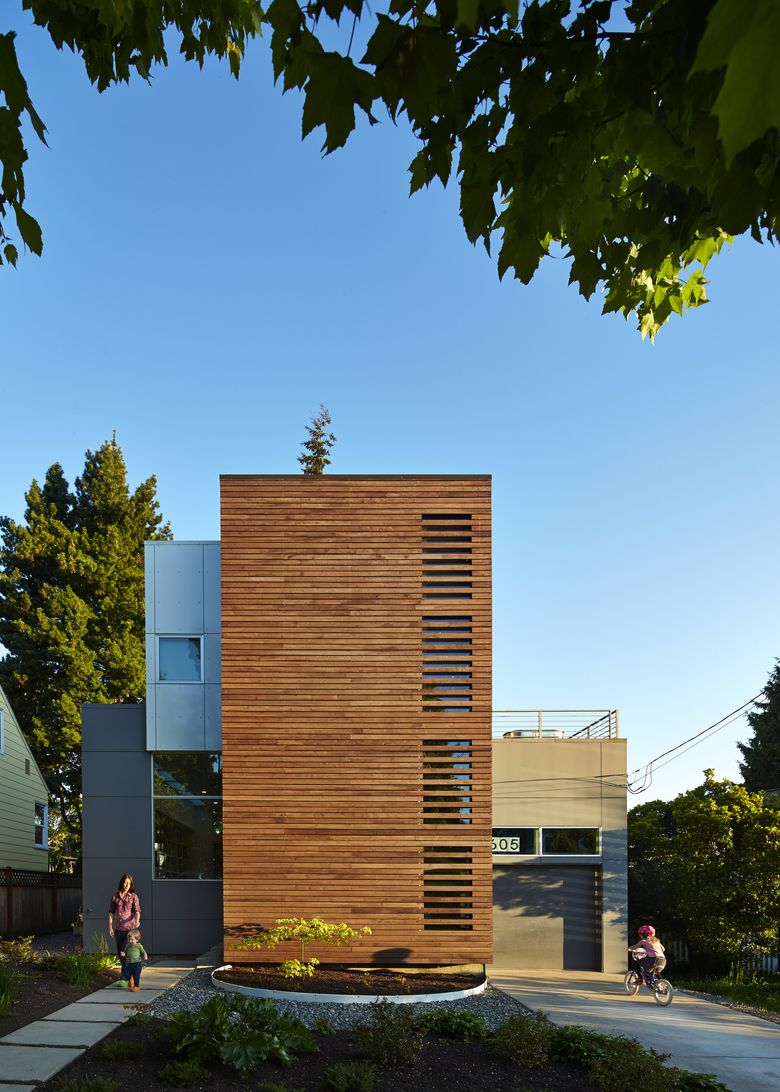 And, just like that, building a custom contemporary home was right in their league. Turns out, it was something they took to enthusiastically and with almost frightening positivity.
"The entire front of the house looks like a wood rainscreen, but actually it's a screen covering a wall of windows," comes this report from Stephenson. "I thought this could solve some problems of privacy and light. Without asking why they should do it or if it would work, Dave and Sunny said, 'That sounds cool, we are in.'
"Really? This obviously completely stressed me out for the entire project, because I assumed they would say no and therefore eliminate the risk of my ideas."
With risk, however, comes reward. And the 2,487-square-foot home, three bedrooms and 3.5 baths, is theirs.
The main living space is compact, but with Nana Walls that open to the south-facing backyard, the space lives larger. Light washes the kitchen-living-dining room from all sides; via a substantial kitchen window (almost 6 feet by 9 feet) to the north, a row of skylights to the east, from a large window in the powder room from the west.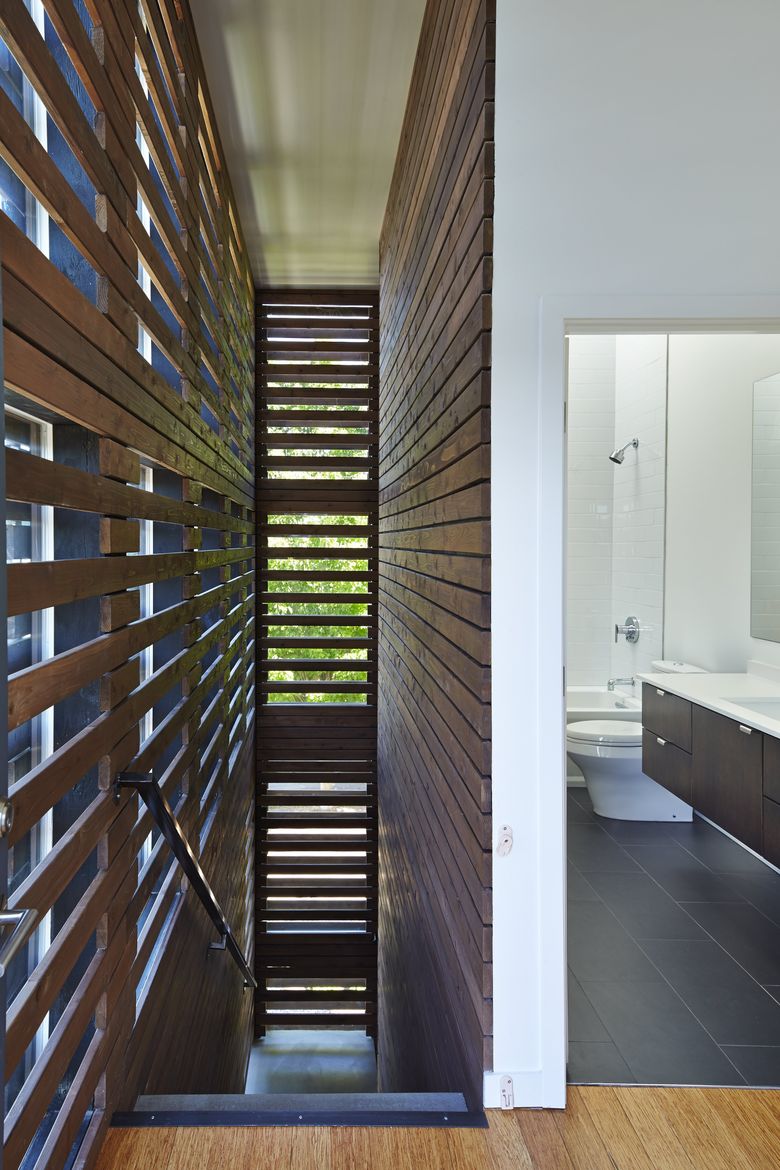 Stephenson's cedar-decking screen wraps indoors, defining the home's circulation core and giving the place a cabiny warmth. The living-room wall is lined with cubbies. Most handy for a family of now four still in the baby-gate years. But also, as the family matures, the changing content of these spaces will tell the story of their lives here.
For more space upstairs, in the master suite, and for a covered outdoor patio below, Stephenson suggested a cantilevered second floor. Of course the couple went for it.
"We really wanted to stick with our big-ticket items, like the Nana Wall and the cantilever," Grimes says. Budget, though, remained a concern. To compensate, they led demolition efforts. Grimes built out the kitchen himself, Ikea laminate. The couple consulted with landscape designer Anri Rapelje of ANR Landscape Design, but were their own laborers.
And, most clever, to discover what kind of views might be had from a rooftop deck, Grimes sent up a camera via helium balloon.
"That was kind of my $50 solution," he says. "Most of the cost was for renting the helium tank."