The city's restaurants can be expensive, but its affordable options are better than ever.
RESTAURANTS IN SEATTLE are so expensive now.
It's a common refrain, and it's true — the high-end is higher than ever, with new places to drop gobs of money on refined dining opening all the time. Have a steak at Renee Erickson's lovely new Bateau, already nationally acclaimed, and spend upward of $100 if you care to. Entrees at Shaun McCrain's long-awaited, elegant Copine top out at $45. Divest yourself of $120 for the multicourse tasting menu at Josh Henderson's elevated chef's counter at Scout, then elevate yourself to its posh rooftop bar for a table reserved exclusively for your after-dinner drinks, $15 each.
But if this level of fine dining offends your sensibilities or is prohibited by your pocketbook, there's excellent news.
Seattle is a better place to eat for cheap than it ever has been.
The classics remain, honored and true: pho, banh mi, teriyaki, noodle shops, taco trucks, pizza by the slice, Ezell's, Dick's.
Now we also have high-end chefs following in the footsteps of Danny Meyer's smash-hit Shake Shack, opening more casual places ready for replication: Josh Henderson's Great State Burgers, Ethan Stowell's Ballard Pizza Company outlets, Racha and Wassef Haroun's Mamnoon Street and Anar.
And, most marvelously of all, we've got brand-new places at populist price points from those who see it as a calling, not a profitable offshoot. Some left the high echelons of fine dining behind. Some want to honor their heritage by sharing its cuisine at a level accessible to (almost) all. More of them are women, and more of them are minorities, than at more-rarefied levels of restaurateuring.
These chef/owners bring intense levels of skill, care and devotion to their food. They expend tremendous energy on sourcing ingredients. They often work extreme hours for a modicum of financial reward. It's the prices on their menus — not their experience, or the quality of the experience they provide — that relegate them to the so-called cheap eats category. New York Times restaurant critic Pete Wells has "never been comfortable with the received hierarchy" therein, as he told The New Yorker this summer. As he put it, there are "the 'real' restaurants, and these are something else — not worthy of stars?"
They are real, and they are star-worthy. They are not bargain-basement, bottom-of-the-barrel, dirt cheap. Deep breath: Your lunch or dinner at your new favorite place might be between $10 and $20, instead of $10 or under.
But how much do you pay for a cup of coffee nowadays? How much has your rent gone up, or how much more is your house worth, if you're lucky enough to own one? Are you, in these boom times, making more than you used to? Restaurants must contend with increased food costs and astronomically rising rents, too, not to mention paying workers a wage that provides a fighting chance at a less-than-miserable life here.
The expertise, the ingredients, the love — it sounds hyperbolic, but you can taste them. The new cheap-eats chefs are stars in their own right, and they're ready to cook for you. Here's why a few of them do what they do.
THE THAI FOOD served at Little Uncle on Capitol Hill is diametrically opposed to the sticky-sweet, red-orange pad thai that most Americans were raised on, and they do not employ a star system for spice. Their noodles, curries and other dishes seek the harmonious balance of sour, sweet, salty and heat that the cuisine is known for; the results are superlative, and most dishes cost $12. In what represents a crack in the cheap-eats versus real-restaurants wall, Little Uncle was named one of the top 50 best new restaurants in the country by Bon Appétit in August. The other Seattle restaurant on the esteemed list this year: the far, far pricier Bateau.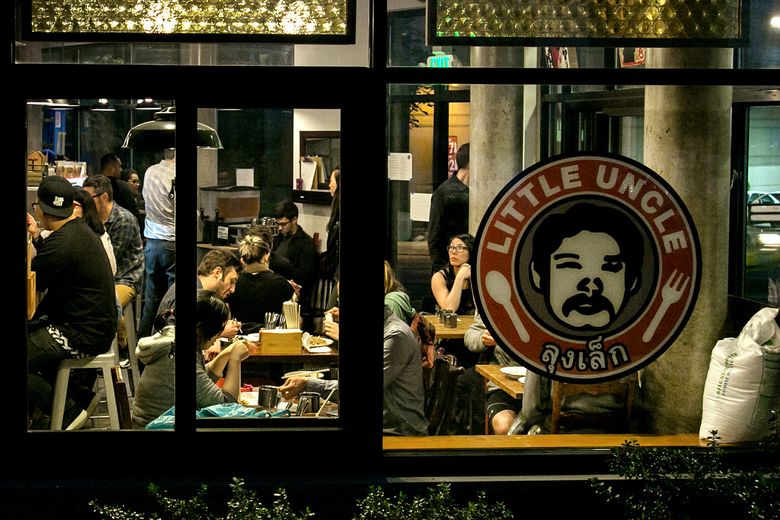 Owners Wiley Frank and Poncharee "PK" Kounpungchart were "pleasantly surprised" by the recognition, PK says. The "new" part's a bit funny; they started as a pop-up called Shophouse before Chipotle expropriated that name for its Southeast Asian chain, then went through several more incarnations before landing their sit-down location on Madison this year.
PK's expertise is rooted in her grandmother's kitchen in Thailand, while Wiley's culinary background includes the upscale W Hotel and Lark. Little Uncle has 19 seats, and you order at the counter. Why don't they think bigger, in terms of space, service and potential income?
"Wiley and I never went fancy because we didn't have the means, nor did we ever think that our food should be served that way," PK says. "Our work reflects our life. Comfort food is who we are and what we like to eat." They do not like getting into debt, and they did not want to be subject to investors.
They're of one mind, PK says, "that good food does not require a high level of service. The atmosphere should be comfortable, and the food should be craveable." Ironically, they get complaints about their prices from some who think all Asian food should come at the lowest possible cost. "What most people do not know," PK points out, "is that we pay and work hard to get our quality ingredients," sourcing as close to home as possible.
Still, PK says, "Wiley and I are pretty stoked about it all. Along with our crew, we've been working our butts off for the past five and half years to get to where we are.
"At our new spot, we feel so at peace with everything."
A FERRY RIDE from Seattle, in the Navy town of Bremerton, a man who has worked at Michelin-starred restaurants makes bread and pastries at a tiny bakery. The place is called Saboteur Bakery, and there Matt Tinder defies the system that he came from — haute-cuisine kitchens like those of the Bay Area's Coi and The Restaurant at Meadowood, where he was pastry chef for a combined total of five and a half years. He and his fiancé and business partner, Kate Giuggio, love the Pacific Northwest, and they wanted to open in a place with low overhead; like Little Uncle, they judged being beholden to investors to be unacceptable.
Hence, Bremerton became the unlikely home to a world-class bakery in February, with Tinder putting in inhuman 100-hour workweeks for months to get it going. Locals balked at first at Saboteur's prices: loaves of hearty yet delicately flavored einkorn bread for $10, exquisitely airy brioches sucrées that look like doughnuts but cost several times more than Dunkin'. Then they tried Tinder's work, and came back — sometimes immediately — to get another of the pastry they just ate.
At Coi and Meadowood, Tinder lived for the moments when patrons would demand a second helping of his desserts, on the spot, propriety be damned. He liked having access to every highest-end ingredient, showing off with what he could do with them. "I loved it. I peacocked. I had a lot of people call me the banty rooster" — he's a slight, wiry guy. "I got away with a ton."
But the wealth underpinning the finest dining, the pretense, got to him. "I think it's stupid," Tinder says. "The whole thing is dumb to me. I don't understand the people that spend the money on it, for this feeling — what are you buying?
"I saw too much of it."
The strictures of running his own small business have proved perversely satisfying. "I don't have the luxury of having every chocolate," he notes. "I've got one nice one that I'm using. I like it. It's restraint — finding some restraint."
Tinder loves that the formerly skeptical now congregate at Saboteur, drinking coffee, trying anything and everything he makes. "What I'm doing now — I've gained the trust of my neighborhood, and I can make whatever the [expletive] I want … 'cause all they care is it's good. And that it's honest."
XIAOLI WU — she goes by Lily — gets up at 6:30 or 7 a.m. every day to make noodles. She first sold them out of a Korean market in the University District; after nine months, she lost her lease. Undeterred, she opened Xi'an Noodles nearby last May. She's from a different part of China than Xi'an, in the Shaanxi province, but she has loved the food from that region — "It's very famous in China," she notes — since she was 7 or 8 years old.
"At that time," she says, "I have a dream: I really want to learn to make it." After college, she moved to New York, then five years later, in 2011, came to Seattle. Finally, she returned to China to learn the intricacies of making Shaanxi's famous biang biang noodles and more. She studied for two full years.
Wu had a very specific noodle idea in mind. It took three or four months, she says, just to find the right teacher, tasting the work of many different chefs. "I finally find one — I find the flavor I want," she recalls jubilantly. She was also a bit of an interloper in the biang biang world; it's mostly men who make the noodles, an arduous process that involves banging the dough down on the counter over and over (hence, the noodles' onomatopoeic name).
"You need to be very powerful to make the dough," Wu says. "It's very hard for a girl to do it. But I did it," she says with deserved pride. "Every morning you have to do 50 pounds. I gained muscles!"
At her place on The Ave, her dream is glorious reality, and the biang biang noodles are the runaway favorite. Wide and flat, with irregular, hand-torn edges, they've got a magical, bouncy, slightly al dente bite. An enormous bowlful — you'll want to eat them all — is less than $10.
But look further, and you'll find more Shaanxi culinary treasures, like the simply named cold noodles, or rangpi. The process of making these, Wu notes, is "very complicated," involving making the dough, then washing it for five hours to remove some of the starch; she couldn't find the right flour, so ended up mixing several kinds together. The refreshing, subtle flavor comes from 15 spices, the recipe for which she had to wheedle out of the family with whom she studied cooking.
Wu works maybe 15 hours a day at Xi'an Noodles; her husband, Peter Lin, is the chef, and her mom moved here this spring from China to help. Of her daily biang-biang ritual, she says, "I still love it. I love to do it."
SEATTLE'S NEW ERA of cheap-eats greatness has many more stories. Monica Dimas' Sunset Fried Chicken Sandwiches on Capitol Hill arguably makes the city's best version of the sandwich in its name. Her résumé includes Monsoon, Spinasse and Le Pichet; her other spots, Neon Taco and Tortas Condesa, take inspiration from the food of her childhood in Eastern Washington; her business acumen seems innate (a Portland edition of Sunset is on the way).
At Sixth Avenue Eats, on an otherwise deserted corner in South Lake Union, Janel Thompson and her family make big, messy sandwiches and piled-high fries; they're shooting, she says, for "great food — honest food that we believe in," and they're achieving it. Her aim is to incorporate more of the flavors of her background — she's Cuban/Jamaican-American — into the menu.
Peloton in the Central District is both a bike shop and a cafe, with the latter the purview of co-owner/chef Mckenzie Hart, whose credentials include Cafe Presse, Sitka & Spruce and The London Plane. Her menus, though brief, illustrate her bountiful skill with — and meticulous attention to — even the simplest things. A side salad here is a thing of beauty.
Yes, Seattle's rampant growth has brought a wealth of new high-end restaurant options for those who can avail themselves, but it's also brought opportunity elsewhere on the scale. In just the past year, more and more talented people have chosen to make the food they love at a price we can afford in our newly exorbitant city. In context, the term "cheap eats" starts to seem demeaning. Let's think of something new, while we're eating.