Young people of color are also overrepresented among homeless youth.
I CAME out to my parents in the early 1990s. I was 16 and living with my family in Bremerton.
While my parents struggled with my news, and while my mother grappled to discern what her faith imparted about homosexuality, they did not kick me out of their home. I attended college with their support and began working for a young-adult homeless shelter in 2002. Between signing in shelter guests, eating plates of reheated casserole and talking over sleeping mats laid out across the church floor, I understood the only difference between my experiences and those of the lesbian, gay, bisexual, transgender and queer (LGBTQ) youths at the shelter were the families we happened to be born into.
Editor's note
: Editorial writer Jonathan Martin spent several weeks looking at youth homelessness from all angles, traveling in-state and out to talk with kids, parents, foster parents, social workers, state officials and lawmakers. A series of editorials have addressed Martin's findings and appeared alongside columns and guest commentaries addressing this issue.
---
Video: What would have helped you?
Meet six young people from The Mockingbird Society talk about their experiences being homeless and what helped them get off the streets.
Editorials
Connecticut shows there are better alternatives to juvenile detention
Host homes provide a sense of belonging for homeless youths
Homeless youths left to chance
State needs to divert resources for jailing homeless youths to prevention
Children on the streets slipping through the cracks
State has misplaced priorities on vulnerable teens
The story of one homeless girl, Brittany, who was failed time and time again
Columns
Editor's note: Embracing the state's young and homeless
Jonathan Martin: Homeless youths, their trackers, running around in circles
Jonathan Martin: A grass-roots solution for homeless kids, mowed down by the state
Op-Eds
A call to action: LGBTQ teens need shelter, wraparound services
Is it ever OK to lock up runaway kids? Public officials weigh in
Trudi Inslee: The immediate dangers facing children living on the street
Nobody wants to put runaways in detention — but what do we do?
Young, gay and homeless: Why some parents reject their children
---
Support for this series
Reporting for this project was made possible with financial support from the Annie E. Casey Foundation, a private, national philanthropic organization that aims to better futures for disadvantaged children in the U.S. The work was done and directed independently of the foundation.
---
Reddit chat
Jonathan Martin and Megan Gibbard of All Home King County talked about youth homelessness during a recent
"Ask Me Anything" Live chat on Reddit
.
My parents did not reject me when I shared who I knew myself to be. Sadly, too many other parents do.
National research estimates that 40 percent of young people ages 12 to 25 who experience homelessness are LGBTQ.
Local data confirm that LGBTQ young people are overrepresented among homeless youth. Some 22 percent of the homeless and "unstably housed" young people surveyed in King County earlier this year identified as LGBTQ.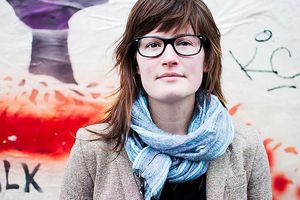 Many of these young people were forced from their homes due to family rejection of their (actual or perceived) sexual orientation or gender identity.
Share your thoughts
How has youth homelessness affected you? What do you think society should do to address this problem? Share your thoughts in the form below. A selection of responses may be published in print and online at a later date.

The True Colors Fund, a national policy leader on LGBTQ homelessness founded by singer Cyndi Lauper, provides additional context: "Half of all teens get a negative reaction from their parents when they come out to them. More than 1 in 4 are thrown out of their homes. LGBTQ youth experience homelessness for a variety of other reasons, including the intersection of homophobia and transphobia, poverty, and failed systems."

Young people of color are also overrepresented among homeless youths, representing 50 to 60 percent of those accessing services despite people of color making up only 29 percent of King County's total population. Obviously, some young people experiencing homelessness identify as being both LGBTQ and young people of color.

King County Executive Dow Constantine and Seattle Mayor Ed Murray recently declared that homelessness here is in a state of emergency, and both allocated additional local funding to address the crisis. They called on the federal and state governments to step up their support for housing and services for people experiencing homelessness.

Locally, the public and private sectors have stepped up significantly, with funding, coordination and evaluation to ensure we're using our local dollars wisely. King County voters recently passed the Best Starts for Kids levy, which will focus on preventing youths from ever becoming homeless.

We have listened to young people who have experienced homelessness. These young people recommend developing new approaches, such as host homes, which match a trained community member who has an extra bedroom to offer with a homeless young adult. Our strong nonprofits and local government partners are taking advantage of applying for every available dollar of federal funding, such as All Home's recent application to the U.S. Department of Housing and Urban Development to support our efforts to rapidly rehouse homeless young adults.

You can be a part of the solution as well. Get engaged by renting to or employing a young person, sharing your time as a volunteer or by speaking up on behalf of the remarkable young people who happen to be experiencing homelessness.

I believe we can make homelessness rare in King County, including among LGBTQ youths and young adults who too often are homeless as a result of being who they are. For these young people to succeed, we need to provide housing and support from caring adults, something I was fortunate to receive. We'll need the whole community — all levels of government, nonprofits, voters and you.