Stanley Park, Granville Island and other don't-miss places.
Vancouver, B.C., is consistently ranked as one of the world's most livable cities (although sky-high housing prices are putting a dent in that). But for visitors there's lots of free or relatively low-cost fun. The city offers diverse ethnic neighborhoods, both old and new; a bevy of restaurants; fun public art; and miles of in-city beaches and forest trails.
Here's a look at 5 popular sights in the city.
Stanley Park
At one of the world's largest urban parks, you can stroll or bicycle along the park's five-mile seawall and watch freighters, cruise ships and pleasure boats sail through English Bay. Pause to rest or picnic on the park's many ocean-view benches or sit on driftwood at pocket beaches.
In a forest mood? Cut through the 1,000-acre park's heavily wooded center and meander along fern-lined paths with firs towering overhead. The park also boasts rose and rhododendron gardens. And it's all free (vancouver.ca/parks-recreation-culture) .
Near the park entrance on the English Bay Side is whimsical public art, bigger-than-life-size bronze sculptures of laughing figures (at the intersection of Davie and Denman streets).
Granville Island
A favorite with locals and visitors alike, Granville Island sits on the south shore of False Creek. At the heart of the islet is the Granville Island Public Market, packed with food stalls selling everything from smoked salmon and vegetables to bagels and chocolates. The surrounding streets are lined with neo-industrial buildings packed with artisans' shops, cafes and locavore restaurants. Free to wander and window-shop, but it's easy to shop, shop, shop on Granville Island (granvilleisland.com).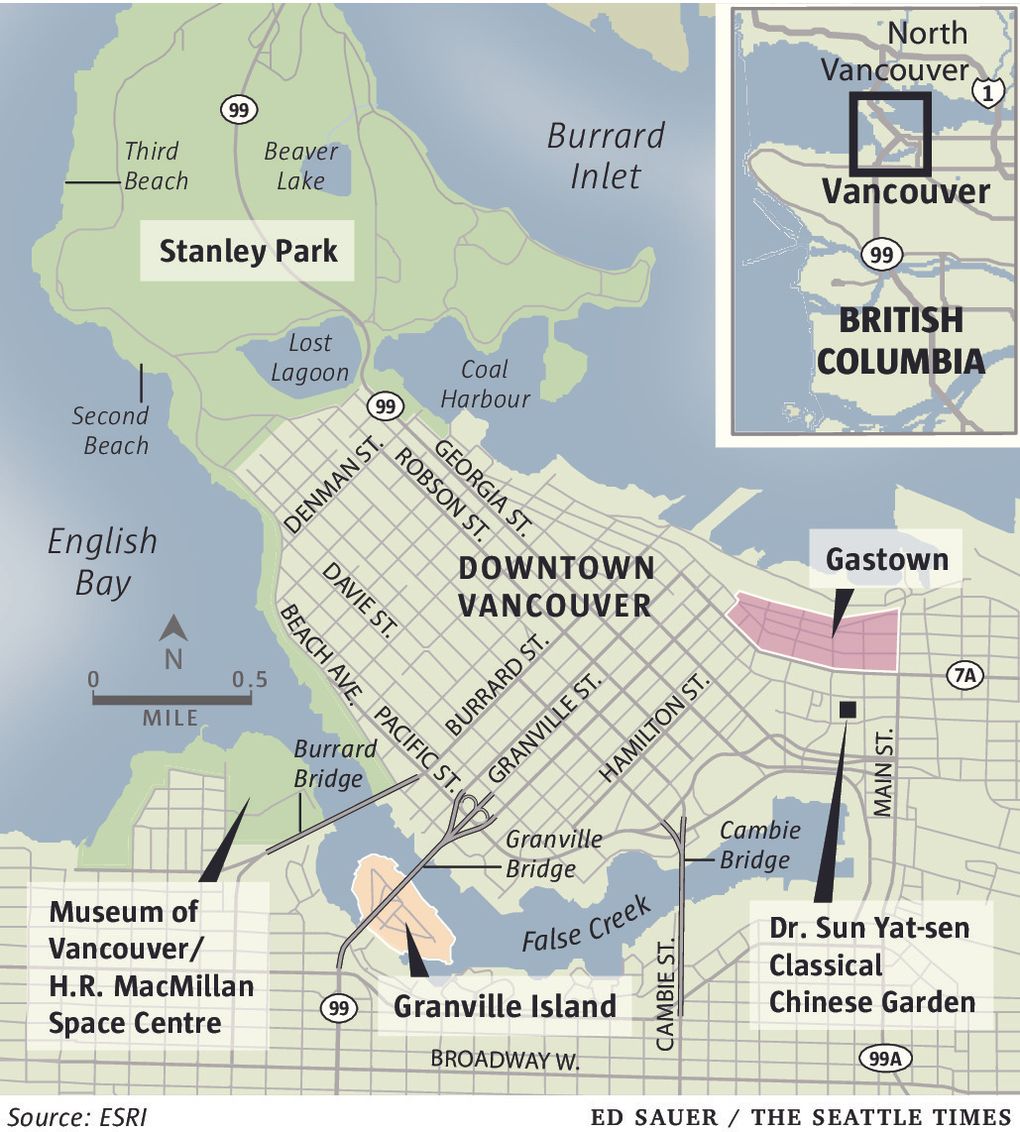 Dr. Sun Yat-Sen ­ Chinese Garden
Wander through small tile-roofed pavilions set by a jade-green, rock-edged pond where giant carp swim. This Chinese garden, modeled after the private garden of a Ming Dynasty (1368-1644) scholar, is tucked behind walls amid the bustle of downtown Vancouver (vancouverchinesegarden.com, adult admission Cdn. $12, discounts for families, seniors, students).
Outside the garden is the simpler Dr. Sun Yat-Sen Park (a city park) and Vancouver's original Chinatown, dating back to the late 1800s (vancouver-chinatown.com). These days, ethnic Chinese live throughout the Vancouver area and much of the focus has shifted to suburban areas, especially Richmond, which is packed with Chinese restaurants and shops.
Gastown
Gastown is the old heart of Vancouver, where the city got going in the late1800s. With evocative street names such as Gaoler's Mews and Blood Alley, Gastown revolves around the statue of "Gassy" Jack Deighton, a colorful rogue credited with being one of Vancouver's pioneers, and the recently-renovated outdoor Steam Clock (gastown.org). If you wander southeast from Gastown you'll end up in a very different neighborhood, Vancouver's gritty Downtown Eastside skid row.
Museum of Vancouver/ Space Centre
Explore the city's history at the Museum of Vancouver (museumofvancouver.ca, Cdn. $14 adult admission, discounts for seniors, students, families). And learn about the universe at the adjoining H.R. MacMillan Space Centre with exhibits, planetarium shows and its observatory dome that's open to the public on Saturday nights (spacecentre.ca, adult admission Cdn. $18, Cdn. $13 evenings and senior, student, family discounts).
If you go
Book hotels and get sightseeing info through Tourism Vancouver: tourismvancouver.com
For U.S. visitors, the exchange rate is kind. A U.S. dollar is worth about Cdn. $1.23 (as of Feb. 11 at the ATM rate). A year ago it was Cdn. $1.08.