Follow Thurston Bountiful Byway to farms, distilleries, taste treats and more.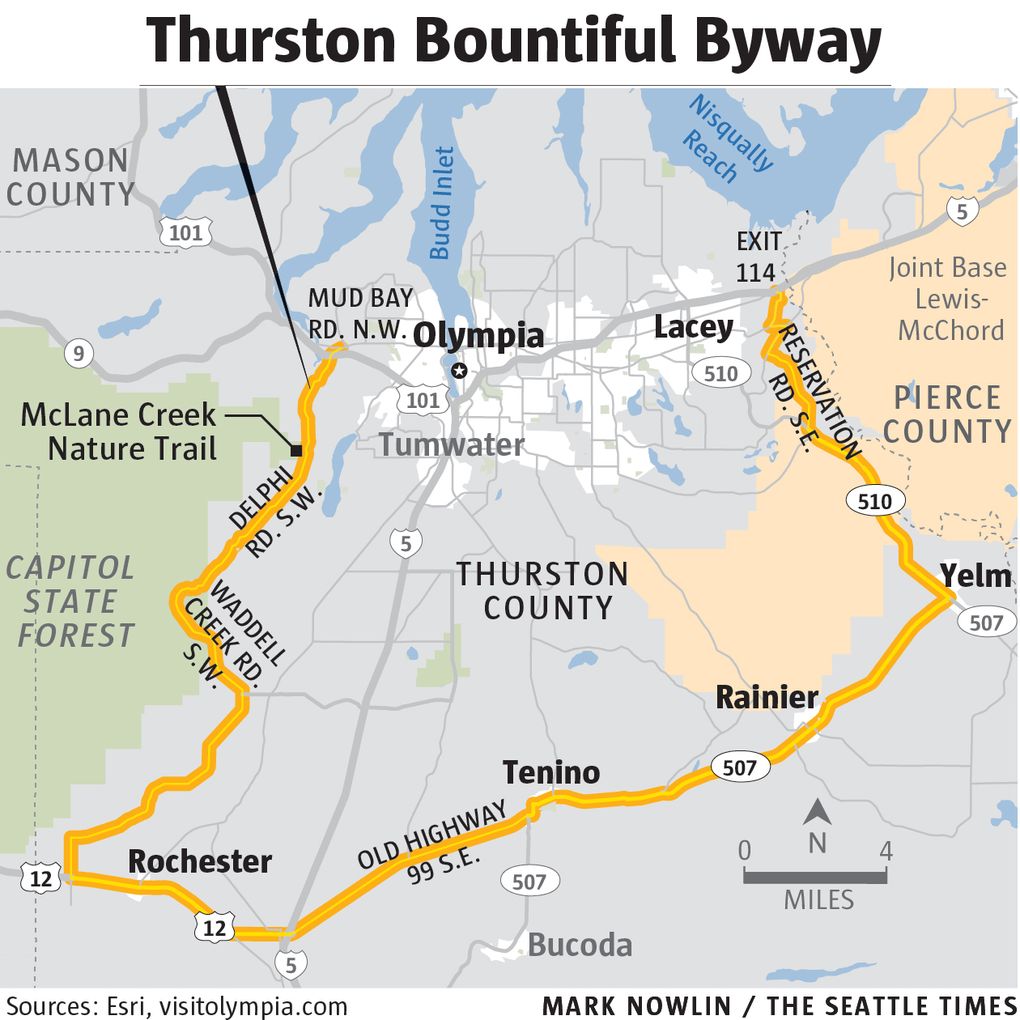 Editor's note: Got college loans to pay? Are Seattle rents pinching your pocketbook? This recurring feature, $99 Road Trip, is for anyone on a budget. We've taken a day trip from Seattle to see just how much fun two people can have for less than a hundred bucks.
OLYMPIA — Free bikes, free parking, free samples. We found them all, along with wooden money and sips of bacon whiskey, on a self-guided tour along the back roads around our state capital.
Our road map: The Thurston Bountiful Byway (bountifulbyway.com), a 60-mile agritourism route pointing visitors to craft distillers, winemakers, farmers and family-owned businesses showcasing a bounty of locally-sourced and produced culinary treats.
More than 60,000 acres of farmland form the backdrop for a day of exploring, with opportunities to soak up bite-sized chunks of state history, and work off the calories on hiking trails or paved bike paths.
Stretching from Mud Bay, just west of Olympia; skirting the Capitol State Forest; running east toward Yelm; and north to Lacey and the Nisqually Valley, the byway was created by the county several years ago to promote economic development. A new website and map make it easy for visitors to customize an outing based on their time and interests.
The map includes listings for 21 businesses that paid a $200 membership fee for marketing, but there are many others worth a stop. My husband, Tom, and I used the map as a guide, detouring off the prescribed route several times to take a short cut or make our own discoveries.
Our day's budget: $99, including gas, food, souvenirs, parking and entry fees for two.
Breakfast with a mission
We headed south on Interstate 5 at 7:30 a.m. on a sunny Saturday for the 67-mile drive to Olympia from our home in Magnolia. Our goal was to make it to the New Moon Cooperative Cafe, 113 Fourth Ave W. (newmooncafe.coop), before the weekend breakfast rush. Taking Exit 105 toward City Center/Port of Olympia, we caught a glimpse of the capitol dome before scoring our first bargain of the day. Just as Tom was about to plug the parking meter, a motorist rolled down her window, and shouted, "Hey, sir. You don't have to pay on the weekend!''
The worker-owned and -managed New Moon includes in its mission statement the goal of "growing strong relationships with local farmers, producers and distributors." This meshed well with our mission.
Knowing we had lots of snacking, sampling and sipping ahead, we split a veggie scramble with a biscuit and rosemary-garlic home fries ($9.85 plus $1 extra for the biscuit) along with coffee ($2.65) and a Chai tea ($3.50). With just 10 tables, the New Moon fills up fast. There was a line outside by the time we finished about 10 a.m. ($17 + $1.50 tax = $18.50).
Four blocks from the New Moon is the Olympia Farmers Market, 700 Capitol Way N. (olympiafarmersmarket.com), open Thursday-Sunday 10 a.m.-3 p.m.
Into my bag (and later into the cooler we brought along in the car) went a pound of Calliope Farms yellow and green wax beans for a pickling project ($5, no tax). Into our mouths went a lemon macaroon ($2, no tax) and miniature canelé ($2, no tax), a small pastry with a soft custard center sold by a stand called the Left Bank.
If all goes well, we'll be harvesting beets and radishes grown from seeds we bought from Maurrie Aukland, an English teacher from Elma, Grays Harbor County, and a self-described "seed saver who loves to teach people how to garden." She cultivates dozens of varieties of vegetable, bean and flower seeds, packaged in decorative paper envelopes for $2.50 each. We bought two for $5, tax included.
Back to nature
The byway map suggests several possibilities for short hikes, including two in the 100,000-acre Capitol State Forest. Leaving the market, we drove 7.7 miles to the McLane Creek Nature Trail, off two-lane Delphi Road. The hike was an easy 1.5-mile loop on crushed gravel and wooden boardwalks around a lake dotted with cattails and pond lilies. Also worth a stop is nearby Mima Mounds Natural Area Preserve (dnr.wa.gov/MimaMounds), with trails and an interpretive center explaining various theories on how mound-shaped land formations in the area evolved. You'll need a state Discover Pass to visit both. If you don't have a $30 annual pass, buy a $10 day pass online or through a local vendor (discoverpass.wa.gov).
Running total for the day so far: $42.50, including $10 Discover Pass.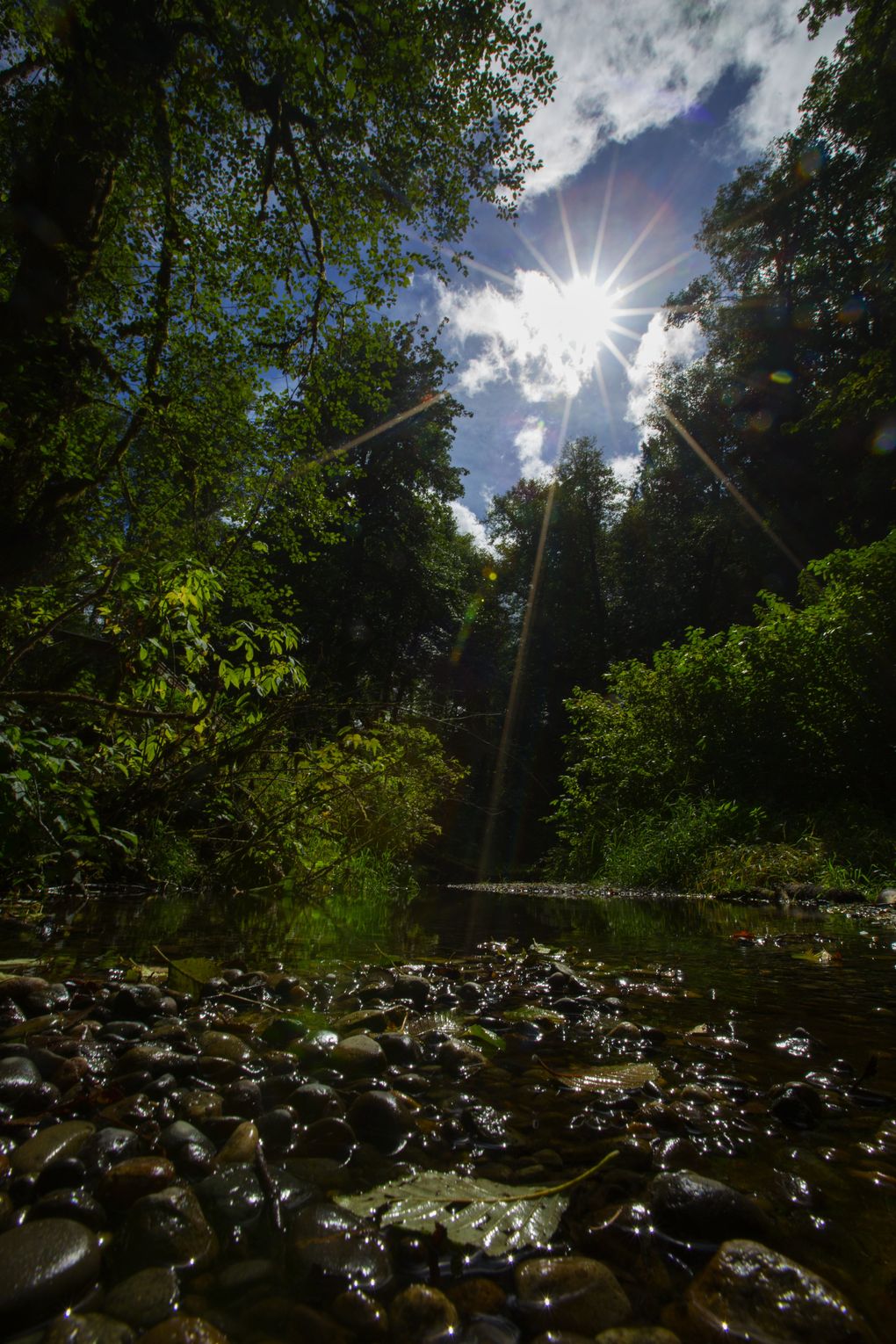 Bacon whiskey
Driving 10 miles along Highway 121, we arrived just as Jenni Bourdon was opening the tasting room at Sandstone Distillery, 842 Wright Road S.E. (sandstonedistillery.com). Named for the sandstone industry that flourished in the early 1900s in nearby Tenino, the distillery uses Washington-grown grains to make its gin, vodka and whiskey. A tasting and tour for two ($10, no tax) included a look at John Bourdon's copper stills, and a sample of bacon whiskey flavored with help from a neighbor's pigs, which are fed Sandstone's spent grain. At $35 a bottle, including tax, the whiskey was out of our price range. More suited to our budget were small bottles of basil or lime syrup ($3, no tax) to use as cocktail mixers.
Wooden money
Sandstone quarries and logging drove the economy of Tenino in the early 1900s. When concrete replaced sandstone, the town's fortunes waned. The Great Depression put the little town on the map when the chamber of commerce began issuing wooden money printed on thin slices of spruce and cedar as emergency scrip following a bank failure in 1931.
Town promoters still use an old printing press inside the Tenino Depot Museum to print souvenir copies of the "slicewood'' bills that can be spent like cash at participating local businesses. We bought two at face value for $1 each, and walked over to Aunt Kate's Chocolates, 296 Sussex Ave. W., to see what we could buy. The chocolates were pricey, but the root-beer float was a bargain and big enough to split ($2 worth of wooden scrip, no tax). (You might have to delay gratification; Aunt Kate's floats are a summer-only treat, we learned later. Remember it for next July.)
Stone carving may be dead as an industry, but locals keep it alive as an art form. A passer-by pointed us to the workshop of Keith Phillips, 147 Olympia St. A carver for 32 years, Phillips makes decorative pieces and worked on the restoration of the Olympia capitol dome.
With several more stops on our list, we didn't have time to try out the free bikes available through the nonprofit Tenino Yellow Bike Project (facebook.com/TeninoYellowBicycleProject), started by a community group in 2001. We'll bring helmets next time, and plan a ride along the paved, 14-mile Yelm-Tenino trail.
Running total: $57.50
Burgers, cider and wine
From Tenino, we drove north along Old Highway 99 to reach two destinations not listed on the byway map.
Carolyn Lattin, 84, and daughters, Debbie Lattin and Sherrie Kohlmann, invite visitors to picnic and feed the goats, chickens, peacocks and other animals at Lattin's Country Cider Mill and Farm, 9402 Rich Road.
The family has been pressing apples for cider every week for 40 years, churning out 6,000 gallons a week during the busiest four months, starting in September.
If the sign out front says "Hot Apple Fritters Today," you're in luck. They often sell out before noon. We bought one to take home ($2, no tax). When I asked about the peacock feathers for sale next to the pie case, the clerk threw one in for an extra $1.
Our choice for a late lunch was Van's Burger, 7811 Yelm Highway S.E. (vansburger.com) a drive-up stand in a trailer that advertises itself as "The Place That's Never Open."
Limited hours (Thursday, Friday, Saturday, 11 a.m.-7 p.m. through October), and made-from-scratch shakes and burgers popular with locals, can mean long lines. "We usually have a lag time around 3 p.m.," says owner Erica Van Lierop. We pulled in around that time, and had our shakes (two fresh peach at $3.50 each + .50 tax = $7.50) and Washington beef burgers ($5 and $5.50 + .91 tax = $11.41) in a few minutes. Total for lunch: $18.91.
Back on the byway route, with the option of visiting three wineries, another distillery and a brewery before heading home, we ended with a quick stop at Medicine Creek Winery, 947 Old Pacific Highway S.E. (medicinecreekwinery.com), owned by former pumpkin farmers Jim and Liz Myers. Jim transformed an old barn into a New Orleans-style tasting room resembling an old-fashioned saloon. We arrived at 4 p.m., an hour before closing, plenty of time to do a shared tasting ($5, no tax), and relax a while in the garden furnished with comfy wicker chairs.
Running total: $84.41
Calculating our mileage at 176 miles round-trip from Seattle, divided by 32 mpg (based on a Subaru Forester, one of Seattle's best-selling cars), and gas at $2.70 per gallon, the metro area's average price on the day we traveled, our fuel cost was $14.85.
Grand total for the day's outing for two = $99.26, plus tips where appropriate.
If you go
Where
The Olympia area is 60 miles south of downtown Seattle via Interstate 5. The Thurston Bountiful Byway is accessible from various points in Thurston County, including from I-5 via the Nisqually exit (Exit 114) or from Highway 101 via the Mud Bay exit. See the map at bountifulbyway.com.
Share the love
Discretionary tips and donations aren't included in our tally. Carry extra cash for the tip or donation jar.
Want to spend the night?
If your budget stretches, take in the views of Mount Rainier from the Prairie Hotel in Yelm (prairiehotel.com). Weekend rates start at $109 per night.
More information
See visitolympia.com, stop by the Olympia-Lacey-Tumwater visitor center, 103 Sid Snyder Ave., or call 360-704-7544.