Stick your cooler in the car and come home with a bonanza of fresh produce, local wine and tamales for dinner.

Editor's note: Got college loans to pay? Are Seattle rents pinching your pocketbook? This recurring feature, $99 Road Trip, is for anyone on a budget. We've taken a day trip from Seattle to see just how much fun two people can have for less than a hundred bucks.
YAKIMA VALLEY — "Just look at that!" exclaimed my girlfriend, gesturing toward the fields and orchards stretching before us. On a summer's afternoon we were sipping flutes of a sparkling rosé at Treveri Cellars and enjoying the expansive view of wine country.
Back before "wine roads" drew tourists to this lush, irrigated region of Central Washington, locals and visitors traveled its "fruit loops," seeking the best fruit and truck-garden bounty from its many family-owned fruit and produce stands.
"Remember that sign at the airport that said, 'Welcome to Yakima — Fruit Bowl of the Nation'?" I responded, adding that using the slogan on an internet search brings up links to the Yakima Valley. The sign had greeted arriving passengers from 1958 until 1995 and is now on display at the Yakima Valley Museum (2105 Tieton Drive, Yakima).
We'd grown up in the valley; she still lives there. In mid-July we spent a day sipping and sampling along some of our old favorite routes. We were doing this one-day getaway on a set $99 budget, which included all purchases, eats and my travel from Seattle.
Valley of plenty
We could have headed any direction from Yakima — from Naches to Prosser, West Valley or East Valley — and found wineries, distilleries and craft breweries, fruit and produce. The valley is home to more than 350,000 fertile acres, producing more than 40 commercial crops ranging from fruit, hops and wine grapes to vegetables and field crops. With far too much area to explore in a single day, we focused on a slice of the Lower Valley, as locals call anything south of "The Gap" between the Rattlesnake Hills and Ahtanum Ridge.
With Union Gap — Yakima's next-door neighbor to the south — as our anchor point we completed an unhurried 31-mile loop, making a stop at a museum, six fruit-and-produce stands, two family-owned eateries and a winery.
Setting out from Seattle
8:30 a.m. With an ice chest in the trunk, I headed to Union Gap via Interstate 90, linking up with Interstate 82 at Ellensburg. The trip (to Valley Mall Boulevard, Exit 36 from I-82) took 2½ hours, a bit longer than usual due to intermittent road construction from Snoqualmie Pass to Ellensburg. Indian John Hill Rest Area (Milepost 89, just east of Cle Elum) is a good place for a quick pit stop.
11:15 a.m. Rendezvousing early to avoid lunch-hour lines, we indulged in a shared Big Miner cheeseburger, our piled-high favorite at Miner's Drive-In Restaurant (2415 S. First St.), near the Valley Mall. The popular, family-owned eatery, now in its 68th year, has indoor and outdoor seating. Note: Burgers are big; they'll cut them in half for sharing. (Burger $6.84 + .56 tax = $7.40)
Noon: We took a self-guided tour of the Central Washington Agricultural Museum (4508 Main St., Union Gap, centralwaagmuseum.org), just two miles south of Miner's in Fullbright Park, near Ahtanum Ridge. Founded in 1979, it includes 15 acres of farm equipment and displays of early-day homestead items. Historical structures include a furnished cabin and wooden silo. The museum's wooden entryway is made of materials salvaged from a late 1800s stagecoach depot. (Admission free; donations accepted)
Following the Fruit Loop
12:30 p.m.: South through The Gap on Highway 97, we headed to a half-dozen farms selling fruit and produce that were either on or near Lateral A Road. There were other places, but with only a day, we'd have to save them for the next trip. We decided fruit and produce "stand" is somewhat a misnomer when we saw the variety and size of the structures housing goodies these days. Fruit and produce availability varied by stand as did the prices.
At the Yakama Nation Fruit and Produce Stand (74610 Highway 97), two miles beyond Fullbright Park and before the Highway 97 and Lateral A intersection, manager Jerrilyn Stevens raved about her favorite peach varieties for canning, Sierra Rich and Rich Lady. "They are so sweet you don't need to use as much sugar for the syrup." She made sure we sampled the Yakama Nation's Broken Spear label pickled asparagus before we left.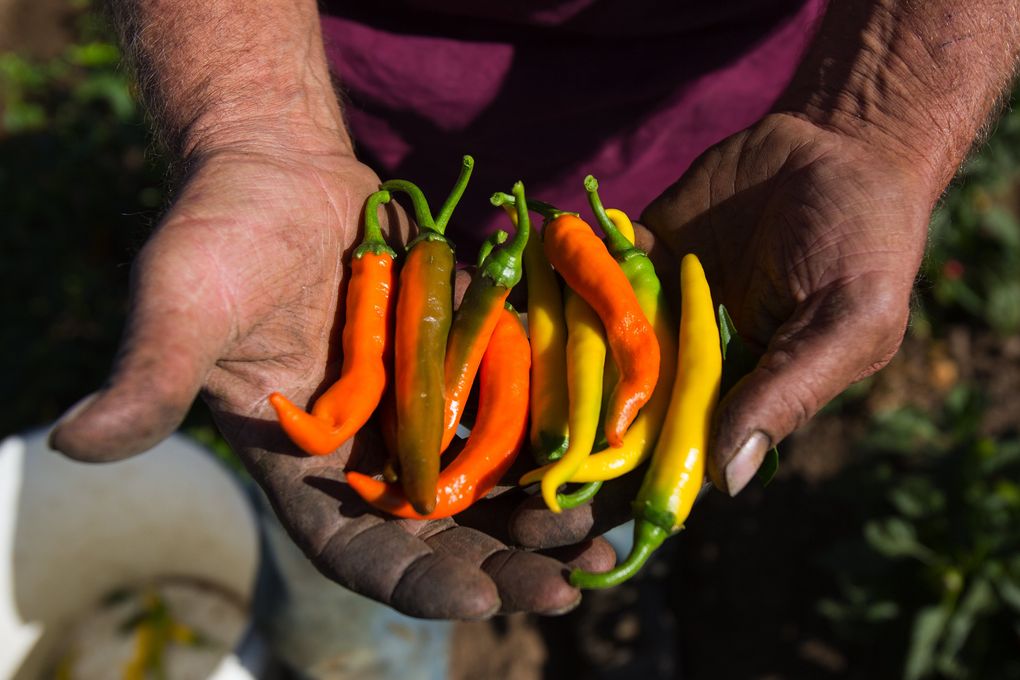 Heading south on Lateral A, we rolled the windows down to breathe in the earthy smell of the sun warming the fields flanking us. We'd gone about a mile on this two-lane, north-south route when a large painted sign pointed us to E.W. Brandt and Sons Fruit Stand (561 Ragan Road), a half-mile west on Ragan Road. The Brandt family has been farming since the early 1900s and growing fruit for more than half a century. Their stand was charming, the staff welcoming. In addition to fruit and produce they sell chilled soft drinks, bottled water and bags of ice.
Back on Lateral A, near the intersection of Jones Road, we visited the Benedicto Fruit and Produce stand that's been here for 13 years. The family grows fruit and produce on 120 acres and has an 80-acre vineyard where the grapes are used for fruit juice, not wine.
A short distance beyond, Dagdagan Farm and Produce (4640 Lateral A) is operating out of new digs this year. The family's 156-acre farm that began in the 1940s produces a variety of fruits and vegetables and offers u-pick options. It was the smell of their homegrown cantaloupe that nailed the sale there.
The sales floor at Imperial's Garden (4817 Lateral A, imperialsgarden.com) is so large they offer shopping carts to navigate through the displays. Located southeast of the Lateral A and West Wapato Road intersection, this family-farm operation encompassing about 1,000 acres began in 1985 as a 40-acre farm.
Krueger's Pepper Gardens (462 Knights Lane, kruegerpeppergardens.weebly.com), a family-run farm that's been around since 1937, is about three miles southeast of Imperial's Garden. It offers more than 100 varieties of hot and sweet peppers and 30 varieties of tomatoes. "We start with the greens and yellows and in August we have the reds and by the first weekend in September — we'll have all the colors," fourth-generation farmer Seth Krueger said of the pepper harvest.
By now the cooler was filled with: bags of green beans, $2.08; pickling cucumbers, $1.58; baby potatoes, $1.75; a small bag of Bing cherries; $1.11; three large zucchini squash, $1; two cantaloupes, $1.50; nine ears of corn, $3; and a jar of pickled asparagus, $1.50 = $13.52.
Running total for our budget day trip: $20.92.
From produce to wine
2:30 p.m.: We headed east via Wapato Road, crossed Highway 97 and continued through the town of Wapato, where the road becomes West First Street. Taking a left at North Wapato Avenue (it becomes Donald Wapato Road) we were on our way to the area's wine road, Yakima Valley Highway.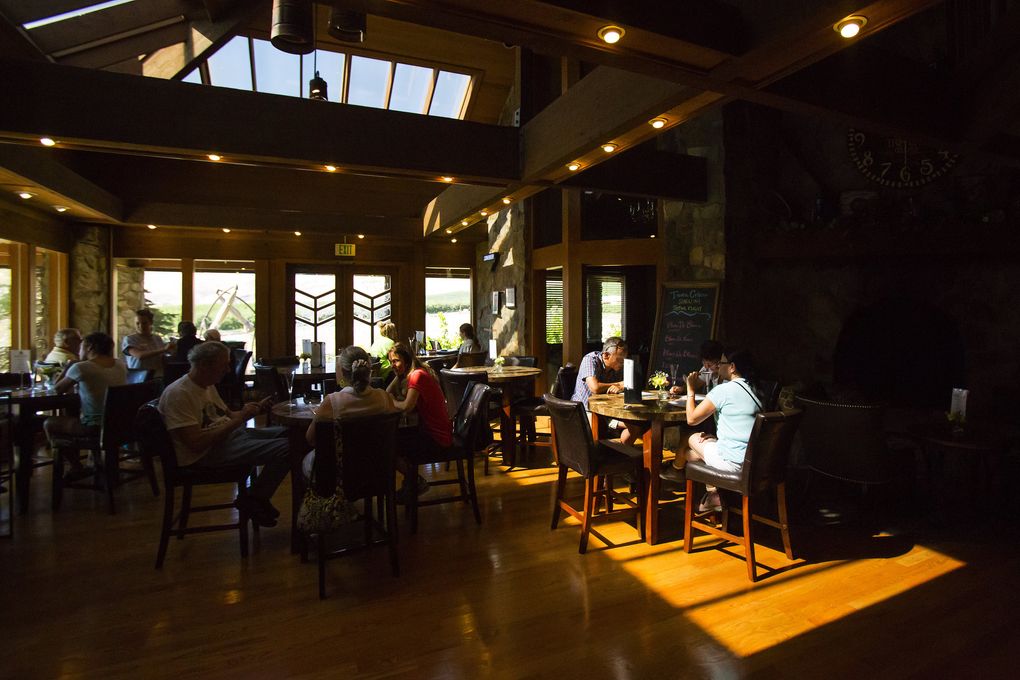 Directional signs pointed us to four nearby wineries: Masset Winery (620 E. Parker Heights Road, massetwinery.com); Windy Point Vineyards (420 Windy Point Drive, windypointvineyards.com), Owen Roe (309 Gangl Road, owenroe.com); and Treveri Cellars (71 Gangl Road, trevericellars.com). Tasting-room hours vary, so it's best to call in advance if you have a particular winery in mind.
2:45 p.m.: We opted to try some of the 100-percent varietal sparkling wines that have been produced at Treveri Cellars since its November 2010 opening. (2 flutes @$5 each, one bottle to go $18 + 7.9 percent tax = $30.21)
3:45 p.m.: Taking Interstate 82 the short distance back to Union Gap, we ended our loop at Los Hernandez tamale shop (3706 Main St., loshernandeztamales.com), housed in an easy-to-miss small cinder-block building. The family has been cooking up corn-husk-wrapped chicken and pork tamales for 25 years. We lucked out — the seasonal fresh asparagus and pepper-jack-cheese tamales were still available. We couldn't resist their tongue-tingling salsa. (6 tamales, a carton of salsa + 8.1 percent tax = $20.92)
4 p.m.: I was on the road home to Seattle with farm-fresh produce, a bottle of wine and a tamale dinner to heat up. When adding in the $27.35 gasoline cost for the 323-mile round trip, the 10½-hour getaway and goodies totaled $99.40.
Another classic Washington road trip for two, for less than 100 bucks.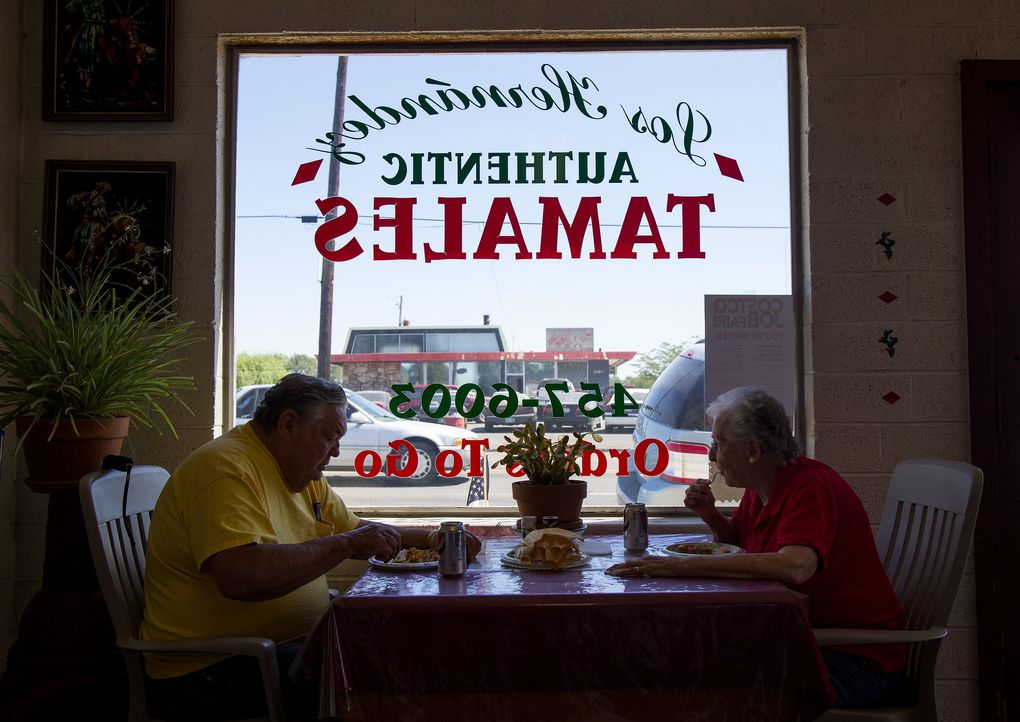 If you go
Watch that highway work
Get road-construction alerts for Interstate 90 at wsdot.wa.gov/traffic.
Share the love
Tips and donations, discretionary by nature, aren't included in this accounting. Be sure to carry extra dollars for the tip or donation jar.
More information
• Yakima Valley visitor information is at visityakima.com.
• For farm maps and harvest schedules: visitfarmfreshfun.com/yakima-valley-farm-map.asp