Looking for a summer hike? Here are the best hikes across Washington, the best trails for wheelchairs and day hikes with big payoffs.
Looking for a summer hike? Need a "to do" list for the season? Here's a save-worthy, condensed version of popular hike and trail lists previously featured in The Seattle Times.
Top 10 Washington hikes
Karen Daubert, executive director of Washington Trails Association, selected this list, presented in random order. Accompanying comments are Daubert's:
Chelan Lakeshore Trail
17 miles one-way from Prince Creek to Stehekin; 2,200 feet of elevation gain. Best time to go: April-June or September-October.
The best spring backpack involves a boat ride three-quarters of the way up Lake Chelan and a trek north to the town of Stehekin along shimmering waters and snowy peaks.
Easy Pass
Off North Cascades Highway. 7 miles round trip; 2,800 feet gain. Best time to go: Late-July through October.
It isn't easy but absolutely beautiful. Hikers forget about their toils with high alpine views punctuated by vivid wildflowers in summer and golden larches in fall.
Skyscraper Pass
Mount Rainier National Park. 8 miles round trip; 850 feet gain. Best time to go: Late-July through September.
Follow the Wonderland Trail, which circles the mountain, to Skyscraper Pass. In August, Mount Rainier is framed in masses of purple lupine. It's an easy scramble up a clear trail to Skyscraper Mountain with even better views.
Cascade Pass and Sahale Arm
North Cascades National Park. Up to 12 miles round trip; 3,600 feet gain. Best time to go: Mid-July through September.
It's one of the most stunning hikes in the state, and the trail to Cascade Pass is easy and short enough for kids and those with creaky knees. Those with extra energy will find the push up to Sahale Ridge worth the extra effort.
Harry's Ridge
Mount St. Helens National Volcanic Monument. 8 miles round trip; 200 feet gain. Best time to go: May through October
The best way to understand what happened at Mount St. Helens in 1980 is to walk in the path of the blast. This trail takes hikers from the crowded Johnston Ridge Observatory to a point overlooking stark Spirit Lake. Hikers can see the regrowth close-up and get views of the volcano and blast zone.
Little Bandera
West side of Snoqualmie Pass. 7 miles round trip; 2,850 feet gain. Best time to go: July through October.
Starting on the popular and wide Ira Spring Trail, the path turns steep as hikers make their way up Little Bandera Mountain. If you go during summer, there's ample reason to rest on your way up — dancing white beargrass glowing in the midday sun. The views are amazing as you look down on the freeway.
Polallie Ridge
Teanaway. 8 miles round trip; 3,000 feet gain. Best time to go: June to early July, and fall.
Teanaway is the place to go on those dreary June weekends when you think that summer will never arrive. This trail provides plenty of sunshine along a steep trail. There are amazing wildflowers and bird life.
Horseshoe Basin
North Central Washington. 12 miles round trip; 1,550 feet gain. Best time to go: July through September.
This is high, rolling country near the Canadian border with numerous peaks to climb and lakes to lounge by. Hikers will want to backpack into this spectacular area and stay for a while.
Mount Townsend
Olympic Peninsula. 8.2 miles round trip; 2,900 feet gain. Best time to go: July through September.
Summertime in Seattle is best known for its beauty. As an ode to the season, Seattle Times photographers seek out the elements that define its essence: earth, wind, water and fire, to pay tribute before the rain returns. Read more. (Marcus Yam, Bettina Hansen and Erika Schultz / The Seattle Times)
This trail takes hikers from old growth and Pacific rhododendrons to a lofty summit with views of Puget Sound islands, the Seattle skyline and a Cascade mountain backdrop, as well as a front-row seat into the wilderness of the Olympic mountains.
Ozette Triangle
Olympic National Park coastline. 9.4 miles round trip; 300 feet gain. Best time to go: Year-round
Washington boasts amazing scenery all along the coast, but this trail offers something the others don't: a loop option. Whether you go to Cape Alava or Sand Point, it's three miles along the sometimes slippery boardwalk punctuated by three miles of spectacular beach and ancient petroglyphs.
Learn more: See the full, original article by Tan Vinh at seati.ms/1GXw4tg.
Seattle's best park walks
Chukundi Salisbury, Seattle Parks and Recreation's trails coordinator, offered this list of where to hike in Seattle parks.
Camp Long
5200 35th Ave. S.W., Seattle.
This 68-acre West Seattle park has 2.8 miles of trail but it's the 10 rustic cabins that make it different. At night you start a campfire by your cabin and it feels like you're deep in a forest when in reality you're a five-minute walk away from single-family homes and street traffic.
Carkeek Park
950 N.W. Carkeek Park Road, Seattle.
220-acre park filled with meadows, wetlands, beach, six miles of trails and a salmon run at Pipers Creek. You get spectacular views of Puget Sound and the Olympic Mountains without a long, strenuous hike.
Discovery Park
3801 Discovery Park Blvd., Seattle.
The city's largest park has 11.8 miles of trails spread across 534 acres. Just off the north parking lot, the half-mile Wolf Tree Nature Trail has boardwalks over the wetlands. It's good trail for parents who want to keep track of their children.
Fauntleroy Park
3951 S.W. Barton St., Seattle.
One of the best-kept secrets in the park system. This 33-acre park with 1.5 miles of trail gets little foot traffic. On a weekday, you have the park to yourself. There's a patch of old-growth trees that make you feel like you're in a national forest.
Frink Park and Leschi Park
398 Lake Washington Blvd. S. and 201 Lakeside Ave. S. Seattle.
It's two parks, but locals treat them as one. You start from the top at Frink Park (17 acres) and hike down to Lake Washington through Leschi Park (18.5 acres). Less than a mile. There's a nice bridge over the wetlands at Frink and from Leschi Park, at the end of Yesler Way, you can take the trail all the way down to the beach.
Golden Gardens Park
8498 Seaview Place N.W., Seattle.
Besides the beach, this Ballard park has 3.2 miles of trail, though it's not as flat and easy as other walks on the list. The concrete steps aren't uniform. Go to the overflow parking lot on the east side of the railroad tracks. At the north end of that overflow lot is the entrance to the Cistern Trail.
Lakeridge Park
10101 Cornell Ave. S., Seattle.
This lush 36-acre park in South Seattle takes you through a ravine and features one of the city's largest creeks, Taylor Creek.
Lincoln Park
8011 Fauntleroy Way S.W., Seattle.
The path to Colman Pool is a good family hike. Even children who hate the outdoors like it because they can play on the water slide when the outdoor pool is open in summer.
Matthews Beach Park
49th Avenue Northeast and Northeast 93rd Street, Seattle.
In the Sand Point area, Matthews Beach Park gets overshadowed by Magnuson Park, which is why Matthews is more serene. It has a trail system that you can access right off the Burke-Gilman Trail.
Seward Park
5895 Lake Washington Blvd. S. Seattle.
This 300-acre park has old-growth forest, beaches, gardens and a 2.4-mile biking-and-walking trail. There's something for everybody.
Learn more: See the full, original article by Tan Vinh at seati.ms/1zKYmaT.
Wheelchair-friendly trails
Writer Cathy McDonald interviewed Barry Long, of Woodinville, who has a lot of experience on trails suitable for wheelchairs. (Most carry cyclists and hikers, as well.) A few of his favorite trails:
Sammamish River Trail
Bothell to Redmond; almost 11 miles.
This paved path follows the Sammamish River and offers views of the broad river valley, the Cascade foothills and Mount Rainier. kingcounty.gov/recreation/parks/trails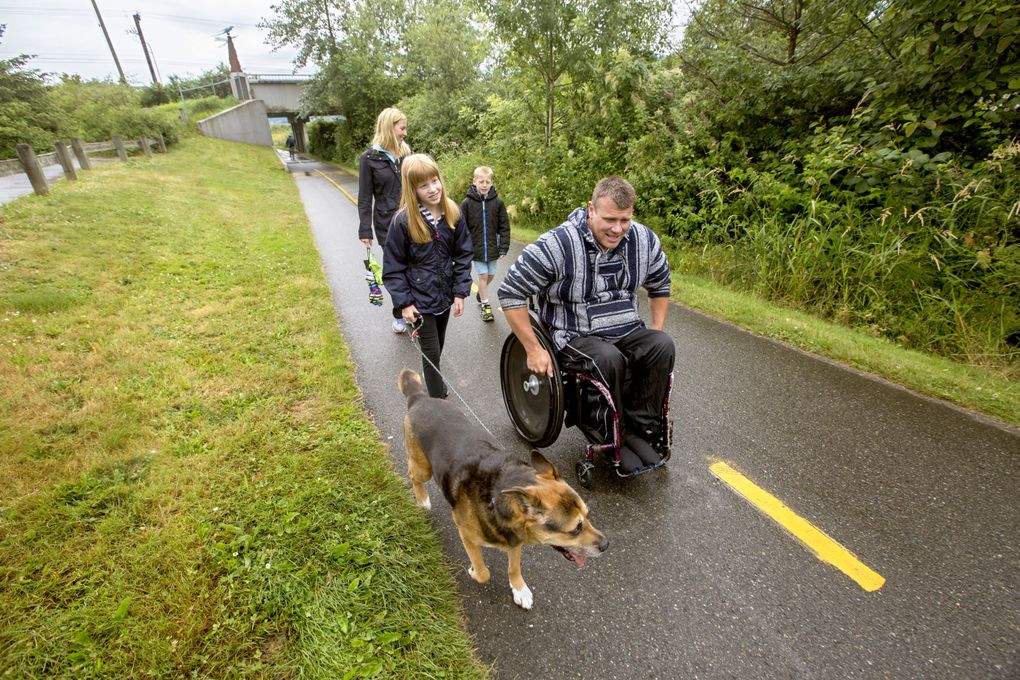 Gene Coulon Park trails
Renton; about two miles.
A paved path passes among trees and shrubs along the Lake Washington shore, and a floating walkway loops out over the water. rentonwa.gov
Soos Creek Trail
Kent; six miles.
This paved trail follows a swath of freshwater wetlands and forests along a salmon-spawning stream on Kent's East Hill. The area is now largely a residential area but retains a rural feel. kingcounty.gov/recreation/parks/trails
Centennial Trail
From city of Snohomish to the historical Nakashima Farm at the Skagit County line; 29 miles.
This paved former railbed runs through towns, across meadows, over rivers and within forests. centennialtrail.com
Nisqually National Wildlife Refuge
North of Olympia, Exit 114 from Interstate 5. One-mile loop trail with additional two miles of boardwalk. $3/car.
The Twin Barns Loop Trail is a one-mile boardwalk through forested wetlands to three viewing platforms overlooking meadows, the river and the estuary. A half-mile-long, hard-packed dirt/gravel road leads from this loop to the one-mile-long Nisqually Estuary Boardwalk Trail. fws.gov/refuge/nisqually
Learn more: See the full article at seati.ms/1GXxMdZ.
Short hikes with big payoffs
Writer Jeff Layton offered this list of Western Washington hikes for quick day trips.
Cathedral Falls
Mount St. Helens National Volcanic Monument, near Riffe Lake; about 4 miles round trip. Best in spring and after heavy rain.
The big payoff happens when you round a corner and see a waterfall that looks like fine sugar pouring over a cliff. Unlike most waterfalls, this one drops over a cavern, allowing hikers the rare opportunity to walk behind the falls. Driving directions: wta.org/go-hiking/hikes/goat-creek-2
Cape Flattery
Makah Indian Reservation, near Neah Bay. About 1.5 miles round trip; year-round. Tribal recreation pass required.
When you reach the final outlook, you'll feel like you're perched on the edge of the world. In every direction, gnarly seamounts and rugged headlands endure pounding Pacific Ocean waves. makah.com/activities.
Snow Lake
Off Stevens Canyon Road, Mount Rainier National Park. About 2.6 miles round trip. Best late-July to September. Park admission: $15 per vehicle.
When you see Snow Lake for the first time you won't believe that water could be so blue or clear. Several vantage points allow for postcard-perfect views, with craggy peaks studded with mountain goats in the background, and a shoreline brimming with wildflowers and huckleberries.
Surprise Lake
Off Highway 2 near Stevens Pass. About 9 miles round trip. Best July-October.
For a bit more of a challenge, this trail is up-up-up through old-growth forest and seemingly endless switchbacks. It's a bit of a leg burner, but just when you start to wonder if it's going to be worth it, you reach a notch between two ridges and understand why it's called Surprise Lake. You're at the edge of a glorious alpine lake with crystal clear water, surrounded by a quintessential amphitheater of granite mountains. Driving directions: wta.org/go-hiking/hikes/surprise-lake-1
Learn more: See the full article at seati.ms/1zyhB6V.