Two ingredients that already make a great pairing in popular culture — marijuana and pizza — come together for a meal that can be eaten fresh or frozen.
One of the most ubiquitous foods associated with cannabis is pizza. From the Teenage Mutant Ninja Turtles to Jeff Spicoli, the stereotypical smoker is also a bigtime pizza eater.
If you find the choices in your grocer's freezer lacking, take my advice for homemade mini pizzas tonight — and keep a few leftovers for days when you're desperate.
MAKE-AHEAD MINI PIZZAS
Yields eight 6-inch pizzas with 10mg THC per serving
Dough:
1 cup warm water
2 Tablespoons extra virgin olive oil
1 teaspoon sugar
1 teaspoon salt
3 cups flour
1 Tablespoon yeast (active)
Sauce:
1 can crushed tomatoes
½ ounce extra virgin olive oil
½ ounce cannabis infused oil*
6 cloves garlic, minced
A few slices of onion
Salt to taste
A pinch of sugar
Pepper to taste
Pecorino or Italian cheese rind (optional)
Other supplies:
Mozzarella cheese
Olive oil for drizzling
Parchment paper
Freezer bag or container
Silpat (optional)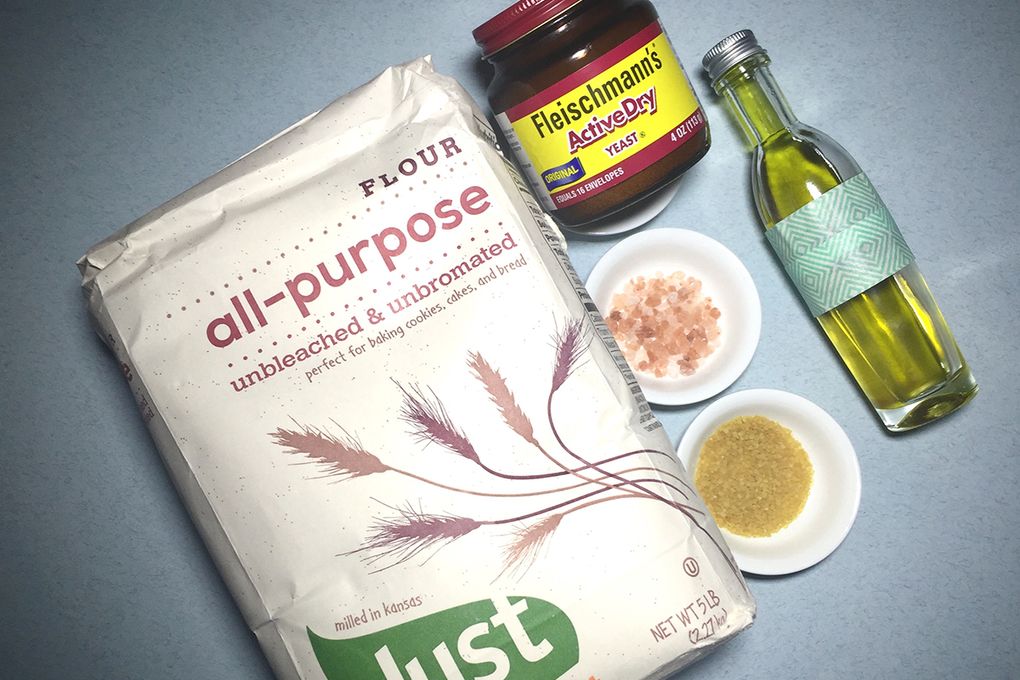 Start with the dough. You can do this the day before if you want to eat pizza faster around dinner time. I use a bread machine to knead dough, which you can sub with a stand mixer or dough blade with a food processor. The bread machine not only kneads the dough, but it allows the yeast to activate and gives you the first rise, knocking out a few of the steps for you.
If you're not using a machine, allow yeast, water, sugar, salt and oil to proof in a bowl for 5 minutes until you see lots of air bubbles. Then you can gently mix in the flour and knead until it forms a ball. Allow to rise for 60 minutes.
After the first proof, gently punch down and divide the dough into small balls, you can make 2 large pizzas or 8 small pizzas with this recipe.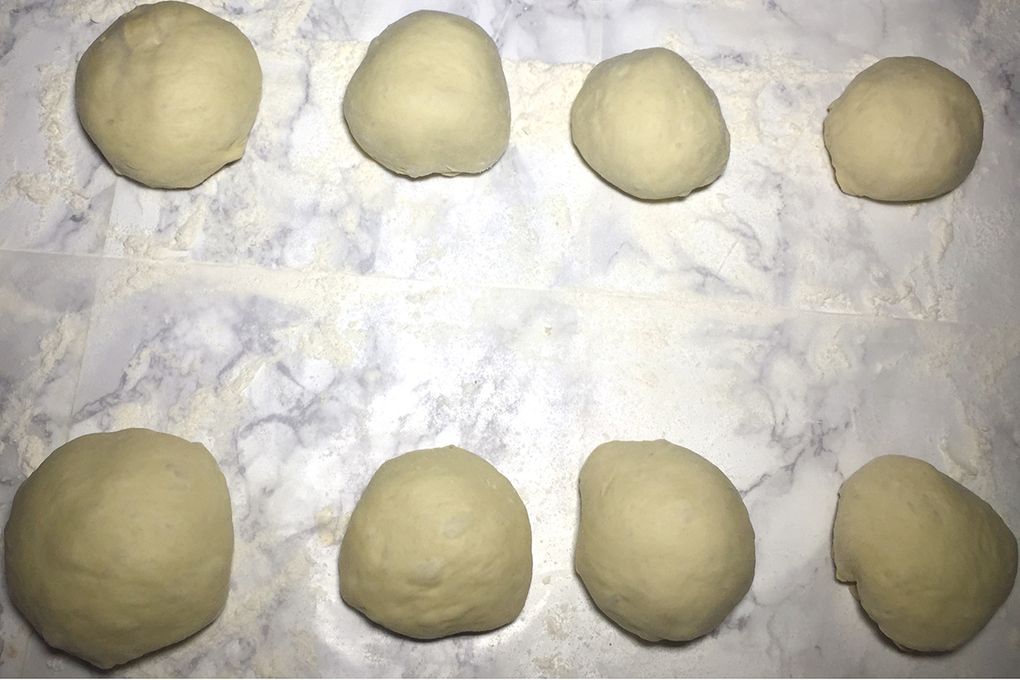 Form into balls by gently working the edges underneath the mass, lightly tucking them inwards. Allow these to rise for 30–40 minutes with a towel or greased/floured sheet of plastic to protect them.
While the dough is rising, build your sauce in a heavy pot. Sautee garlic in the olive oil, not the infused oil, until just translucent, being very careful not to burn it. Drop in your tomatoes, spices and the cheese rind if you're using one. The rind and a slice of onion will flavor the sauce without adding particles into it; you'll pull them out before serving. Allow to simmer uncovered on lowest heat in the background while you work on the dough. Now would be a good time to preheat the oven to 400 degrees Fahrenheit.
Shape balls into pizza crusts by pressing the middle to a half-inch to quarter-inch thickness. Use the tips of your fingers to press that thickness outwards. Repeat this until the center thins out and you have big puffy edges. Now you can pick up the dough (use your knuckles to avoid holes) and pinch it between your thumb and index finger on both hands while moving it circular. Imagine that you're working on a record spun vertically while you make it an even thickness, leaving some puff for the crust. Each one should end up roughly 6 inches wide.
If you're eating them right away, you can build your pizza on the raw dough, but I always pre-bake, since home ovens don't perform like special pizza ovens. If you're freezing them, the pre-bake will give you a sturdier crust that will hold up to handling and reheating. You may need to use a fork to poke a few air vents in the center. Bake in cycles, parbaking a few at a time for 7 minutes.
Drop the oven to 350 and turn the heat off of your sauce. Remove cheese and onion and discard. Now you can add the cannabis oil and stir well. Put one or two spoonfuls onto the crust and spread around. Last and most importantly, hit it with a generous amount of fresh, milky mozzarella cheese. Bake for 5–10 minutes, depending on your oven and on the doneness you like.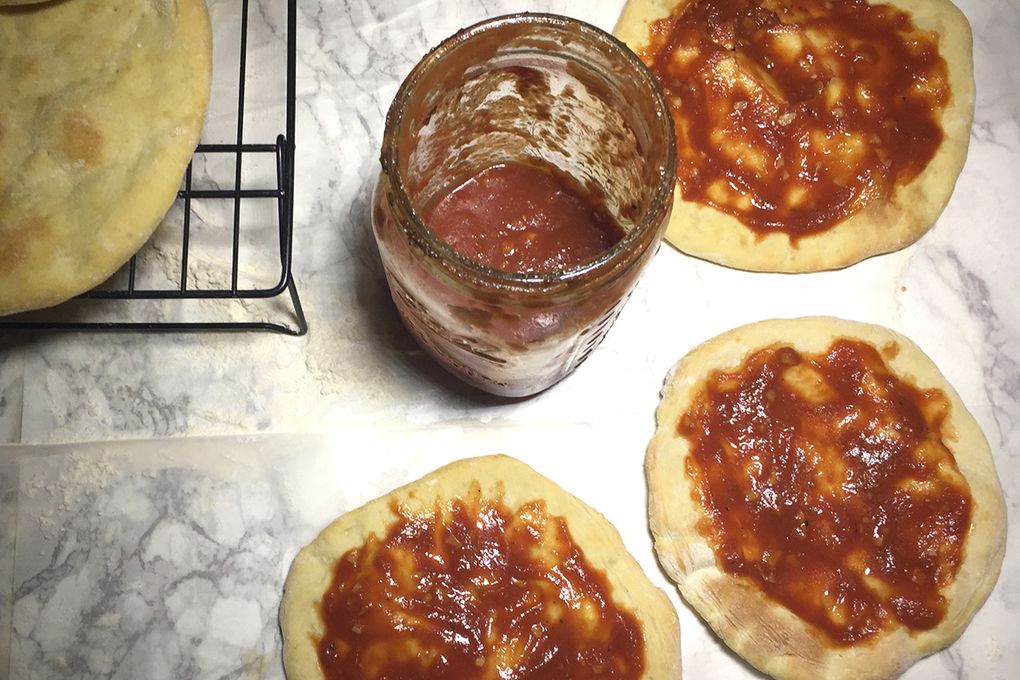 For a bit more crisp on the cheese, try letting it rest in a paper-towel-lined colander while you make all the other parts to draw out some moisture.
Cool completely if you'll be packing them up for the freezer, or simply fold into some oven-safe parchment paper and seal tightly. To reheat, remove from freezer and put on cookie sheet with paper still wrapped. Bake for 15 minutes at 350 degrees Fahrenheit and enjoy.
*Cannabis Infused Oil
Decarboxylate 3.5g of finely ground cannabis at 225 degrees Fahrenheit for 20 minutes in a tightly sealed, oven-safe container.
Put in lidded mason jar or vacuum-sealed bag with cannabis and two ounces of canola oil. Heat in water bath just under boiling for at least 1 hour. Strain and store in a clean container in the fridge for 1 month or freezer for 6 months.
This recipe is courtesy of The Fresh Toast, a lifestyle/entertainment site with a side of cannabis. For related recipes, news, lifestyle and pop culture, visit The Fresh Toast.