Is Seattle's version of the famous Vancouver sandwich shop all that and a bag of chips?
After fervid anticipation, Seattle finally has a branch of revered Vancouver, B.C., sandwich shop Meat & Bread, next to the new Lark on Capitol Hill. Lark's own sandwich shop, SLAB Sandwich + Pie, is literally across the hall — but in this neighborhood now, there's apparently no such thing as too much of anything.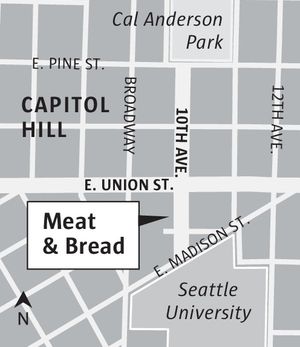 The menu: Listed in white all-caps on a matte-black wall above the counter, the menu is an exercise in minimalism: just three everyday sandwiches, one daily special sandwich, one soup, one salad, a Parfait ice-cream sandwich and a candy bar from Vancouver's Beta5 Chocolates.
Essential Baking Co. makes the six-inch, golden-brown rolls, which are finished on-site for extra freshness (and that baking-bread smell). The rolls are lined up unceremoniously in front of the porchetta — the fatty rolled-up pork that is Meat & Bread's specialty — but the meat is meticulously carved to order, and every sandwich's assembly gets intense attention. They're served on handsome slabs of wood.
What to write home about: The meatball sandwich contains two huge pork-and-beef meatballs in a slightly spicy tomato sauce, with pecorino Romano and lemon aioli for good measure. One day's special, Niman Ranch cochinita pibil pork, had tender, tasty citrus-braised meat, cooling avocado crema, plus corn-tomato salsa and radish for crunch and a little peppery bite.
What to skip: It may be sacrilege to say it, but both the porchetta and its salsa verde need more flavor, and the sandwich's pork cracklins should be left in bigger pieces for more textural variation. A special of chicken and eggplant with Thai basil and nuoc cham aioli wanted more aggressive spicing and was disconcertingly slimy.
The setting: As minimalist as the menu, the space could hardly get any more self-consciously cool; it could easily be transformed into a bar at night for the woo-and-bro crowd (though the soundtrack, which includes Bob Dylan, Toto and Public Enemy, might need adjustment).
Summing up: Two sandwiches ($9.50/$10), two sides ($4 each) and one candy bar ($3) came to $33.45 plus tip.
---
Meat & Bread
Sandwiches
1201 10th Ave., Seattle
Hours: 11 a.m.-6 p.m. Monday-Saturday
Etc: credit cards accepted; beer and wine served; wheelchair accessible; metered parking on the street or in paid garages
Prices: $