This story was written under the influence of cookies. Perfect, chewy cookies — little pieces of delight, studded with pillowy chocolate, delicately crusted with sugar, subtly flavored with vanilla or orange or (oh yes) bourbon. A cookie is that most well-rounded of desserts: less of a commitment than cake, more self-contained than pie, more forthright than candy. If it's just right, one cookie is a feast.
Michael Pinckney's cookies — Brown Butter Brown Sugar Bourbon Spice, Classic Chocolate Chip, Dark Chocolate Espresso, Bing Bling and more — are feasts. Trust me on this, I have done the research. (Possibly too much.)
You can't buy Pinckney's cookies in a store, but you can find his Pinckney Cookie Cafe at local farmers markets — currently the University District, West Seattle and Ballard markets — or order them online, or get them via curbside pickup from the Kirkland catering facility where Pinckney and his staff of two bake hundreds of cookies every workday.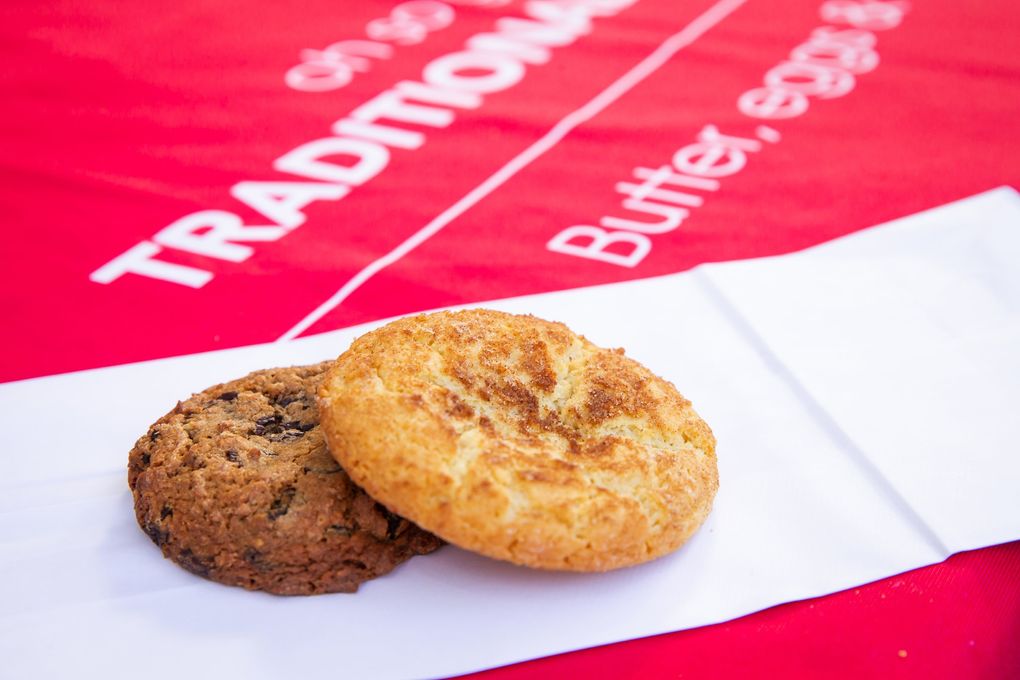 "People can't seem to get enough of them," said Shane Clyburn, market manager for the University District Farmers Market (whose favorite among Pinckney's array is the Ginger Molasses cookie). On a recent Saturday, he noticed a 10-person-deep line at Pinckney's booth. Though the cookies were absent from the markets for some time during the pandemic, as soon as Pinckney returned last spring, "he was immediately one of the busiest vendors that we have," Clyburn said. "Even though there are plenty of bakers [at the market], that's where people get their cookies."
For Pinckney, who founded the company in 2009 after a long career in the tech industry, it's a labor of love that began in his cookie-loving childhood. (His business card gives his title as "Cookie Monster.") "Me and cookies, we go way back!," Pinckney said, in an interview at his company headquarters — a compact corner in a warehouselike space, equipped with two prep areas and a mixer so big you can imagine otters swimming in its bowl.
Originally from Great Neck, Long Island, Pinckney grew up with a mother who was a gourmet chef and baker — "she would have dinner parties that were the talk of the town" — and loved to bake from an early age. He still has, from his mom's old recipe box, a handwritten card headed "Michael's Cookie" — a coconut/brown sugar bar with nuts.
But cookies didn't seem like a career path, at least not at first. After graduating from Harvard and New York University (with a master's degree in accounting), Pinckney lived in New York and worked for IBM in sales management in the 1980s. Just for fun, he took up a hobby: "I decided to make the best chocolate chip cookies in the world." His co-workers loved the cookies — as, eventually, did his three children. Over the years, he tinkered with recipes and came up with two surefire hits: the Pinckney Original (a chocolate chip cookie with a chocolaty dough, coconut and walnuts) and the Dark Chocolate Oatmeal (with a surprising and very effective hint of orange).
"People just raved about them," Pinckney remembered. "I would take them to my kids' school auction and a year later I'd be in the parking lot and someone would come up to me and say, 'Hey Michael, you going to bring cookies to the auction again?' And I'd think, people remember these a year later? Unprompted? They must be special."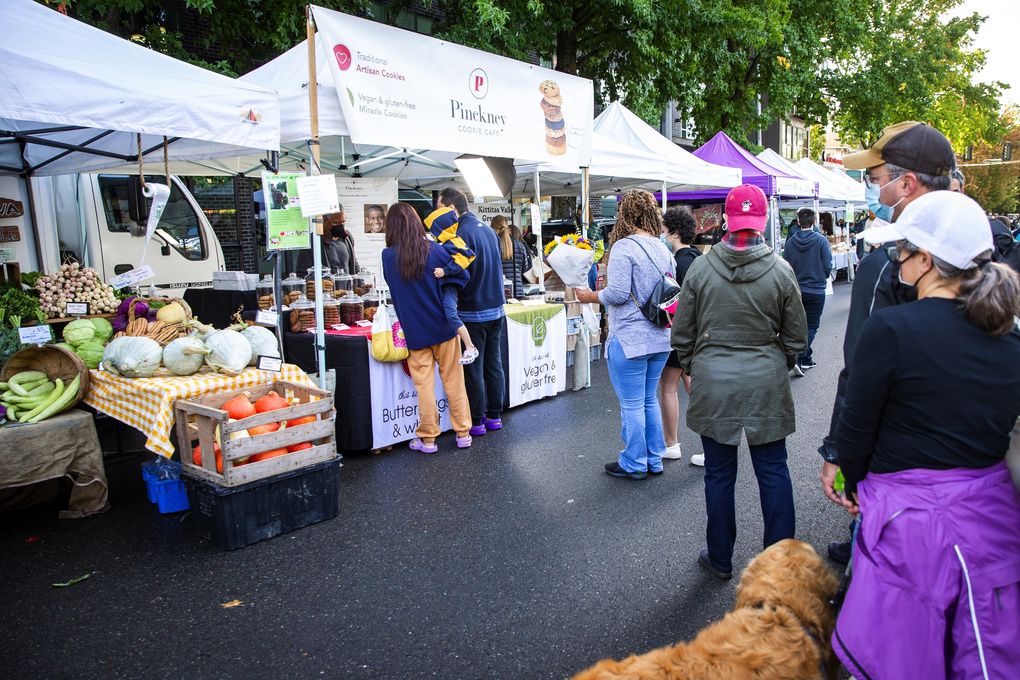 Pinckney moved to the Seattle area in 1990 to work for Microsoft as a product manager, but as the years went by, health issues (sleep problems, carpal tunnel complications) made him begin to wonder if it was time to move on from the tech industry. Inspired by how much people seemed to love his cookies, the Pinckney Cookie Cafe launched in 2009 as an online business, in a tiny space leased from Blazing Bagels in Redmond.
In the beginning, it was just Pinckney and his KitchenAid mixer, but things quickly grew — particularly once he began selling at local farmers markets. He now bakes in batches of 300-400 cookies, buying flour in 50-pound bags, butter by the 36-pound case, dark Belgian chocolate by the 5.5- or 22-pound bag, and Madagascar vanilla by the gallon. Initially, Pinckney Cookie Cafe had only a few flavors, but now there are 16: 10 regular and six gluten-free, vegan "Miracle Cookies."
The latter, which he developed after long experimentation, have been "a huge positive impact on this business," he said, opening up the world of his cookies to many eager eaters who can't have traditional cookies. (The name came from taste testers at the catering facility, who upon hearing that these chewy, moist cookies were gluten-free and vegan, said, "It's a miracle!" A gluten-free friend of mine tasted a few of them and said she was reminded of her mother's cookies from childhood — an association she'd never before experienced with a gluten-free cookie.) The trick, Pinckney said, is getting the texture right; scientific by nature, he came up with a gluten-free flour mix involving 10 different ingredients. To make the gluten-free cookies, Pinckney has an entirely separate prep area: even dish towels and aprons are color-coded.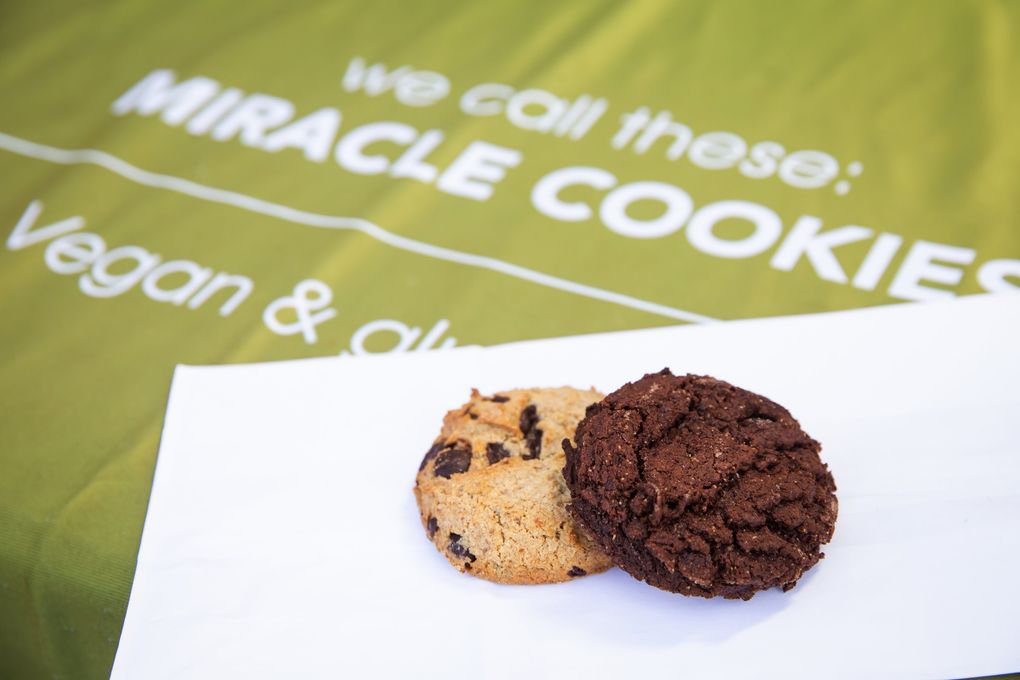 Like so many small businesses in the COVID-19 era, Pinckney Cookie Cafe has faced recent challenges. Business pre-pandemic was mostly through farmers markets, but things were going extremely well — sales were "so off the hook it was all we could do to keep up" in 2019. After a great start to 2020, including providing cookies to the Northwest Flower and Garden Show, suddenly every farmers market and gathering place shut down — and, just like that, Pinckney had a purely online business.
But many loyal customers, reached via email, followed him there. And the pandemic brought another opportunity: to help, during dark days. "Listening to the news all day was really depressing in the early days of the pandemic, and scary. I was really feeling down, and I wanted to do something," Pinckney said. He decided to donate $5 from every order of a dozen cookies (then $28; it's now $34) or more to charities doing COVID-19 relief work. The decision drew some social media attention, and sales jumped up, "to the point where we had a three-week backlog for weeks on end. I couldn't hire a bunch of people because of the pandemic and our small space. We just kind of struggled along with the people we had."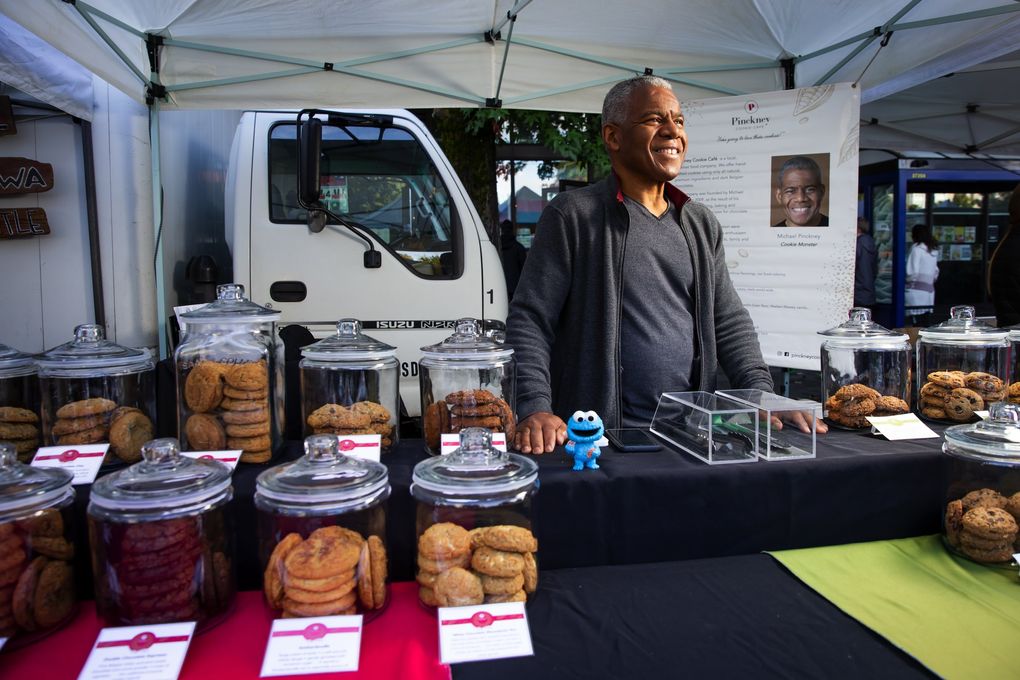 And then, just as he was thinking the donations would end, racial justice demonstrations, spurred by the murder of George Floyd, erupted around the country, and Pinckney found himself getting a great deal of attention as a Black-owned business.
"There was such an outpouring of support, so it wasn't time to stop giving," Pinckney said, but he added racial justice charities to his list, along with a blog post and videos telling people how they could help. Ultimately, Pinckney Cookie Cafe donated more than $15,000 to various charities. Though the $5 donation was eventually discontinued — it just wasn't sustainable for a small company — it was something Pinckney remains immensely proud of. "We'll always be a company that wants to do the right thing, that wants to contribute, that wants to make a difference."
Pinckney's dreams for his company are big: In the next five to 10 years, he said, he envisions many physical locations — brick-and-mortar stores, possibly — and a much bigger online business. In the meantime, he's looking to hire a few more employees, and enjoys eating "at least two" cookies a day (often his favorite, the Bing Bling, with dark chocolate and dried cherries). He's not tired of them, after all these years. A perfect cookie, always, is a feast.