When you moved into your first apartment, snagging a castoff sofa from a friend or off the internet probably felt like winning the lottery. And that starter sofa has likely served you well.
When you start to think about furniture for the long haul, though, remember that a new sofa will be one of the cornerstones of your living space. But sofas are also big-ticket items, often reaching into the thousands of dollars. So how can you replace that tired-looking couch with something good-looking and comfortable without busting your budget?
The first thing to determine is what you will be using your sofa for, says Courtney Sempliner, a designer from Port Washington, New York. "Consider if it's for family TV-watching or more of a perch-and-drink kind of thing," she says. "Do you need it to be a sleeper sofa? How many people do you want to be able to sit on it?"
Your answers, she says, will guide your search, helping you choose aspects such as the style of the sofa and the fabric. They will also help you determine whether you can use an elegant yet more precious textile, such as linen, or whether you need a performance fabric "that will stand up with kids and dogs and sticky hands," she says.
We asked four design firms to share tips for buying a standard sofa that seats three to four people. (A small-scale sofa is usually 70 to 80 inches long. Sofas 81 to 90 inches and up require larger quarters.) We also asked for their recommendations for specific sofas. The budget: around $1,000. Here's their advice — and their sofa picks. (Be aware: Some sofas may require home assembly, and production and shipping delays caused by the pandemic are affecting many delivery dates.)
The design
Before shopping, measure to see how long and wide a sofa you can accommodate, and make sure it will fit through doorways and up any stairs.
Leslie May, a designer in Chapel Hill, North Carolina, says it's good to start your research by looking online at pricier sofas to determine what you like. Then, she says, "you bring it down to your budget." She prefers sofas with bench cushions (one cushion across the seating area) and a tight back. "Then, if you want to put pillows on it, it doesn't look as messy" as a sofa with individual cushions would, she says.
Sempliner agrees that a fitted seat and back stays tidier and gives a more contemporary look. Her own charcoal gray sofa is this style, she says, "much to my children's dismay, as they can't make forts out of the cushions."
For Everick Brown, a designer from New York, a sofa with individual cushions is often his first choice; he thinks it gives a warmer look to the room. "Individual cushions are easier to pull out to clean," he says. "They also define a seating area." He says that, sometimes, if you have a long sofa, people who don't know each other might not sit next to each other unless the seating is defined by cushions.
The construction
Selecting the best-quality construction within your price range will pay off in the end. According to Pat Bowling, vice president of communications at the American Home Furnishings Alliance, it's important to consider what is inside of a sofa in addition to style and fabric. Always check out the materials in the frame. The frame may be made of kiln-dried hardwood, hardwood plywood, particleboard or combinations of several materials.
According to AHFA's consumer buying guidelines, more durable upholstery frames are constructed with reinforcements that are glued and screwed into place at critical joints and stress points. Less durable pieces may only use staples.
Most cushions are made of polyurethane foam; their firmness is measured in pounds-per-cubic-foot (about 1.5 to 2.6) and the higher the number the firmer the foam, says Bowling. Some cushions contain recycled fibers or down. Bowling adds that there are companies that offer cushioning that replaces a portion of the petroleum-based ingredient in the foam with a soy-based product.
Sempliner says less expensive sofas usually have foam cushions versus down-wrapped foam on higher-end models.
Designers say it's always important to research construction specifics online or in person. Click the "details" section under a product's description for information.
The fabric and color
Brown says the most durable fabrics, especially for households with kids, are synthetic blends. Check out the rub count — a wearability code that will give you an idea of how much wear and tear the fabric can withstand. (For example, 25,000 double rubs is a good number.) This information is usually found online with the fabric description, where you can also find the fiber content and cleaning information. For colors, he prefers neutrals, such as warm tans, cool grays or taupe. "Then I can easily change the look by adding new throw pillows or flipping a different rug," Brown says.
The go-to sofa color for May is navy. Her advice: Always order swatches. "Even if you think you like that blue, until you have it in your space, you don't really know. It can save you a lot of heartache," she says. "Go with a solid and splurge on pillows. That can make your look more custom and elevated."
Slipcovers are a popular option for Kiera Kushlan, co-owner of Washington, D.C., design firm Residents Understood, because they make it easy to order replacement covers if needed. She also advises that, if you're looking for a fabric that will stand up against spills, look for a high polyester content.
Shopping tips
Wait for a sale, Brown says, or check out clearance centers, outlet stores or overstock centers.
In an ideal world, she says, you should test-drive your sofa to check out whether the seating is comfortable for you, but that is not always an option. If you can't see the sofa in person, May recommends checking out videos that often accompany descriptions online. "It will show you someone sitting in the sofa and can be an indication of comfort," May says. "Comfort is really the most important thing."
The sofas
(Prices given as of time of publication but are subject to change.)
AllModern Latisha Velvet Tuxedo Arm Sofa: May thinks this classic, roomy sofa with a bit of tufting has a lot of style for the money. It makes a bit more of a statement than some of the plain midcentury-modern silhouettes. "I love the high sides of this sofa. It creates a nice nook to nestle into and supports your back," May says. "Velvet is also a super-durable option that will look crisp even with lots of life lived on it." The sofa is 84 inches long. Price: $1,220 at wayfair.com.

Home Reserve Laney Legacy Sofa: Looking for a sofa made in the United States? Kushlan says she and her Residents Understood co-owner Jessica Centella like Home Reserve's Laney Sofa. "It works in a variety of aesthetics, which is great for someone still exploring their style preferences," Kushlan says. "If you want the sofa to transition with you through a variety of looks, keep the fabric light in color and neutral." Home Reserve offers many durable family- and pet-friendly fabrics. The sofa is 79 inches long. Price: $768 at homereserve.com.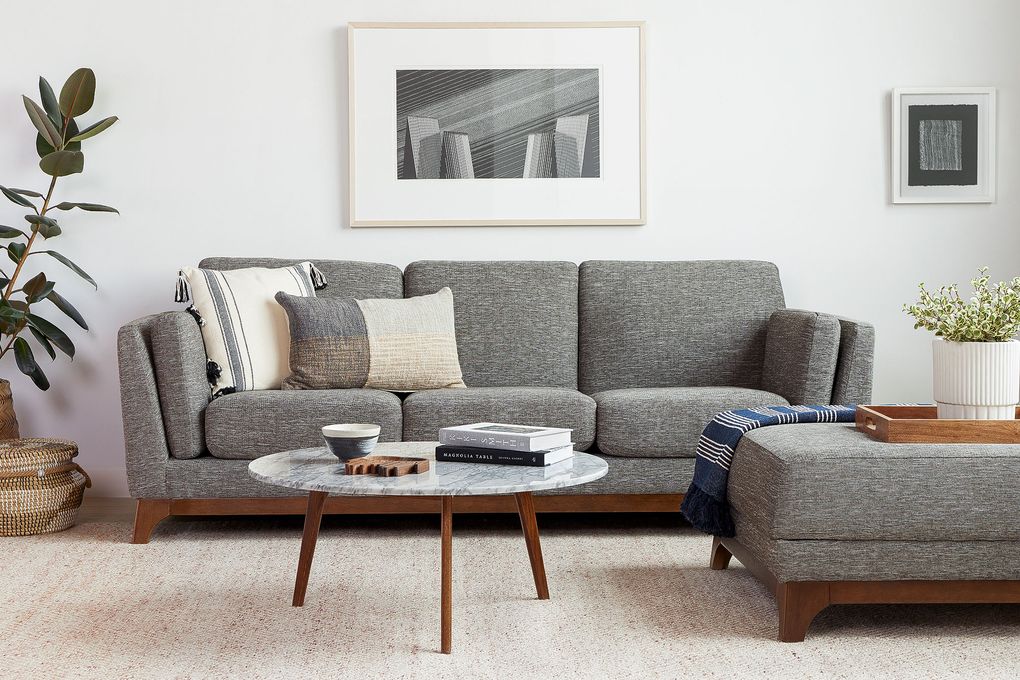 Article Ceni Sofa: Kushlan says this sofa's 83-inch width and 35-inch depth offer "comfortable proportions for lounging." Kushlan is a fan of Article's quality and customer service.
Sempliner also likes the Ceni. "I love the thoughtful design details on this sofa: the curve to the legs, the subtle angle to the armrests and the unique side cushions," she says. Sempliner describes it as "comfortable and classic with a clean, modern touch." The sofa is 83 inches long. Price: $1,149 at article.com.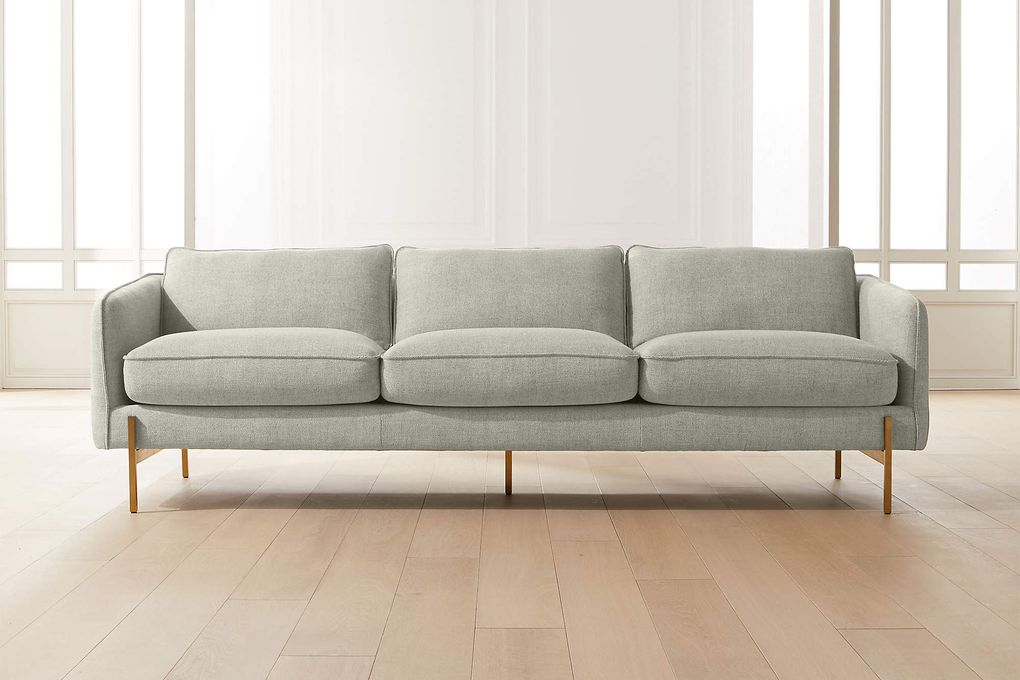 CB2 Hoxton Sofa: Sempliner loves the rounded corners and cushy seat cushions on the Hoxton. It has cool metal legs and a slim, low profile that fits into most furniture configurations. "It reads cozy and inviting," she says, but it complements styles that are more modern.
Brown also recommends the Hoxton, with its very contemporary vibe. "I like the relaxed, modern, slim arms and floating metal legs," he says. The sofa is 96 inches long. Price: $1,299 at cb2.com.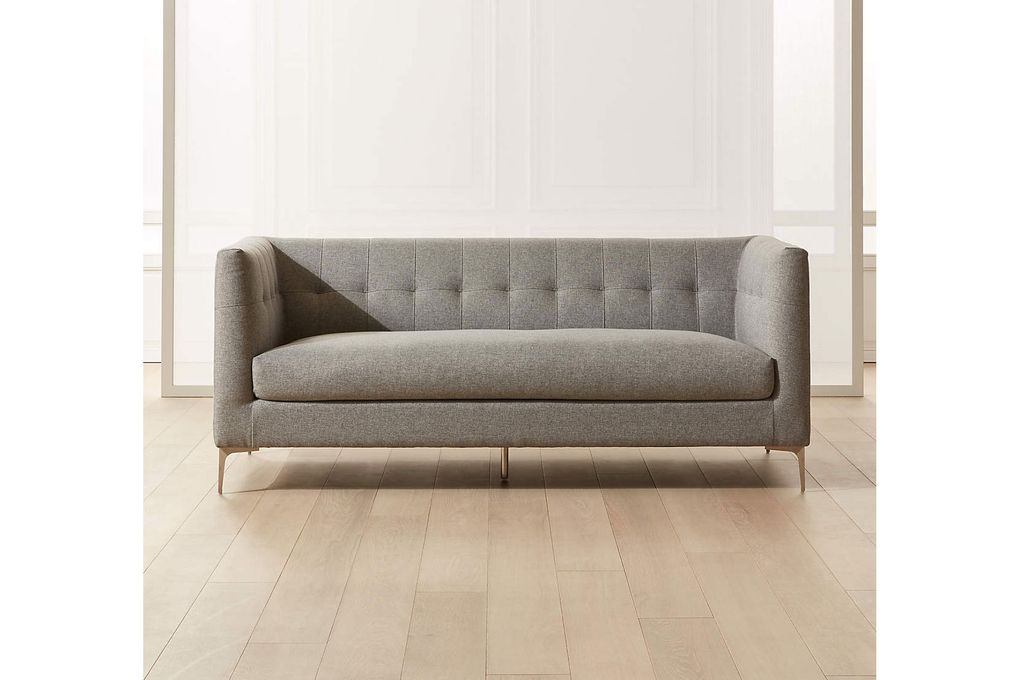 CB2 Holden Tufted Sofa: Brown says the Holden "is a perfect frame for a classic, modern style." He points to the design details of the soft felt fabric, tuxedo arms and tight, tufted back. The bench seat cushion and stainless steel legs give it a streamlined look. The sofa is 76 inches long. Price: $999 at cb2.com.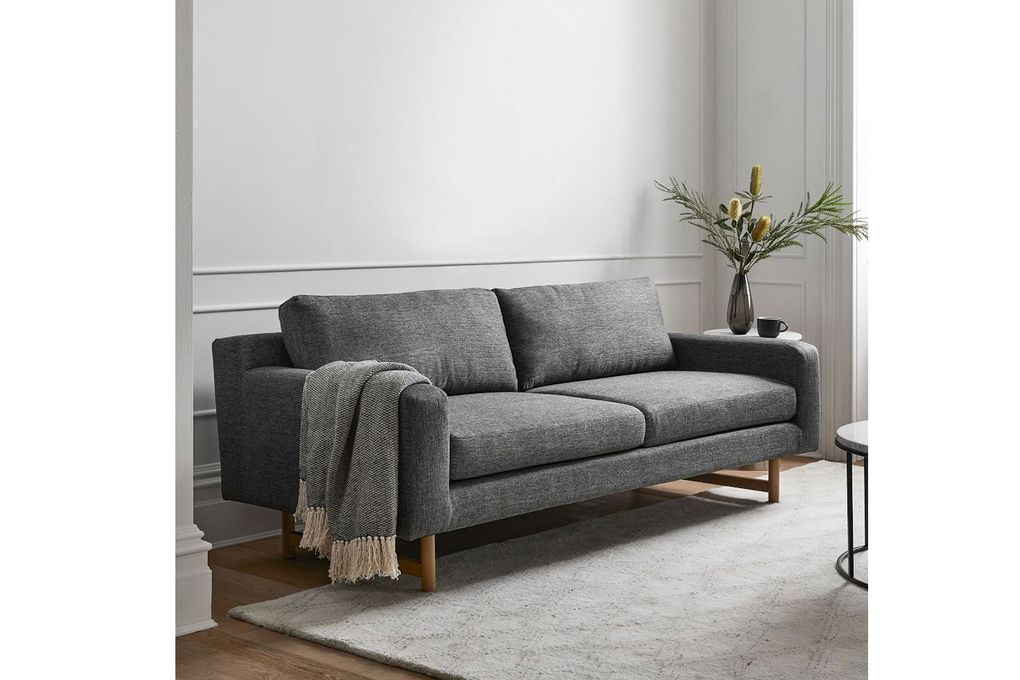 West Elm Eddy Sofa: Brown is a fan of the Eddy's floating wooden trestle-style legs. "I like the rounded low arms and reversible seat and back cushions," Brown says. This sofa offers a lot of style for the price. The sofa is 74 inches long. Price: $999 at westelm.com.